The Weekender: January 28 to 31
As the first week of the spring semester draws to a close, the coldest weather of the year is expected to descend on Boston. But we've found some great ideas for how to spend the weekend while staying warm, too. Looking for some ways to spruce up your dorm room or apartment? Interested in finding information about Boston University's hundreds of student clubs? How about a rousing game of bingo or a free DJ and a chance to win gift cards? And you can do it all while noshing on some great Mediterranean cuisine from an Allston eatery. We've got you covered.
Mediterranean food is an ideal way to chase the cold away and Garlic 'n Lemons in Allston is one of the best places in the city for it. Try one of the outstanding kebabs—including chicken, beef, and lamb—or one of the shawarma plates. The restaurant offers lots of veggie options, too. You'll also find falafel, pita chips, and classic desserts like baklava and rice pudding to finish off your meal.
Garlic 'n Lemons, 133 Harvard Ave., Allston, is open from 11 am to 10 pm daily. Delivery is available through Grubhub and Uber Eats until 9 pm.
The holidays may be over, but Massachusetts College of Art and Design's virtual holiday market continues. So if you're looking for a special blanket, embroidered pillow, or something more exotic, like a piece of 3D art to brighten your dorm room, this is the place to go. You'll also find handmade jewelry, face masks, and clothing, great for gift-giving. And best of all, the proceeds go to support MassArt students and alumni.
Boom Boom BINGO
Each semester, Student Activities (SAO) hosts Winter Weeks of Welcome, a series of crowd-pleasing events designed to bring students together for fun events. One of the biggest draws is BU's bingo games, renowned for their great prizes. The tradition continues on Friday when SAO hosts Boom Boom BINGO from 8 to 9 pm over Zoom. Grab a spot in your residence hall common room or play with your door open so you can hear the "Bingos" echo across the floor. Sign up for free here and let the prizes roll in. (Link will be provided in your Eventbrite ticket.)
Splash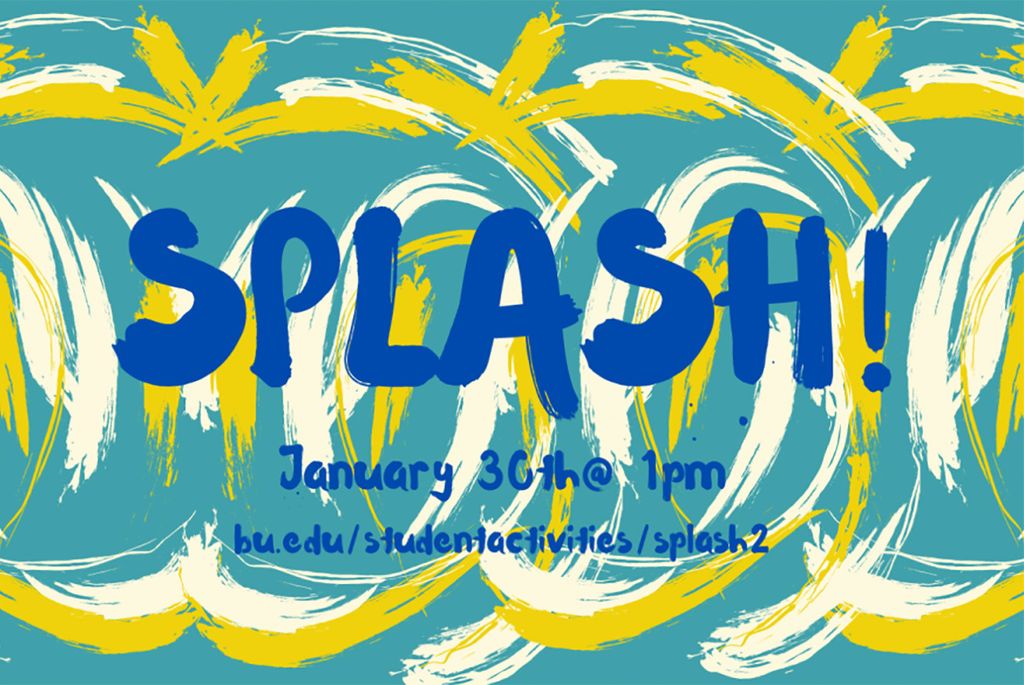 New on campus and want to find out about BU's student clubs? Check out SAO's Splash event this Saturday, January 30, from 1 to 3 pm. The virtual fair allows visitors to browse the more than 400 campus student groups, speak to club representatives, and help find their place in the BU community. Clubs range from sports to business to video games to languages to performing arts, and more. Sign up here.
BU Block Party 2.0
Join the BU Arts Initiative and BU Gaming Club for the second iteration of the BU Block Party, happening Saturday, January 30, at 7 pm. Part of Winter Weeks of Welcome, this virtual night of music and Minecraft starts with DJ Zander (MED'23) "taking the stage" at the Tsai Performance Center on BU's Campus on the Minecraft server for a one-hour set. Join on Minecraft for the chance to win gift cards by finding hidden Easter eggs throughout Tsai.
If you already have a Minecraft account in Java or Bedrock editions or are interested in downloading paid software to access the BU server, check out this How-To Guide. The event is free.