Ten Romance Books to Fall in Love with This Valentine's Day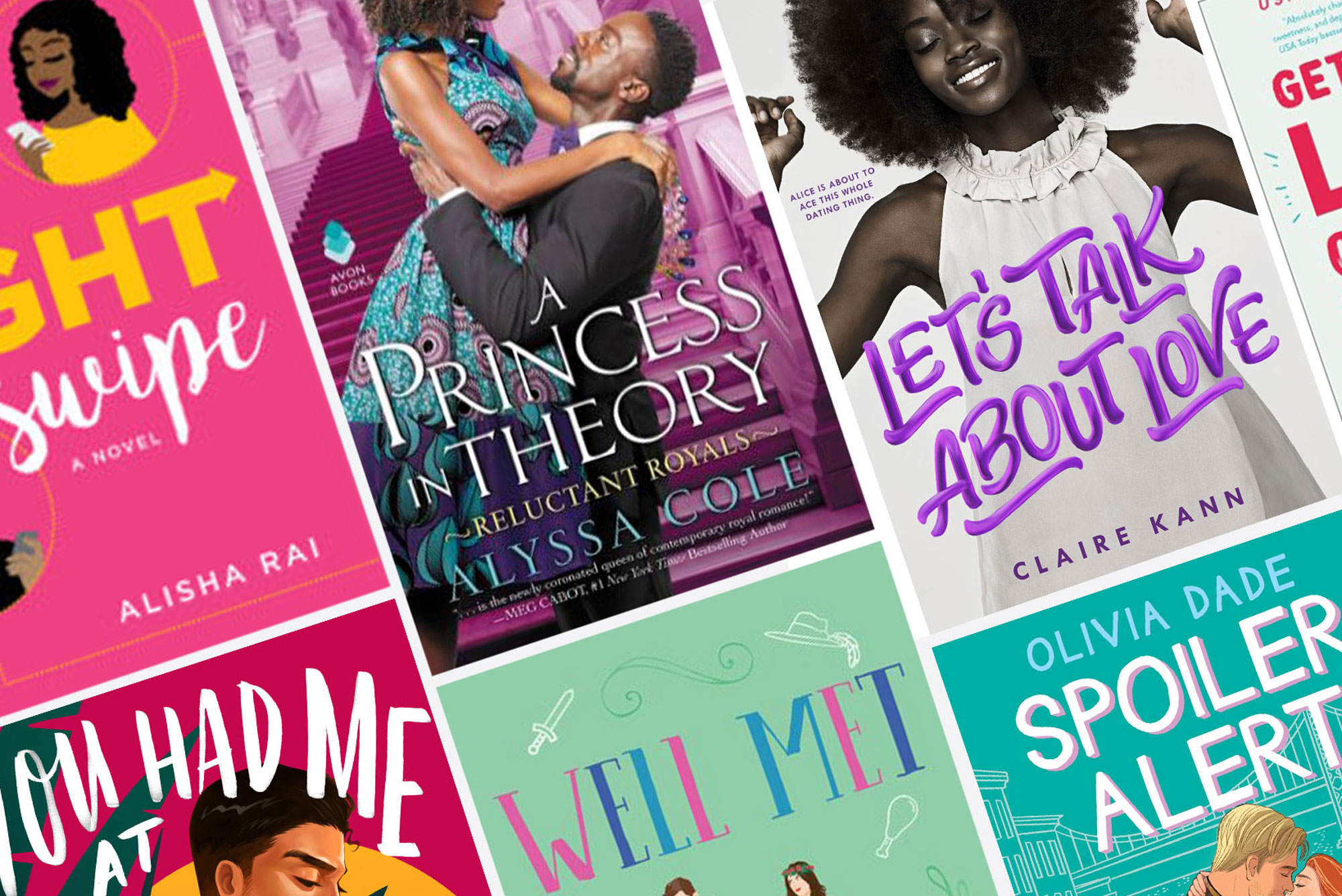 Books
Ten Romance Books to Fall in Love with This Valentine's Day
Celebrate love with these swoon-worthy reads
Valentine's Day is the perfect time to curl up with a swoon-worthy romance book. With the vast amount of romance book subgenres—from Regency romance to paranormal romance to contemporary romance—there's a book out there for everyone.
The genre is big business, with more than $1 billion in annual sales in the United States alone. And it has gained added traction thanks to public figures like politician and voting rights activist Stacey Abrams, who writes popular romance novels under the pen name Selena Montgomery, and the Netflix new hit series Bridgerton, an adaptation of Julia Quin's Regency romance series.
To help you get started on your romance journey, here are 10 books guaranteed to make you fall in love.
1.
Get a Life, Chloe Brown
by Talia Hibbert
The first book in the Brown Sisters trilogy features Chloe Brown, a chronically ill computer geek. After a near-death experience, Chloe comes up with a punch list of seven things to do to help her "get a life." The items range from riding a motorcycle to the vague but promising "do something bad." To help her cross off everything on her list, she enlists the help of Redford "Red" Morgan, a bad-boy handyman by day and a sensitive painter by night. As the two strike items off Chloe's list, they start to realize that their partnership could turn out to be much more.
2.
A Princess in Theory
by Alyssa Cole
In the first installment of Cole's  Reluctant Royals series, Naledi Smith is busy juggling grad school and several jobs, which means she definitely doesn't have time for the annoying, scammy emails she keeps getting claiming she's the long-lost fiancée of an African prince. That all changes when Prince Thabiso, heir to the African kingdom of Thesolo, arrives in America with the sole purpose of retrieving his bride-to-be. One guess who that turns out to be.
3.
The Lady's Guide to Celestial Mechanics
by Olivia Waite
After watching the woman she loves get married to someone else, Lucy Muchelney decides that she needs to get far away from her hometown. She accepts a position from the recently widowed Countess of Moth, Catherine St. Day, translating a groundbreaking French astronomy text written by her late husband. As Catherine and Lucy spend more time together, they start to realize that their burgeoning romance may be written in the stars.
4.
Spoiler Alert
by Olivia Dade
To the public, Marcus Caster-Rupp is known as Aeneas, the star of the hit TV show Gods of the Gate, but off-screen, he's known to his devoted fan-fiction readers as Book!AeneasWouldNever. Through his secret online persona, he is able to work out his frustrations with the show and his character through fix-it fics and fandom forums. April Whittier, a fan of Lavinia, Aeneas' love interest, also spends her time in the Gods of the Gate fandom as Unapologetic Lavinia Stan, the beta reader and close friend of Book!AeneasWouldNever. When April decides to post a picture on Twitter of her latest plus-size take on Lavinia cosplay, her notifications are flooded with both supporters and trolls. Then Aeneas himself (Caster-Rupp) sees her cosplay and asks her out on a date, neither knowing about the other's online persona. Complications ensue.
5.
You Had Me at Hola
by Alexis Daria
After a very messy and very public breakup, soap opera star Jasmine Lin Rodriguez knows that she has to focus on her new "Leading Lady Plan," which involves starring in an upcoming bilingual romantic comedy and staying out of the tabloids. This becomes increasingly difficult after she meets her costar, Ashton Suárez, a telenovela heartthrob who's desperately trying to keep his career afloat after his latest character was killed off. Through script reads and cast hangouts, Jasmine and Ashton soon learn that they might have just as much chemistry off-screen as they do on-screen.
6.
Red, White, and Royal Blue
by Casey McQuiston
Alex Claremont-Diaz is arguably one of the most famous millennials in the United States. As the son of the first female president of the United States, he has to step lightly and avoid bad press, which becomes a problem when photos of him confronting his longtime enemy, Prince Henry of England, are leaked to the press. To avoid a possible international scandal, the two decide to stage a fake friendship to scotch rumors that they hate each other. However, as Alex gets to know Henry through this fake friendship, he realizes that his hatred of the prince could turn into something very different.
7.
The Right Swipe
by Alisha Rai
In the first installment of her Modern Love series, Alisa Rai's heroine, Rhiannon Hunter, is a revolutionary in the online dating world, having developed her own female-centric dating app. What many don't know is that in private, she is a cynic when it comes to matters of the heart. That changes when she meets former pro-football player Samson Lima on her app. She thinks they have a connection, but when he ghosts her, she believes he's just like every other man she's ever met. Until he turns up months later in league with Rhiannon's business rival…and begging for a second chance with her.
8.
Let's Talk about Love
by Claire Kann
When Alice's girlfriend breaks up with her after she comes out as asexual, the college student decides that she's going to spend her summer binging her favorite TV shows, snacking, and working at the library. But when she meets new coworker Takumi, things change for the better, and Alice has to decide if she's ready to risk her heart again.
9.
The Kiss Quotient
by Helen Hoang
The first book in Hoang's popular Kiss Quotient series introduces Stella Lane, an expert in all things mathematical, but a complete newbie when it comes to the dating world. It doesn't help that the few men that she dated in the past didn't understand, or even try to understand, her Asperger's diagnosis. Deciding she needs some dating experience, she hires Michael Phan, an escort with a secret dream of becoming a fashion designer, to be her practice boyfriend and teach her the how-tos of dating. The novel, which arrived to much buzz from the publishing world, was named one of the Washington Post's 50 Notable Works of Fiction in 2018 and one of Amazon's Top 100 Books of 2018.
After relocating from a big city to the small town of Willow Creek for the summer to help her older sister, who's recovering from a car accident, Emily finds herself volunteering with her niece at the local Renaissance Faire, where she's cast as a bar wench. She meets Simon, a local schoolteacher who's in charge of the Faire volunteers. The two take an instant dislike to each other and can barely stand to be in the same room together. But as the Faire gets underway, Emily finds that her character can't help but flirt with Simon's pirate, leaving her to wonder if their flirtation is all role play, or if it could be something deeper.