Gauguin Had Tahiti, Shantel Miller Has Dorchester: CFA Grad Has Big Plans for $20,000 Kahn Award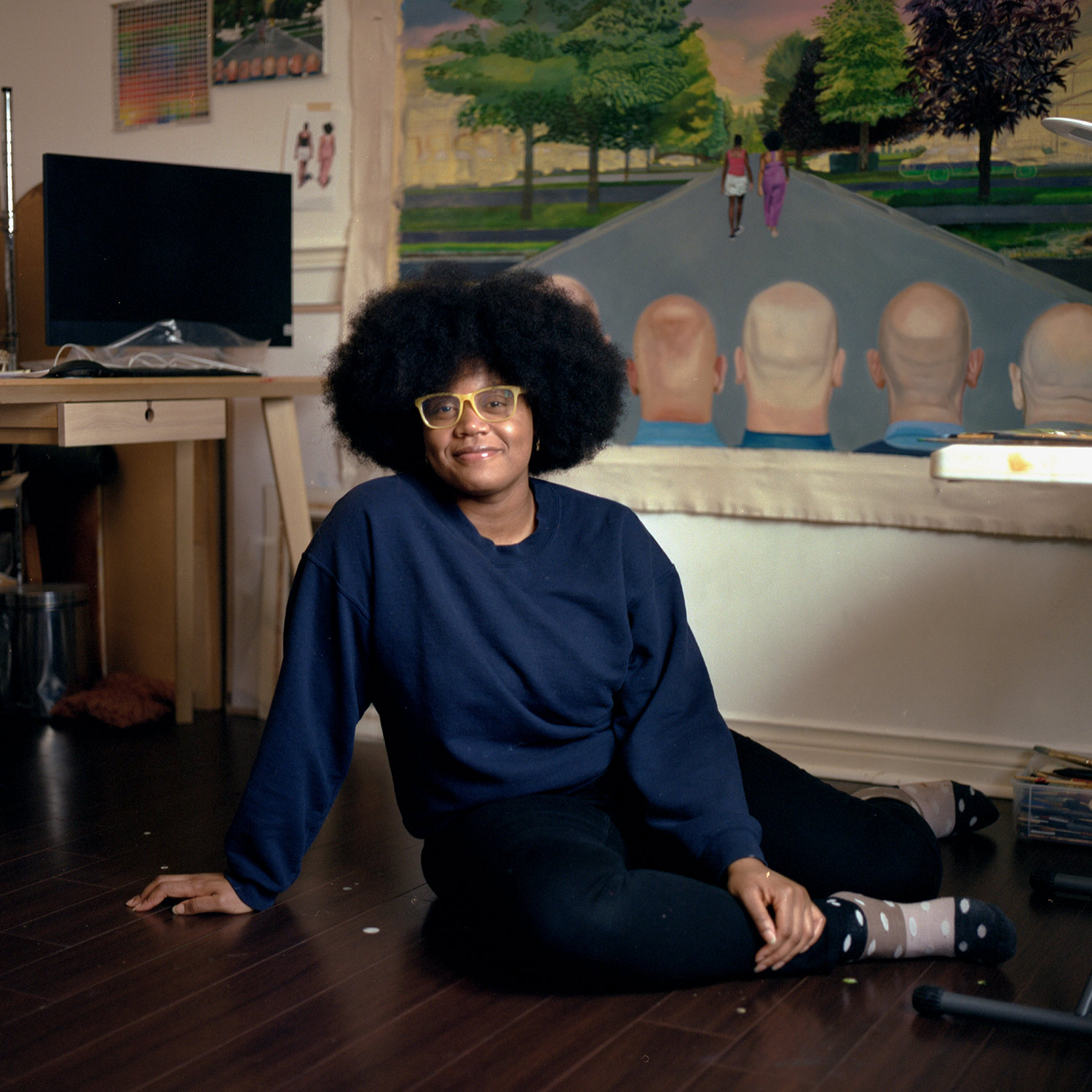 Fine Arts
Gauguin Had Tahiti, Shantel Miller Has Dorchester: CFA Grad Has Big Plans for $20,000 Kahn Award
Annual competition for emerging artists recognizes five additional finalists
Painter Shantel Miller grew up 45 minutes outside Toronto, the daughter of Jamaican immigrants, both ministers. When she came to Boston University to pursue an MFA, she moved into an all-Christian women's house in Dorchester.
"It was my first time living in a Black neighborhood, and I felt like I was home in a sense," Miller (CFA'21) says. "People felt familiar. I also experienced a renewed sense of interconnectedness in my life, a new sense of spirituality—just being inspired wherever I went. I spent a lot of time walking in Franklin Park during the pandemic, and it really helped me reconnect with myself."
She began to imagine a series of paintings exploring the lives of the people she met in church and elsewhere. "I felt my experience in Dorchester could be encapsulated in painting, but I couldn't do all of that while I was in school," she says. "I knew that my experience there was super special, and I wanted to make paintings of the people I would see, and learn more about their ties to Dorchester."
Now she will have both the time and the financial freedom to pursue her project.
Miller is the winner of the grand prize in this year's College of Fine Arts Esther B. and Albert S. Kahn Career Entry Award competition. The annual $20,000 award is intended to kick-start the post-Commencement career of the chosen artist. She will use the funds to support her project for a period of months, secure a studio space, and purchase a digital camera, paint, canvas, and other supplies.
"It feels good," she says with a laugh. "I just finished finals, so there was a lot, lot, lot of very little sleep and working really late in the studio, but I felt like this is what I'm supposed to be doing. And now I have this huge, huge amount of support to push me forward. It's new and exciting and also kind of scary, like your dreams coming true. You don't think it's going to happen, and then when it does, it's like, Whoa!"
Miller says she likes tackling a body of work, "because then you notice similar patterns and ways of seeing, and I think that's what I'm really going to aim for with this project.
"I feel like it's way bigger, beyond myself," she says, "and I want to go and visit different Black churches and kind of document what I see through painting and be able to share peoples' stories through art." In addition to creating portraits and figurative paintings, her project will also include historical research on the congregations she visits.
"I want to start to explain the project to the churches I visit and build trust with them and see if they're on board, and take my time to see what is revealed through this process," says Miller, who earned a bachelor's in drawing and painting at Ontario College of Art and Design. "I'm typically inspired by my immediate surroundings, so I don't plan too much beforehand. While I'm on site, that's when I start to absorb and make connections."
However, she does have a title for the series already: Who are we? Where did we come from? Why are we here? Sound familiar? It's also the title of one of her favorite paintings, a Paul Gaugin masterpiece.
"It's at the MFA," she says. "Gaugin is one of my earliest influences as a painter; my influences in color all stem from him. Last year was my first time seeing that painting in person. I love how long it is, how it tells a story—multiple stories—and involves histories that are not his own. I wanted to make that connection for sure."
"Shantel really sees people," says Harvey Young, dean of CFA. "She connects with their experiences, their humanity, their sense of themselves as Black and brown people in the world. She captures her subjects' essence—their soul—in a way that I find compelling."
In the time of Black Lives Matter, no one seeing Miller's series of portraits of young Black men, Side Profile, could ignore the reference to mug shots. In others, the meaning is a little less direct, such as the painting of a door ajar with a muscular leg coming through—someone of color has their foot in the door. Being Black and brown in the world is a fraught topic, and while Miller's work is not often polemical, it is based on her lived experiences.
"It's a way for me to process," she says. "How do I feel living in my body and how does this relate to other people who share similar experiences? It's really through the act of making that I'm able to provide myself some relief, as a way to participate and a way to share with others. I believe the person is political. It's not overt, but I do feel like the act of making is a political act. It's not something that necessarily needs to be spelled out."
She came pretty close in 2016, when she created a piece called Looking and Seeing for an outdoor art festival in downtown Toronto. She built a boxlike studio space to paint in, with peepholes for patrons to look in and watch her work.
"I was feeling a bit isolated, living in the suburbs as a Black artist, and just wanted to create: 'what does a young Black artist look like working in their studio,' and bring that into the Toronto context," Miller says, "I wasn't seeing more of me in the Toronto art scene, and I was thinking about heightened visibility of Black bodies. I used the peepholes as a device to have that conversation, about intimacy and what it means to be looked at in a very specific way, and the contrast that there's an actual human being in this space—a friendly person!"
Five additional winners
Funded by a $1 million endowment from the late Esther Kahn (Wheelock'55, Hon.'86), the annual Kahn Award competition is open to CFA students, both undergrad and grad, in their final semester.
"The Kahn Award provides funding for six talented, entrepreneurial graduating students to invest in themselves, their creativity, their future," Young says.
In addition to Miller's grand prize, five Class of 2021 students received $2,500 stipends:
Jisun Oh (CFA'21), School of Music, flute and piccolo
Xuerong (Kyra) Zhao (CFA'21), School of Music, piano
Amanda Fallon (CFA'21), School of Theatre, lighting designer
Khadija Bangoura (CFA'21), School of Theatre, actor, writer, and director
Hannah Minifie (CFA'21), School of Visual Arts, sculptor
Young has reviewed student portfolios alongside Deborah Kahn (Wheelock'67), Esther and Albert Kahn's daughter, for the past three years, and most recently, with Alexis Miller, the Kahns' granddaughter. "I am impressed by the Kahn family's enduring commitment to launching the careers of emerging artists," he says, "and their continuing confidence in CFA as an exceptional training ground for the fine and performing arts."