POV: Simone Biles Teaches Us Why We Must Support All Athletes Better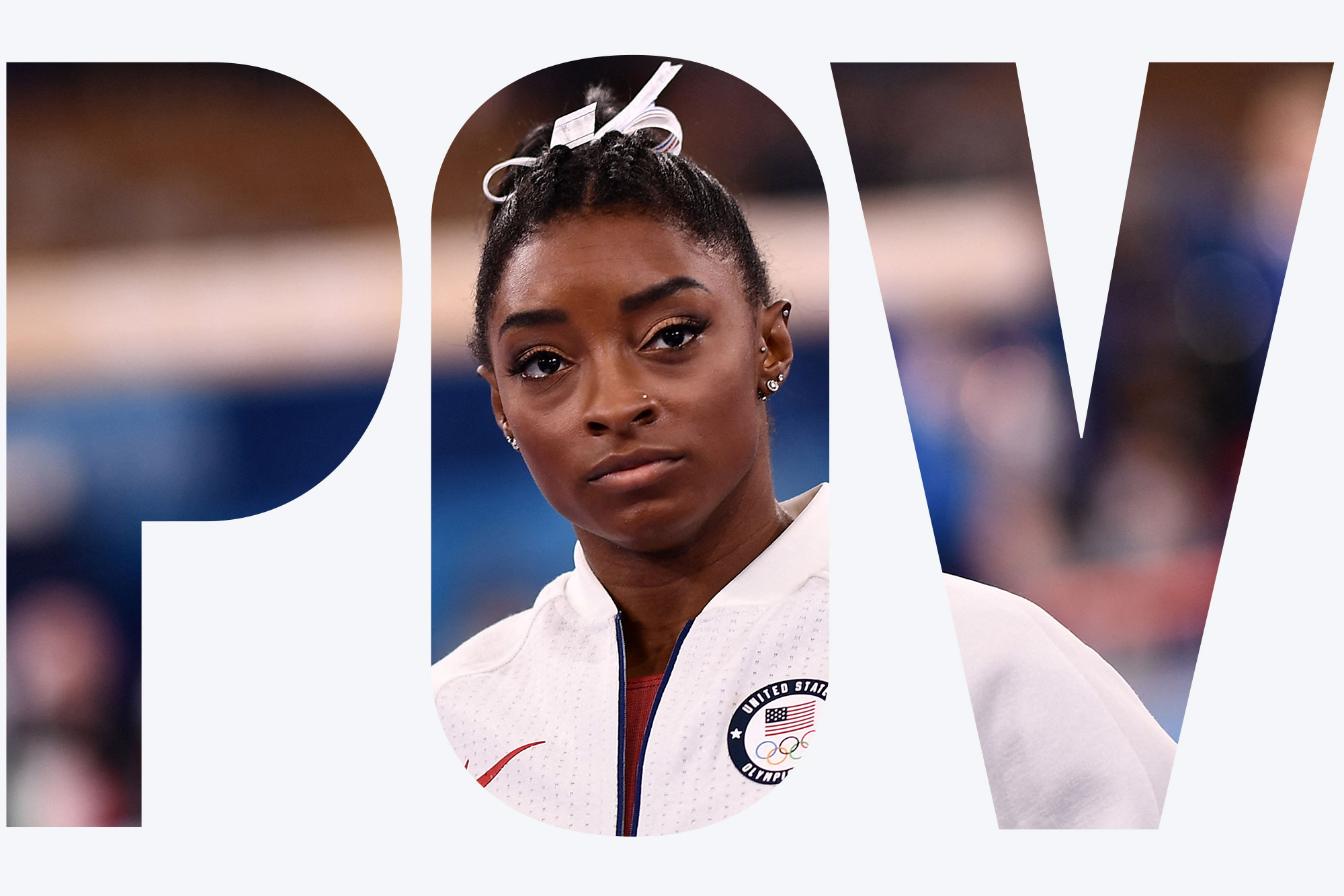 Voices & Opinion
POV: Simone Biles Teaches Us Why We Must Support All Athletes Better
"Elite athletes are not the only ones who experience these damaging conditions," two BU experts argue
Simone Biles explained her decision to pull out of the 2020 Tokyo Olympics gymnastics team final: "Whenever you get in a high-stress situation, you kind of freak out. I have to focus on my mental health and not jeopardize my health and well-being." She added: "You know, there's more to life than just gymnastics."
The fallout from her decision to withdraw, along with recent controversies around Naomi Osaka's withdrawal from the French Open and track star Sha'Carri Richardson's marijuana-related suspension, have highlighted dramatically the expectation that elite athletes will perform at the highest levels, no matter what physical or psychological challenge they are facing.
Research suggests otherwise. Sports psychology research suggests that if athletes do not feel mentally well, it is difficult for them to excel. Athletes perform at their best when they are fully immersed in the present moment and free from internal and external distractions that pull focus away from performance. Performance can suffer when internal challenges, such as mental health disorders, or external challenges—like excessive pressure and expectation from parents, coaches, society, the press, and the athletes themselves—are present.
But elite athletes are not the only ones who experience these damaging conditions. What we are seeing publicly in the sports world is what we have been seeing and hearing from athletes privately in our offices for years. That is, athletes at all levels—from youth to college—are suffering from the pressure to perform, the often self-imposed drive for perfection, and that can result in anxiety, depression, eating disorders, and other mental health symptoms.
While data shows that around 30 to 35 percent of both elite and college athletes suffer from these conditions, estimates suggest only about 10 percent of these athletes seek help. We as a society must do more to bring help to athletes, and to normalize and destigmatize the problems they are facing and to make solutions and services available and accessible.
In recent years, the NCAA and the US Olympic & Paralympic Committee, as well as many professional teams, have placed greater attention and emphasis on meeting the mental health needs of their athletes by hiring psychologists who specialize in both sports and clinical psychology to serve their constituencies. As recent events suggest, more support may be needed even within elite groups. It is also clear that most club, high school, and college athletes (especially those at the Division II and III levels and less elite DI programs) do not have access to the support they need. University counseling centers are severely understaffed, and most are not yet set up to address the specific needs of their student-athletes.
Even if athletes are not deterred by the stigma and do seek help, high-quality mental health counseling and sports psychology services are difficult to access, and their cost can be prohibitive. To excel, athletes need both psychological skills training (PST) and mental health support (MHS). MSH helps to ensure athletes are feeling, thinking, and behaving in healthy ways. PST involves teaching athletes mental and life skills that will help them to excel, including goal setting, self-talk, imagery, mindfulness, and achievement motivation.
At Boston University, teams and athletes have access to a wide range of sport performance and wellness services, including sports psychology services from our graduate students in Wheelock College of Education & Human Development's Counseling & Sport Psychology Program. Coming this fall, Wheelock is opening the Performance, Recovery, and Optimization (PRO) Center, which will help individuals and teams outside of BU attain and sustain optimal levels of well-being, performance, and personal excellence. The PRO Center is committed to fostering equitable access to state-of-the-art sports, exercise, and performance psychology services in our Boston community and beyond. In addition, we will research how individuals and teams reach and sustain optimal levels of well-being and performance.
By understanding how athletes and teams function in healthy and optimal ways, we can develop ways of enhancing well-being and performance in sports and other performance domains, including the military, music, and the performance arts. Every individual athlete and team deserves to thrive, and that is why Wheelock is committed to providing needed support and services in our local community, and conducting research that will enhance athletes' and performers' well-being. It is our hope that every university with a counseling and sports psychology program will start a similar center to serve their communities and provide integrated training in mental health counseling and sports psychology. We must bring the help to athletes and remove the barriers to access that have existed.
Edson Filho is a Wheelock College of Education & Human Development associate professor of sports psychology and counseling. Marla Zucker is a Wheelock lecturer and supervisor for the counseling and sports psychology programs within the Department of Counseling Psychology & Applied Human Development.