Looking for a Place to Study for Finals? Check out these spots
Study Tips
Looking for a Place to Study for Finals? Check out these spots
Let the cramming commence
Finals will soon come and go, and we will all move on from what has felt like an exhausting academic year. Before then, however, we have to make it through finals week, which means studying, studying, and more studying. When it comes time to stick your head in the books, it's important to find a place where you can concentrate. For some, that place may be your room, for others, it may be the GSU. With that in mind, here's a list of the best places to study on campus during finals week.
---
Mugar Memorial Library
Hours: open daily, 8 am to 11 pm
Mugar Memorial Library, the hub for studying, has made some adjustments to its schedule and offerings this semester. Therefore, to maximize your use of Mugar's facilities, get there early because study spaces are on a first-come, first-served basis, with limited seating and earlier than normal closing time. Also, if you need to be in an isolated area while studying, use the Student Study App to reserve a private study room. Mugar is a great place to study—even with numerous students working at the same time you can almost always hear a pin drop.
Educational Resource Center
Hours: Monday to Friday, 9 am to 5 pm
The Educational Resource Center (ERC) offers both casual and private study rooms on a first-come, first-served basis. Again, if you can study only in isolated spaces, visit the ERC's fifth-floor receptionist desk and request the key to a room. Note, by securing a room, you must adhere to the ERC's policies that include leaving after a maximum of two hours and leaving the space clean.
Pardee Management Library
Hours: Sunday, May 2, 11 am to 7 pm; Monday, May 3, through Thursday, May 6, 8 am to 7 pm; Friday, May 7, and Saturday, May 8, 10am-6pm
Pardee Management Library is on the Questrom School of Business third floor. While it is much smaller than Mugar, Pardee offers a number of casual and private and reservable rooms. The casual study spaces are first-come, first-served basis while the private study rooms can be reserved through the Student Study App. Pardee is a great place to study since it is typically empty, quiet, and has lots of natural sunlight.
George Sherman Union (GSU)
Hours: Monday, May 3, through Friday, May 7,
7 am to 10 pm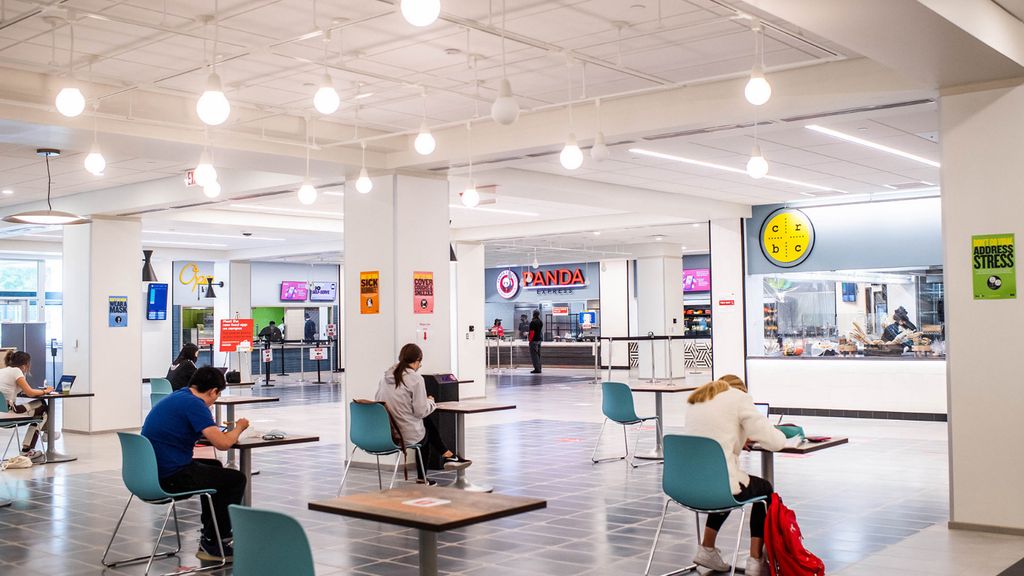 The newly renovated George Sherman Union is a place that facilitates study, good eating, and conversation. It has an abundance of socially distanced, comfortable seating, available on a first-come, first-served basis, that provides you with enough isolation to focus while studying and encourages you to talk with peers if you need to ask a question. More important, the GSU has five eateries available at your convenience until 6 pm if you need a pick-me-up.
Science and Engineering Library
Hours: Sunday, May 2, noon to 7 pm; Monday, May 3, through Friday, May 7, 8 am to 7 pm; Saturday, May 8, 11 am to 6 pm
This library is convenient for anyone living on or near East Campus and seeking a short commute. It has cubicles as well as communal tables for studying.
College of General Studies Lounges
Hours: Gilbane Study Lounge, Monday through Friday, 10 am to 4 pm; Katzenberg Center, Monday through Friday,
10 am to 4 pm
The College of General Studies has several study spaces to choose from. Two especially popular ones are the Gilbane Study Lounge on the first floor (Room 130) and the Katzenberg Center (Room 330) on the third floor. Plus, the first floor lobby, with a limited number of armchairs and plenty of natural sunlight, is open.
Disclaimer: because of COVID-19, the operating hours of many of these locations are different from those in a typical academic year.
---
Good luck on finals, Terriers. You've got this!