Artist Sam Weinberger's Latest Project Pays Tribute to Front-Line Workers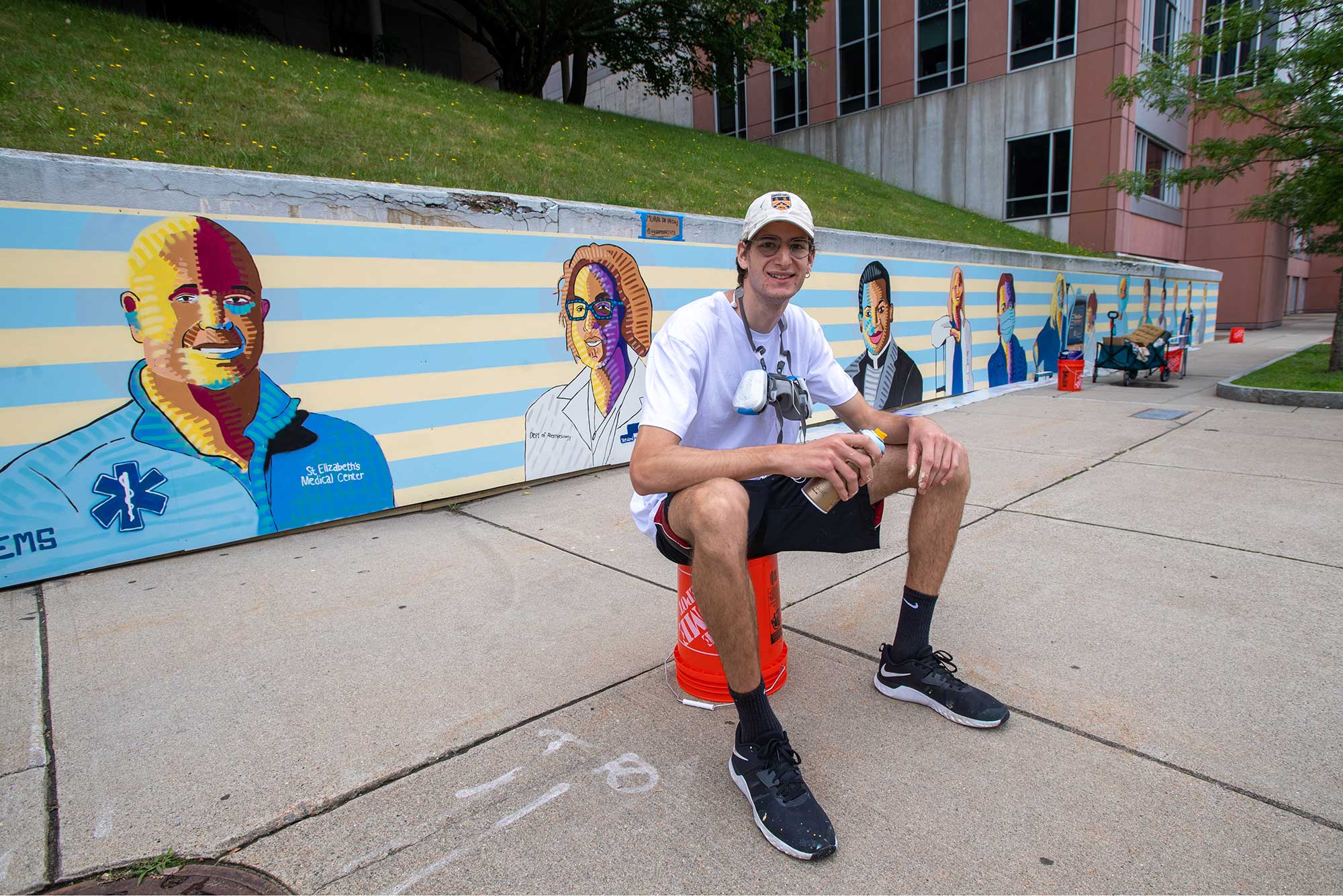 Painting
Artist Sam Weinberger's Latest Project Pays Tribute to Frontline Workers
CFA alum's mural at St. Elizabeth's Medical Center honors hospital's staff
If you've walked through Brighton lately, you may have noticed something a little different about Boston University's newest teaching hospital, St. Elizabeth's Medical Center (SEMC). We're talking about the 5-foot-tall, 100-foot-long mural now gracing the retaining wall on Washington Street, painted by artist Sam Weinberger (CFA'21).
It took Weinberger around a week to complete. The finished product, a series of 18 technicolor portraits of healthcare workers, uses anywhere from 15 to 20 colors of paint per portrait. To cover the 500-square-foot space—"one of the longest walls I've ever painted," he says—Weinberger went through almost 50 cans of spray paint, plus an additional six and a half gallons of regular paint for the background and detail work.
"I love to use lots of color in my artwork," Weinberger explains. "Color alone can change so much about someone's mood—if you're walking down the street, there's so much difference between walking past a concrete wall versus something that's full of blues and yellows.
"I'm really interested in how public art can positively impact someone's life."
The coolest part of the mural, however? It depicts actual SEMC staffers. Walking along the wall, you'll see portraits of doctors, certified nursing assistants, radiology techs, pharmacists, transport workers, and more—essentially, "everyone who keeps the hospital running," says Kelly Katapodis, director of marketing and community benefits at SEMC.
The mural is a collaboration between the hospital and Brighton Main Streets (BMS), a local nonprofit that works to support and promote the neighborhood's businesses. BMS approached the hospital early in the COVID-19 pandemic about creating a tribute mural to healthcare workers on a retaining wall and, Katapodis says, SEMC quickly jumped on board. "Throughout last year, a lot of people showed their appreciation for frontline workers through signs in their windows and on their lawns. We thought that a mural could be a great way to have a permanent place to show our gratitude to our frontline workers," she explains.
However, the hospital didn't want the mural to focus solely on COVID-19, which was "interesting to learn," says BMS Director Aidan McDonough. Instead, they wanted to pay tribute to the hard work that goes into keeping the local community healthy and safe each and every day. And, because the hospital's diverse staff serves a diverse community, they also wanted the mural to feature a broad spectrum of races, genders, ages, and sexual orientations to best reflect the neighborhood.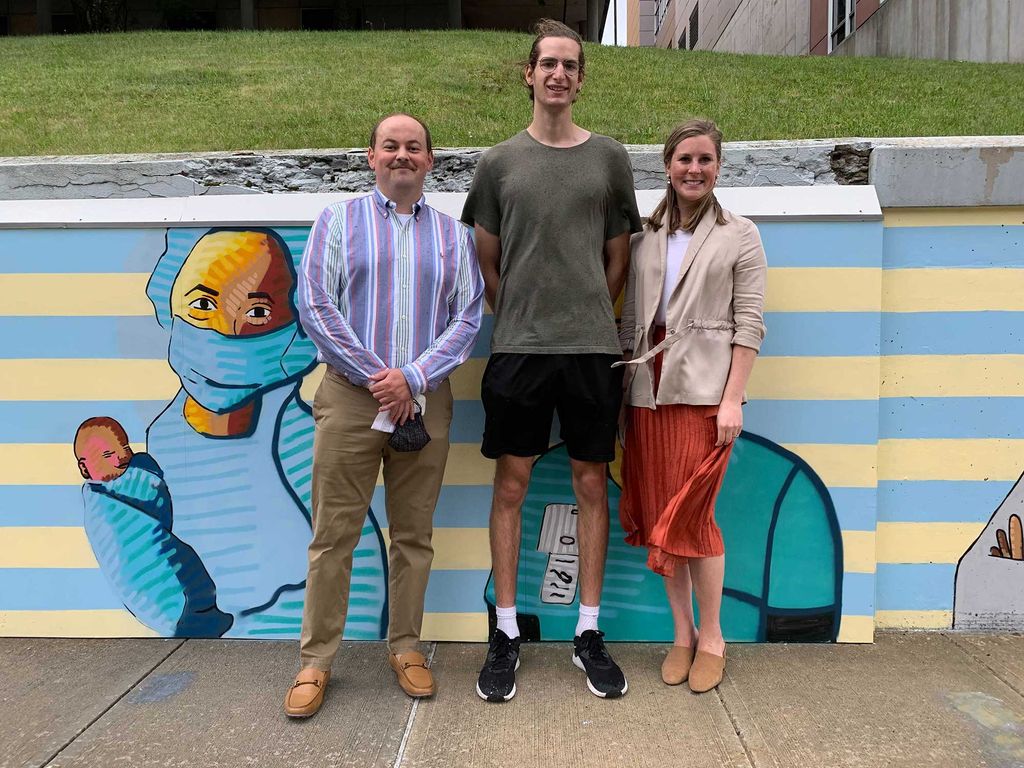 "When we put out our requests for proposals, we were asking artists to take those things into consideration," McDonough says. Weinberger's project proposal, he says, knocked it out of the park. "We loved his approach, but we were also so impressed by how ready he was to answer questions about his process, as well as open a dialogue about what the final design would be."
The result is a vibrant collaboration that everyone is thrilled over—staffers included. "Some of the people [pictured on the wall] came by while I was painting and were like, 'That's me! That's awesome!'" Weinberger says.
Weinberger, whose nickname is "Big Sam" (he's almost seven feet tall), grew up in rural New Hampshire, but says he loves feeding off the energy of an urban environment and taking his work to the streets. A self-described mural artist, street performer, designer, painter, and musician, he launched his own business, Big Sam's Paints, before graduating from BU.
The SEMC project marks his third outdoor installation in the Allston-Brighton area. Large-scale murals like this one, he says, are his favorite thing to paint, especially when the community is involved in the process. "This whole project was awesome," Weinberger says. "I love collaborative projects like this. I try to do them because they're such a community booster—they make so many people feel special, and they bring so many people together during the production process.
"That's the difference between doing public art and painting in my studio; the amount of people a mural touches is crazy, even in comparison to a piece that ends up in a museum. I don't know, I just love public artwork. It's such a wholesome thing."