Food &: New MET Gastronomy Podcast Explores Food Studies Questions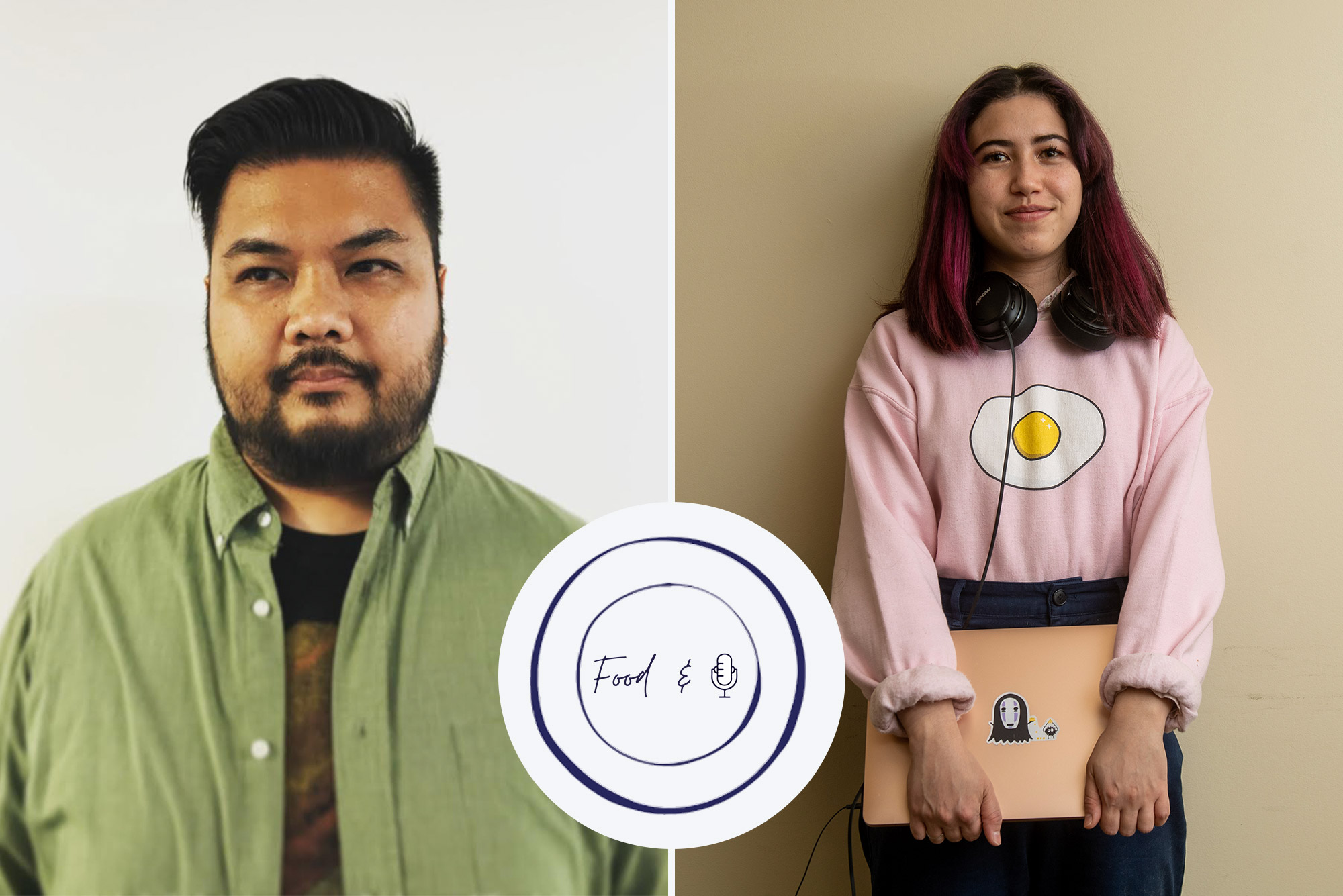 Journalism & Media
Food &: New MET Gastronomy Podcast Explores Food Studies Questions
A collaboration among students, faculty, and alumni, its latest episode explores cannabis in the kitchen
During the summer months, BU Today is revisiting some of the past year's favorite stories. This week, we feature stories about podcasts created by students and alums.
In 2011, David Yusefzadeh, who was working as a sous chef, was diagnosed with Crohn's disease. After years on medicines that provided little relief, he found using marijuana to manage his symptoms gave him relief, yet the edibles sold at local dispensaries lacked variety, nutrition, and taste. So Yusefzadeh (MET'18) put his culinary skills to work and began experimenting with cannabis-infused recipes. In 2018 he founded Cloud Creamery, an ice cream brand—infused with cannabis—providing healthier, tastier alternatives to prescription painkillers.
Edible innovation in the cannabis industry is the subject of the latest episode of the Metropolitan College Gastronomy Program's collaborative podcast Food &. Now in its second semester, the roughly 30-minute monthly podcast provides a window into the program's rich intellectual life and broader topics in the field of food studies. A collaboration among students, faculty, and alumni, the podcast has proved a valuable way to connect the community and share food stories at a time when most classes are necessarily online.
Food & producer Kenrick Mercado walks each new podcast host through a pre-interview prep, a sound check, and recording basics. Mercado (MET'22), an experienced broadcast video and audio producer based in the San Francisco Bay area, applied for a graduate assistant position with the Gastronomy Program his first semester, assuming it would be a typical (virtual) work-study position. Instead, program director Megan Elias, a MET associate professor of the practice, offered him the opportunity to start a podcast for the program.
"We had discussed the idea of having a podcast," says Elias, "as a way for people to get to know about our program and what makes us different from astronomy and gastroenterology—the departments we are most often mistaken for." However, none of the faculty or staff had the proper experience, until Mercado arrived with a background in radio and television.
Drawing from that background and his culinary arts degree, Mercado says that "audio might not reach as many people as video would," but compelling, personal food stories help listeners connect more emotionally with what they hear. While recording over Zoom has presented some unexpected technical difficulties (one guest calling in from Minnesota got caught in a thunderstorm, for instance), he says being able to interview chefs, alumni, and food producers from around the world makes up for the less-than-stellar audio quality.
"I really want to show other [students] that they can do this," Mercado says. "And that it doesn't have to be intimidating, especially with all the tools Zoom has."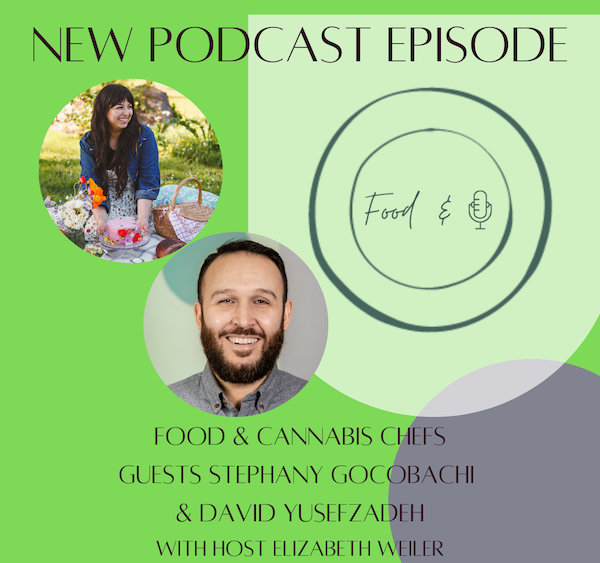 Exploring the Foodways of Cannabis Chefs
Food &
Host Elizabeth Weiler (MET'23) talks to innovators in the edible cannabis industry, including David Yusefzadeh (MET'18), chef and founder of Cloud Creamery, and Stephany Gocobachi, founder of the Flour Child Collective.
Audio — 45 minutes 49 seconds
Elias agrees with that. The podcast "is a great opportunity for us to make it clear why thinking academically about food is worth doing," she says. "It's also a great opportunity for students to connect with people whose work they admire, and of course, it's great training for students who may want to produce podcasts on their own."
Elizabeth Weiler (MET'23) is one of the students taking advantage of the opportunity to develop and produce episodes. At the start of the spring semester, Weiler volunteered to host the podcast, interviewing people from across the food world, including Jeff Morgan, a kosher vintner and founder of Covenant Wines, and journalist Joanna James, director of the acclaimed PBS documentary A Fine Line. As an undergrad, Weiler hosted a live radio show for the University of Oregon's KWVA Campus Radio. With her academic focus on gender, food justice, and food and power, Weiler's favorite interview was with Corrine DaCosta, a MET adjunct professor who teaches Culture and Cuisine of the African Diaspora.
In addition to formal interviews, students have also used the podcast to highlight student-organized events and provide further context for their importance in the food world. In March, Amy Johnson (MET'21) and Marie-Louise Friedland (MET'22), along with Altamash Gaziyani (MET'20), gathered over their favorite libations to preview The Curse of Connoisseurship: Discussions of the Boston Beverage Scene, part of the BU Learn More Series hosted by BU Diversity & Inclusion. The trio discussed the exclusive, classist nature of the wine and spirits industries. Earlier podcast episodes featured host Amanda Balagur (MET'16) interviewing Elena Terry, from the Native American Food Sovereignty Alliance, and chef and food historian Krysia Villon (MET'20). 
"We're still finding our voice," Mercado says. "I want to grow, but I also want to grow in variety, and offer different styles of narratives and different styles of podcasting."
For next month's episode, Weiler, in collaboration with College of Communication writing fellow Anna Cayco (COM'22), will interview Filipino-American author Grace Talusan about how she integrates food into her writing, including in her 2019 memoir The Body Papers. The memoir recounts Talusan's experience moving from the Philippines to Massachusetts at a young age, and often uses food to explore issues of tradition, connection to, and romanticization of, one's homeland, xenophobia, racism, and shame.
Coinciding with May's Asian American and Pacific Islander (AAPI) Heritage Month, Weiler and Mercado, both Filipino American, say this episode is particularly significant in light of the rise in hate crimes against members of the AAPI community. "While combating these hate crimes is a step in the right direction," Weiler says, "it's important to remember that systemic racism extends well beyond these stand-alone incidents."
Listen to MET Gastronomy Program's Food & podcast here.