Melissa D'Amico Named Head Coach of BU Women's Basketball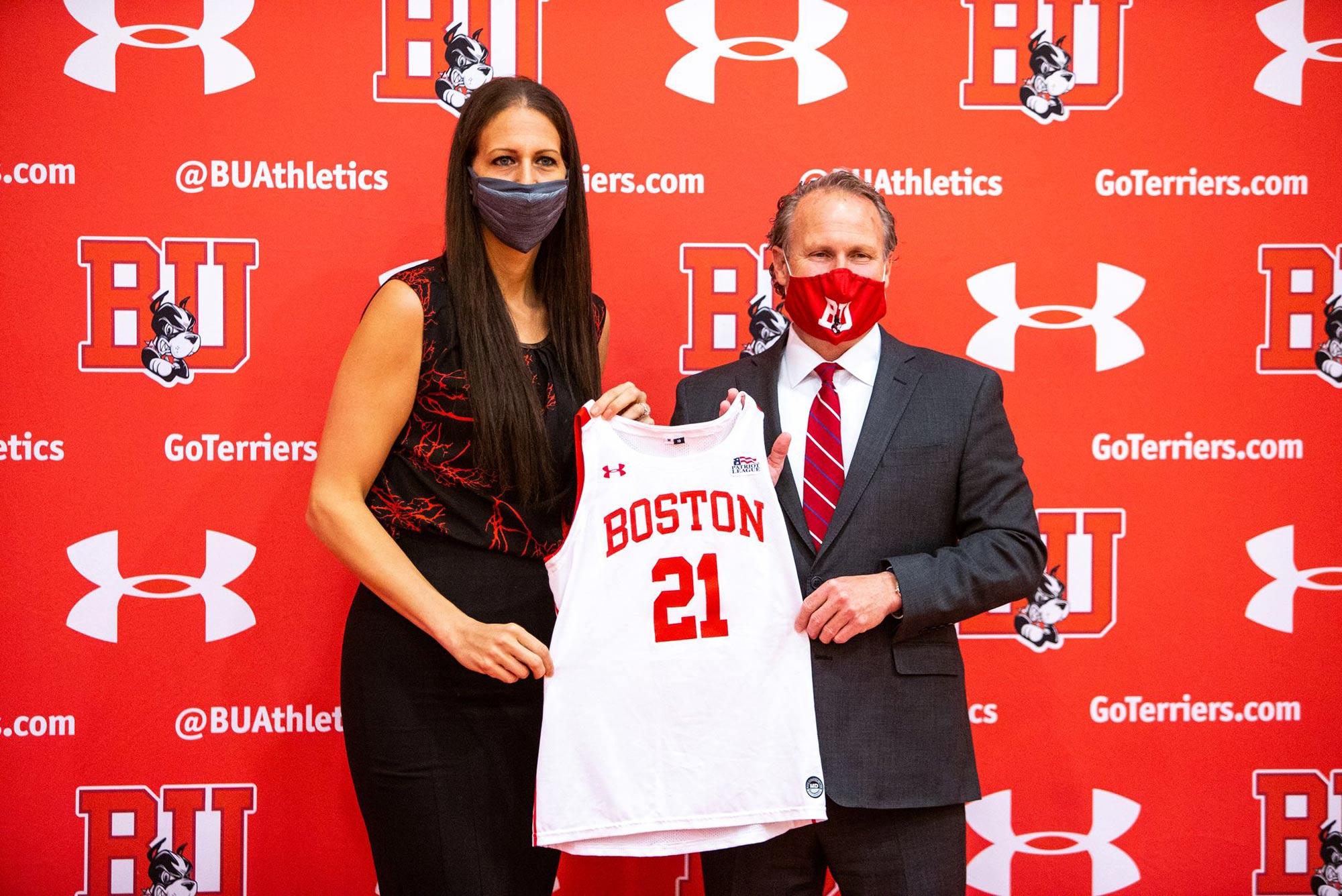 Varsity Sports
Melissa D'Amico Named Head Coach of BU Women's Basketball
Rising star cited for commitment to helping student-athletes succeed on and off the court
Shortly after this article published, Melissa D'Amico was married, and she now goes by Melissa Graves.
Wake Forest University assistant coach Melissa D'Amico has been named the new head coach of the Boston University women's basketball team. Her appointment was officially announced by athletics director Drew Marrochello at a press conference at Case Gym Monday afternoon. She is the ninth head coach in the program's history.
"I'm absolutely thrilled to be a part of the Terrier family," D'Amico said at the press conference. "Being back in the Northeast is a dream come true."
She began her coaching career in the Patriot League, as an assistant women's basketball coach at Colgate University in 2013, before becoming Yale assistant coach and recruiting coordinator in 2015. For the past three seasons, she has been a Wake Forest assistant coach and recruiting coordinator for women's basketball.
Marrochello noted D'Amico's "great reputation across this industry. She has a wonderful track record as a recruiter, recruiting students who can succeed in academically challenging environments."
D'Amico succeeds Marisa Moseley (CAS'04), who left BU last month after three seasons helming the Terriers to become head coach of the University of Wisconsin women's basketball program. Moseley, a BU defensive star and team captain who in 2003 helped the Terriers to their only NCAA Tournament appearance, led BU to its first-ever Patriot League championship game this past season.
"The job that Marisa Moseley and her staff did was nothing short of remarkable," Marrochello said. "We had a lot of great candidates, and I knew we would. This is a really, really good job."
Like Moseley, D'Amico had a distinguished career as a player before becoming a coach. She spent four years playing basketball for Notre Dame before embarking on a professional basketball career for five seasons in Europe and Asia.
In 2016, she was named to the Women's Basketball Coaches Association's Thirty Under 30 list as one of women's basketball's best up-and-coming coaches. Now 34, D'Amico says she is confident that BU is the right place for her first head coaching job.
"Our values just really aligned," D'Amico said. "I really believe in this University, 100 percent."
One of those shared values is community service. D'Amico founded and presides over Play Bold, a nonprofit that mobilizes and dispatches people and resources to disadvantaged parts of the world.
"We certainly like her outlook on community responsibility," Marrochello said. "The women of our basketball program are great ambassadors for the sport of basketball, and great ambassadors for our University."
On the court, D'Amico focused on the paint during her tenure at Wake Forest. Last season, she coached the Demon Deacons to the second-best rebound margin in the country, outmatching opponents by 14.5 boards per game. Wake Forest also placed in the top 20 nationally, with 44.5 total rebounds per game and 30.4 defensive rebounds per game.
The Terriers, meanwhile, have established a strong interior, leading the Patriot League with a plus-8.2 rebound margin this past winter. Riley Childs (COM'22) and Maren Durant (Sargent'23) were among the top six rebounders in the conference, pulling down 8.0 (Childs) and 7.7 (Durant) boards per game. D'Amico said she likes the look of the team already and has been impressed by the Terrier players' work ethic.
"Everyone has a clean slate, and they all can compete for time," she said. "These kids just want to get better, and they want to win."
D'Amico says she is committed to not only taking BU women's basketball to new heights, but to helping her players succeed both on and off the court.
"My priority is to love and serve our young women," she said. "Our culture will be one that is always constantly pursuing excellence—on the court, in the classroom, and in the community."