Medical Campus Promotes 13 Faculty to Associate Professor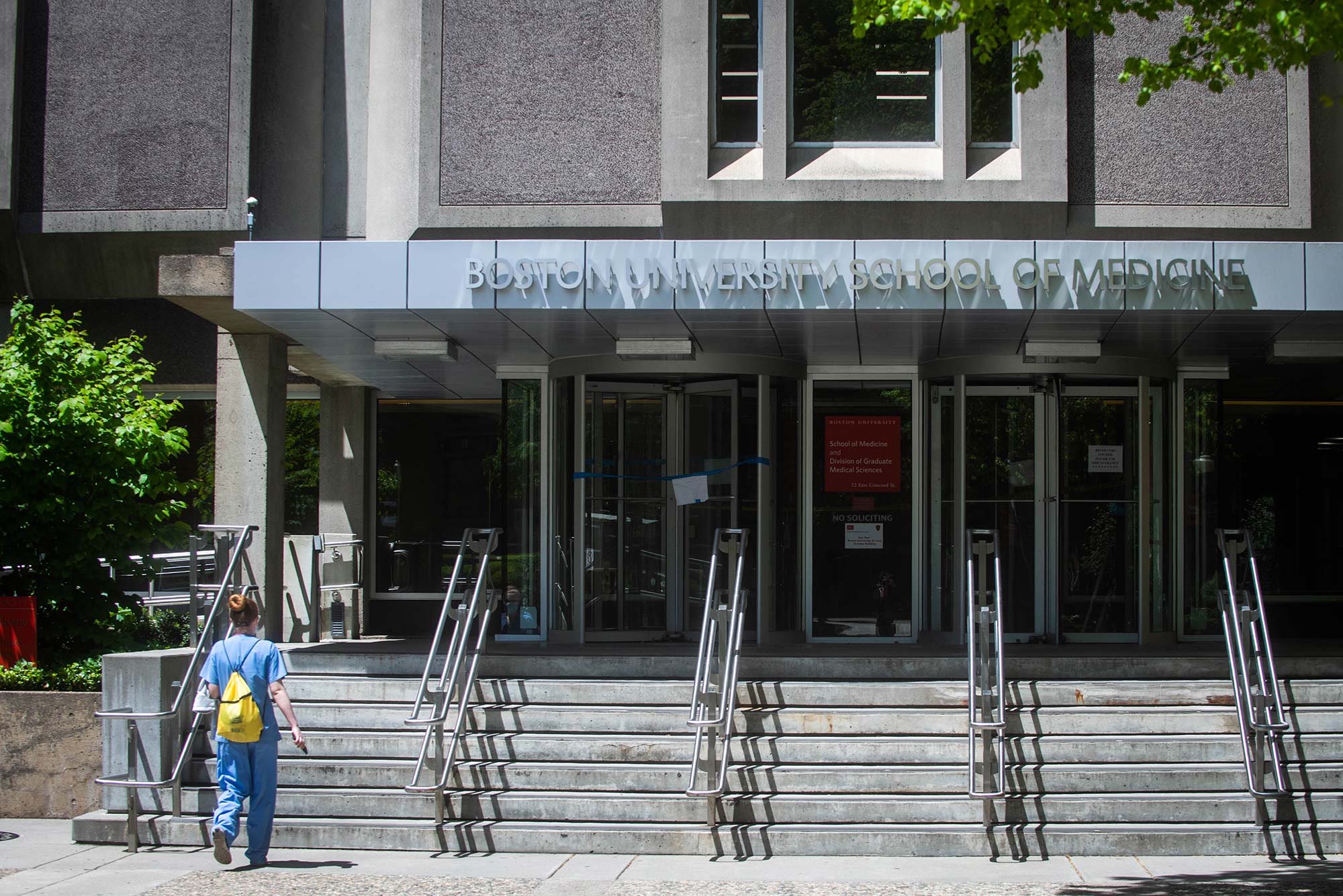 Promotions
Medical Campus Promotes 13 Faculty to Associate Professor
They have earned national recognition as leaders in their respective fields
A leader in autism research, an expert in molecular and genetic mechanisms that underlie the aging process, and a prominent researcher in veteran eating disorders are among the 13 faculty on Boston University's Medical Campus who have recently been promoted to the rank of associate professor. All are nationally recognized experts in their respective fields.
"We congratulate these talented faculty on this career achievement," says Karen Antman, School of Medicine dean and Medical Campus provost. "Our community very much appreciates the impact of our new associate professors' contributions to their fields and enjoys watching our faculty develop national and international reputations."
School of Medicine
Sarabeth Broder-Fingert, MED associate professor of pediatrics, is a leader in the field of autism services research. Primarily funded by the National Institute of Mental Health (NIMH), her work seeks to improve access to services for urban children at risk for autism. She serves as a principal investigator (PI) on multiple awards from NIMH, leading a national effort to understand long-term outcomes of children with autism detected through a set of innovative service system delivery programs; testing optimization strategies for family navigation; and developing implementation strategies for autism treatments in early intervention. Broder-Fingert also is a leader within her department, having served as a member of the Intern Selection Committee at the Boston Combined Residency Program in Pediatrics (BCRP) since 2015. She also is a member of the BCRP Council and the Residency Program Training Council, and is a leader in the hospital's autism-friendly initiative to improve the medical experience for individuals with autism. Nationally, she is a founding member of the NIMH Autism Spectrum Disorder Pediatric, Early Detection, Engagement and Services (ASD PEDS) Network, a founding member of the NIMH-funded RISE Research Network, a member of NIMH study section, and is a core member of the US Health Resources & Services Administration (HRSA) Healthy Weight Research Network.
Rachel Flynn, MED associate professor of pharmacology and experimental therapeutics and medicine, focuses on DNA damage repair and mechanisms of telomere maintenance in cancer. Her research has led to the identification of genetic mutations that contribute to the activation of the alternative lengthening of telomeres (ALT) pathway and facilitated the development of small molecule inhibitors that target ALT-positive cancers. A proponent of University-wide cancer initiatives, Flynn organized a seminar series showcasing BU research to unify interdisciplinary cancer researchers and foster collaborations within the University. Supported by funds to bring in outside speakers, the series has grown into a cancer community series uniting basic and clinical scientists. In April 2019, she was appointed codirector of MED's Genome Science Institute to expand genetics and genomics research within the cancer community.
Scott Hadland, MED associate professor of pediatrics, is known for his work in adolescent health and substance use. His clinical and research interests focus on youth substance use disorder prevention and treatment. As part of these efforts, he seeks to improve education on addiction among pediatricians in the US and beyond. He has also studied the potential influence of the pharmaceutical industry in physician prescribing of opioids and stimulants. He is one of only a small number of clinicians in the United States with triple board certification in general pediatrics, adolescent medicine, and addiction medicine. Hadland is a member of the editorial board for Pediatrics, and was the 2020 recipient of the Emerging Leader Award in Adolescent Health from the American Academy of Pediatrics and the New Investigator/Educator Award from the Association for Multidisciplinary Education and Research in Substance Use and Addiction. He was named to the Boston Combined Residency Program's Faculty Teaching Honor Roll (an honor given to only three faculty members each year).
Vyacheslav Labunskyy, MED associate professor of dermatology, focuses on studying the molecular and genetic mechanisms underlying the aging process, with the goal of using this knowledge to develop novel therapeutic approaches for age-related diseases. His work utilizes a systems biology approach, combining novel sequencing and live-cell imaging methods to pursue quantitative analysis of the factors that lead to or accompany aging in living organisms. Labunskyy has been supported by major National Institutes of Health (NIH) and American Federation for Aging Research (AFAR) grants, and published a book and numerous articles in top scientific journals.
Michelle Long, MED associate professor of medicine, is a physician-scientist with an expertise in nonalcoholic fatty liver disease (NAFLD). Director of the NAFLD Research Center and director of clinical research for the section of gastroenterology and hepatology, her clinical and research interests center on the relationship between NAFLD and cardiovascular disease. She conducts patient-oriented research investigating fibrosis and inflammation in patients with NAFLD and imaging and risk stratification strategies for hepatic fibrosis. She is the PI of projects evaluating the prevalence and risk factors for liver fat (steatosis) and fibrosis and investigating the clinical and genetic correlates of hepatic steatosis and fibrosis as measured by transient elastography. Long receives research funding from multiple sources, including the NIH's National Institute of Diabetes and Digestive and Kidney Diseases, Doris Duke Charitable Foundation, Gilead Sciences, Echosens Corporation, and BU.
James T. McPhee, MED associate professor of vascular surgery, has been involved in surgical comparative outcomes research since his two-year research fellowship during his general surgery residency, where he cofounded a surgical outcomes research group at UMass Medical School. Through advanced degree work at the Harvard School of Public Health, he has furthered his research knowledge, allowing him to mentor students, residents, and fellows and to engage them in comparative effectiveness research techniques and writing. He leads the open surgical techniques section of the fourth-year medical students' surgical boot camp, and is site supervisor at VA Boston Healthcare System for the third-year students' vascular surgical rotation. Additionally, he was recently promoted to VA Boston's associate chief of surgery for quality and safety. 
Karen Mitchell, MED associate professor of psychiatry, is recognized for her work in eating disorders, including her investigations of comorbid trauma, posttraumatic stress disorder (PTSD), and eating disorders in male and female veterans. Her work has helped to build a foundation for the US Veterans Health Administration's (VHA) current efforts to train provider teams in VA medical centers across the country in the treatment of eating disorders. Prior to her appointment at VA Boston, there were very few published investigations of eating disorders in veteran samples. In the past nine years, she has published numerous papers on this topic, including findings from studies on the prevalence of eating disorders in male and female veterans; the impact of childhood, adulthood, and military trauma on eating disorders; associations between intimate partner violence and eating disorders in male and female veterans; sexual orientation and eating disorders in male veterans; and associations between PTSD and eating disorders in military and veteran samples.
Thor Stein, MED associate professor of pathology and laboratory medicine, is a neuropathologist who focuses on understanding the role of age, trauma, and genetics on the development of multiple types of neurodegenerative disease. His research includes the most comprehensive studies to date on beta-amyloid deposition, cerebral amyloid angiopathy, and Lewy body disease following repetitive mild traumatic brain injury. He is associate director of the neuropathology core for BU's Alzheimer's Disease Research Center and Chronic Traumatic Encephalopathy (CTE) Center, and a site PI and neuropathologist for a number of brain biorepositories, including the Framingham Heart Study, Agency for Toxic Substances and Disease Registry (ATSDR), National ALS Biorepository, the VA ALS Biorepository Brain Bank (VABBB), and the Gulf War Veterans' Illnesses Biorepository. Since 2012, he has served the federal government on the VABBB's Tissue Access Committee. He is PI on numerous grants, including a VA Merit Award on the role of traumatic brain injury in the development of Alzheimer's and CTE, as well as multiple NIH grants focused on determining the link between epigenetic modifications, lipidomic profiles, and pathological changes in the brain as they relate to cognitive decline.
Jennifer Schuster Wachen, MED associate professor of psychiatry, focuses on improving evidence-based cognitive-behavioral treatments forPTSD in veteran and military populations, with a secondary interest in physical health and functioning outcomes. She has been integrally involved in the first randomized clinical trials of PTSD treatment in active duty military through collaboration with the STRONG STAR Consortium, a large national consortium of prominentPTSD researchers that has had significant implications for the delivery of evidence-based psychotherapies within the Department of Defense (DoD). She has been continually funded by theDoD and serves as coinvestigator on several VA-funded PTSD treatment studies. She is a trainer and consultant in cognitive processing therapy, and is known for her work in the area of moral injury, having conducted a workshop at an International Society of Traumatic Stress Studies conference and written a chapter on the topic, which was published by the American Psychological Association.
Henry M. Goldman School of Dental Medicine
Brenda Heaton (SPH'05, SPH'12), SDM associate professor of health policy and health services research, is an innovative scientist in oral health disparities research. She has taught in the predoctoral dental curriculum and in several courses at the School of Public Health, in addition to her current teaching in the dental postgraduate program. She is the PI of a five-year award (until 2023) to study the role of social networks in influencing oral health behaviors and modifying risk for various disease outcomes. Most recently, she received an award to develop behavioral intervention messaging for a planned future network-based intervention in public housing communities. In addition, she has been funded to develop simulation models aimed at identifying and addressing the mechanisms responsible for producing oral health disparities. She is serving a three-year term as member-at-large on the board of directors for the American Association for Dental, Oral, and Craniofacial Research and recently completed a three-year term as an elected officer of the Behavioral, Epidemiologic and Health Services Research Group of the International Association for Dental Research, one of the organization's largest and most prolific scientific groups.
School of Public Health 
Birgit Claus Henn, SPH associate professor of environmental health, focuses on estimating effects of environmental exposures on the health of children and reproductive-age women, implementing novel statistical methods to evaluate effects of environmental mixtures, and improving exposure assessment methods for epidemiology. She serves as the director of SPH's PhD program in environmental health. Her current external funding includes six National Institute of Environmental Health Sciences (NIEHS) awards on which she is PI or coinvestigator. She recently completed a NIEHS career development award and was previously supported by a prestigious US Environmental Protection Agency Science to Achieve Results (STAR) fellowship. She regularly conducts journal peer reviews and serves on NIH study sections.
Helen Jenkins, SPH associate professor of biostatistics, is known for her research on childhood tuberculosis (TB). Her work is at the interface of statistics and infectious disease epidemiology, using statistical models to further the understanding of epidemics, focusing on three areas: quantifying and understanding gaps in pediatric TB, spatial epidemiology of infectious diseases, and epidemiology of drug-resistant TB. She has coauthored 52 publications—as first author on 18, including in the New England Journal of Medicine, Lancet, and Lancet Infectious Diseases, and as senior author on 8, including in Lancet Global Health. She is also the PI of two NIH grants.
Monica L. Wang, SPH associate professor of community health sciences, is known for her work on the prevention of obesity and chronic diseases among children and families, with a focus on developing, evaluating, and disseminating community-based interventions that promote healthy eating and physical activity among low-income and racial/ethnic minority populations. She is a thought leader in antiracism and an expert in digital learning and online education, having taught online and hybrid courses for a decade. She has received numerous awards for her research, teaching, and service, including the Society of Behavioral Medicine's Early Career Investigator Award, a Greater Boston Chamber of Commerce Ten Outstanding Young Leaders Award, and SPH's Award for Excellence in Public Health Practice and Award for Excellence in Teaching.