Manned Missions. Conquering Space. The Problem with Space Lingo
Rhetoric
Manned Missions. Conquering Space. The Problem with Space Lingo
CGS's Joelle Renstrom says space exploration language is colonialist, and needs to change
This winter, NASA's Perseverance rover made its way past orbital probes from China and the United Arab Emirates to touch down on Mars and hunt for signs of long-ago microbial life. Then last week, Perseverance deployed the first helicopter ever to fly elsewhere than Earth as an exploratory device. With all that company around the Red Planet, NASA's helicopter may have to monitor aerial traffic jams up there.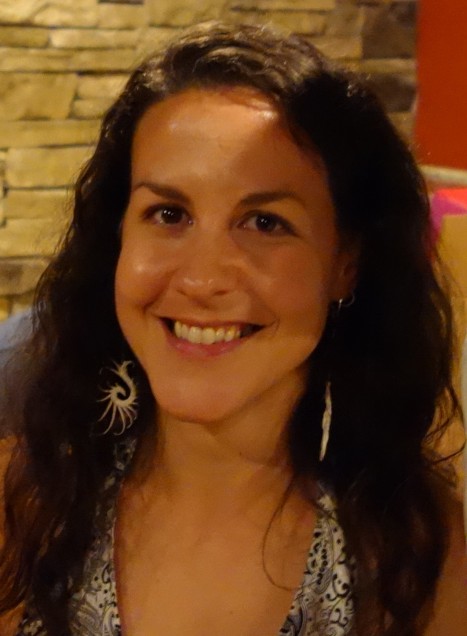 Yet as Earthlings preen about our inventiveness in delivering so much technology 182 million miles away, are we lapsing into imperialist rhetoric, suggesting entitled dominion over the universe—and reinforcing terrestrial disparities in the process? In a recent commentary for the online science magazine Undark, Joelle Renstrom, a College of General Studies senior lecturer in rhetoric, flagged words "that invoke capitalism or colonialism" in US discussions of space. "In a recent white paper," Renstrom wrote, "a group comprising subject-matter experts at NASA and other institutions warned of the hazards of invoking colonial language and practice in space exploration."
Renstrom, a writer who teaches classes about space and science fiction, spoke with BU Today about words we should lose—including a famous sci-fi mantra.
BU Today:
Which words or phrases are most troubling, in your view?
Joelle Renstrom: The gendered language, which is something that has always annoyed me—like a "manned" mission or spacecraft—NASA's been on top of, which is great. But the first thing I noticed was John F. Kennedy's 1962 speech about putting a man on the moon; he talks about "conquering" space; he uses "conquer" a number of times. He's saying if the USSR gets there first, space might not be peaceful anymore, but at the same time, he talks about wanting to conquer it. "Manifest destiny" [used by Donald Trump] is another one, as though to suggest it is our literal destiny to spread ourselves everywhere, regardless of what the consequences are.
BU Today:
"Manifest destiny" referred to our conquering the continent. To do that, we had to conquer indigenous people.
Joelle Renstrom: That's right. That is problematic, especially because indigenous people culturally have a deep connection with the cosmos, the stars, and the moon. It is woven into religious, spiritual, cultural beliefs and practices. This sacred space for them is attached, rhetorically, to slaughter of their ancestors. That's very alienating for them.

The "frontier" metaphor is the last one I point out.
BU Today:
As in "the final frontier"? I'd have to give up my lifelong addiction to Star Trek and space.
Joelle Renstrom: I grew up on Star Trek, too. I always thought it was a geeky reference, not a colonialist one. Writing this article, I was like, oh, crap, I use that word all the time.
BU Today:
You write that colonialist rhetoric "may influence who feels included in these endeavors—both as direct participants and as benefactors—and alter the way people interact with the cosmos." Can you elaborate?
Joelle Renstrom: There's no better example than the indigenous people who are alienated by most of the decisions that companies that have to do with space make. Elon Musk's Starlink satellites have changed ground-based astronomy—if I'm taking photos of the sky, all I'm getting are these darn satellites. For Native American people, this stuff in the sky obscures things they're feeling connected to. What are these satellites about? Some of them are communication, yeah. A lot of them are for making money. A lot don't work anymore; they're just orbiting space junk.

The signal is, we don't care if you navigate by the stars or if you worship [the cosmos], we can do to the sky whatever the heck we want. It contributes to this idea that space is the billionaires' playground. NASA works in partnership with [Musk's] SpaceX and private companies to help offset costs. NASA is so strapped for cash that you can pay to shoot a commercial at the International Space Station.

People say we have enough to worry about on Earth—we sure do, but it's a false dilemma to say you can't be thinking about both. This relationship is mutual. If we continue to use this rhetoric in space, it reinforces our use of the same rhetoric at home. If we're already thinking that you need to be privileged or white or male or wealthy to have an opinion about space, aren't we reinforcing the biggest problem potentially we have here on Earth?
BU Today:
If we were exploring an inhabited planet, colonizing attitudes would be problematic. As there's no one on Mars to colonize, what's the harm if a scientist says we're "conquering" the Red Planet?
Joelle Renstrom: We don't know if there's microbial life on Mars.
BU Today:
No one's going to worry about colonizing microbes.
Joelle Renstrom: I would. And Carl Sagan would. He was pro-space exploration, but he also said if there is life on Mars, even microbial, then Mars belongs to the microbes. I agree. Who are we to judge another life-form as inferior, and then potentially mess up that ecosystem?
BU Today:
If by studying those microbes, we could learn about possibly curing disease on Earth?
Joelle Renstrom: Examination is different from colonization: not caring about what you're doing to that habitat, and how many things you might be killing or disrupting. There could be an ethical way to explore and do tests on microbes. We would have to go into it with prioritization of ethical considerations.
BU Today:
Is there a danger that worrying about rhetoric will spark charges of political correctness?
Joelle Renstrom: Anybody who writes about the need to prioritize people other than Elon Musk and his ilk gets that backlash. When using words that refer directly to genocide and to talk about the only peaceful place that we know in existence, it's a lot more than just words. How many hate crimes and insurrections do you need to see before you realize that they're not just words? The backlash—which is always worse for women writers—[is] demographically from only one type of person.
BU Today:
Old white guys?
Joelle Renstrom: Yes. The ones that tell me I must hate space, or that I'm a snowflake, or whatever are always the same type of people, who aren't super in favor of equal rights for humans on Earth. In that way, you can see the connections, too. Who else would object to this stuff?