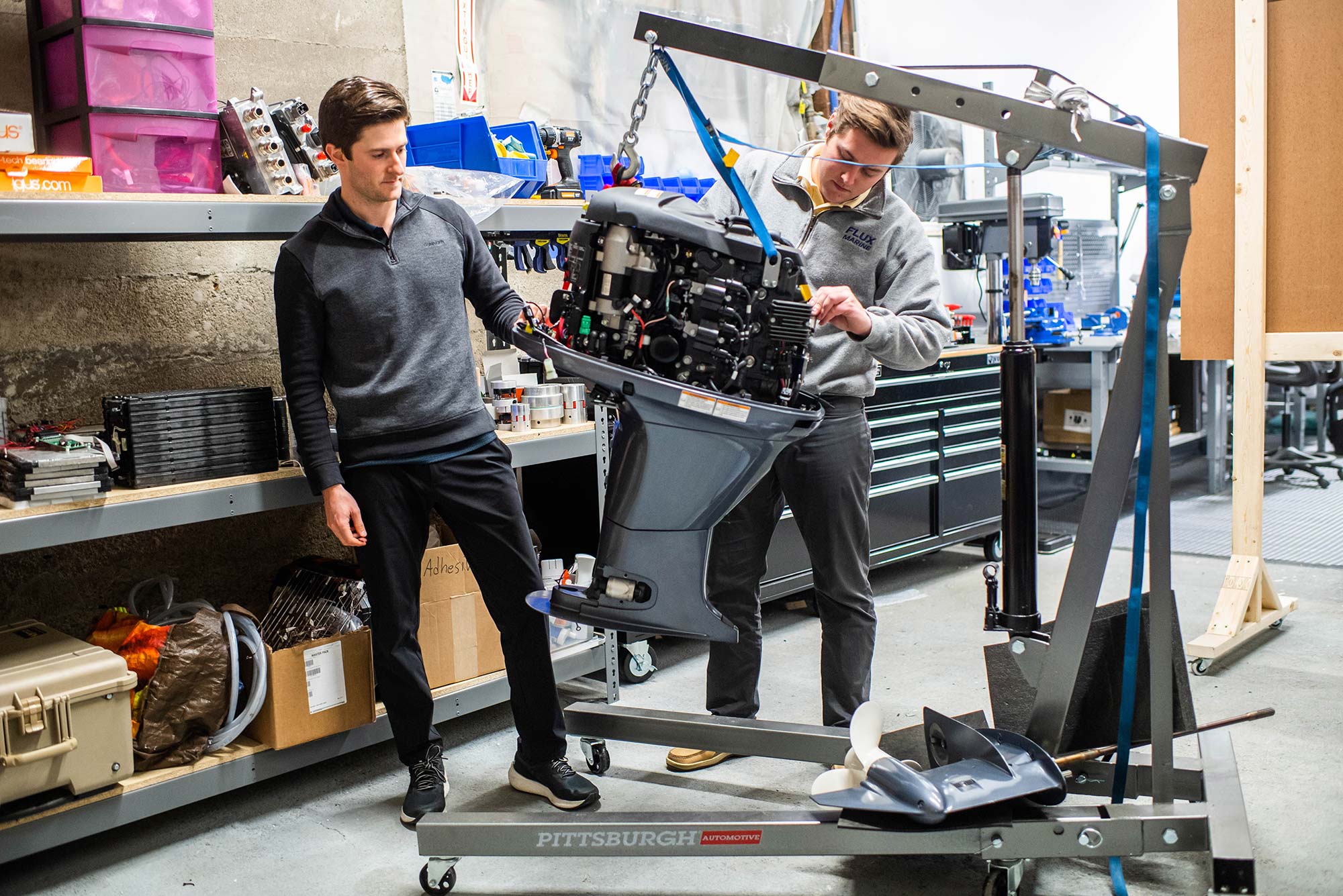 Innovation
Reinventing the Outboard
As cofounder of Flux Marine, Daylin Frantin is looking to change boating
Daylin Frantin and Ben Sorkin grew up together on Long Island and spent summers upstate at Sorkin's family cabin on Lake George, where the pair put in a lot of time together working on old boat engines.
"He would always drag me along for strange trips to buy old outboard motors from local folks around the lake," Frantin says. "As young as middle school, he was fixing outboards, and he made me his assistant. I liked the boating part, but hated the fixing part."
Now the friends lead Flux Marine Ltd., a start-up that is tantalizingly close to turning the small marine engine market on its head. "We always knew we were going to get it done," Frantin says, despite many setbacks and challenges. "The passion for the idea kept us going."
Sorkin went off to Princeton to study engineering, interning at Tesla and writing his thesis on efficient engines. Frantin attended BU's Questrom School of Business, where he studied business administration, with concentrations in finance and accounting.
He left campus in 2019 with a few liberal arts requirements unfulfilled because he and Sorkin had gotten serious about creating an electric outboard.
Such an outboard would be better for the environment and require less maintenance than those old gas engines they'd worked on. Along with Sorkin's Princeton friend Jonathan Lord, a heavyweight crew team member and fellow engineer, they founded Flux, a start-up now based on the harbor in East Greenwich, R.I., in 2018. A year later, Flux was a full-time job—if not always a paying one.
Many people already have electric motors on a skiff or canoe, of course—dinky trolling motors that will, eventually, get them from one fishing hole to another. At the high end, you can buy a powerboat with an expensive inboard electric motor to cruise over to the yacht club. The Flux team has a different vision: bringing a reliable, nonpolluting electric motor for marine use to a mass market.
"Unlike our competitors, who are just repurposing gas outboards and putting a new power head on them, we're designing this from the ground up," Lord says, "which is allowing us to fully realize all the benefits of electric propulsion."
The name Flux Marine has a dual meaning, one derived from the definition of "flux"—"We are bringing change to the marine industry," Frantin says—and the other from engineering—a magnetic flux field is responsible for generating torque in an electric motor. "Without flux, there is no power."
They say the advantages of the Flux engine are obvious, among them:
Clean energy: Outboard motors are notorious polluters, from gas exhaust fumes in the air to fuel leaks into the water. "Recreational boating releases a tremendous amount of uncombusted gasoline into the environment each year, with researchers suggesting a range from a low of 150 million gallons to a high of 420 million," according to a story on the EastBayRI website. "It is estimated that operating a family-sized pleasure craft for one hour releases the same amount of pollution as driving a typical gasoline-powered car for 800 miles."
Superior performance: With the electric motor, Lord says, "you get high torque at low RPMs, which means it's a totally different proposition than a gas engine. You can use a larger prop, so it's much faster 0-to-20 and has a higher top speed with higher efficiency."
Low maintenance: No moving parts or internal combustion means less maintenance. Plus it's easier to charge a boat than a car: most marinas and other docking facilities have power available so you can plug your Flux motor right in for a charge that takes just a few hours.
Sorkin is Flux Marine CEO, Frantin is COO, and Lord is CTO. But all 3 are deeply involved in all aspects of the business, which currently employs 15 people, including the founders and 5 other full-time employees. Andy Whitman (ENG'20) is their subsea systems engineer, and more than one BU student has rotated through as an intern.
It's been a long and sometimes rocky cruise. They've entered contests—including finishing third and winning $4,000 in an Innovate@BU New Ventures competition back in 2018. Together and separately, they've worked on the project at BU and in the Seaport, all around Rhode Island, and even in Hawaii—wherever they could find cheap, or better yet, free, workspace.
They've been through incubators and grants and angel funding, corporate overtures, and mechanical setbacks. They got a grant from the Massachusetts Clean Energy Center and sold an engine to the East Bay Sailing Club of Bristol, R.I. They've designed their own battery systems and built prototype after prototype. Early testers of a 15-horsepower model included coaches with the East Bay Sailing Club and the Brown University sailing team.
Things began to break the Flux team's way in fall 2019, when they entered, and won, the 19th annual Wye Island Electric Boat Marathon in St. Michaels, Md. With Sorkin at the helm, a Flux outboard–powered rigid inflatable won the 24-mile race in a record for a single-hull boat (one hour and 22 minutes), despite high winds that drove some competitors to sit it out.
In early 2020, Sorkin and Lord quit the corporate day jobs that were putting food on all their tables, just as the COVID-19 pandemic hit. Some Flux investors dropped out, saying they needed to focus on seeing core holdings through the crisis.
But since then, the company has mostly been riding a tailwind. A round of financing last fall put more than $1 million in Flux's bank account from angel investors, many ones who like boats.
---

We are bringing change to the marine industry.

---
"The next step for us is building this 70-horsepower engine we're calling the showroom model," Frantin says. "It will be a little different from prototypes we've built in the past, such that there's going to be a significant amount of money invested in it. Not really refining the system anymore, just putting something in the water that works and will be packaged beautifully."
The Flux team used some of their funds to buy two new boats, a 22-foot Bowrider Scout Dorado and a 12-foot rigid inflatable that might typically be used as a yacht tender, to mount their FM-X15, FM-X40, and FM-X70 engines on for tests and demonstrations. They hope to be taking consumer models to market next year. And they got a six-figure grant from the National Science Foundation to start developing even larger versions.
"It's definitely a scramble," Frantin says. "We have a lot of really good supporters at the moment, and they're expecting a lot from us."
Frantin says he came to BU to study finance and accounting, with the idea of working in an investment bank or in corporate finance. "It was not to do this. I can't say my cofounders knew we were going to do this either. It started with Ben and started with his thesis at Princeton: how do I build a more efficient boat?"
But they had won $315,000 in grants and contest prizes by the time of Frantin's last class at Questrom. (He hopes to submit final paperwork and transfer credits for his degree soon.) "I only know of one other cohort who won that much, and they were PhD students at MIT. It was the progress we had made that gave us the validation that we are going to do this. It's not going to be easy, and hardware is tough because there are a lot of risks," he says. "But we always knew we were going to get it done."