Fans Again Welcome at BU Athletics Events, with Masks Required at All Indoor Games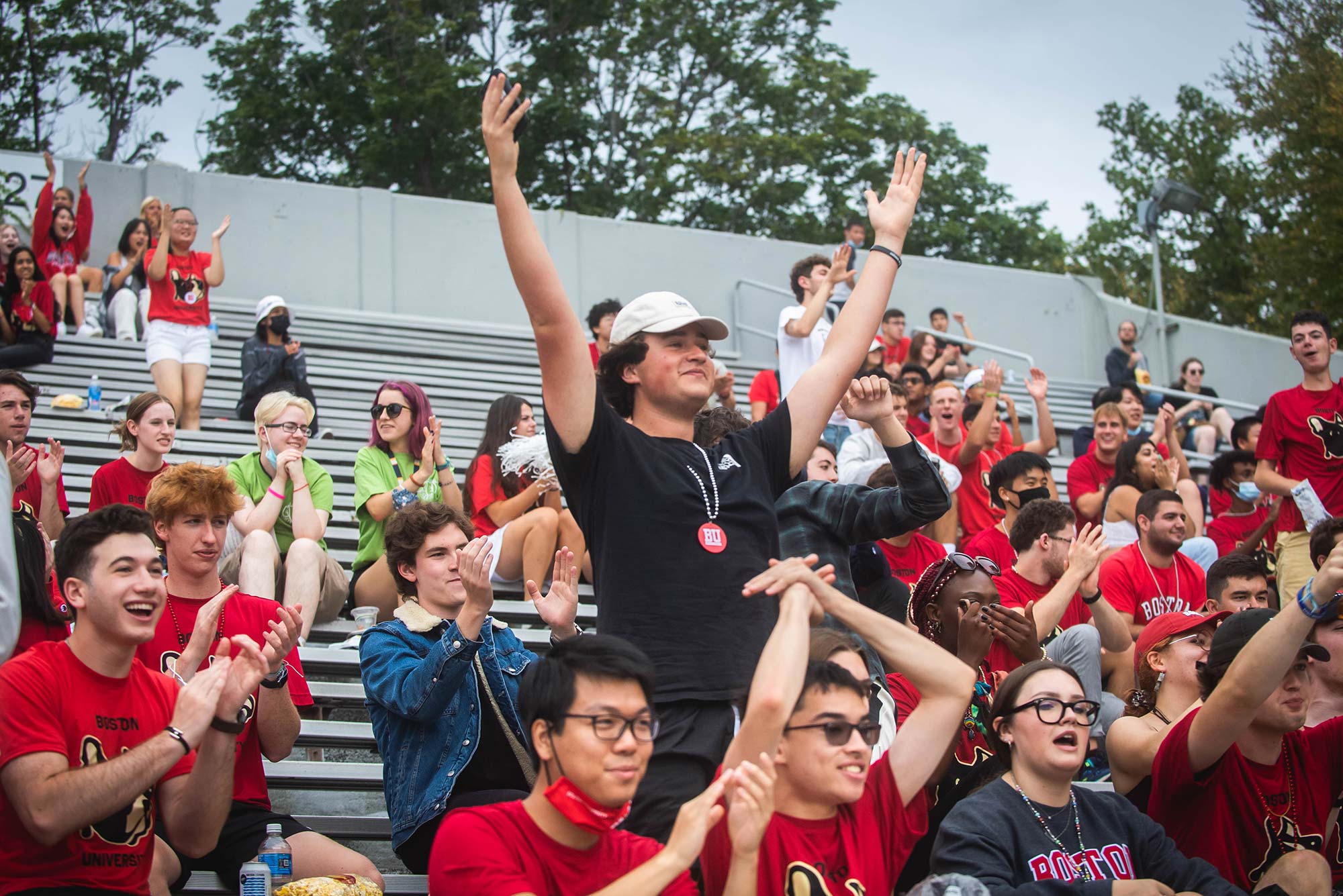 Varsity Sports
Fans Again Welcome at BU Athletics Events, with Masks Required at All Indoor Games
Attendance guidelines to be updated throughout the semester
After a year of games played in empty arenas and athletic fields, BU Athletics is welcoming fans back to home games this fall.
"Our department is thrilled to welcome back fans to our events this fall," says Drew Marrochello, director of athletics. "The crowds thus far for soccer and field hockey have brought some energy back to campus, and you can easily see how much that means to our teams."
BU's first post-COVID contest with fans in the stands was on August 23, when the women's soccer team hosted UMass Lowell at Nickerson Field (1-1 tie). Less than a week later, on August 29, a crowd of more than 4,500 turned out for the annual Terrier Tailgate at Nickerson—it was women's soccer again (a 2-1 loss to UMass Amherst).
BU Athletics public address announcer Nick Bove (COM'12) says the presence of fans makes a major difference. "Announcing to empty seats was a surreal experience, and I hope I never have to do that again," he says. "The fans mean so much to the atmosphere."
Athletes too expressed enthusiasm about the return of students, alumni, faculty, staff, and families to the bleachers. "Having all the fans back at the Terrier Tailgate brought out an amazing atmosphere that we have been missing," says women's soccer player Taylor Kofton (Sargent'22). "As athletes, we are so excited and grateful to have fans back in the stands supporting us." Women's basketball player Sydney Johnson (CAS'23) is on board with that. "I'm beyond excited to have fans at games this year. Having friends, family, and supporters in the stands means the world to us," she says.
BU's entire 2020-2021 athletic calendar unfolded in largely silent, empty venues courtesy of COVID-19. With a mask and vaccine mandate on campus, and the reintroduction of fans this fall, BU fan Colin Doherty says he can't wait to cheer on the scarlet and white again in person. "For me it's a sense of normalcy," says Doherty, a fan since 1985. "I started going to BU games when I was 11. It's everything to me."
It won't be completely normal, of course. As the world continues to battle COVID, there are some important caveats to consider when supporters return to BU sporting events.
As is the case in every University building this fall, visitors and BU community members alike must wear cloth face coverings or disposable masks at indoor games on campus.
BU fan and pep band member Alex Birger (CFA'22) says the indoor mask mandate is "a small price to pay to get to return to the arenas. I have been rooting for all our sports teams virtually since the pandemic started, but it isn't the same."
In addition to abiding by the regulations set by the University, guests must follow the commonwealth of Massachusetts travel-related rules. Fans are also advised to familiarize themselves with other schools' visitor policies before attending BU contests on the road.
Admission is free for most athletic events at BU, except for men's and women's basketball, men's and women's hockey, and men's and women's lacrosse. Season ticket holders for these sports will be contacted prior to the start of their seasons, and more information regarding general admission tickets for the sports will be released at a later date.
With a promising season ahead, Marrochello has a message for fans: "We thank our supporters for their patience and understanding throughout this pandemic and look forward to seeing them all soon."
As the fall season continues and more information becomes available, the BU Athletics fan policy and venue protocols will be adapted.