10 Cupcake Spots in Boston For National Cupcake Day
Food & Dining
For National Cupcake Day: 10 Luscious Cupcake Spots
From red velvet to carrot to gingerbread, chocolate peppermint to pina colada and more, our list of the best bakeries and their specialties is sure to satisfy your sweet tooth
A staple at bake sales, receptions, parties, any occasion really, the cupcake is a cuter, sometimes bite-sized version of cake. The idea for tiny cakes was conceived in 1796, in American Cookery, by Amelia Simmons. The cupcake wasn't invented until 1828, however, when Eliza Leslie published the first-ever recipe in Receipts, wanting to eliminate having to weigh ingredients on a scale. But it wasn't until the Hostess company started producing them in 1919 that the cupcake really took off, and today over 770 million cupcakes are eaten in the United States every year.
So today, for National Cupcake Day, we've gathered a list of the Boston area's top-10 spots to celebrate and grab a dozen for your sweet tooth fix.
The oldest scratch bakery in New England, Lyndell's opened in Somerville in 1887. Ownership has changed hands three times, but the recipes have remained true for over a century, favoring the classics: perfectly golden vanilla cupcakes with a choice of vanilla (the best-selling), chocolate, strawberry, or orange frosting; chocolate with a choice of chocolate or vanilla frosting; red velvet; and carrot. Vanilla and chocolate cupcakes are $2.25 apiece, with red velvet and carrot just $3. The bakery also sells butterfly cupcakes for those who like their pastries aesthetically pleasing, or custom specialty cupcakes for those special occasions. For custom orders, placing them over the phone is preferred.
Lyndell's, 720 Broadway, Somerville; hours: Sunday, 7 am to 3 pm, Monday, 7 am to noon, Tuesday through Saturday, 7 am to 6 pm.
No cupcake list is complete without this Brookline bakery, which has been open for over 50 years; its current owners took over the shop in 1992. With decades-true recipes, the pastries are a staple for generations of locals, who often return for a taste of nostalgia. The bakery has a rotation of seasonal cupcake flavors, available in a variety of sizes. Currently on display: Hostess, Hot Chocolate, Chocolate Peppermint, German Chocolate, and the Special, Chocolate Mocha. As the seasons change, the shop rotates flavors: Passionfruit, Lemon Orange, and Strawberry in the spring, and Raspberry Lemonade, Lemon Blueberry, and Pina Colada in the summer. The bestseller is the petite-sized cupcakes in a variety of specialty flavors, Oreo, Chocolate Mousse, Boston Cream, Peanut Butter, and especially, Red Velvet, with just a hint of chocolate and a rich cream cheese frosting. Custom order petite cupcakes for a tea party in sizes "tea" and "swirl," or treat guests with the larger sizes, regular and jumbo. Pick up the smaller "petit" ($1.89 each/$19.95 a dozen) or larger "grande" ($4.75 each/$27.95 per half dozen) for yourself in store.
Party Favors, 1356 Beacon St., Brookline; hours: Tuesday through Friday, 10 am to 6 pm, Saturday, 10 am to 5 pm, closed Sunday and Monday.
With 10 locations in and around the Boston area, pastry chef star Joanne Chang's Flour Bakery + Cafe welcomes those craving their latest sugar fix with a wide assortment of cakes, cookies, tarts, and pies. The bakery currently offers two flavors of cupcakes, a chocolate with vanilla frosting ($4) and a nutmeg with brown sugar frosting ($4.50). The customer favorite is the classic chocolate, but the seasonal nutmeg is not far behind. Call ahead before heading over to make sure the treats are still in stock, as they fly out the door quickly.
Flour Bakery + Cafe, 1595 Washington St., Boston; hours: Monday through Friday, 7 am to 7 pm, Saturday and Sunday, 8 am to 6 pm.
This North End bakery is famous for its delicious Italian pastries, cannolis, and tiramisu, and the cupcakes are no exception. On offer are three different flavors: a chocolate cupcake with chocolate frosting and a vanilla cupcake with vanilla frosting, at $5 each, and a red velvet cupcake with vanilla frosting, the most popular, at $6. Each flavor can be purchased individually, or in packs of two, three, or four. No need to run there: Bova's is open for business 24/7. You can also order cupcakes online, with $30 minimum required for delivery.
Bova's Bakery, 134 Salem St., Boston; hours: open 24 hours every day.
The debate between Bova's and Mike's Pastry is sure to come up whenever North End pastries are mentioned. Mike's signature white box with blue font and a string bow has become synonymous with the Boston experience, and the cupcakes are sure to bring back feelings of nostalgia. The Hanover Street location (there are also Mike's on Causeway Street, in Harvard Square, and in Somerville) currently features four different simple, no-fuss flavors ($4): the fan favorite vanilla, chocolate, peanut butter, and Oreo. Delivery is also available on Uber Eats and Grubhub.
Mike's Pastry, 300 Hanover St., Boston; hours: Sunday through Thursday, 8 am to 10 pm, Friday and Saturday, 8 am to 11 pm.
This family-owned Italian bakery in the North End has been providing generations of locals with quality pastries for over 70 years. The cupcake selections include classic vanilla and chocolate ($2.50), specialty flavors like red velvet and peanut butter ($4.50), and decorated cupcakes ($6) that come with designs, like the three-flower frosted cupcakes (red, yellow, orange, or blue flowers available in chocolate or vanilla buttercream) or even Santa Claus (available in chocolate or vanilla buttercream) for the holidays. The best-selling cupcake is the Boston Cream specialty cupcake, a vanilla cupcake with chantilly cream filling, covered in chocolate ganache and finished with a white chocolate ganache swirl. Place an online order here, or on Grubhub.
Modern Pastry Shop, 257 & 263 Hanover St., Boston; hours: Sunday through Thursday, 7 am to 11 pm, Friday and Saturday, 7 am to midnight. Call for custom orders, Tuesday through Friday, 8 am to 2 pm.
This popular chain opened its first location in Washington, D.C., in 2008, and has since expanded to New York, Los Angeles, Atlanta, Bethesda, and Boston. The Boston location has a wide selection of flavors. The classics include various chocolate and vanilla cupcakes, as well as the Signature, a red velvet cupcake with vanilla cream cheese frosting, topped with a red fondant heart, and daily specials feature inclusive options like a vegan carrot cupcake and gluten-free peanut butter fudge. There are holiday standouts, like the Gingerbread, a gingerbread cupcake with a cinnamon-infused cream cheese frosting, topped with a fondant gingerbread man. Cupcakes are sold individually ($3.75), by the half dozen ($20), and by the dozen ($38). Order cupcakes for delivery or shipping here.
Georgetown Cupcakes, 83 Newbury St., Boston; hours: open every day, 10 am to 7 pm.
This gourmet cupcake shop is the brainchild of a college student who discovered a passion for baking while catering events. Taylor Stump had fallen in love with Cape Cod as a child and decided to pursue her dreams by opening her first shop in Hyannis, then one in Boston. All the shops' cupcakes come with decadent fillings and are available in two sizes, mini ($2.75 each, $32 a dozen) and regular ($3.99 each, $52 a dozen). The best-selling flavor is the Sea Salt Chocolate Caramel, chocolate cake filled with milk chocolate ganache, frosted with caramel buttercream, drizzled with caramel and chocolate syrup, and topped with a chewy chocolate caramel candy and a pinch of sea salt. The shop recently debuted a limited-edition holiday flavor, the Ginger Nog, gingerbread cake, vanilla cream filling, and eggnog buttercream. Order online for pickup, delivery, or shipping here.
Little Miss Cupcape: Boston, 250 Newbury St.; hours: Monday and Tuesday, noon to 8 pm, Wednesday to Sunday, 11 am to 8 pm.
Cape Cod, 388 Main St., Hyannis, Tuesday through Saturday, 10 am to 6 pm.
Boston Magazine's 2021 winner for Best Cupcakes, Sweet Tooth Bakery also took home second place on the reality TV show Cake Wars in 2015, where owner and baker Glenn Quirion found himself fixing a cake damaged seemingly beyond repair. The gourmet cake shop offers a lineup of creative and elevated classic cupcakes ($4), including a chocolate and vanilla, a Chocolate Truffle filled with chocolate buttercream, dipped in ganache, and topped with signature truffles. The Sweet Tooth signature cupcake is the award-winning carrot cupcake, topped with vanilla cream cheese icing. 
Sweet Tooth Boston, 371 West Broadway, Boston; hours: Tuesday through Friday, 10 am to 6 pm, Saturday, 9 am to 3 pm.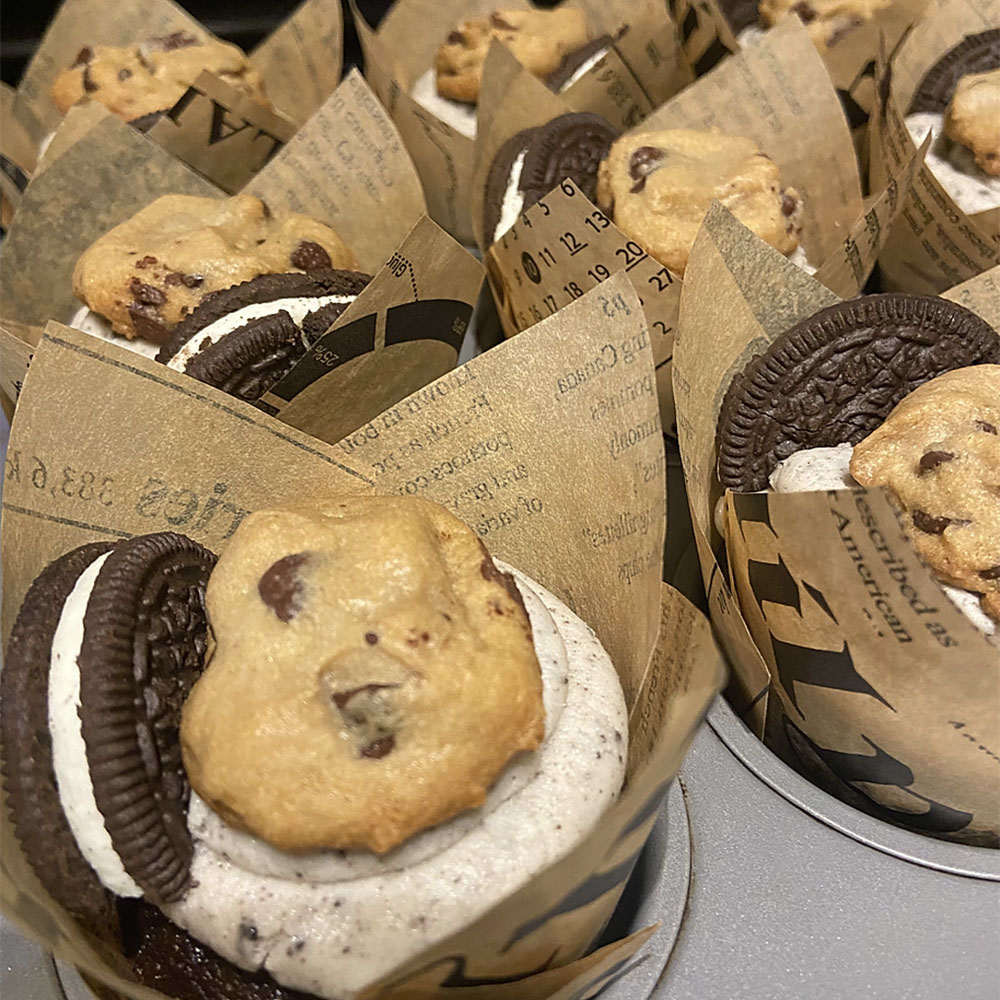 Caked Boston takes pride in its freshly made treats, with no artificial preservatives and colors, with a selection of traditional cupcakes ($3.50 each/$39 a dozen) and alcohol-infused premium cupcakes ($4 each/$45 a dozen) on offer. It has an extensive variety, from the classic red velvet cupcake to the orange creamsicle cupcake to a unique chicken and waffles cupcake topped with maple syrup, a mini waffle, and a piece of fried chicken. The most popular traditional flavors are currently the Cookie Monsterlicious, chocolate cake with cookie cream frosting and bite-sized cookies, and Cannoli, a vanilla cupcake with cannoli filling, buttercream frosting, chocolate chips, and a cannoli shell crisp. The most popular premium flavor is the James and Ginger cupcake, Irish whiskey–infused gingerbread cake, topped off with Irish whiskey cream cheese frosting. The bakery is currently taking only delivery and catering orders, with free local delivery with a minimum of a dozen cupcakes. Place an order here.
Caked Boston, 3 Washington St., Somerville, 617-221-8224; hours: open every day, 9 am to 7 pm.