COVID Vaccines Arrive at BU: Everything You Need to Know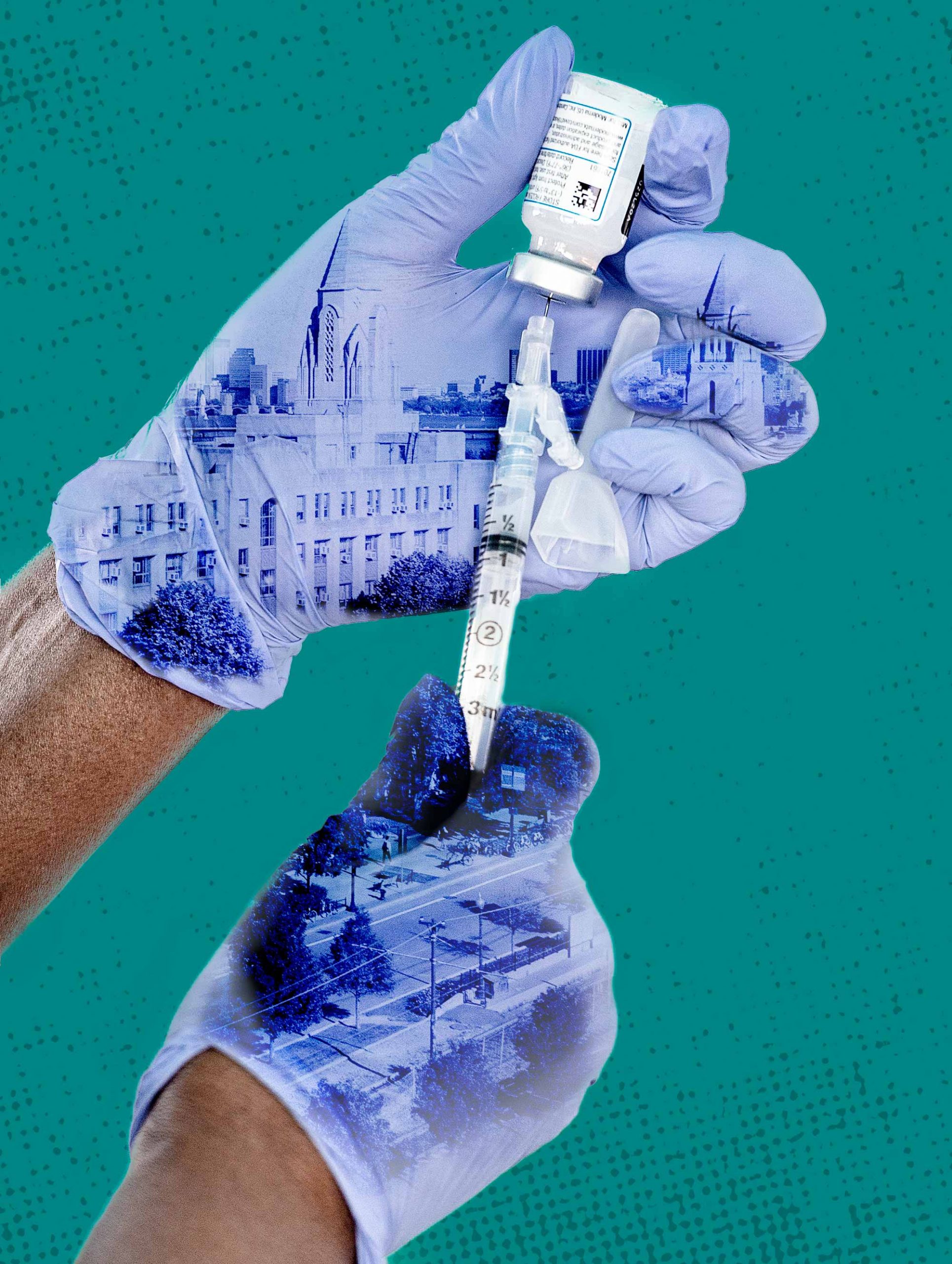 COVID-19 Vaccine
COVID Vaccines Arrive at BU: Everything You Need to Know
Initial 500 doses are anticipated to be the start of a monthslong process in which BU hopes to offer vaccination to all students, faculty, and staff
On Friday, Boston University plans to begin giving COVID-19 vaccinations to its community using a small shipment of 500 vaccines—made by Moderna—that were delivered to the University this week. An allotment of 400 doses has been provided by Boston Medical Center (BMC), BU's teaching hospital, and an additional 100 doses were sent to BU from the state of Massachusetts. BU will follow the state's guidelines for determining who is eligible to receive a vaccination in order of priority, outlined by the state's three-phase vaccination plan. The first group to be vaccinated at BU will include healthcare workers and staff in COVID-facing job functions that fit into Phase 1A of the vaccine rollout, as defined by the state.
When more doses arrive, BU will be ready. At the end of last year, BU President Robert A. Brown convened a Vaccine Preparedness Group to iron out details for how the vaccines will be received, refrigerated in cold storage units, and administered fairly and equitably to members of BU's community.
On Tuesday, The Brink spoke with Judy Platt, director of BU Student Health Services and cochair of the Vaccine Preparedness Group, and with Ann Zaia, director of BU's Occupational Health Center. Both have played critical roles in leading the teams that manage BU's campus-wide COVID-19 surveillance program and in caring for BU students, faculty, and staff who have tested positive for the virus. Now, with members of BU's community preparing to roll up their sleeves for long-awaited vaccines, Platt and Zaia's teams will be at the forefront of administering the shots.
Q
&

A
With Judy Platt and Ann Zaia
The Brink: How will the arrival of the COVID-19 vaccines affect BU's spring semester? Will things look any different from the fall semester?
Platt: Spring semester is not going to look different from fall semester. We need everyone to keep adhering to hand-washing, social distancing, and for anyone approved to come to campus, to continue wearing a mask at all times on campus, filling out their daily symptom attestation form, and getting regularly screened for COVID through BU's Clinical Testing Lab.
Zaia: The first phase of vaccinations will be really focused on healthcare providers and staff who support critical COVID-facing healthcare, which makes up a very small percentage of the BU population. Things are going to look the same on campus. Hopefully, we will get more vaccines soon from the state.

Who determines how many vaccines BU will receive at a time, and when those shipments will be delivered?
Zaia: The Centers for Disease Control and Prevention (CDC) determines the national distribution of the vaccines, and then it is up to each state to determine the distribution process among their residents. We are on Massachusetts' distribution list and so we will await to see how many vaccines the state will send us, as well as when those shipments will come.

Platt: What's been really important, in terms of getting on the state's distribution list, is that BU is experienced in running large-scale vaccine clinics. We give out several thousand vaccines each year during our annual flu clinics. This specific expertise and experience has been helpful in assuring the state that we are equipped to roll out COVID-19 vaccines to the BU community.
BU is receiving 500 doses of the Moderna vaccine from the state this week. Will those be used to give 500 people their first dose, or to give first and second doses to 250 people?
Zaia: It is critically important that we vaccinate as many individuals as soon as possible. We will use the vaccines to provide the first dose to 500 people at BU who fit into the state's definition of the highest-priority vaccination phase: COVID-facing healthcare providers and their support personnel. Our hope is that—with the ramping up of vaccine manufacturing and distribution—we will soon get a second set of doses from the state to give this group their second shot.
Platt: From our discussions with the state, we feel confident that if we are appropriately aligned with giving vaccinations to our community in line with the state's prioritizations, we will continue to receive doses of the COVID-19 vaccines as they become available.
You mentioned COVID-facing healthcare providers and support staff will be the first to be vaccinated. Can you explain in more detail who from BU will be offered one of the first 500 vaccines?
Platt: We are adhering strictly to the state's guidelines on who should be offered the vaccine first, based on their job function here at BU. We also have a dedicated Vaccine Preparedness Group that is working to ensure that the vaccine is distributed in a fair and equitable way, and that we accurately capture the role and function of each person in our community to determine which phase of the vaccine distribution they belong in.
Zaia: Thankfully, many BU employees who have COVID-facing medical appointments through Boston Medical Center have already been vaccinated through the hospital. So, this first batch of 500 vaccines dedicated to BU will go toward vaccinating our clinical staff members who are not affiliated with BMC, and therefore haven't been offered a vaccine yet. That includes BU clinical staff that take care of students in COVID isolation housing, people who work at our COVID test sampling sites, healthcare providers at Student Health Services and Occupational Health, as well as nonclinical staff that directly interface with BU's healthcare workers, such as people who clean clinical spaces. Researchers working with live coronavirus inside BU's National Emerging Infectious Diseases Laboratories (NEIDL) will also be offered the vaccine in this first phase.
How exactly will the COVID vaccination process work at BU?
Zaia: It will feel very similar to the flu clinics, except that instead of open scheduling for appointments it will be by invitation-only appointments. At the clinic, the vaccination experience will be very similar to the flu clinic, but after receiving their shot, people will be asked to sit in a socially distant area for 15 minutes, as recommended by the vaccine manufacturer, so that they can be observed by nursing staff for any signs of an allergic reaction, which have been reported rarely.
Who will administer the vaccines?
Zaia: Healthcare providers and nurses from Student Health Services, Occupational Health, and BU Healthway.
How will BU monitor people who receive a vaccine for signs of an allergic or otherwise adverse reaction?
Platt: We will follow CDC guidance, advising all individuals with no history of previous allergic reactions to sit for 15 minutes of observation after receiving their vaccine. If someone has a prior history of allergic reactions, we will monitor them for 30 minutes after vaccination. The CDC advises that we don't offer the vaccine to anyone who has previously experienced a severe allergic reaction or anaphylaxis after getting a vaccine.
What should most people expect to feel after receiving a vaccine?
Platt: Muscle soreness and redness at the site of injection are very common reactions for receiving any vaccine, including this one. Some people may also feel a little under the weather, experiencing fatigue or a headache. That's common and it's a good sign—it means the immune system is doing exactly what it's supposed to do.
Zaia: Anyone from BU who has any questions or concerns about the way they feel after receiving the COVID vaccine can call their primary care providers or BU Healthway, which will have nurses available for triage over the phone (call 617-353-0550 and then dial 2).
Will people receive some record of their vaccination?
Zaia: Vaccination will be recorded in your medical record at BU, the same as any other vaccine you receive through the University. In addition, everyone who gets vaccinated will receive a COVID vaccination card from the CDC, which records when and where they were vaccinated. Everyone needs to hold onto their original copy—that physical copy is what the CDC wants people to carry and it may someday be needed for you to board a plane, for example.
After their first vaccine dose, do we know if someone can still get infected with COVID-19? What about after the second dose?
Platt: Yes, someone can still be infected with SARS-CoV-2 after their first dose of the vaccine. It is much less likely that someone can be infected after receiving the second dose. Importantly, the vaccine will help to prevent severe disease and hospitalization in people who are vaccinated.
Zaia: It can take a few weeks after vaccination to build up to immunity. It all depends on a person's individual immune system. Being older, being pregnant, being immunocompromised—these are all factors that can weaken a person's immune response. Maximum protection from the vaccine, around 95 percent in the case of the Moderna vaccine, can only be achieved by receiving the second dose of the vaccine.
Although BU is only receiving 500 doses this week, over time the University expects to receive many more vaccines from the state. Ultimately, will BU be able to offer vaccinations to all of its students, faculty, and staff, approximately 45,000 people?
Platt: Our goal is to offer COVID vaccinations to the entire BU community—students, faculty, and staff.
What about family members of BU students, faculty, or staff? Will BU be able to offer them or members of the public COVID vaccination, as well?
Zaia: At this time, we don't have plans to vaccinate anyone outside of the BU community. We have not been designated by the state as a public distribution site for COVID vaccines.
What if a member of the BU community has a personal health condition that they believe should warrant them being moved up in line?
Zaia: Currently, we are determining the prioritization of vaccine distribution based on the job role or function that a person has as a student, faculty, or staff member within BU. We encourage anyone with a health condition that puts them at higher risk to speak with their primary care provider.
What steps does BU have in place to make sure there is no line-jumping—that somebody does not get the vaccine earlier than others who are more deserving of it?
Platt: BU's Vaccine Preparedness Group is vetting the equitable distribution of COVID vaccines and will be enforcing that it follows the state's guidelines for prioritization. We do need to acknowledge that—because we don't want to have any wastage of vaccine doses—if there are instances where there are extra doses of the vaccine, we would invite members of the next-priority group to come and be vaccinated. This will not be a "first come, first serve" process—it will still follow the state's guidelines for who should be vaccinated next.
How long will it take for everyone in BU's community to be offered COVID vaccination?
Platt: This depends on the supply of the vaccines that we receive from the state, which is difficult to estimate at this time. Aside from the initial 500 doses we are receiving this week, we don't have any additional shipments promised to us at this time. The state has the goal of vaccinating 80 percent of Massachusetts residents by June, so we are hoping to fall in line with that time frame.
Will it be mandatory for members of the BU community to get COVID vaccination when they are offered the opportunity?
Platt: There are no plans at this time to make COVID vaccination mandatory. BU is following state guidelines, and the state has not made getting vaccinated mandatory.
Why is vaccination better than building immunity the old-fashioned way—in other words, waiting to get infected with COVID-19?
Platt: The benefit of these vaccines is that they are delivering a message to your body's cells, instructing them to produce the hallmark SPIKE protein found on the outside of the SARS-CoV-2 virus. This prompts an immune response that your body will remember if you are exposed to the virus itself. It's your own body building the protein and prompting an immune response, rather than something foreign. You cannot get COVID from the vaccine. The benefit of vaccination is that you get immunity without ever having to get the disease.

Zaia: SARS-CoV-2 is very different from many other viruses. If you are infected with it, you risk serious infection and complications—we've heard about many "long haulers" who continue to have symptoms that persist for months after initial infection. What's more, it's thought that any immunity gained from being infected with the virus may be short-lived. The vaccine is thought to provide at least six months of immunity, if not longer—potentially up to one year. More time will tell how soon booster vaccines may need to be given to keep immunity against the virus.
For people who are concerned about COVID vaccination, because it's so new or because they are typically resistant to getting vaccines, what would you like them to consider when they are presented with the opportunity to get vaccinated against SARS-CoV-2?
Platt: I think there are a lot of personal factors to consider. They should ask themselves, what does it mean for me, personally, to have a 95 percent reduced risk of getting COVID-19? At BU, we've already said that vaccination doesn't change how you will be expected to comply with our community protocols—you still need to get tested regularly, wear a mask, social distance, and so forth. But what does that mean for my household, and my interactions with other people?

And then there are other considerations to take into account: How tired of this pandemic are all of us? Although it's still too early to say with certainty, the vaccines will likely reduce spread of coronavirus and help us get back to living normal lives sooner. By getting vaccinated, you can be one of the many that helps to stop the pandemic. The arrival of the vaccines themselves won't end the pandemic—the number of people who choose to get vaccinated will.
Zaia: I feel a responsibility to do anything I can to lower the risk that COVID-19 poses to myself, my family, my friends, my coworkers, and my community.
Faculty and staff who have questions about the vaccination program may email covidhelp@bu.edu, or call 617-358-4990 weekdays from 9am to 5pm. Students who have questions about the vaccination program may email healthwayhelp@bu.edu. Faculty, students, or staff who have medical questions related to the vaccine or post-vaccination side effects should call Healthway at 617-353-0550 from 7 am to 6 pm, 7 days a week, and press 2 to speak with a nurse.