COM's 2021 Power of Narrative Conference: In-Depth Storytelling at a Safe Distance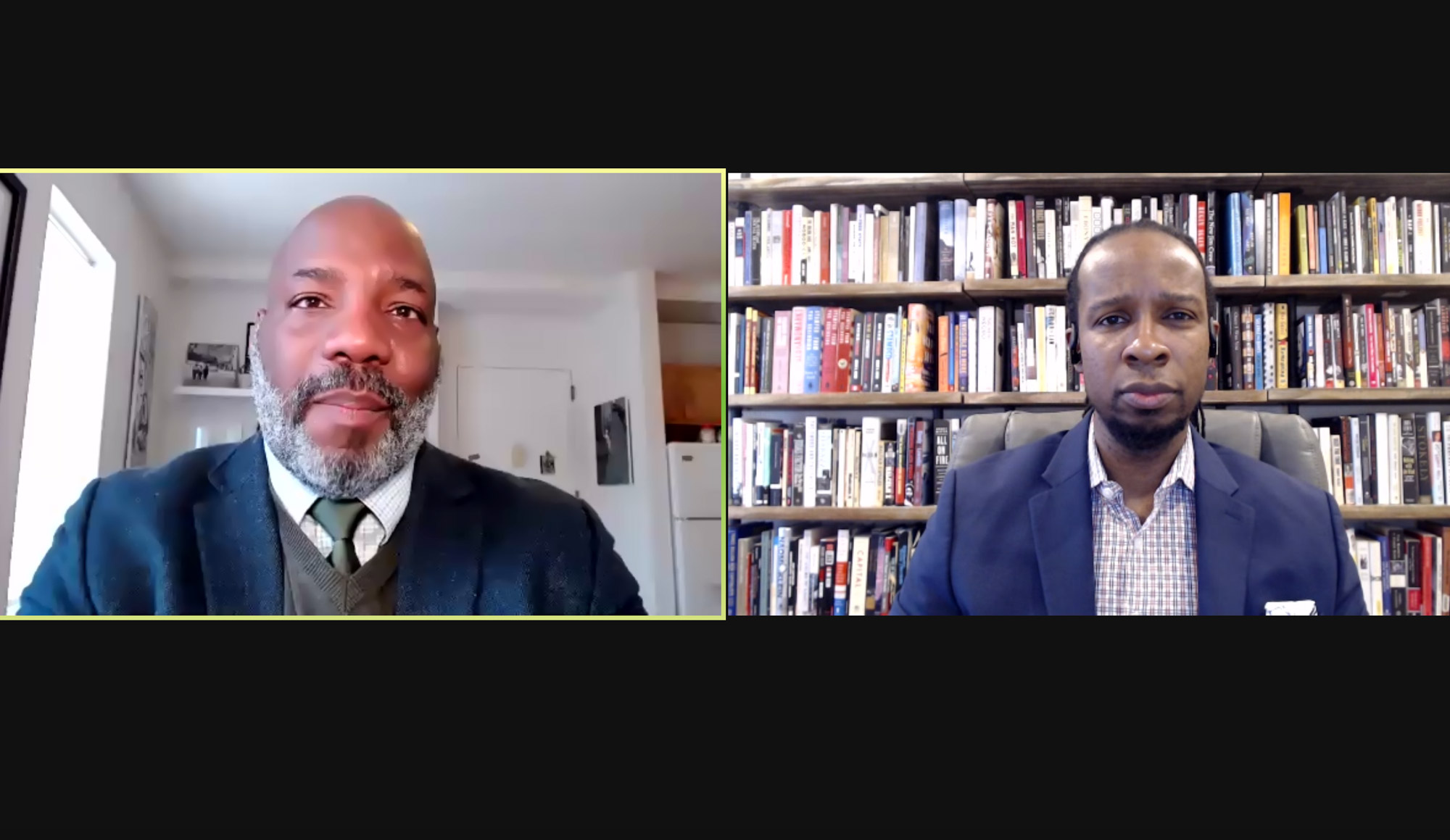 Journalism & Media
COM's 2021 Power of Narrative Conference: In-Depth Storytelling at a Safe Distance
BU's Ibram X. Kendi and The New Yorker's Jelani Cobb headline annual event
The College of Communication's 2020 Power of Narrative Conference was canceled in the early days of the coronavirus pandemic. The year that followed tested journalists with an unrelenting surge of news. The conference's return last Friday provided a chance for the long-form journalism community to reflect, learn, and be inspired. Leading the way was a slate of keynote speakers uniquely qualified to talk about covering pandemic, politics, and race, headlined by The New Yorker's Jelani Cobb and Ibram X. Kendi, founding director of BU's Center for Antiracist Research and BU's Andrew W. Mellon Professor in the Humanities. 
"We're inundated right now with tweets and hot takes and breaking news alerts," said conference director Mitchell Zuckoff, COM's Sumner M. Redstone Professor of Narrative Studies, in his opening remarks. "Bits of news or information rarely change our perspective of the world or our place in it. Narrative nonfiction rarely fails to do so—which is why it's more essential than ever. That's why we're here today."
Power of Narrative Conference organizers made two significant changes to the conference in 2021: condensing it to one day and offering it for free. That second decision led to record turnout, with more than 3,200 registrants (the in-person event typically draws 400 to 500). And although many of the nuts-and-bolts discussions of the writing craft that have become a hallmark of the conference had to be cut to fit into the one-day schedule, four remained on the agenda. 
"The bottom line is that we wanted to highlight a mix of practical advice for practitioners and big-picture visions for how nonfiction storytellers can make sense of this unprecedented moment," Zuckoff told BU Today in advance of the conference. So, in between keynotes, writer and educator Roy Peter Clark offered lessons learned in a year of writing from home; Jenni Gritters and Wudan Yan, cohosts of The Writers' Co-op podcast, gave business advice for writers; Angel Jennings, assistant managing editor of the Los Angeles Times, spoke about using personal experiences to strengthen your writing; and the conference's founding director, Mark Kramer, discussed developing voice through revision.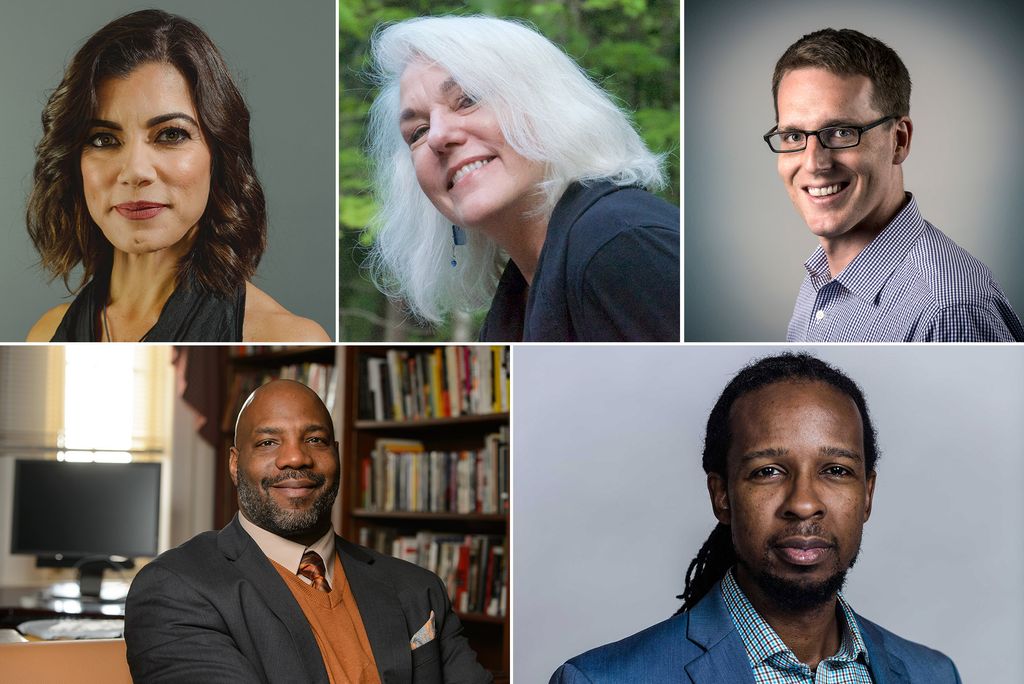 The keynote talks began with a conversation between Jacqui Banaszynski, the recently retired Knight Chair in Editing at the Missouri School of Journalism, and Fernanda Santos (COM'99), a contributing columnist for the Washington Post and professor of the practice at Arizona State University's Walter Cronkite School of Journalism and Mass Communication. Their talk quickly revealed a theme for the day: the layers of delicate work required to craft true, transformative stories.
"We're all born storytellers," Santos said. "[But] when we start out in journalism, we put that hat on and we become stiff and it's all about facts and nothing else." For Banaszynski, who received a Pulitzer Prize for her 1988 series about a gay farm couple dealing with AIDS, getting beyond the facts to the human element of her stories requires developing deep and complex relationships with sources. "An interview is a dance," she said. "I don't know if it's a salsa or a waltz, [but] the journalist is the one who leads [and] the story subject is the one who picks the music."
David Fahrenthold spoke of a very different sort of labor in the second keynote. The Washington Post reporter has spent the past five years investigating former president Donald Trump's businesses. "This is a small and secretive company. It's got no public reports, it puts out almost no press releases…. It has a spokeswoman, but she rarely speaks," he said. Rather than emotional interviews and detailed personal observations, Fahrenthold relies on details culled from ledgers, tax records, and Freedom of Information Act requests. "What I think of myself as doing is, in this sea of lies and misinformation, building little islands of fact, one rock at a time," he said. That work led to a 2017 Pulitzer Prize for his reporting on Trump's charitable giving.
Fahrenthold also talked about a second narrative, beyond what he publishes in the paper: his own. Knowing that his painstaking research would yield only sporadic stories, he asked himself what he could do to keep readers interested and engaged with his work. "Can I keep you informed and interested and help you not lose track of what I'm doing?" he said. So, he began telling the story of his reporting on Twitter, teasing new discoveries, asking for help, and broadcasting his credentials to potential sources. He began the Trump presidency, he said, with barely 7,000 followers; he finished it with more than 800,000.
The conference culminated with a conversation between Cobb, a staff writer at The New Yorker and Ira A. Lipman Professor of Journalism at Columbia University Graduate School of Journalism, and Kendi, a College of Arts & Sciences professor of history. Cobb and Kendi have written extensively about race and racism and had much to say about narrative's power and pitfalls.
"Narrative has a capacity to convey common values, common thoughts, to instill wisdom. It's why we listen to the life stories of our elders," Cobb said. "[But] no narrative is exhaustive…. And so, it's in our editing process, it's in the selectivity, that our political biases or our personal biases or our agendas can come to be manifest." Citing the way false narratives about the 2020 election fueled the January 6 violence at the US Capitol, Cobb added, "I approach narrative with a great deal of respect, the way that you would treat any other machine that's very powerful—they can do great, wonderful things and can also do significant and enduring damage."
Kendi, when asked about the risks of spreading misinformation by reporting on it, spoke of narrative's ability to help us understand the roots of the anti-vaccination movement. "We can tell the story of how they came to believe those ideas," he said. "That's very powerful, as well, because we show that they weren't born believing or not believing or trusting in vaccines. What type of environment, what type of history, do they have with the medical establishment? I think that really gives color to what's actually happening."
Uniting the day's speakers was an enduring faith in the value of well-crafted narrative journalism. "That long-form piece that you spend 45 minutes reading—that puts you in an entirely different world, in a different environment, and gives you the opportunity to see the world through someone else's eyes," Cobb said. "Narrative still has the possibility of being one of the most powerful tools we have in building that kind of common set of assumptions."
This year's keynote addresses can be viewed for free on the Power of Narrative Facebook page.