Class of 2025 Matriculation
Class of 2025
At Sunday's Matriculation, BU Welcomes Class of 2025—and Tells Them to Keep Their Masks On
At the largest indoor campus event since the COVID outbreak, new students are asked to do their part to keep everyone safe
Their very presence was a hopeful sign.
Boston University formally welcomed the masked-and-vaxxed students of the Class of 2025 at Matriculation on Sunday afternoon and asked them to do their part against COVID-19.
"More than any other time in our history, our behavior—students, faculty, and staff—impacts all of us," Robert A. Brown, BU president, told the students at the Agganis Arena ceremony. "We need your help."
Invoking the daily symptom attestation, weekly COVID tests, and constant mask-wearing that have become facts of life on campus, he said, "I am relying on you to adhere to the protocols and to use good judgment to keep all of us safe.
"I know you're all acquainted already with swabbing your nose," Brown said, "and you will do it many more times during this year."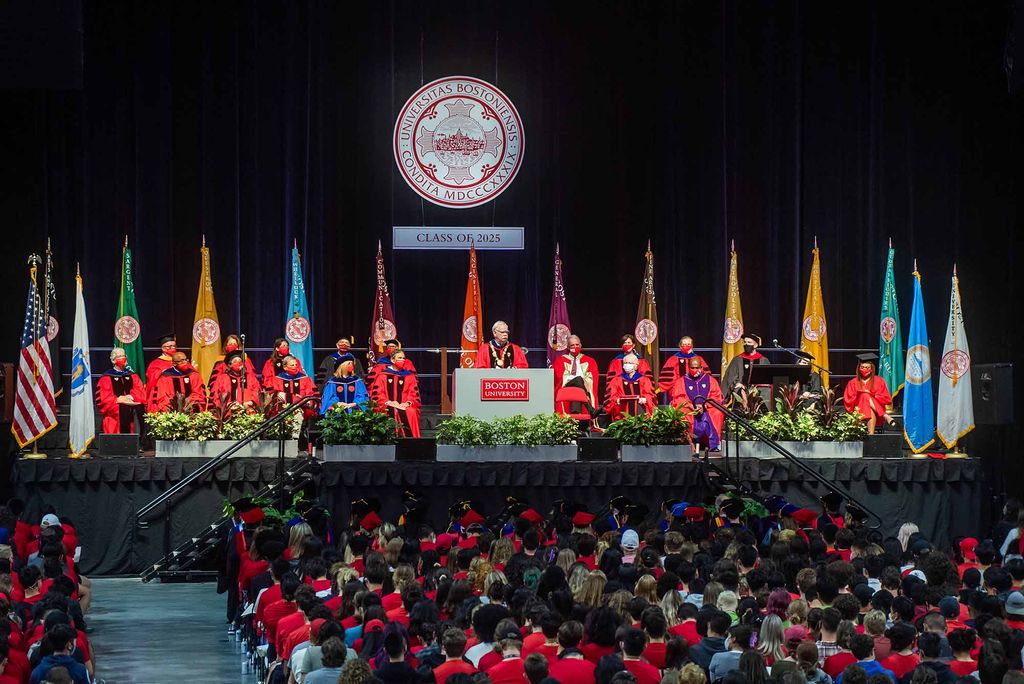 But the fact that this year's freshmen were all there in person also signified the University's success in battling the pandemic. Brown noted that BU scientists are "at the vanguard" of COVID research and lauded the faculty who created public health protocols on campus and a lab that has already performed more than 1.2 million COVID tests. "We simply would not be here today without the efforts of these most talented faculty members," he said.
As usual at Matriculation, Agganis Arena was a sea of BU scarlet, as many in the larger-than-average class of 4,023 new Terriers wore their new Terrier gear—this time including face masks. 
"Today's Matriculation marks the first large-scale indoor event at the University in over one and a half years, and we are thrilled," noted event emcee Kenneth Elmore (Wheelock'87), associate provost and dean of students. "It signifies a major step to fully reopening as a vibrant residential research university. But we've got to keep each other safe. And to do so, we need all of you to help. Please, please, please follow all the University's safety protocols, including testing, daily attestation, and mask-wearing while indoors in all campus buildings. That includes right now."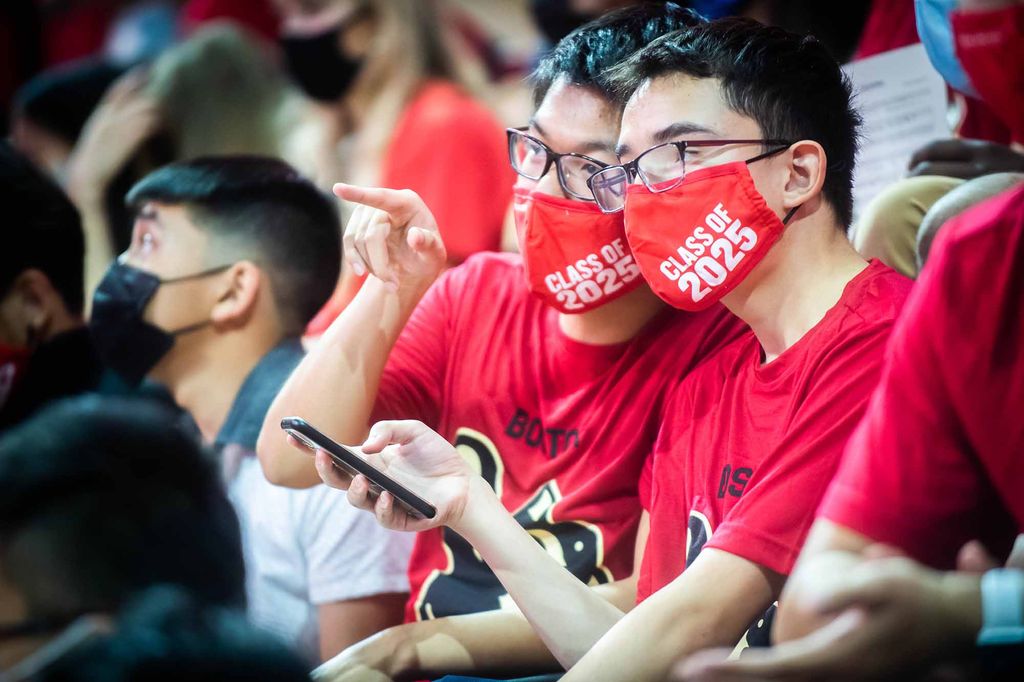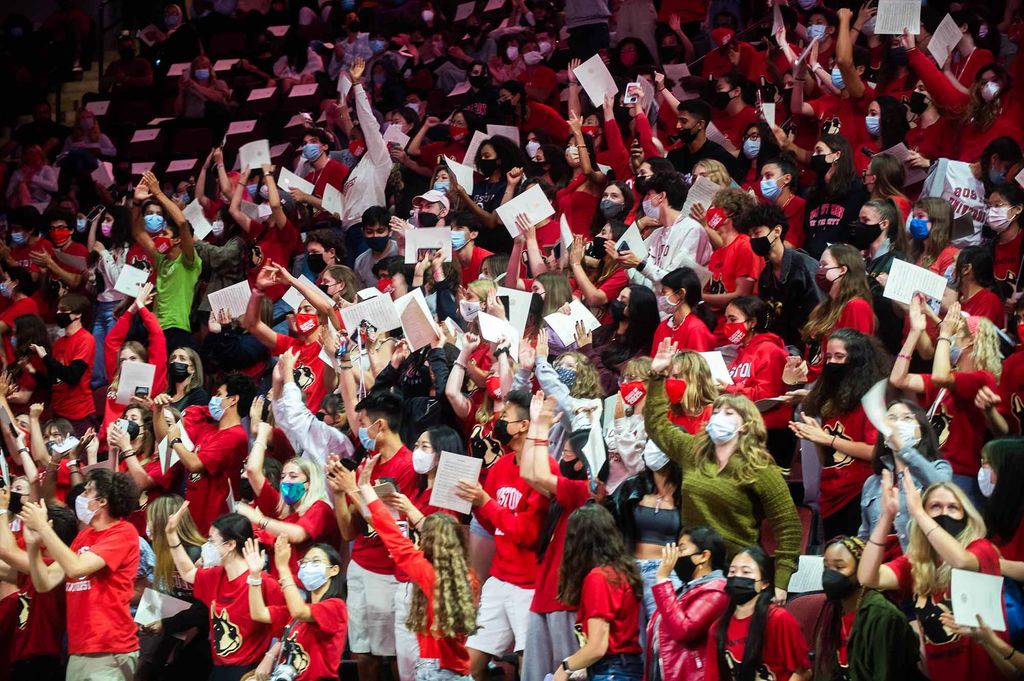 Students also heard from this year's faculty speaker, Catherine Klapperich, a College of Engineering professor of biomedical engineering, and for the last year, scientific director of BU's Clinical Testing Lab for COVID-19, which has played a key role in keeping the University free of large-scale outbreaks.
"I took my 14-year-old daughter when I dropped off my last test, and when we walked out she said, 'That was it? They just scanned the tube?'" Klapperich said. "I was a bit disappointed. Didn't she want to know about those days last July [2020] when we frantically were calling the graphic designer at the company supplying the tubes because they did, in fact, not just scan? About any of the other roadblocks and challenges that were coming at us like a firehose those first few months? Of course not.
"All of the difficulties and minutiae that we dealt with, and the team continues to deal with, were invisible from the vantage point of the end user," Klapperich said. "As any good engineer or designer knows, the end user just needs the system to work. It needs to work so you can go to class, play sports, put on dance recitals, attend studio classes, or work on problem sets late into the night knowing that you are doing these things in the safest possible environment."
The whole ceremony wasn't about COVID, of course. Brown pointed to other looming challenges, including racism and climate change, and encouraged students to take advantage of BU's Center for Antiracist Research, the Howard Thurman Center for Common Ground, Innovate@BU, and other campus programs that will help them contribute their talents to those struggles. And he issued familiar cautions on the dangers of binge drinking, sexual harassment, and sexual assault.
"Our community is based on the principles of respect and trust," Brown said. "We expect you to uphold these principles."
Student speaker Nyah Jordan (CGS'20, COM'22), Undergraduate Student Body president, told the incoming students that they will make mistakes, sometimes painful ones, but that it's an inevitable part of their growth. She used her own unsuccessful freshman year Student Government campaign as an example.
"I thought I was the perfect politician," Jordan said. "When I saw on Facebook that I lost, I was definitely hurt. I thought college was all about putting yourself out there and being rewarded for it." But despite that humbling outcome, she ran for another position that came open and won. She made friends and mentors and rose in Student Government until she found herself on the podium at this year's Matriculation.
"I am so grateful that I lost," she said of that first race. "Losing has made me much more appreciative for every win, every step forward I take, every speech given, every moment. If you get anything out of this speech today, I hope you know that this path you're taking isn't going to be easy, but it's going to make every win in your life that much better and so much more impactful."
"Matriculation is among the most ancient of university traditions," Jean Morrison, University provost and chief academic officer, told students. "You are about to enter into a special bond with this University. Within the University's classrooms and laboratories, your abilities will be shaped and nurtured; frequently, difficult demands will be made of you. We are confident, however, that you will not only meet these challenges, but excel."
After the students in each school and college were presented by their respective deans, Brown said, "On behalf of Boston University's Board of Trustees, I hereby formally admit you to student status and declare you matriculated members of the Boston University Class of 2025. Congratulations, study hard, and good luck."
Prior to the Agganis Arena ceremony, the day's other activities were a special breakfast in campus dining halls, an interdenominational Matriculation service at Marsh Chapel, and the now-traditional group reading of Maya Angelou's poem "On the Pulse of Morning" on the BU Beach, led by Elmore, as well as the annual Matriculation Walk for students from East and West Campus to Agganis.
After the singing of University song Clarissima at the end of the ceremony, it was over to Nickerson Field for many of the students and their families for the annual Terrier Tailgate party, featuring free food off the grill and free swag. Many also stayed to watch the women's soccer team take on UMass. Unfortunately, the Terriers lost, 2-1.