Class of 2020 Graduates Are Returning in Droves for Sunday's Commencement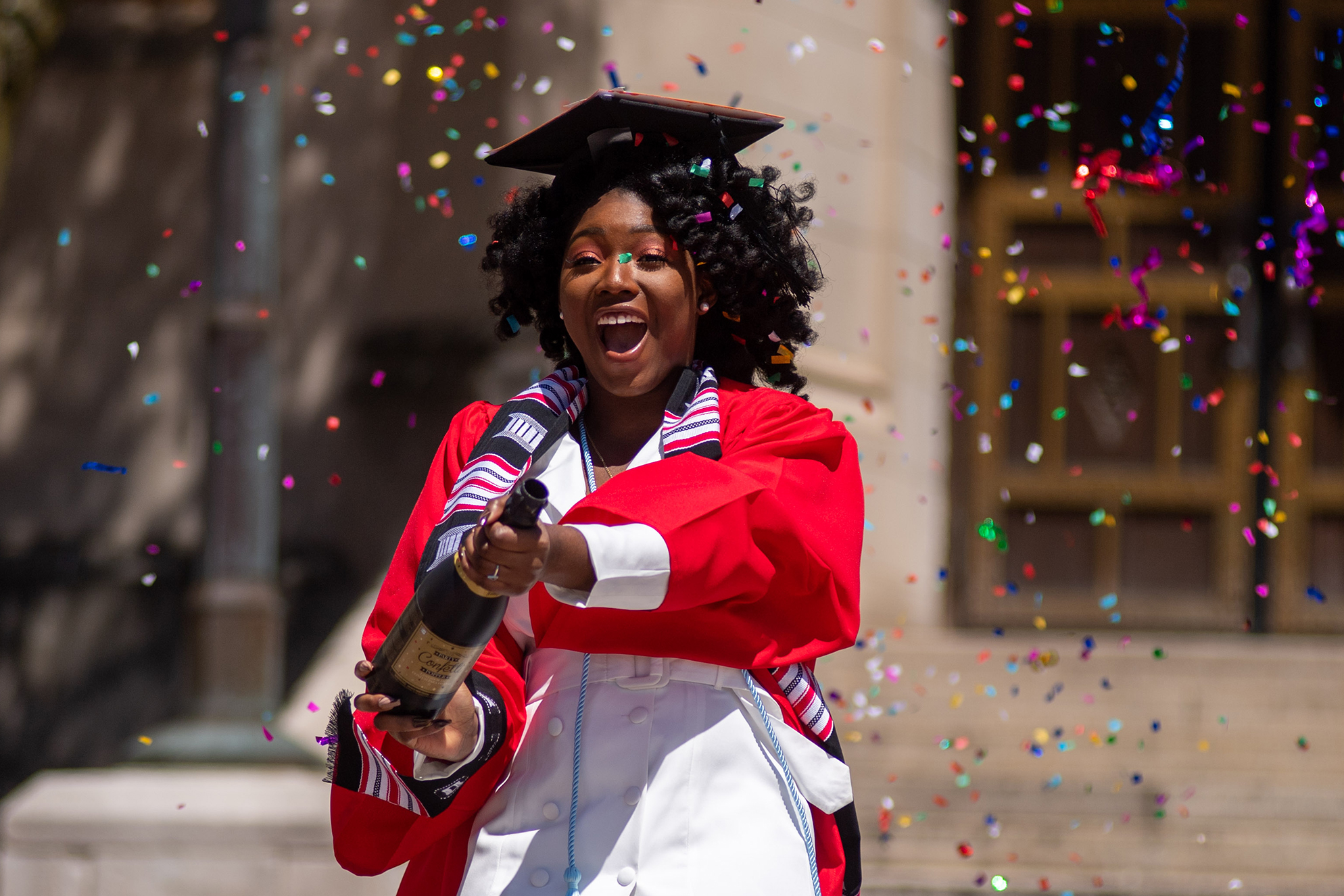 Commencement
Class of 2020 Graduates Are Returning in Droves for Sunday's Commencement
Weekend festivities expected to draw an estimated 11,000 Terriers and guests
Dust off your caps and gowns, Class of 2020: Boston University's 147th Commencement is finally happening this weekend—and the festivities are all in person.
The Commencement ceremonies for the Class of 2020—which include individual college ceremonies Saturday, followed by the Baccalaureate service and the 147th all-University Commencement on Sunday—were originally scheduled for May 2020, but were postponed, like so much around the world, by the COVID-19 pandemic. When the new date was announced, University officials had no idea how many 2020 graduates would return to campus. As it turns out, they've been RSVPing in droves.
According to Alumni Relations, graduates are traveling from 46 states, plus Washington, D.C., and Puerto Rico, and 61 countries for their long-delayed official send-off. Thousands of people are projected to be on campus for Commencement weekend festivities—including approximately 1,800 graduates joined by nearly 6,000 family members and friends at Sunday's University-wide ceremony on Nickerson Field—all told, an estimated 11,000 are expected to attend one or more—numbers that far exceed what the University was anticipating, says Michael Ciarlante (COM'79. MET'83), BU director of events and conferences.
"After many stops and starts, we're happy to welcome the Class of 2020 back for their long-awaited Commencement weekend," Ciarlante says. "We are amazed and thrilled at the overwhelming numbers of graduates and families who are coming back to campus. So many people around the University are working long and hard to provide them with a memorable weekend. We're able to finally close this chapter for the Class of 2020, and hope they remain connected to the University as active and engaged alumni."
So, why come back when you've already graduated and received your diploma?
For some 2020 graduates, returning to participate in Commencement marks the important final step in their college careers.
"It's going to give me a sense of closure," says Greg Levinsky (COM'20), who will be driving down from Portland, Maine, with his parents and older sister. "I've felt this weird sense of still not graduating, even though I obviously have. Actually getting a ceremony—and finally being able to break my cap and gown out of the box in the basement—kind of ties a bow on things."
Fellow 2020 grad Jacob Gurvis agrees. "It's cliché, but there's something about having all those lasts—academically, socially, just being in Boston—that we missed out on, and in a sense that's what I had most been looking forward to for my senior spring," says Gurvis (COM'20), now an engagement editor at the Jewish Telegraphic Agency, who's flying in from L.A. for Commencement weekend. "I think a lot of my classmates would agree that when we left campus abruptly in the spring of 2020, what we lost most was the opportunity for closure."
For others, physically walking across a stage and getting to shake their dean's hand is symbolic—and bigger than themselves.
"The pandemic robbed the world of so many things. For the Class of 2020, it was our graduation ceremony," says Kayla Hui (SPH'20), who studied health communications and now works as a health and wellness journalist in New York. "While wearing a cap and gown and walking across a stage might not seem like a big deal, it is for me—as a first-generation college student and a daughter and granddaughter of Chinese immigrants, my family had to make sacrifices for me to pursue higher education.
"Walking across the stage, shaking Dean Sandro Galea's hand, and moving my tassel to the left recognizes my family's sacrifices to get me here. Because of them, I'm the first in my family to receive a master's degree. That's why I'm coming back for Commencement."
It's a sentiment echoed by Matthew Arnold (CGS'18, CAS'20). "A true in-person graduation would mean a lot to my family, who worked hard so that I could attend college," Arnold says. "Lastly, it's a chance to see a lot of the friends and professors that I haven't seen since COVID-19 began, since we were all sent home without being able to say goodbye to each other."
If there's disappointment about the delay between graduating and the official Commencement festivities, it certainly doesn't show. For many returning graduates, getting the chance to sign off on senior year has been worth the wait.
"Even though we're so removed now, and anything pre-pandemic feels like a different lifetime, having the chance to return to campus, see my friends and professors, and put a little bow on my college experience is something I don't want to miss," Gurvis says.
"It's definitely better late than never."
Boston University's 147th Commencement kicks off at 1 pm on Sunday, October 3, on Nickerson Field. Victor J. Dzau, president of the National Academy of Medicine, will give the Commencement address and receive an honorary Doctor of Science. The other honorary degree recipients are Baccalaureate speaker Yolanda Kakabadse, former director of the World Wildlife Fund International, Doctor of Humane Letters; Thomas R. Insel (CAS'72, MED'74), former director of the National Institute of Mental Health, Doctor of Science; David Satcher, 16th US Surgeon General and director of the US Centers for Disease Control and Prevention, Doctor of Laws; and Mark Volpe, who recently stepped down as president and CEO of the Boston Symphony Orchestra, Doctor of Humane Letters. The ceremony will be preceded by the Baccalaureate service at Marsh Chapel at 11 am.
For information about individual college ceremonies and more, visit BU's Commencement 2020 website. Most events, including the Baccalaureate and the all-University Commencement ceremony, will be livestreamed here.