Love UI/UX Design? Check Out Student-Run FORGE Design Studios
Design
Love UI/UX Design? Check Out Student-Run FORGE Design Studios
Club hosts virtual three-day national designathon this weekend
Do your eyes light up when you encounter a sleek user interface? Does a cleverly designed logo leave you feeling oddly satisfied? Have you ever called any part of an app "sexy"?
FORGE Design Studios, BU's preprofessional design organization and agency, might be the club for you.
"FORGE acts as a place where students can connect with one another and learn about the incredibly diverse field within design," regardless of their major or background, says FORGE executive vice president Jessica Man (ENG'22). "Design itself spans so many areas, from graphic design, user interface and user experience [UI/UX] design, and publication design to engineering product design and branding. Resources shouldn't be limited to just one college or major."
This weekend (March 26 to 28), the club is hosting Catalyst 2021, a nationwide virtual UI/UX "designathon." Over the course of three days, participants will compete in teams of two or three to solve a real-world design challenge, build prototypes of an app or website, and present their finished product to industry professionals. There will also be workshops hosted by staffers from Adobe and Sketch—like how to prototype with Adobe—as well as networking sessions and merch.
The best part: Catalyst 2021 is totally free and open to undergraduates from anywhere in the States, irrespective of design experience.
"This is a great opportunity to learn about design, collaborate with others, and get experience building a product designed for a specific challenge," says FORGE founder and executive president Emme Enojado (CAS'21). "I personally found out about UX design from a designathon my sophomore year of college. If I hadn't attended, I never would have learned about UX design or decided to pursue it as a career. So I'm excited to see how people can learn from Catalyst and get inspired by it as well."
The designathon begins at 7 pm sharp Friday. Last year's inaugural Catalyst was for just the BU community and drew about 30 attendees. So far, more than 200 students are registered for Catalyst this year, Enojado says, and only 40 percent or so are from BU. The other attendees come from schools around the country—including Rice University, Northwestern, Texas A&M, the University of Washington, MIT, and USC.
Catalyst is just one of the club's undertakings. Enojado founded FORGE in November 2019 (it was then called the BU Design Club), envisioning it as a "design community" for students to not only learn about the field of design, but also to gain practical design experience. FORGE runs its own apprenticeship and internship program, called FORGE Labs. As apprentices, students are matched with a mentor in the club to learn design basics. As interns, they use their skills to work on projects for actual clients, ranging from web and brand design to graphic and UI/UX design.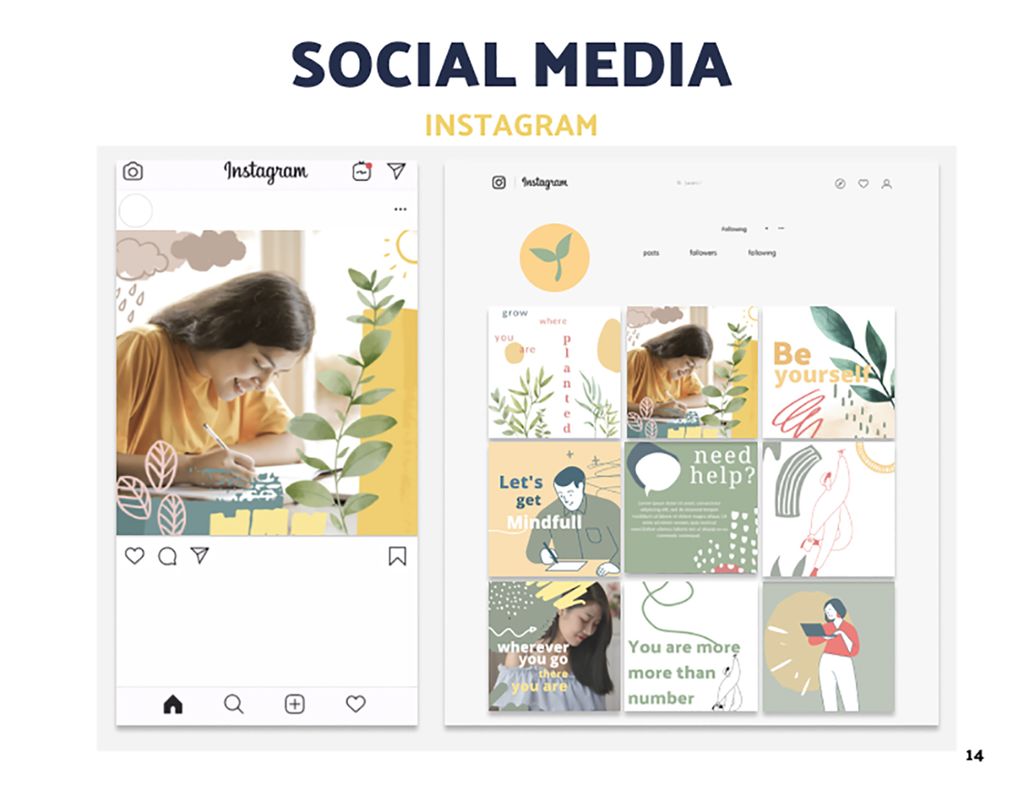 Since its launch last summer, FORGE Labs has taken on a dozen clients and produced professional work for businesses from Massachusetts to Georgia. The lab's repertoire includes all kinds of projects: websites, logos, social media campaigns, educational materials—even product packaging. Several companies have hired FORGE to execute a full suite of services—among them Valiant, a financial-planning service, and Mindful Applicant, a college-admissions start-up. Both have logos, brand guides, social media assets, and redesigned websites courtesy of FORGE.
"The goal for the client work is to give students valuable design and work experience to add to their résumés and portfolios," Man explains. "It can be hard to get internship experience [as a non–design major], so we really wanted to bridge that gap between students and the design industry itself.
"Additionally, we offer pro-bono design services for BIPOC-led organizations," she says, "which allows us to help our communities as college students. We may not always have the monetary funds to support causes that we care about, but we can always use our skills and knowledge to be active members of our community."
FORGE currently has approximately 200 members, drawn from across the University. Enojado been blown away by how much progress the club has made. "It's been really amazing to see this club grow," she says. "Our team has really remained resilient and passionate about the mission that we have to bring skills, knowledge, and community to BU's design space. So I'm grateful for my team and for the members who supported us—it wouldn't be anything without the members who have been there along the way."