Can Biden Learn Anything from Trump about How Presidents Use Social Media?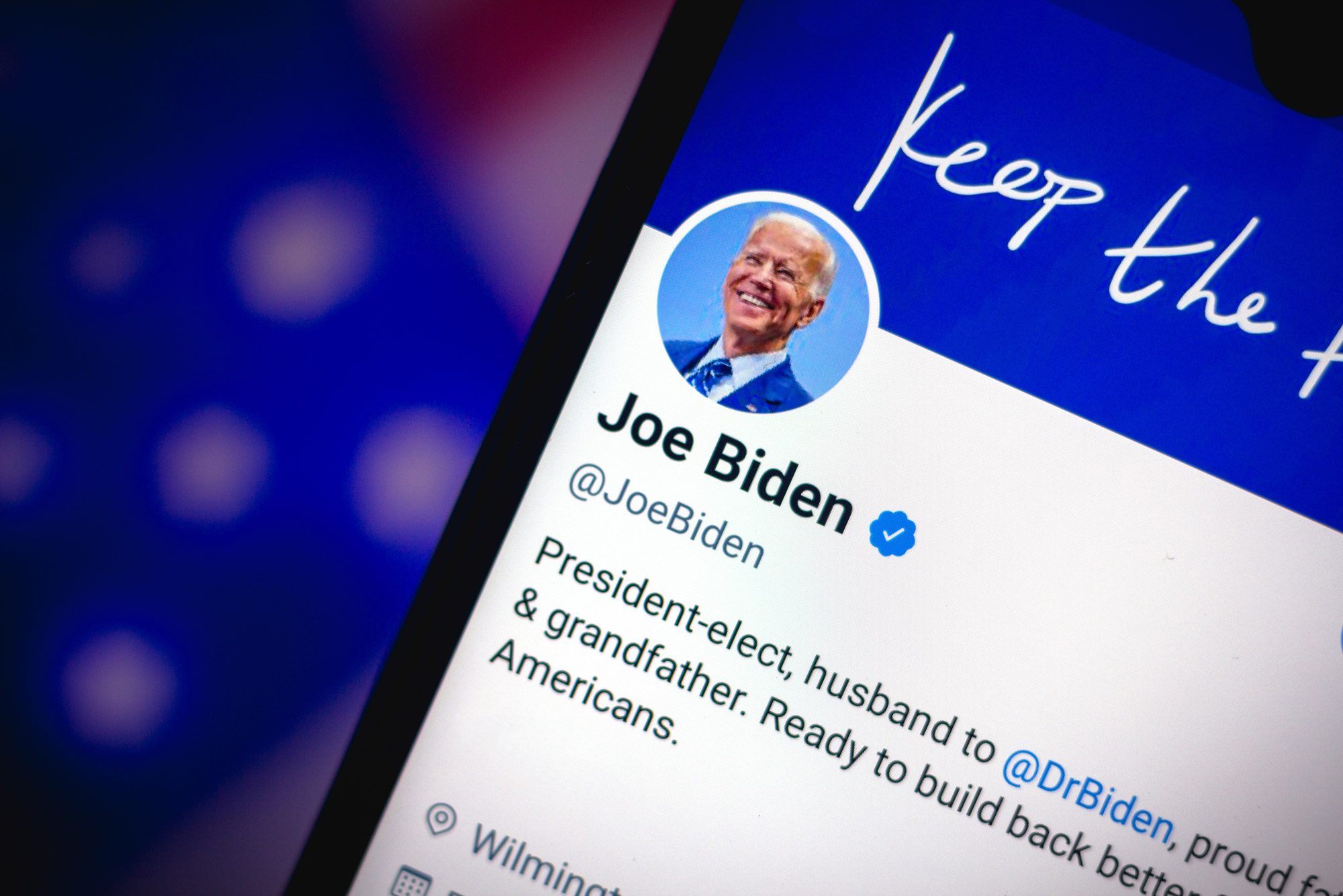 Politics
Can Biden Learn Anything from Trump about How Presidents Use Social Media?
COM's Chris Wells on what we should, and should not, expect to see from the new US leader on Twitter, Facebook, YouTube, and other platforms
Donald Trump's and Joe Biden's presidencies should be wildly different, and not just because of their politics. One of the most obvious ways may be their reliance on, and use of, social media.
According to the social media listening tool Awario, during the 2020 election Trump had more than 30 million followers on Facebook and 85 million on Twitter on his personal accounts, while Biden's social media audience was a fraction of that—3 million on Facebook and 9 million Twitter followers. In the end, of course, the only numbers that mattered were votes, and in that tally, Biden trounced Trump.
But, are there lessons Biden's administration, and Biden himself, can learn from how Trump and his administration leveraged Twitter, Facebook, YouTube, and other platforms?
Trump used Twitter to announce policy and respond to critics at all hours of the day and night. He eventually forwent trips to the White House briefing room to occasionally speak to the media (and the general public) in a formal setting and answer questions, and instead communicated only through Twitter and occasional impromptu gatherings between events, where reporters would shout questions at him.
While Trump has been banned from Twitter, Facebook, and YouTube, among other platforms, for a barrage of false and inflammatory remarks about the election that incited a mob to storm the US Capitol, Biden has the challenge—and opportunity—to use social media in new ways, especially at a time when gathering in large groups is strongly discouraged.
Last week, the Biden transition team launched the new Twitter account @PresElectBiden in an effort to build followers for the @POTUS account Biden will inherit on inauguration day. In a change in practice from when Trump entered office in 2017, Twitter will reset both the @POTUS and @WhiteHouse official accounts to zero followers for Biden, a move that the incoming president's team isn't happy about.
BU Today spoke with Chris Wells, a College of Communication associate professor of emerging media studies, about what Biden's team can learn from Trump and his use of social media. In his research, Wells studies how news media coverage takes shape and how citizens learn about, and participate in, politics. His most recent work explores how people can understand how the many different media forms around us make up an interactive media system.
BU Today: What are some of the lessons we can take away from the Trump era about how presidents should use social media, both in good ways and bad?
Chris Wells: Before Trump, there were a lot of calls from people that politicians didn't interact with them. There's clearly a possible benefit of direct interaction and the immediacy that we see with social media that some celebrities use to great effect.

But there was this significant concern with politicians that the distance was too great, that they should engage more directly with constituents, and so social media was seen as a possibility for that. But for the most part, politicians were seen as failing at seizing that opportunity, that their social media seemed formulaic and prescriptive. For instance, Hillary Clinton's Twitter and Facebook accounts were clearly written by staff and looked stuffy, like a brochure that you would get in the mail. 

I think that that potential for immediacy and interaction is there and is sometimes done in a democratically beneficial way, but that's not what Trump did with it. In his hands, social media was used to bully and promote abhorrent views, and really blurred the lines between what was official presidential speech, and what was personal. 

Trump made no distinction between what was going to be official and what wasn't, and what seemed to be just him tweeting random stuff in the middle of the night. Sometimes senior officials would learn about policies when he literally tweeted them. There are requirements about how the rest of the government responds to official presidential pronouncements, and about how they are recorded in the Library of Congress. 

This is just a totally dysfunctional way to run a government. And this is kind of the dark side of that connection between politicians and the public on social media, with this immediacy, but the dark side is that you don't necessarily want a government operating that way all the time.
To the chagrin of the White House press, Trump eventually used his social media channels to break his own news, without granting interviews or answering questions, and that forced the media to adapt. Do you think Biden will move back to a more traditional model?
Trump breaking news on Twitter put the press in a different position because they could no longer rely on White House or State Department sources—human sources who were able to give them background information or hints about what's coming. Yes, that went around the press, but the press very quickly incorporated that and began to quote Trump's tweets, commenting on them, and asking others to comment on them. 

Biden's relationship with the press will be totally different, because he doesn't explicitly see the press as the enemy of the republic, which Trump does. Trump did a lot of stuff that changed the way that journalists operated. I think that his use of social media was only one of them, and at the same time, the press has been reorienting itself with social media on the rise, even before and apart from Trump

And Biden won't make policy through social media. He'll have a much more traditionally run administration, with hopefully competent officials. And he's not going to undermine them by making State Department policy without conferring with the Secretary of State. So that's going to be totally different.
Last year, the New York Times called out Biden for having "zero meme energy," compared to other politicians. Do you think his office will try to become more popular on social media when he takes office?
I don't know if he has zero meme energy; there were those stories and illustrations in the Onion when he was vice president, wearing aviators and washing a car. I don't know if he'll work real hard at that. I think there are a few Democrats who are very strong on social media, like Congresswoman Alexandria Ocasio-Cortez (CAS'11) (D-N.Y.). I'm not sure that Biden has a great desire to run an administration by memes. I don't think that's a great way to run an administration, and I hope that the public is a bit exhausted by the meme diplomacy of the last four years, which has been pretty disastrous. So I expect he will probably try to tone it down a little bit. 

I think there is greater space for engaging the public in genuine dialogue using social and other digital media. Memes are great for some quick one-offs on Twitter or social media, but they clearly aren't making meaningful contributions to public discourse.
So what are ways he can widen his reach?
What I hope we'll see from the administration is more effort to engage people on that level, which is going to require a different approach than Twitter. I think one of the disappointments of the Obama administration, which I hope Biden and his team recognize, is that after generating this huge youthful digital energy in 2007 and 2008, which propelled them into the White House, they didn't maintain those channels. It started as Obama for America and became Organizing for America. It was quasi grassroots, but it really became kind of just a PAC, a political arm. It didn't maintain what I saw as this kind of more generative organic opportunity for people to be engaged in those kinds of issues. So hopefully Biden will aim to build the sort of movement that will continue that.
What kind of work could happen through a movement like this?
It might be something like volunteering or it could be trying more seriously to organize local groups. Biden doesn't have quite this momentum that Obama did. And a lot of people who voted for Biden in this election may not even be people who are superexcited about Democrats as a party.

But there might be particular issues that they're concerned about, like climate is a strong issue for younger people, and it would be great if he could get the people who voted for him to continue engaging. He could do this by organizing local groups on social media, creating a kind of grassroots energy that the Democrats haven't always had, but have inklings of out there.