BU Will Require Students to Get COVID-19 Vaccine for Fall Semester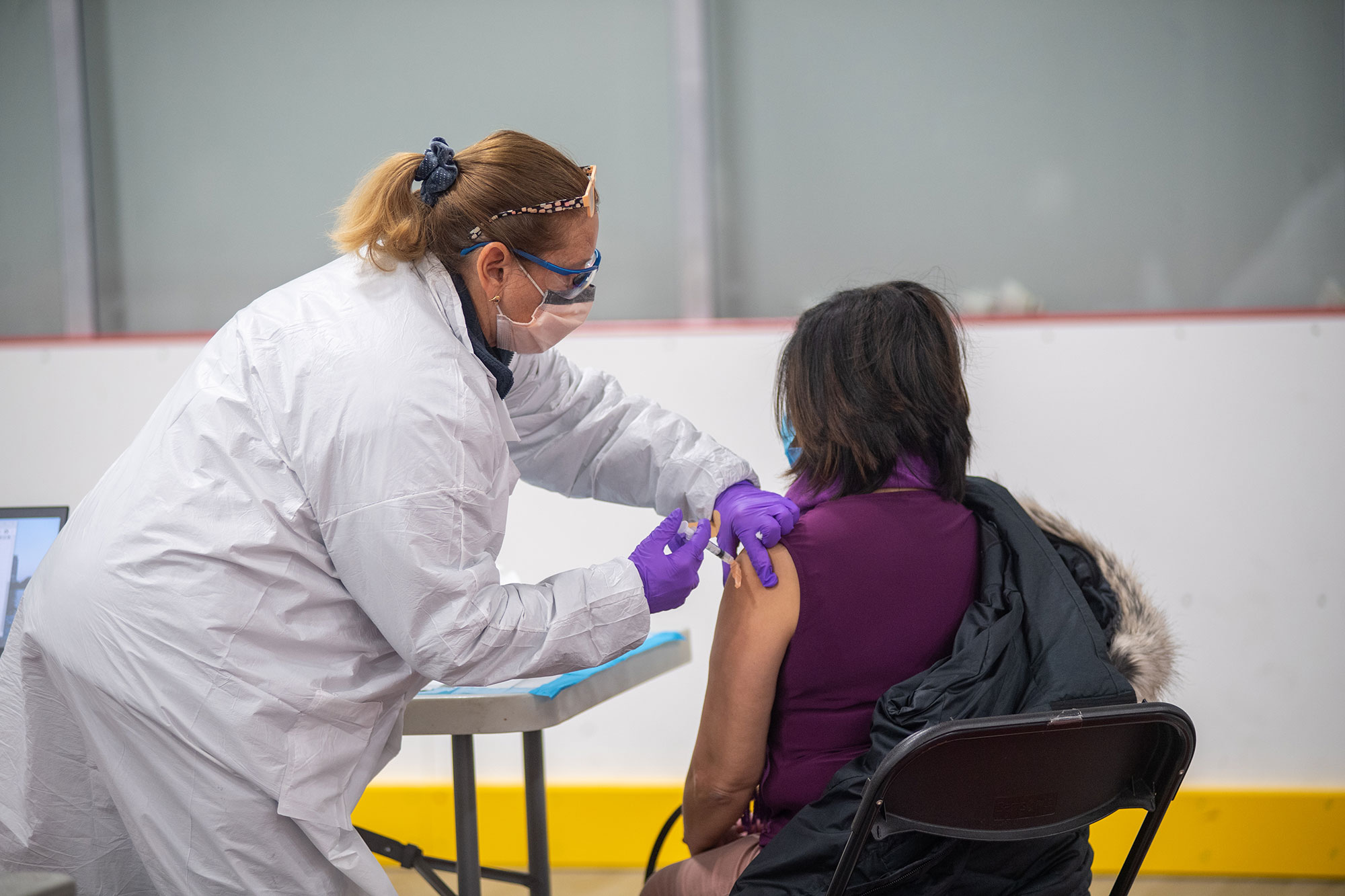 University News
BU Will Require Students to Get COVID-19 Vaccine for Fall Semester
University weighing similar requirement for faculty, staff
BU requires students enrolled in classes to be COVID-vaccinated before fall
University is weighing similar mandate for faculty, staff, but no decision has been made
BU will work with international students receiving unapproved-by-US vaccines
Boston University will require students enrolled in fall semester classes to be vaccinated against COVID-19, joining a growing wave of schools across the country taking the same step to return campus life to something close to normal after more than a year of historic disruption from the global pandemic.
Whether faculty and staff will also be required to be vaccinated by the time in-person instruction resumes this fall is still being considered. (The University's hybrid Learn from Anywhere teaching and learning format will be discontinued then.) A letter to students and families from BU President Robert A. Brown that went out on Friday, followed by a separate letter to faculty and staff on Monday, outlined the latest developments in BU's efforts to have an in-person, residential campus experience come September.
One important point that Brown emphasized in his letters is that waivers to the vaccination requirement will be available to those who have medical contraindications or religious objections to vaccination.
However, a number of key questions remain unanswered: what if an international student cannot get access to a vaccine? Will unvaccinated students be allowed the same freedom, with fewer restrictions, on campus as vaccinated students? As guidelines from the Centers for Disease Control and Prevention (CDC) continue to evolve, BU officials expect more clarity on these issues and others.
"Our goal," Brown wrote to students and families, "is to move to a 'new normal' in the fall that includes only minimal social distancing, where all our facilities are open, students can move freely between residences, and guests are welcome."
Students are required to upload their vaccination documentation to BU's Healthway as soon as they've completed vaccination, Brown wrote. Healthway will send instructions this week on how to upload the information.
For now, the University, which has performed more than 900,000 coronavirus tests on students, faculty, and staff, is urging faculty and staff to be vaccinated as well—but not requiring it—and to upload their documentation via Healthway, Brown's letter to those cohorts said.
"We are also assessing whether vaccination against COVID-19 should be mandatory for faculty and staff," he wrote. "We will continue to consult with public health experts and use the best scientific evidence available in the weeks ahead as we make this decision. Similar to the policy for students, if Boston University decides to make the vaccine mandatory for faculty and staff, medical and religious exemptions will be granted, and reasonable accommodations will be provided under applicable law."
The president asked students to be vaccinated as soon as possible, while adding that BU "will make every effort" to give shots to unvaccinated students who arrive this fall. The University had to suspend on-campus vaccinations early this year when the state shifted its vaccine supplies to state-run vaccination sites. It's unclear when, or if, the state will resume supplying colleges with doses.
Brown acknowledged that vaccination and documentation may be most problematic for international students, whose home nations may use vaccines not approved by the CDC. Those students may prefer to return to Boston to get vaccinated.
"We are assessing how to treat these vaccinations and will communicate with you as soon as possible with guidance," Brown's letter to students said. "We expect that international vaccines with efficacy similar to US-based vaccines will be accepted to satisfy the intended BU requirement, unless federal or state guidelines mandate otherwise."
For now, Judy Platt, director of Student Health Services (SHS), encourages international students to get vaccinated as soon as possible. "This is subject to change," she says, but "in order to end this pandemic, it will take a worldwide effort. While some vaccines may be less effective than others, all will reduce the risk of becoming infected."
She said that BU will continue to update the community about how international vaccines will satisfy the BU vaccination requirement. (Find the CDC's information on different vaccines here.) One point that is known: if their home country vaccination is acceptable, international students may need to translate their documentation into English before uploading to Healthway.
Even though the CDC-approved Pfizer-BioNTech, Moderna, and Johnson & Johnson vaccines have been found to be highly effective against the virus, it's still believed that a vaccinated person could unknowingly pass the virus on to a nonvaccinated person, which is why continued mask-wearing in gatherings such as classrooms may be required at the start of fall semester and beyond, Brown said in both letters. "We also will continue testing in the community to monitor any resurgence of the virus and continue the contact tracing that has proven so effective this year."
However, following CDC guidelines, he said, the University does not plan to quarantine asymptomatic and vaccinated students, faculty, and staff who are close contacts.
Students contacted by BU Today welcome the requirement.
"I love that they're doing this," says Owen Gund (COM'23). "As a new transfer student this year, I was super-excited to hear that social distancing guidelines are going to be relaxed this fall, because it has been more challenging to meet new people this year. I appreciate that BU is doing everything possible to ensure that we are getting back to normal life in the safest possible way."
"I think it's a good idea," Emily Hunter (CAS'22) agrees, "because it will make the community safer and allow BU to return to a more normal learning and social environment. I'm excited to potentially have a more typical senior year that many students unfortunately didn't get."
Jenna VanSickle (COM'23) says the requirement is "a great first step. Hopefully, as it becomes clearer what the world will look like during fall semester, BU will be able to announce more measures to keep students safe and in person. I'm optimistic based on how the University handled the pandemic this school year."
With these actions, BU joins a swelling number of colleges and universities, both large and small, mandating vaccination of students, among them Northeastern, Brown, Cornell, Rutgers, Roger Williams College, Colorado's Fort Lewis College, and Notre Dame.
The student requirement is a major step in the University's announced gradual evolution toward resuming pre-pandemic routines.
Davidson Hamer, a BU School of Public Health professor of global health and a member of the Medical Advisory Group guiding the University's COVID-19 response, says mandatory vaccination will help enable the easing of pandemic protocols.
"We need to have high levels of vaccine uptake among students, faculty, and staff," Hamer says, for people to be closer than six feet in classrooms and to limit routine surveillance testing. "The real benefit [of mandating vaccination] lies in the personal and societal benefit of being vaccinated."
Other benefits, he says, include eliminating the need to quarantine "if a vaccinated person has a close contact who is identified as infected during contact tracing, unless the vaccinee is symptomatic, in which case testing is recommended." People who are vaccinated and can document the fact may avoid having to quarantine after returning from out-of-state travel and can patronize airlines and venues that may require proof of vaccination, he adds.
Platt, who chairs the Medical Advisory Group, agrees. "As vaccines roll out all over the world," she says, "we are seeing the benefits—less illness, fewer hospitalizations, and most importantly, fewer lives being lost to a disease that has already claimed so many loved ones here and across the world.
"For our BU community, vaccination is the key in allowing us to resume the sense of normalcy and connection that has been lost over the past year. Personally, vaccination means you are significantly less likely to be diagnosed with COVID, which means less chance of having symptoms and getting sick and needing to isolate. You're also reducing the risk of spreading illness to your friends and family, but also to people you don't know. Your vaccination could help save a life."
In March the American Council on Education, an advocacy group for higher education policy, issued a brief addressing the pros and cons of mandatory vaccination. "Mandatory vaccination could offer an immunization-driven sense of security for students that their on-campus college experience in the fall, and beyond, can be safe," the council brief says. "Vaccinations can allow for loosening social distancing guidelines, and perhaps, in time, eliminating them, with optimism for a college experience that is more akin to the expectations many have of a community-oriented, socially vibrant postsecondary education."
Brady Gardner (COM'22) contributed to this report.