BU to Require Boosters, Will Stop Daily Attestation Requirement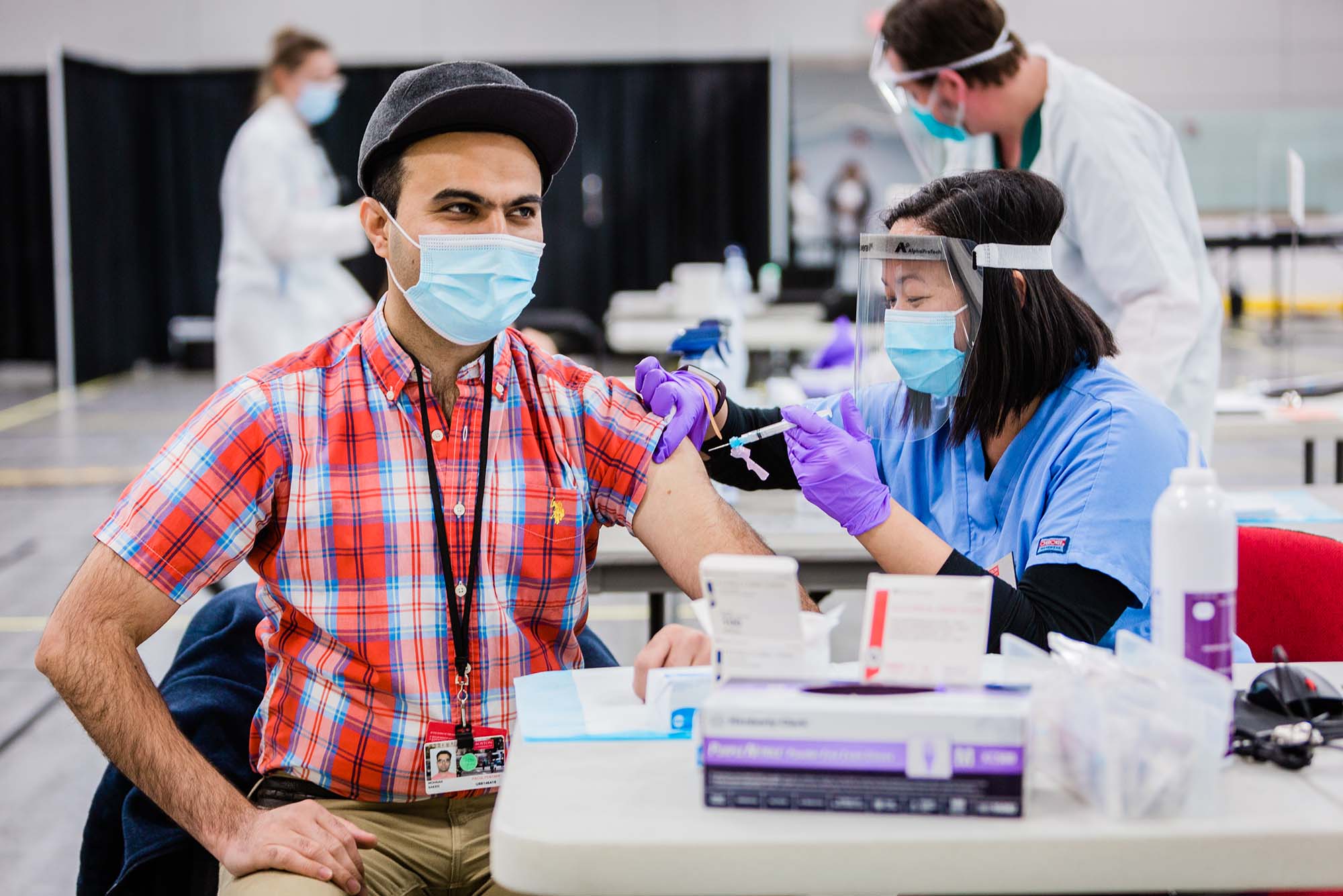 Health & Safety
BU to Require Boosters, Will Stop Daily Attestation Requirement
Weekly testing remains in place; Omicron variant's impact still unclear
Update: December 20, 2021: Some figures in this story have changed, to better reflect the Fall semester's COVID cases.
In two new signals of where the Boston University community stands in efforts to contain the spread of COVID-19 on campus, yet gradually relax certain long-standing protocols, vaccine booster shots are being mandated for all those eligible, and the daily attestation requirement will end early in the new year. BU joins a number of other area schools and colleges mandating boosters, including Northeastern, Boston College, Emerson, UMass Amherst, and Smith.
The two developments emerged from separate letters to the University community. The first, from President Robert A. Brown on Friday, announced that anyone who received a World Health Organization–approved vaccine must receive a booster and upload documentation by February 4. "Our judgment—based on the most current information and the advice of health professionals—continues to be that the best defense is vaccination," Brown wrote. "We will require all members of our community—students, faculty, and staff—over the age of 18 and who are eligible (six months past completing their initial Moderna or Pfizer vaccination; two months past the Johnson & Johnson vaccination) to demonstrate that you have had the booster shot by February 4."
The second letter, from Judy Platt, BU chief health officer, was sent Monday. It stated that attestations are no longer required as of January 12, but that "regular email reminders will be sent to all faculty, staff, affiliates, and students in the coronavirus testing program" to be aware of possible symptoms and schedule a symptomatic test as needed.
For the fall semester (starting August 15), BU has performed more than 631,000 COVID-19 tests, and found 1,217 individuals who tested positive, or 2.9 percent. Despite the anticipated burst of more positive cases right after Thanksgiving, when one day saw 43 positives, most days fluctuated between 5 and 20 positive coronavirus tests during the semester, until there was an increase in mid-December when positive cases reached back into the 40s.
In her letter, Platt also touched on the arrival of the new Omicron variant in Massachusetts, saying that it's too soon to know whether it will require changes to BU's health and safety protocols: "We anticipate that in the coming weeks we will have more definitive information on whether Omicron causes more severe disease or increased transmission," she wrote.
Some other key points from the two letters:
BU will offer a limited number of booster clinics in January and will update its Back2BU Vaccination page with the dates. Once you have received a booster, the information should be uploaded to the student or employee portals.
The indoor mask mandate will stay in place for the time being.
If you feel possible COVID-19 symptoms, it will no longer be necessary to speak with a nurse. Community members will be able to self-schedule a symptomatic test through the patient portal at the Health Services Annex, and those tests will receive the highest priority so that you will know as soon as possible if you need to officially isolate.
At the start of the spring semester, members of the BU community are encouraged to complete a COVID-19 test immediately upon returning to campus and to stay in place until receiving a negative result.
When there have been positive cases identified on campus, BU contact tracers have found that overwhelmingly, transmission is occurring "among unmasked social encounters with repeated and prolonged contact."
Weekly community testing, and testing upon arrival to campus, will continue to be required for faculty, staff, students, and affiliates.
"All members will continue to be contacted by a Healthway nurse if they test positive," Platt's letter said. "But we are also going to release these results immediately in the portals so that all members can know their status as soon as possible and begin to notify close contacts quickly."
Anyone who received a non-FDA authorized/approved primary vaccination series is encouraged to get a Pfizer booster shot at six months after the last dose.
"We have had a successful semester; we reestablished our vibrant campus community, even with COVID-19 a continuing challenge," Brown wrote in his Friday letter. "Your cooperation with our vaccination mandate and with other testing and masking protocols has been the key reason for our success."