BU Soccer Teams to Begin Long-Delayed Season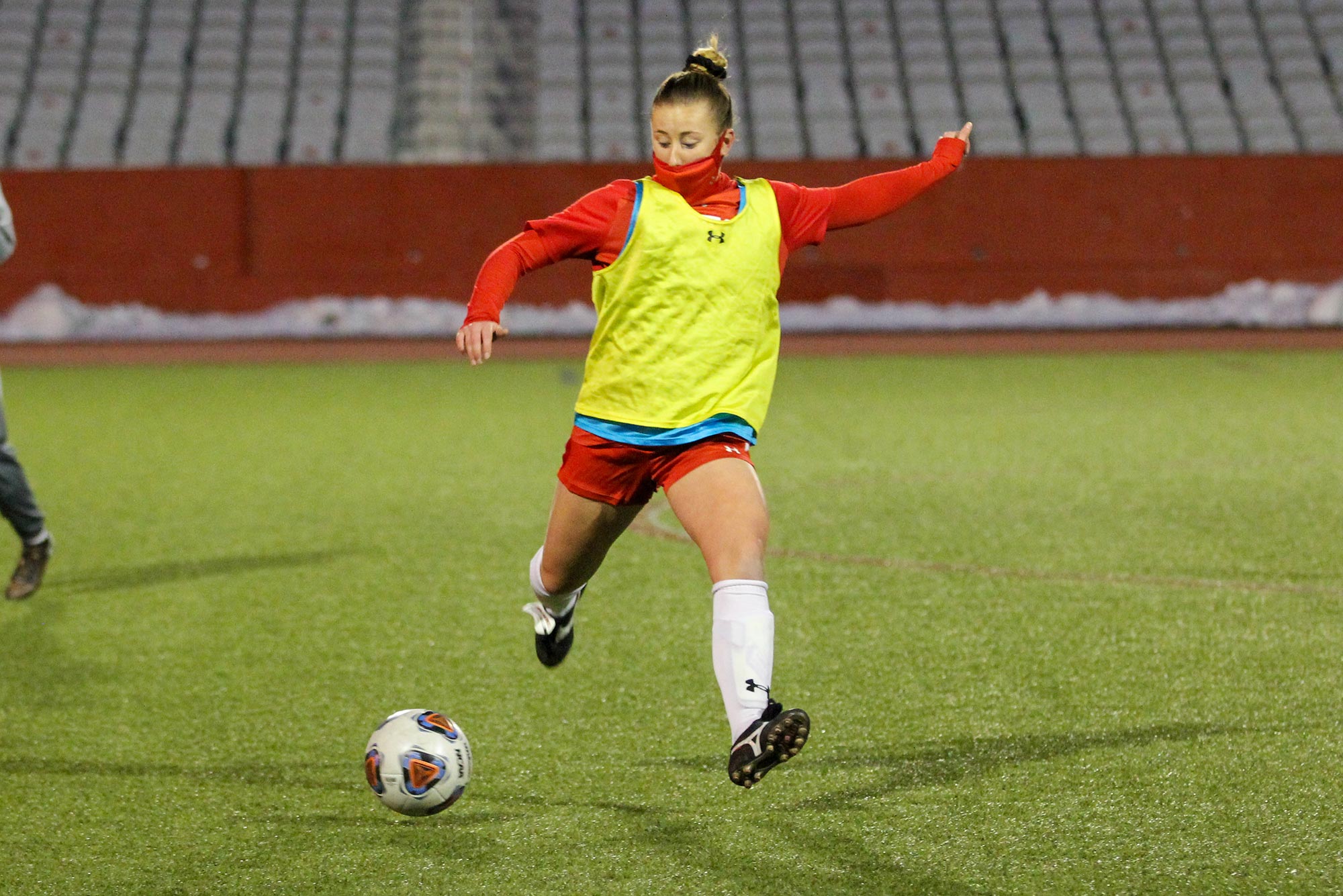 Varsity Sports
BU Soccer Teams to Begin Long-Delayed Season
Men's and women's squads will both play a shortened conference-only schedule, with women starting this weekend
In a normal year, the BU men's and women's soccer teams spend the spring preparing for the upcoming fall. But this year, in light of the pandemic, the schedule flipped. After 16 months off, the Terriers are poised to resume play, with the women's squad hosting West Point Saturday, March 6, at Nickerson Field and the men scheduled to play at Colgate on March 13.
Approaching the 2020-2021 academic year, says men's back Evan Morrison (COM'22), the Terriers expected to play in the fall as usual. When the bad news arrived that the Patriot League had canceled the fall season, he says, "that sort of changed everything for us." Last fall "was almost like a spring season for us, where we didn't have any official games."
Throughout the fall, the Terriers trained in groups of 10, Morrison says, carefully following BU Athletics protocols. At the start of the 2021 spring semester, the teams were able to gather as a group, anticipating an unprecedented six-game spring season.
Women's midfielder Ann Marie Jaworski (CAS'20, Wheelock'21) says both women's and men's teams can't wait to get back on the field. "The energy is contagious," she says. "The fact that it hasn't diminished at all through all the adversity we've been handed is pretty remarkable."
Longtime women's head coach Nancy Feldman says she has been impressed with her team's ability to adapt to the constant changes. "They've done a really good job of taking the things that are out of their control and just putting it to the side and controlling what they can control," says Feldman. "They've been marvelous that way."
For men's head coach Kevin Nylen, appointed to replace 35-year men's head coach Neil Roberts in January 2020, the extended off-season has had some advantages. Nylen says the cancellation of the fall season gave him more time to prepare his team.
"We've been able to establish relationships, establish continuity, establish training habits," he says. "It's been really good from that side, but the one part we still have to see is performance against an opposition. We haven't done that in so long."
The Terriers have had more than enough time to reflect on their 2019 season, which saw the men wind up with a 4-12-1 record, while the women went 5-12-2 in defense of their 2018 Patriot League title.
In the time that's elapsed, Feldman says, her squad has grown up a lot. "I trust and I expect that the desire is there, the talent is there, and that they have the maturity to deal with what the game demands."
Leading the charge for Feldman's team is a senior trio of Jaworski, goaltender Amanda Fay (CGS'19, CAS'21), and midfielder McKenna Kennedy (Sargent'21), who was recently voted the Patriot League Preseason Midfielder of the Year.
The three veterans are roommates and close friends, and Jaworski says that while they might be at the heart of the team, everyone is considered essential. "It feels like everybody on the team, coaches included, is an extension of us," she says. "You can't really tell the difference between who's a senior and who's a freshman because we're so integrated."
Nylen, whose team also has three seniors, goalkeeper Michael Stone (CAS'21), forward Zion Balogun (Questrom'21), and back George Abunaw (COM'21), is hoping for a similar cohesion for his team. Of this year's roster of 30 players, 18 are underclassmen, and the coach says he's excited about seeing his team's younger players develop.
"Just because you're a newcomer on campus or a first-year guy, that doesn't mean that you don't have experience," he says. "Our biggest strength is strength in numbers."
The Terriers will need all hands on deck this spring. Instead of the typical nine-game conference schedule, this year features a six-game sprint, leading up to the postseason in mid-April. With fewer games than usual, Morrison says, every minute counts.
"It's really important to just make sure you're focused the entire 90 minutes," he says. "One mistake in a normal season isn't really season-defining. Here, it could be."
Going into her 26th season with the women's team, Feldman says she's looking at the truncated season with two separate goals in mind. "One bucket is competing and having joy in playing the game. The other bucket is performance and results, and feeling satisfied with how we're playing and where we position ourselves when the regular season ends."
Nylen has similar aspirations for the men's team.
"Our goal is to be really competitive," he says, "to put us in position to win games this spring as we continue to develop who we are as a program."
The women's soccer Terriers begin their spring season Saturday, March 6, when they host the Army West Point Black Knights at 4 pm. The men's team begins its season at Colgate on Saturday, March 13, at 1 pm. All the action can be streamed live on ESPN+.