How BU's Remote Work Policy Is Changing Lives
Staff members say they're stressing less, sleeping and exercising more, eating healthier, and enjoying making breakfast for their kids—and are more productive than ever.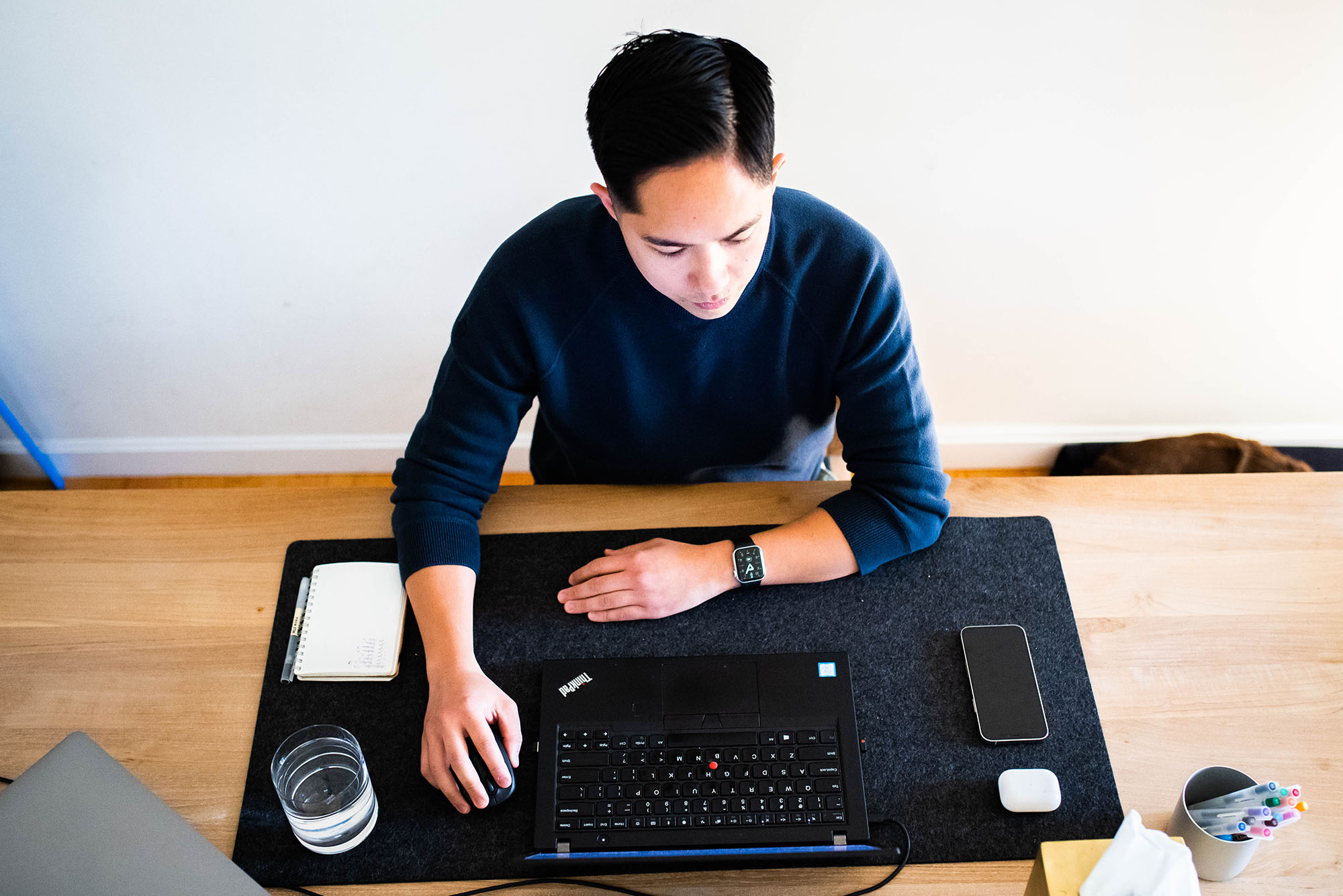 Work From Home
How BU's Remote Work Policy Is Changing Lives
Staff members say they're stressing less, sleeping and exercising more, eating healthier, and enjoying making breakfast for their kids—and are more productive than ever
Elizabeth Clancey revels in making breakfast for her children, ages one and three, and driving them to daycare and preschool two days a week—before she sits down to work, at home in Dover, Mass. Without her daily 45-minute commute to and from Boston University, Clancey, conference and events manager at the School of Law, may even find time to squeeze in 30 minutes for a run, or a quick vacuum around the house, at the end of the day.
Matt Bae, an academic advisor at the College of General Studies, appreciates being able to clear his head during the workday by taking his long-haired dachshund, Doug, for a walk around his block in East Cambridge. On lunch breaks, Bae (CGS'10, COM'12, Wheelock'17) can get up from his computer and chop vegetables for the healthy dinner he'll cook later.
After 30 years of commuting to BU from Manchester, N.H.—five days a week, 90 minutes in the car each way (on a good day)—Mena daSilva-Clark, assistant dean for off-campus and online programs at the School of Social Work, is rediscovering her neighborhood during lunchtime walks. On those two days a week when she's not dragging herself through her front door at 7:30 or 8 pm, she has the energy to prepare a complete dinner, one that doesn't rely on her slow cooker.
"I'm saving money on gas and wear and tear on the car," daSilva-Clark says. "But the most important thing to me is I'm getting my life back and my time. I get three to four hours back a day. I can go for a walk while it's still light out. I get to work in the garden. I get to be home in time to have dinner with my husband. I can watch the news on TV at 6 pm instead of listening to it on the radio." As for work, she says: "I'm more productive…. Everyone on my team has said how much more productive they feel, that they've gotten part of their life back."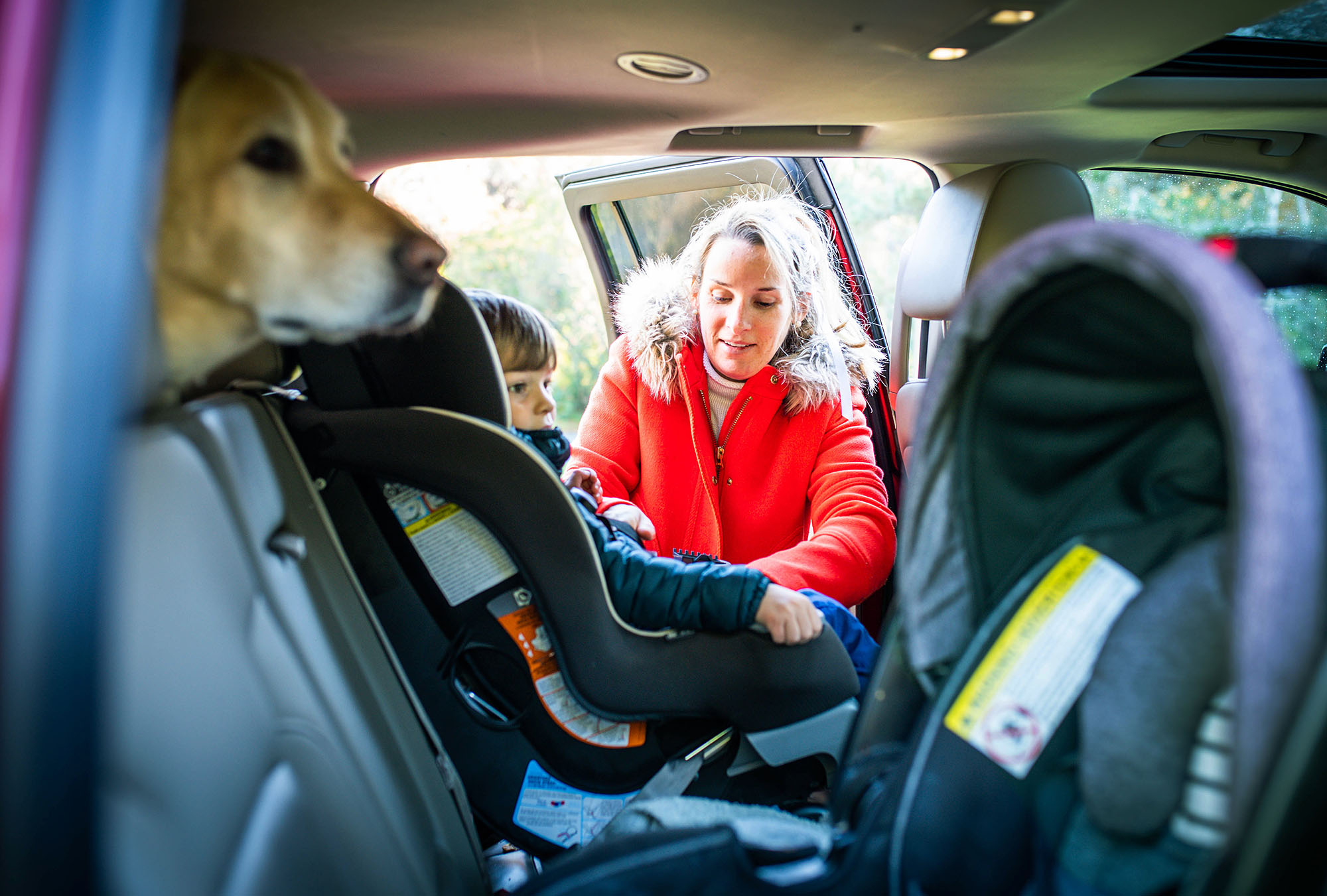 Clancey, Bae, and daSilva-Clark, are among the 2,297 BU staff—out of a total of 6,100—who have been approved, as of October 19, to work remotely up to two days a week, under the new work from home (WFH) policy the University began rolling out in mid-August (Eighty per cent of requests have been approved so far and more are pending approval). These staff are on the front lines of BU's—and the nation's—monumental post-pandemic hybrid workplace transformation. While some form of hybrid work seems likely to be the new normal in much of higher education and across the knowledge industry, BU and other institutions are still grappling with how to balance employees' need for the flexibility of remote hours with their ability to feel connected to the organization. And while it is too early to know how hybrid work will ultimately evolve, to hear staffers across BU talk about it, two days a week of remote work—especially if it means skipping a lengthy commute—is life-changing.
Ten staffers across the University talked with BU Today, and virtually all of them said that by working from home, they are experiencing less stress, sleeping and exercising more, and eating healthier meals. And while some miss the face-to-face camaraderie of their colleagues, like lunches out and birthday celebrations, they say the trade-off of less time in the office and less commuting has made them more productive, not less.
A workplace revolution
Their experiences mirror those of other Americans who've been able to work from home during the pandemic. A 2020 Pew Research Center survey found that 88 percent of employees wanted to keep working from home at least part of the time when the pandemic ends. Although experts caution that more data are needed, Nicholas Bloom, a Stanford University economics professor, who has studied work-from-home trends, has said, "Working from home under the pandemic has been far more productive than I or pretty much anyone else predicted."
"This initiative has been well received by staff," says Amanda Bailey, BU's vice president for human resources, "and remains a key benefit in attracting and retaining talent for today's workplace." Bailey adds that the University's newly appointed Taskforce on Workplace Culture—she is cochair, along with Andrea Taylor (COM'68), senior diversity officer—will conduct a survey on the effectiveness and benefits of the remote work policy in early 2022, with results expected in spring 2022.
Staffers, meanwhile, say everyone benefits from WFH, even their pets. "My dog is happier," says Michael Trieu, a senior research administrator, who works remotely from his Malden kitchen, with his seven-year-old beagle, Coco, sprawled out on a cushion nearby.
Thanks to Zoom, Slack, and Microsoft Teams, and plenty of backup from BU IS&T, Trieu and many other staff members say they feel connected to BU even when they're working from home—and that they're meeting their deadlines. "I'm equally productive, if not more productive, when I'm remote," says Donna Connor (CAS'89), a CGS administrative coordinator.
Of course, some jobs, like those with IS&T, lend themselves to remote work better than others—especially jobs that aren't public-facing and that require intensive work with network systems, data, and coding. "We love our work, and it needs to be done," says Leo Avalon, a manager in systems administration. "We're going to do it in our pajamas in the middle of the night. For my team, I spend more time telling them to knock off and stop working." 
A change—with limits
BU's policy, announced by President Robert A. Brown in June, has its boundaries. The approved plan allows for two days a week remote and three in person, a decision that irked many who had hoped for the opposite (three days remote and two days in person). Remote work is not guaranteed, but rather something the University views as a benefit. Employees need their manager's approval and eligibility is based on the nature of the work and on consistent job performance. The policy was crafted with the idea that BU must maintain its identity as a vibrant residential university, where in-person interactions and a bustling campus are essential. And there is this caveat: lots of staff at BU—custodial, food service, and security employees, to name some—simply cannot do their jobs from a distance.
Staff who have been granted the two days of remote work say they don't take it for granted. "I feel very lucky," says Bae. "It does speak to how CGS puts trust in the folks that work there. They know that if I'm home on Wednesday and Friday, I'm working—I'm not up in Maine having oysters and just checking my phone."
---

I'm saving money on gas and wear and tear on the car. But the most important thing to me is I'm getting my life back and my time…. I get to be home in time to have dinner with my husband.

---
If there's a downside to working from home, says Trieu, it's the challenge of turning work off when the transition at the end of the day is a 10-step walk from one room to another, rather than a time-sucking commute. "You're working earlier and you end up working later," he says. "My laptop is on the kitchen table and it's open from breakfast till after dinner. I respond to email till eight o'clock."
On the other hand, he says, working in the kitchen has its advantages: it takes only a couple of seconds to walk to the freezer and take out hamburgers to defrost for the dinner he'll make for himself and his 14-year-old son when the workday ends.
What's striking is the gratitude people express for the seemingly quotidian tasks and rituals that remote work allows them time for—prepping dinner, throwing in a load of laundry, weeding the garden, talking to their kids in the morning before they leave for work, getting outside. "You can fit in a walk with your husband and your dog at lunchtime," says Connor, who takes the commuter rail from her home in Wrentham to BU, a 90-minute trip each way. "Or you fit in yoga in the morning. And if I can get some extra time at the end of the day, I like to be out in the garden."
One of Connor's favorite things about working from home is that her home office—which doubles as the laundry room—has windows. "I have a hummingbird feeder," she says. "The hummingbirds come and visit me daily. It's just like a little joy."
Healthier habits
Food and cooking come up in just about every conversation about remote work.
Bae, who bikes to BU from East Cambridge, says he appreciates not having to plan and pack his lunch for the office. "I had takeout Indian food last night," he says. "I can just reheat the leftovers for lunch." And it's easier to do that in his own kitchen than to schlep those leftovers to work in his backpack while he's dodging traffic on his bike.
For 30 years, daSilva-Clark's routine was to start dinner for her family in the slow cooker before she left the house in the morning. "I made a lot of stews," she says. "The other night I had time to make grilled chicken."
Ana Gregory, an administrative director in the School of Medicine's Enrichment Office, has been riding the commuter rail to BU from Worcester since the first of her two children was born, 20 years ago. "When I'm working at home, I can make a full meal," she says. "I baked salmon the other day."
Barbara Storella is an administrative secretary at the College of General Studies. Her daughter and her daughter's two teenage sons live upstairs from her in Winchester. "I can pick up my grandsons from school on rainy days," says Storella. "My daughter works full time, and that's a help to her."
Clancey treasures the afternoon pickup of her kids, as well as their morning drop-off (her husband, whose work is fully remote, assumes this responsibility on days she's in the office). "I like to go into my son's school and talk to his teachers," she says.
She is mindful that BU's WFH policy stipulates that staff may not be the primary care providers for children or any other dependent during their remote work hours. Clancey and other parents of young kids still have to navigate daycare.
Ron Wheeler, director of libraries for the School of Law, supervises a team of 22 people, most of whom have lengthy commutes. "The parents are so appreciative of that extra hour with their kids," he says. "Being able to pick them up from daycare and not be the one who walks in after dark—those are the memories you can't recoup."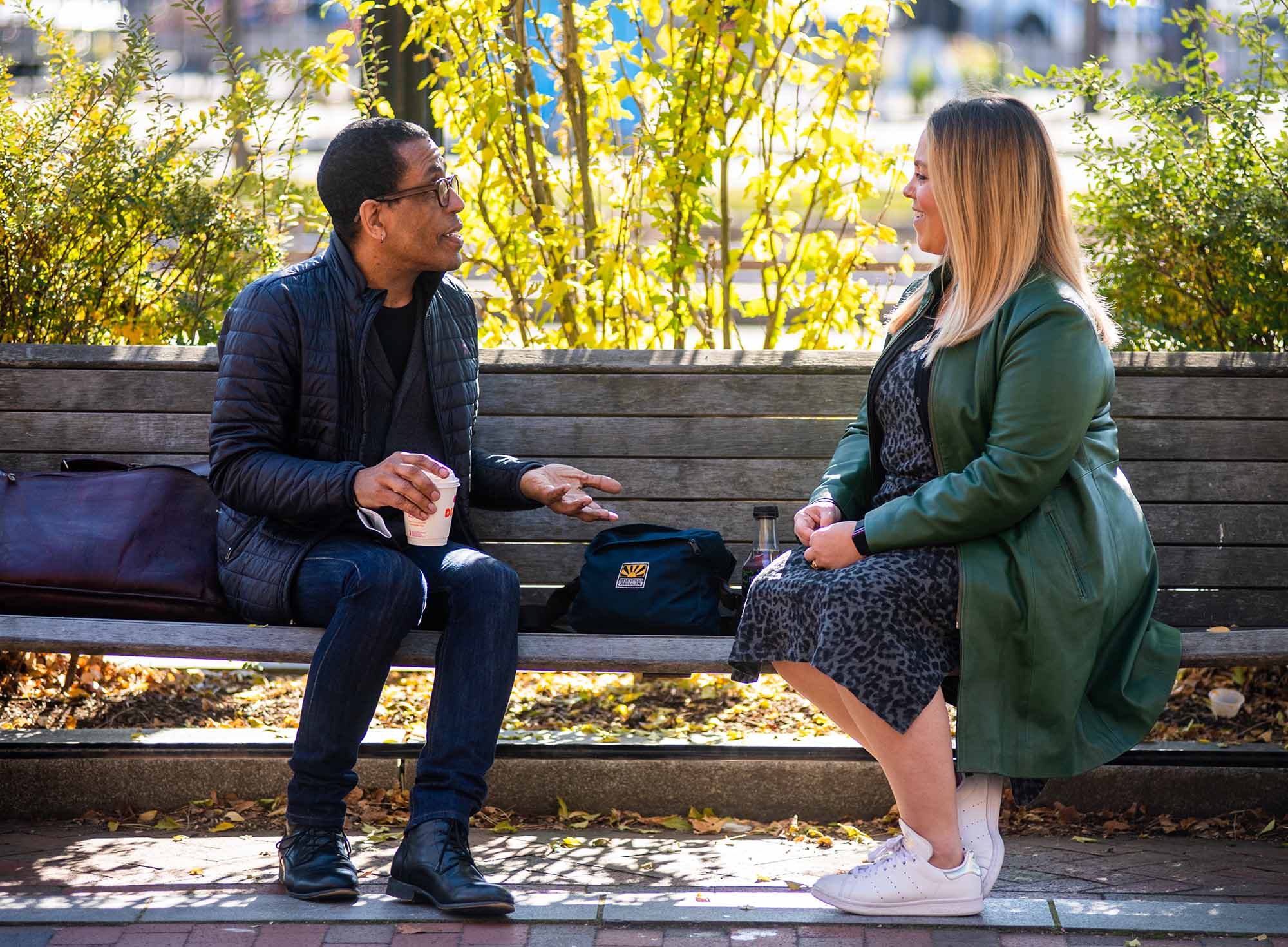 If people feel connected to BU and their colleagues, it's because of their ease with the technology. "There's been increased collaboration," says daSilva-Clark. "People are meeting online who would never have met before. If all the meetings are in person, some people are going to miss them, but if the meeting is on Zoom, you can always join."
Still, WFH isn't perfect. As much as Gregory appreciates remote work, there is one thing she misses—the pre-pandemic camaraderie of her office. "We used to have lunches together and celebrate birthdays," she says. "I miss the social aspect of seeing people and having that connection. The Zoom sessions can only go so far and then you want face-to-face contact."
For a small minority, remote work has no appeal whatsoever. Wheeler prefers working in the office. "I'm an extrovert," he says. "I feed on the energy of other people."
However, he strongly supports the new policy for his library staff. "I'm in a profession of introverts—except for me," he says. "Librarians can hunker down and work from home easily and more productively. Add to that the expense and risk of public transportation, the extra sleep they're getting, the time with family and friends—all of that adds up to a happier worker. And honestly, I feel like a happier worker is a more productive and loyal worker."