Books for Hispanic Heritage Month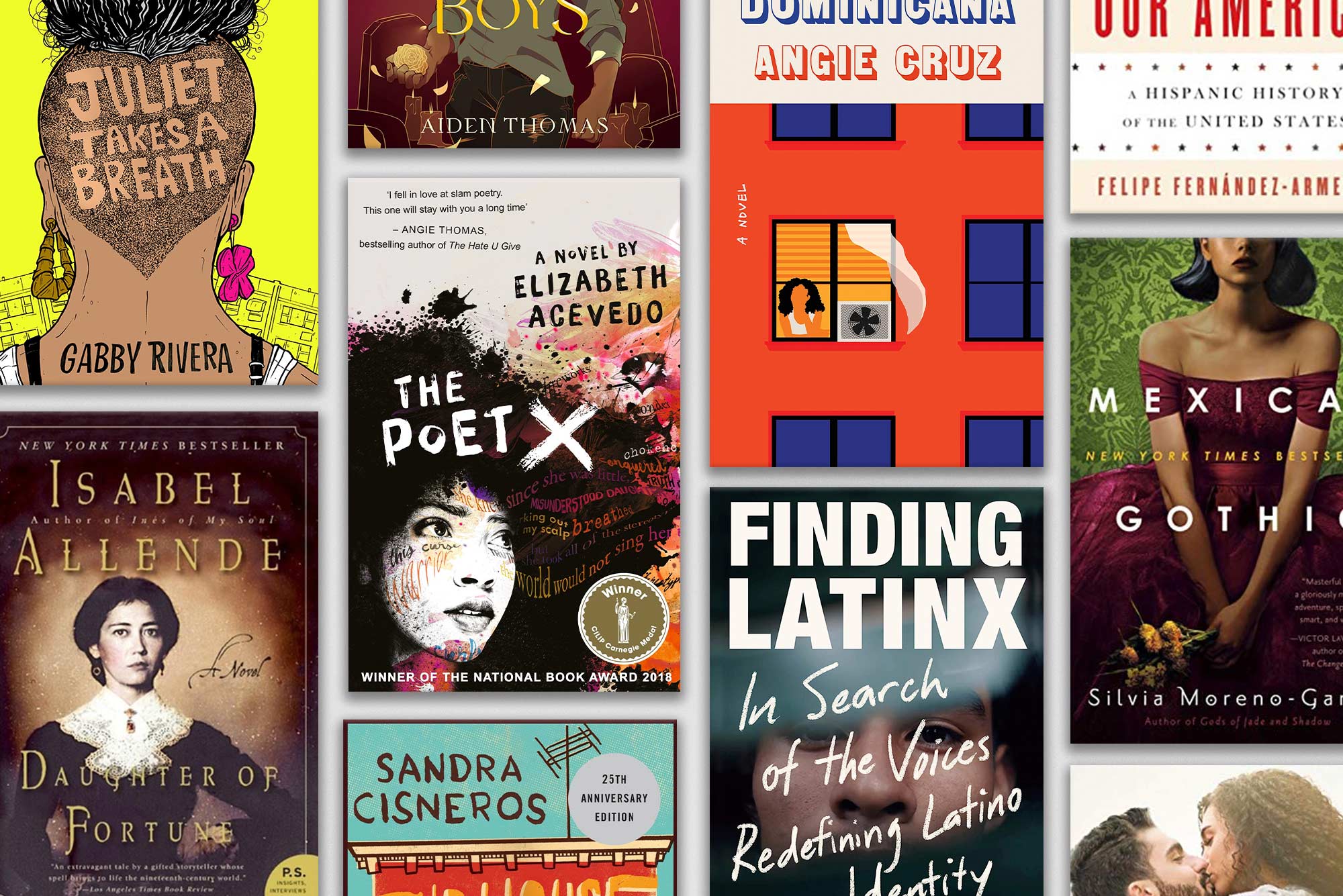 Books
12 Great Books for Hispanic Heritage Month
From romance to horror to nonfiction, these books by Latinx authors will entertain and educate
This week kicks off National Hispanic Heritage Month (September 15 to October 15), which honors the generations of Hispanic and Latinx Americans who have positively influenced the nation. The observance began with a week in 1968 under President Lyndon B. Johnson, was expanded to a monthlong celebration by President Ronald Reagan in 1988, and was enacted into law later that year. The unusual mid-month beginning and ending was chosen to coincide with the independence days of several Latin American countries, including Costa Rica, El Salvador, Guatemala, Honduras, and Nicaragua, as well as Mexico and Chile. The month is also referred to as Latino Heritage Month or Latinx Heritage Month (the latter includes Brazilian culture).
To celebrate, we've put together a list of a dozen books by Latinx authors spanning various genres, including romance, horror, YA, and nonfiction, that draw on their Afro-Latinx, Mexican, Dominican, Chicano, and Boricua cultures. If you choose to buy any books on this list, consider purchasing them from a Latinx-owned bookstore.
1.
Juliet Takes a Breath
by Gabby Rivera
Juliet Milagros Palante is a proud Puerto Rican lesbian from the Bronx with big plans for the summer. First on the list? Coming out to her family, which goes less than spectacularly, particularly with her mom. She then travels to Portland, Ore., where she will be interning with her favorite feminist writer, Harlowe Brisbane. Next, she has to figure out why her girlfriend is acting increasingly more distant. And last (but most certainly not least) she needs to decide if her local librarian is flirting with her or just being friendly. As Juliet juggles all these upheavals, she begins to suspect that Harlowe may not be the intersectional feminist that she claims to be. Originally published as an indie novel in 2016, this contemporary coming-of-age story was republished in 2019 by Dial Books, an imprint of Penguin Random House, to critical acclaim, including a shout-out by best-selling author-essayist Roxanne Gaye.
2.
My German Brother: A Novel
By Chico Buarque
Set in 1960s São Paulo, Brazil, this novel focuses on teen car thief and lothario-in-training Ciccio, who discovers a note written in German when going through his father's collection of books. The letter was written by Anne Ernst, a German woman who'd had an affair with Ciccio's father when he was stationed in Germany in 1931. This affair resulted in a son—Ciccio's half-brother, who vanished during the chaos of World War II. Soon, Ciccio finds himself obsessed with his long-lost brother and begins a years-long journey to find him, hoping he'll understand more about his distant father. Written by Brazilian singer-songwriter Chico Buarque, My German Brother is semi-autobiographical, based on Buarque's own determined search for his long-lost half-brother.
3.
Mexican Gothic
by Silvia Moreno-Garcia
Hispanic Heritage Month coincides with the first half of October—the perfect time to pick up a horror novel. Set in 1950s Mexico, Mexican Gothic follows glamorous socialite Noemí Taboada, who receives a desperate letter from her newlywed cousin Catalina, begging to be saved from a mysterious and evil entity. Confused and concerned, Noemí takes a trip to her cousin's new home, High Place, an old and creepy house in the Mexican countryside. What she discovers is a family full of secrets, rumors of the house's violent past, and dreams of blood and death. Inspired by horror films made by famous Mexican director Carlos Enrique Taboada and classic Gothic novels like Jane Eyre, Rebecca, The Monk, and The Yellow Wallpaper, Mexican Gothic is guaranteed to send shivers down your spine.
4.
Our America: A Hispanic History of the United States
by Felipe Fernández-Armesto
In this nonfiction work, historian Felipe Fernández-Armesto sweeps aside the premise that America's history began with the first English settlers in Jamestown, Va., and instead traces America's beginnings through its Hispanic past. Starting with the colonizing conquistadors of Spain, the author traces how missionaries and rancheros brought Spain's expansive drive to the United States, settling California, mapping the American interior to the Rockies, and charting the Pacific coast. He explores the Mexican-American War and the Hispanic resurgence that followed and Latinx immigration to the United States. The book is a deep dive into the history of one of America's rapidly growing populations.
5.
The Poet X
by Elizabeth Acevedo
Written entirely in verse, The Poet X is the debut novel of noted slam poet Elizabeth Acevedo. The book's heroine, Xiomara Batista, a young girl growing up in Harlem, finds herself questioning her Catholic faith and the world around her. After putting off her Confirmation, she must navigate her overbearing and religious mother, her burgeoning feelings for her classmate, Aman, her family's expectations of chastity and obedience, and her ever-growing passion for slam poetry, something that her mami has forbidden her to pursue. But Xiomara is determined not to let these obstacles get in the way of her art, her love, and her own understanding of faith. This book, released to critical acclaim in 2018, snagged numerous honors, including the 2018 National Book Award for Young People's Literature.
6.
The House on Mango Street
by Sandra Cisneros
This coming-of-age novel, first published in 1984 by celebrated Mexican American author Sandra Cisneros, is a series of interconnected vignettes chronicling the preteen years of Esperanza Cordero, a young Chicana girl growing up in Chicago's Hispanic quarter. Esperanza observes her predominantly Latinx neighborhood and neighbors—each with their own struggles and dreams. As she enters her teenage years, she confronts the realities of being a person of color, a woman, and poor in a racist, patriarchal, and classist society. Today, the book is regarded as a classic work of Chicano literature and is required reading in many classrooms.
7.
Dominicana
by Angie Cruz
In 1965, 15-year-old Ana Cancion is swept away from her home in the Dominican Republic to marry Juan Ruiz, a man twice her age who lives in New York City. Ana must go with him to America in order to help her family get green cards, but she finds life in the United States lonely. She doesn't speak English, her much-older husband abuses her and forbids her to leave their small Washington Heights apartment, and since she cannot venture out of her home, she can't make friends. That all changes when the Dominican Republic slides into political turmoil, and Juan returns there to protect his family's money and land, leaving his kind and free-spirited younger brother, Cesar, to look after his wife.
With Cesar, Ana finds freedom, English lessons, and affection, and soon begins to wonder how she can give all that up when Juan returns. The novel is based partially on Cruz's own mother's story and was a 2020 Good Morning America Book Club pick.
8.
Finding Latinx: In Search of the Voices Redefining Latino Identity
by Paola Ramos
In this nonfiction travelogue, activist and journalist Paola Ramos travels across the United States interviewing young people who are defining what it is to be Latinx. She introduces readers to the growing population of Latinx, who are increasingly influencing society and politics. She speaks to Afro-Latinx, trans-Latinx, Cuban-Americans, and more. With Latinx people making up the youngest demographic in the country, many rapidly coming of age to vote, and the growth of online activism, Ramos hopes to shed light on the growing power and the many diverse identities within the Latinx community.
9.
Bless Me, Ultima
by Rudolfo Anaya
First published in 1972, this coming-of-age story is perhaps the most widely read novel in the Chicano literary canon, taught in schools across the country. The novel follows Antonio Marez, a young boy whose life is changed when a woman named Ultima, a curandera (medicine woman or spiritual healer), enters his life. She has come to live her last years in the Marez family home and offers wisdom and guidance to Antonio as he deals with bigotry, a diabolical possession, his wayward brother, and the death of loved ones. As Antonio grows from a boy into a young man, Ultima teaches him about magic, spirituality, and his cultural ties to paganism.
10.
Daughter of Fortune
by Isabel Allende
This historical novel about a young woman's search for self-knowledge is one of Allende's best known works. First published in 2000, it's the story of Eliza Sommers, an orphan raised in the British colony of Valparaíso, Chile, by Miss Rose and her brother Jeremy. Rebellious from the start, Eliza meets and falls in love with a rake, Jeremy's clerk Joaquín Andieta. When gold is discovered in California in 1849, Joaquín takes off for San Francisco hoping to get rich. Eliza soon discovers she is pregnant with his child and enlists the help of her good friend Tao Chien, a Chinese doctor, to go with her to California in search of her lover. That opens up new opportunities and freedom for both Eliza and Tao.
11.
Acting on Impulse
by Mia Sosa
After fitness trainer Tori Alvarez has a very sudden and very public breakup with her politician boyfriend, she is determined to escape the media frenzy by vacationing in Aruba. The trip, naturally, will be man-free, until she meets a cute and flirty guy staying at the same resort. The man? Hollywood heartthrob Carter Stone, who recently underwent a dramatic physical transformation for his latest role and is nearly unrecognizable. When he finds himself up for a role that requires him to bulk up as quickly and safely as possible, he turns to Tori to help him train. But as the two find themselves increasingly drawn to each other, the paparazzi and Carter's fame threaten to drive a wedge between them.
12.

Cemetery Boys
by Aiden Thomas
Yadriel, an aspiring brujo (witch), is having trouble convincing his traditional Latinx family to accept that he is transgender. Desperate to find a way to prove himself, he enlists the help of his cousin and best friend, Maritza, to summon the ghost of a murdered relative and set it free. But something goes awry, and Yadriel instead summons the ghost of his school's late bad boy, Julian Diaz, who is determined to not go quietly into that good night. Instead, Diaz convinces Yadriel and Maritza to help him uncover how he died and to tie up some loose ends. Annoyed at first, Yadriel agrees to help him, but finds that the more time he spends with Julian, the less he wants to set his spirit free.