Anticipating Major Snowfall, Charles River Campus to Close Monday, Classes to Proceed Remotely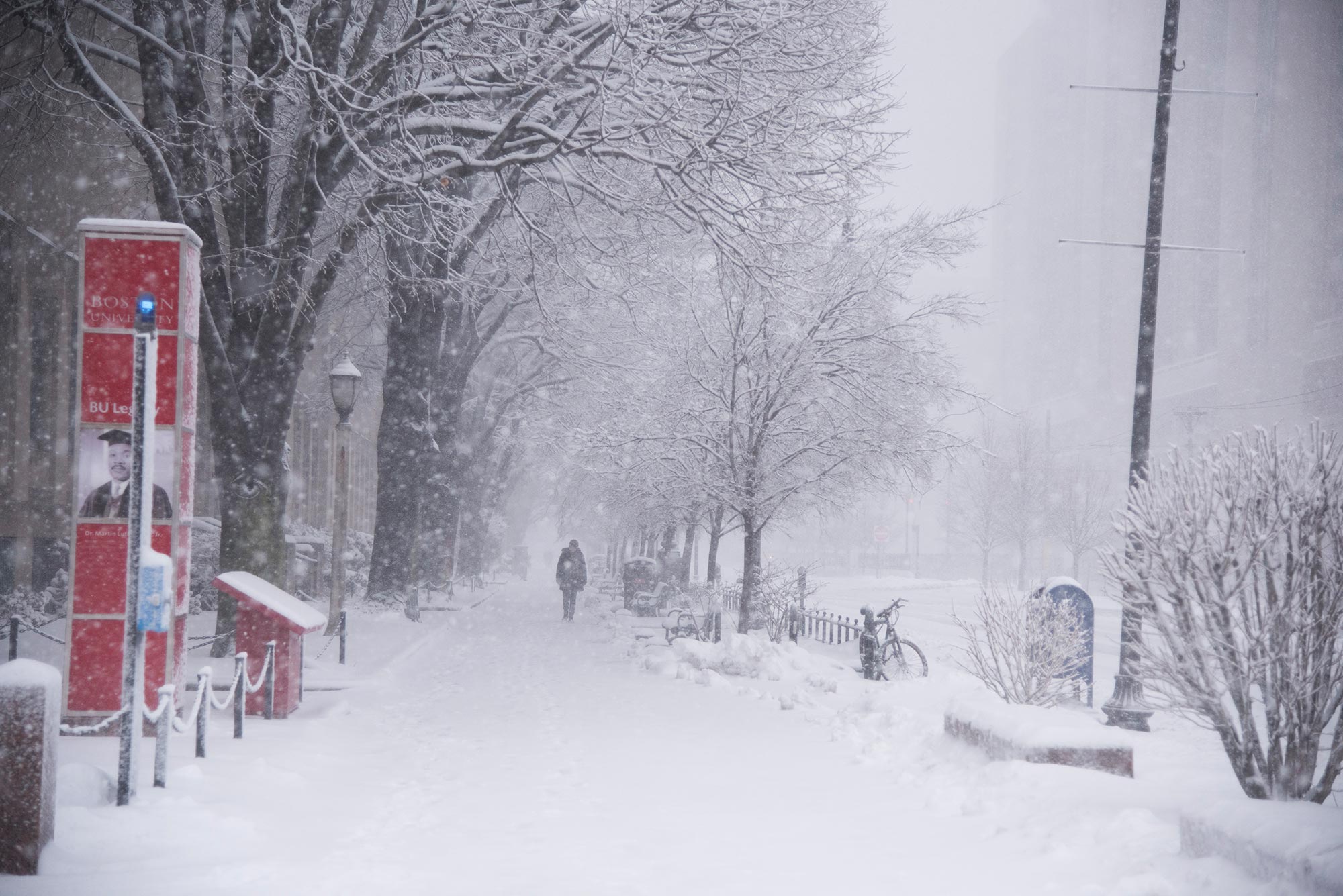 University News
Anticipating Major Snowfall, Charles River Campus to Close Monday, Classes to Proceed Remotely
Nonessential staff should work from home; on Medical Campus, BUSM, GMS, and SPH classes will be taught remotely
Updated at 1:55 pm on Monday: The BU Dental Health Center at 930 Comm Ave will close for patient care at 5:00 pm this evening, Monday, Feb. 1, and the Patient Treatment Centers at 635 Albany Street will close for patient care at 5:30 pm
With at least a foot of snow anticipated, and possibly more, starting midday on Monday, Boston University announced Sunday night that the Charles River Campus will be closed for the day as of 6 am, that all classes and academic activities should continue remotely at their scheduled times, and that all nonessential staff should work remotely.
Also on Sunday night, Boston Mayor Martin Walsh declared a snow emergency for the city from Monday night through Tuesday afternoon and a parking ban starting at noon Monday.
The National Weather Service says a winter storm warning is in effect for the Boston area from 7 am Monday to 5 am Tuesday, with heavy snow expected to begin around noon, with accumulations ranging from 7 to 15 inches and wind gusts up to 45 mph.
"We're just trying to prevent the boomerang effect of having people come to campus and then be told to go home early because of the likely accumulations of snow," BU Provost Jean Morrison said Sunday evening.
COVID-19 Testing and COVID Vaccine Clinic
The COVID-19 Collection sites will be closed Monday with the exception of 610 Commonwealth Avenue (Kilachand Center), which will be open during regular hours. If you have an appointment at another location, you should cancel your appointment through the Healthway Portal and reschedule for the earliest convenient time. Human Resources and the Dean of Students Office will work with individuals if the interruption of service puts them out of compliance.
Charles River Campus
On the Charles River Campus, students should contact professors with specific questions about their classes; the expectation is that classes will take place remotely at their regularly scheduled times.
The BU Shuttle (BUS) will operate on a regular schedule until 11 am, and after that, service frequencies will be every 30 minutes until midnight. Late night service will not operate on Monday evening.
Use the Terrier Transit app for live BUS arrival times as road conditions will impact travel.
Essential on-campus student services, such as Student Health Services, housing, dining, and libraries will remain operational. Employees in essential services must report to campus as scheduled. (Essential services include University Police, Residence Life, Dining Services, Student Health Services, University Libraries, Facilities Management & Planning, Environmental Health & Safety, Residence Safety, Mail Services, Network Services, and the Dean of Students.)
Health and counseling services will continue to be available remotely. (Students should call 617-353-3575 or visit the Student Health Services website with questions or to schedule an appointment.)
Most buildings will be closed Monday and access to classrooms, labs, practice rooms, offices, and other facilities will be limited. On-campus room reservations for nonacademic programs and activities will be canceled. The student immunization clinic scheduled for Monday has also been cancelled.
Medical Campus
The Medical Campus will remain open unless the governor declares an emergency-only travel ban or the MBTA is closed. Otherwise, the Medical Campus will be open, but all classes for the BU School of Medicine, Graduate Medical Sciences, and the School of Public Health will be held remotely.
Boston University School of Medicine students, as well as Physician Assistant and GMS students, who are assigned to inpatient services or clinics are expected to be present, if possible. Those students assigned to outpatient services should check with their course director and clinical site.
The Henry M. Goldman School of Dental Medicine will follow normal school hours and its standard pay practices. Classes and exams will be held as currently scheduled, either in person or remotely, unless otherwise notified by the Office of Academic Affairs. The Simulation Learning Center and Dental Treatment Centers, respectively, will be open for scheduled classes and patient care. GSDM students who are on externship should check with the policy at their respective externship site.