2021 MFA Graphic Design Thesis Exhibition on View through April 6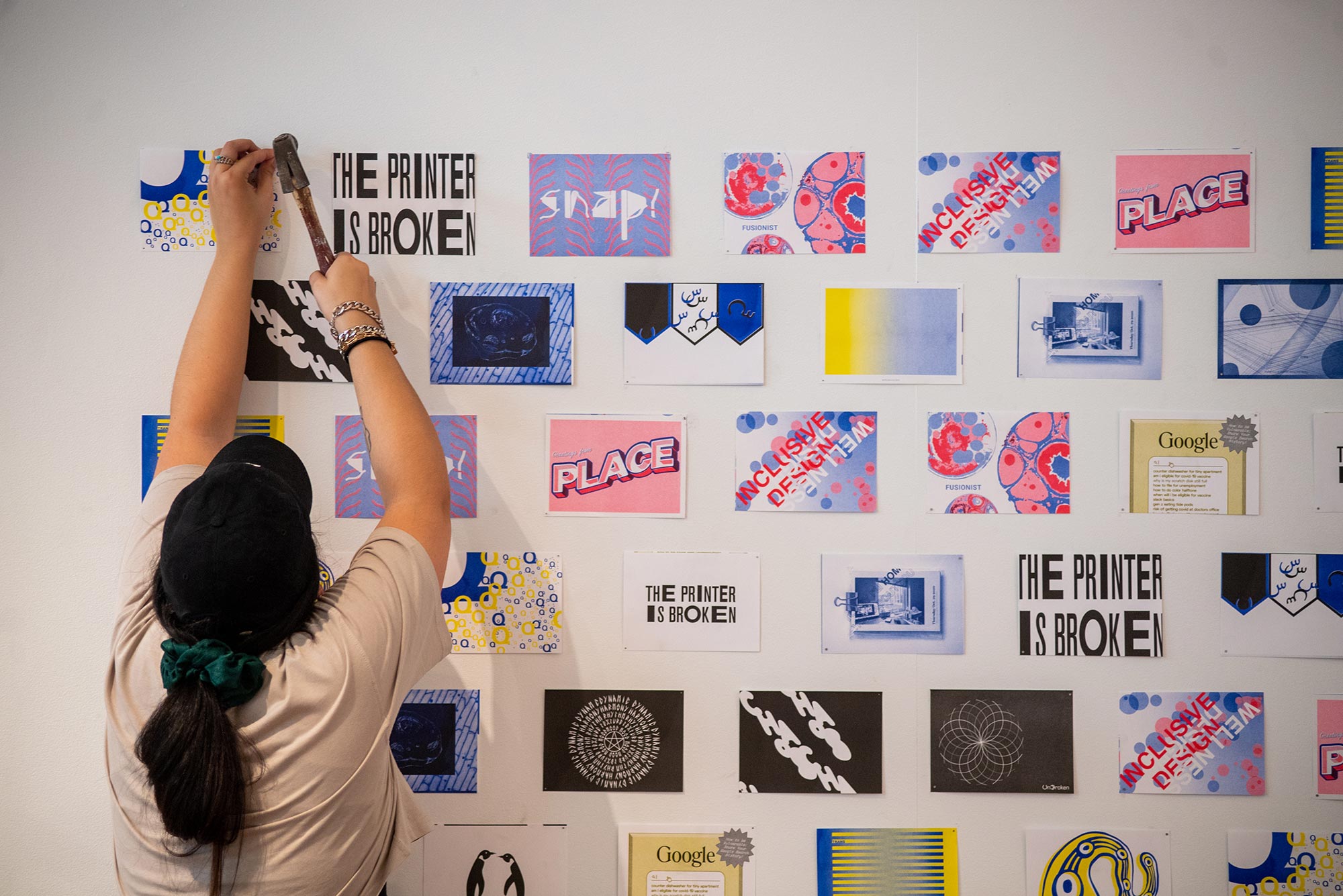 Fine Arts
2021 MFA Graphic Design Thesis Exhibition on View through April 6
Artists' works convey a message of togetherness and adaptability
A vibrant kaleidoscope of multi-platform design has taken up residence inside the College of Fine Arts Faye G., Jo, and James Stone Gallery. As you step inside, you're treated to an explosion of color, texture, and movement. Welcome to the 2021 MFA Graphic Design Thesis Exhibition.
Black text mounted on the gallery's floor-to-ceiling columns announces the title of this year's show, The Printer Is Broken, and the names of the 17 talented artists whose work is represented. The title refers to a question the artists considered while putting the exhibition together: how do you adapt when things don't go your way?
Michael Rosenberg (CFA'21) says the notion of the "broken printer" was something that professors sometimes list in their syllabus. The failure of a tool, he says, is not an excuse to not finish a piece—you have to find a way around it.
"That's kind of the overall metaphor that we were going with for this show, thinking about how we overcome our challenges and our tools and our systems." Rosenberg says. "How do we adapt and change as artists and designers in our everyday lives? Our show reflects that, as we reclaim any errors that the printer has made."
The show considers not just the versatility of the tools and methods of graphic design, but also the question, what happens when an artist's relationship to those tools becomes problematic? What happens when the technology creates an unexpected or erratic result? What serendipitous discoveries and surprise errors occur?
Ari Epstein (CFA'21) experimented with color in one of her designs, purposely choosing inaccurate printer settings so her posters would look completely different once printed than they had on her computer screen. Instead of cyan, magenta, and yellow, the posters are turquoise, lime, and purple. Other artists played with form. One of Rosenberg's 10 plus pieces in the show is a "poster" that is an accordion book stretching to 14 feet.
Walking through the gallery, the viewer sees the various ways the assembled artists play with the idea of embracing error. One gallery wall, dubbed the "Glitch Wall," displays works by each artist that have been purposely distorted. Another section, the "CMYK Wall," explores what happens when graphic artists must confront limitations. Here, all of the work has been created using only standard ink colors for a printer—cyan, magenta, yellow, and black. There's also a "Scale Wall," which presents a wonderful sort of optical illusion.
The exhibition includes several works by each artist and part of the show's fun and what makes it so impressive is discovering their versatility. Works take the form of projections, animations, posters, and books, underscoring how technological advances have pushed graphic design well past a print-based medium.
The show was organized by the students. Some handled the overall planning, with subcommittees working on different sections: a title wall team (including the columns), a print team, and a projection team. The exhibition has been overseen by Christopher Sleboda, a CFA associate professor of art and of graphic design, who arrived at BU this past fall.
He says the students wanted to push themselves to not only create art, but also to find new and creative ways to display it. "Most exhibitions have a title wall that has some introductory information on a flat surface," Sleboda says, "but the students were interested in how the entire space could be the title wall. So they used the architecture of the gallery."
Byori Hwang (CFA'21) had never worked on anything like the column title wall before, and she says the challenge proved to be a great learning experience.
"One of the reasons people come to grad school—one of the reasons I came to grad school—is so you can create things. To make my work and to make good work," she says.
Her graphic design work focuses on language and translation. Korean is her first language, and Hwang says she often speaks using a mix of Korean and English and her art is a reflection of that. This focus is apparent in one poster, which plays off of the show's "broken printer" theme. It reads "Is Broken Printed?"
Like Hwang, Sohini Mukherjee (CFA'21) says the installation offered her an opportunity to work on something completely novel. Although she had little experience in projection, she worked to get everyone's videos up and running, sorting out equipment logistics. She likes to try new and different things, she says.
Mukherjee's thesis work embraces the notion of design for all. "To me, design has the power to transcend cultural barriers, challenge the norms, and encourage engagement," she says. "Through this thesis project, I aim to create interactive work and also look for accessible design tools and try to design through those constraints."
Among her pieces in the show is a small, hand-folded fidget toy that the artist calls an "anxiety flexagon." In an attempt to formulate an abstract concept like anxiety, the anxiety flexagon uses its unbendable structure and typography to conjure feelings of stress and imposter syndrome. Mukherjee says it's important to her that this work translates and is accessible to her viewer.
What makes this year's MFA Graphic Design Thesis Show so exciting, Sleboda says, is the way it showcases the individual voices and deeply personal approaches to design of each of the 17 artists, while saying something collectively about the erratic nature of equipment in creating art.
"It's a group of students coming together to say something with a unified voice, while putting together individual practices and work," he says.
The MFA Graphic Design Thesis Exhibition, The Printer Is Broken, is at the Faye G., Jo, and James Stone Gallery, 855 Commonwealth Ave., through Tuesday, April 6; hours: Monday to Friday, 11 am to 5 pm. Because of the pandemic, exhibitions are limited to on-campus BU students, faculty, and staff. A virtual tour will be available soon for other visitors.