What to Do This Holiday Season (Safely)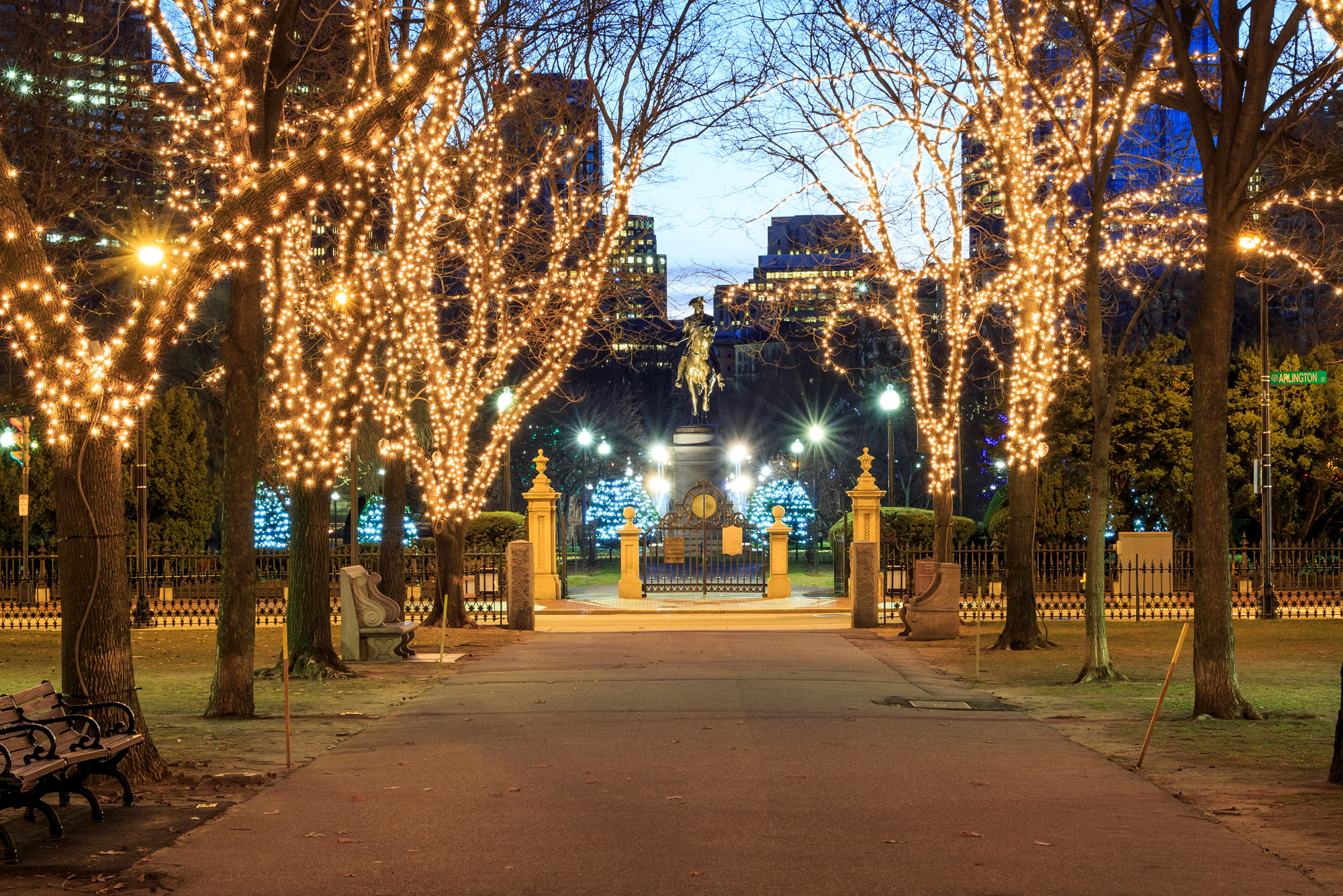 Things-To-Do
What to Do This Holiday Season (Safely)
Places to shop, sights to see, virtual performances, and more
The semester is done and the holidays are here—good riddance to 2020, you're probably thinking. Many of us will be returning home, but if you're sticking around Boston, there are plenty of ways to safely enjoy your well-deserved winter break. From neat spots around the city and online to shop to virtual performances to festive sights, here are our recommendations for keeping your spirits bright this holiday season.
Shopping
Newbury Street
Whatever gift you're looking for, you're sure to find it on Newbury Street. As you stroll through, you'll come across great local shops like Trident Booksellers & Cafe and Newbury Comics and some of your favorite chain stores like Uniqlo and Aldo, as well as several neat pop-ups. Or, if you're looking for more high-end browsing, stop by shops like Brooks Brothers or Riccardi.
Find a full list of shops on Newbury Street here.
Harvard Square Virtual Holiday Fair
If you would rather do your shopping from home, we get it. Like many events this year, the annual Harvard Square Holiday Fair is happening online. Some of this year's New England vendors include artist Ariel Kessler, who offers some lovely and affordable collages and sculptures, and Maggie's Farm, where you can find some great hardwood utensils and other household items. Various vendors will be selling jewelry, apparel, pottery, and home décor, and you can support local businesses while finishing your holiday shopping.
The list of online vendors is here.
MassArt Made Virtual Holiday Market
Take a look at MassArt Made's Virtual Holiday Market. You can purchase from an assortment of vendors selling products ranging from jewelry to paper and stationery to holiday home décor, and more.
Where to Go
Boston Common Christmas Tree
A lot of things look different this year, but some, like the sight of the Christmas tree on the Boston Common, are city traditions. Head over to the Frog Pond (sadly, closed for skating this year) to catch a glimpse of the magnificent, 45-foot white spruce, which will be up until January 3. This year's tree is dedicated to healthcare workers.
Sledding in the City
New England was hit with a major nor'easter this week, so take advantage and go sledding. Check out this list of top spots to sled in the area, compiled by the Boston Calendar. Just remember to stay socially distanced and wear your mask.
The Seaport (Snowport) Winter Wonderland
The Seaport area is keeping things exciting and safe over the next few weeks with an array of fun and family-friendly activities, including free tours of the city in Ride Circuit electric vehicles, outdoor winter games, like curling and cornhole, a tree market, and more. In keeping with public health guidelines, masks must be worn at all events.

Find more information about the Seaport Winter Wonderland (Snowport) events here.
What to Stream
First Night Boston 2021
While we can't gather in large crowds for any New Year's Eve events this year, the annual First Night Boston celebration will still go on, albeit virtually. The event will feature many musical and artistic performances, high-profile New England residents, and tributes to frontline workers. First Night is also inviting you to share your hopes and resolutions for the New Year with the hashtag #Together21. The broadcast times have not yet been confirmed, but the event will air on First Night's website, NBC10 Boston, NECN, and Telemundo Boston on the evening of December 31 and into New Year's Day.
Holidays with the Boch Center
With many live events canceled this year, the Boch Center is still bringing you some of the festive cheer virtually. On its website, you can stream movies, musicals, and other performances, like Charles Dickens' A Christmas Carol, Eleanor's Very Merry Christmas Wish, Urban Nutcracker, Holidaze Harmony, and more. Streaming these performances will also help to sustain the groups behind them. Prices and dates vary.
Purchase tickets here.
The Slutcracker
One bright spot in this pandemic? It won't be impossible to get Slutcracker tickets this year, as it will take place virtually. This parody of Tchaikovsky's 1892 ballet The Nutcracker sticks to the structure of the original ballet—only the characters have grown up. The Slutcracker follows the courtship of Clara and Fritz, which upsets Drosselmeyer and ultimately builds up to a transformation and awakening in the Kingdom of Sexual Sweets. The performance brings together a diverse cast of ballet dancers, hula hoopers, belly dancers, and more, and has earned rave reviews.
Rent the movie here.
The Nutcracker
If you're a traditionalist, Boston Ballet is partnering with NBC10 Boston, Telemundo, and NECN to bring the magic of the Tchaikovsky ballet to your home. Directed by Mikko Nissinen, The Nutcracker features the ballet's iconic toy soldiers, dancing snowflakes, and scenery, and will thrill audiences of all ages.
The Nutcracker will air on Friday, December 25, on Telemundo at 5 pm and on NBC10 Boston and NECN at 7 pm.
Holiday Movie Marathon
Home Alone
If you're not traveling this holiday season, at least you don't have to worry about leaving any important piece of luggage—or a family member—behind. That's what unfortunately happens to eight-year-old Kevin McCallister in the hilarious Christmas comedy Home Alone, when the McCallister family heads to France for Christmas and inadvertently leaves their son back in Illinois to fend for himself. With his family away and unable to return, it's up to Kevin to defend his home from the nefarious "Wet Bandits," Marv and Harry, who plot to rob it on Christmas Eve.
You can rent Home Alone for $3.99 or purchase it for $9.99 on Amazon Prime.
Elf
Directed by Jon Favreau, Elf stars Will Ferrell as Buddy, a human who was adopted and raised by Santa's elves. Buddy grows up believing he's an elf and is shocked to learn that he is indeed a human who was put up for adoption by his mom. The film follows him as he heads to New York City to find and redeem his father, who Santa has placed on the naughty list.
You can rent Elf for $3.99 or purchase if for $9.99 on Amazon Prime.
A Christmas Story
There's always that one gift we're really looking forward to over the holidays, and nothing captures that sentiment better than A Christmas Story. The film centers around Ralphie Parker's wish for a Red Ryder carbine action, 200-shot, range model air rifle, despite some pretty serious safety concerns. The film also weaves in some funny short side plots, like a "triple-dog dare" from one of Ralphie's friends to stick his tongue on a school flagpole in the freezing weather, and his mom's over-the-top reaction when he drops a profanity.
You can rent A Christmas Story for $3.99 or purchase it for $9.99 on Amazon Prime.