Weeks of Welcome Moves (Mostly) Online This Year
Student Life
Weeks of Welcome Moves (Mostly) Online This Year
Trivia, ice cream, and of course, SPLASH, headline annual Student Activities Office program
There's no question—the 2020-2021 school year will be unlike any other. Whether you're on campus or attending classes remotely, there will still be one familiar staple: the Student Activities Office annual Weeks of Welcome (WOW), a monthlong slate of programs and events just for BU students.
SAO explored the possibility of holding events in person, but opted to shift its offerings online, says Taylor Malatos, SAO associate director. While Weeks of Welcome will certainly look and feel different this year, Malatos says, the goal is to foster community and engage students, including those who are not on campus.
"These are traditional programs that are really important to the vibrancy of campus and the experience," she says. Especially for incoming freshmen, she adds, the opportunity to get involved and meet other students is critical.
One positive outcome about the shift to a mostly online presence is that these events are now more accessible than they would be in person. A Zoom Q&A with comedian Tiffany Haddish, for example, can have an audience in the thousands, while an in-person event would be limited to the 1,200 the Metcalf Ballroom can accommodate, Malatos says.
Additionally, some activities—like trivia and game nights—have the possibility of turning into recurring series, she says, depending on their popularity and success during the Weeks of Welcome.
Registration is required for all events, and space is limited, so register now to reserve your spot. Events go through September 12 and are free unless otherwise noted. Check out the offerings below.
Note: All of the events were open at press time (except where otherwise noted). If an event has sold out, let us know so that we can update the list.
August 24: Game Night with the Board Games Club, 8 pm on Zoom
Sick of scrolling through Instagram while hanging out inside? Join the Board Games Club for some fun online games. No skill required and play is free.
August 25: Summer Stump Trivia, 8 pm on Zoom
Test your trivia skills and join Boston's premier trivia group for some old-fashioned fun. Teams may have between 5 and 10 players. No team? Don't worry, SAO will create one for you.
August 26: Paint Night Kits
Flex that artistic muscle a little. You'll receive a custom BU canvas with directions and all the paint supplies you need. Sit back, relax, and paint something for your dorm room. Pick-up location varies by residence hall.
August 27: Virtual Psychic Readings, 8 pm on Zoom (by appointment) SOLD OUT
Curiosity never killed the cat. Get a virtual psychic reading and learn a bit about what the future holds.
August 28: JP Licks Roommate Ice Cream Sundae Kits, 3 to 7 pm
Get to know your roommate and enjoy a little ice cream, too. Head down to JP Licks on Boylston Street to pick up your sundae kit for two using your custom BU voucher—which SAO will email to you after registration—and then picnic anywhere outside.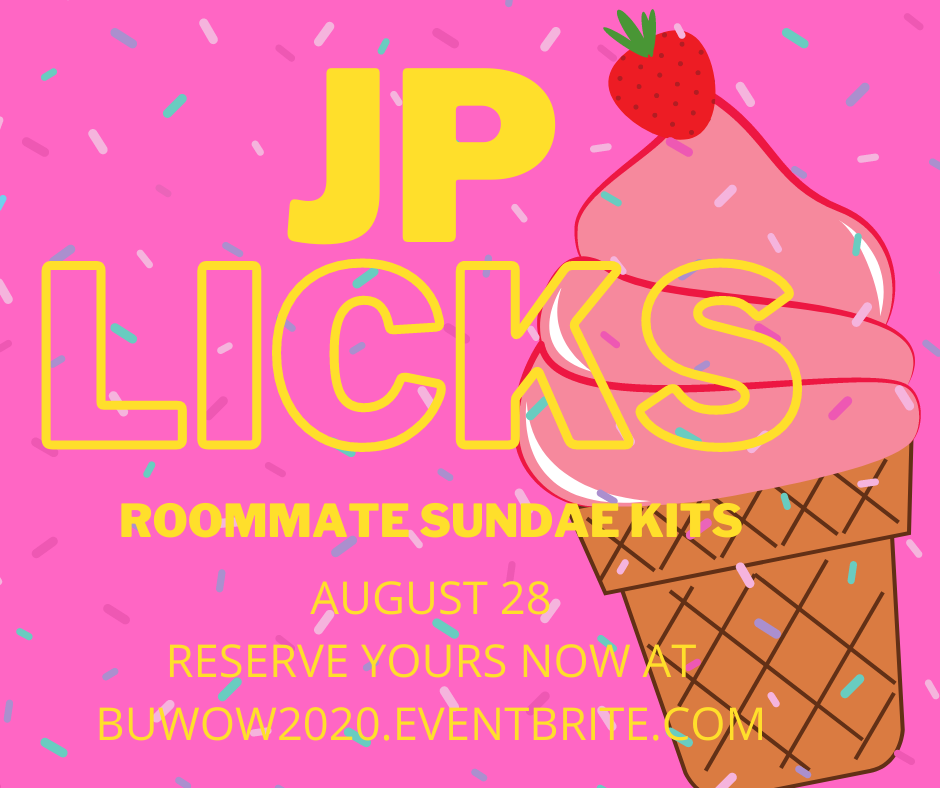 August 28: Gaming Night, Hosted by the Gaming Club, 8 to 10 pm on Zoom
We're all spending more time indoors, so have some fun and meet new people while you're at it. No console required, but you could win one, plus many other prizes, throughout the night.
August 29: Virtual Scavenger Hunt, 8 pm on Zoom
Nothing like a little virtual amazing race to change up your routine. Teams of up to five will compete for a grand prize.
August 30: Welcome Back BINGO, 8 pm on Zoom
This isn't your grandmother's bingo. Grab a group of new pals and come play Bingo on Zoom, with lots of prizes. Stake out a spot in your residence hall common room or play with your door open so you can hear the "Bingos" echo across the floor.
September 3: Stump Trivia, 8 pm on Zoom
Test your trivia skills and join Boston's premier trivia group for some old-fashioned fun. Teams may have between 5 and 10 players. No team? Don't worry, SAO will create one for you.
September 4: Q&A with Tiffany Haddish, 8 pm on Zoom
Come out and see one of the hottest names in comedy. With several high-profile projects and buzzworthy appearances to her name, Tiffany Haddish has quickly become one of the most sought-after comedic actors and performers. She can currently be seen opposite Tracy Morgan on the TBS comedy series The Last O.G. and as host of ABC's Kids Say the Darndest Things.
September 5: SPLASH, 1 to 3 pm on Engage
Want to get involved on campus, but don't know where to start? Come to SPLASH, BU's annual student group recruitment fair. Browse the over 400 student groups on campus and visit virtual tables to speak to their representatives and find your place in the BU community.
September 5: Q&A with Just Mercy director Destin Daniel Cretton, 8 pm on Zoom
The biographical legal drama Just Mercy tells the story of Walter "Johnny D." McMillian, a death row inmate, and Bryan Stevenson, the young lawyer who boldly takes on his case. Take this unique opportunity to watch the film on your own and then join the group for a moderated Q&A with award-winning director Destin Daniel Cretton. You will have an opportunity to submit questions during the discussion.
September 10: Learn How to Play, with Board Games Club, 8 pm on Zoom
Ever wonder how to play Settlers of Catan or Dungeons & Dragons? Don't be turned off by the intricacies of games like these—the Board Games Club will deliver a guided how-to.
September 12: Mixology with Blossom Bar, 8 pm on Zoom ($7)
Choose between two alcohol-free mixers from the creative minds of the bartenders at Blossom Bar in Brookline. Pick up your mixer by 2 pm and pair with your own alcohol (not provided) for a Zoom bartending lesson with the lead bartender. Tickets are $7. This event is 21-plus.
Weeks of Welcome programs run through September 12. Registration is required for all events, and space is limited. All events are free unless otherwise noted. Weeks of Welcome is for BU students only. Register here.