University Staff Prepare for the Fall Semester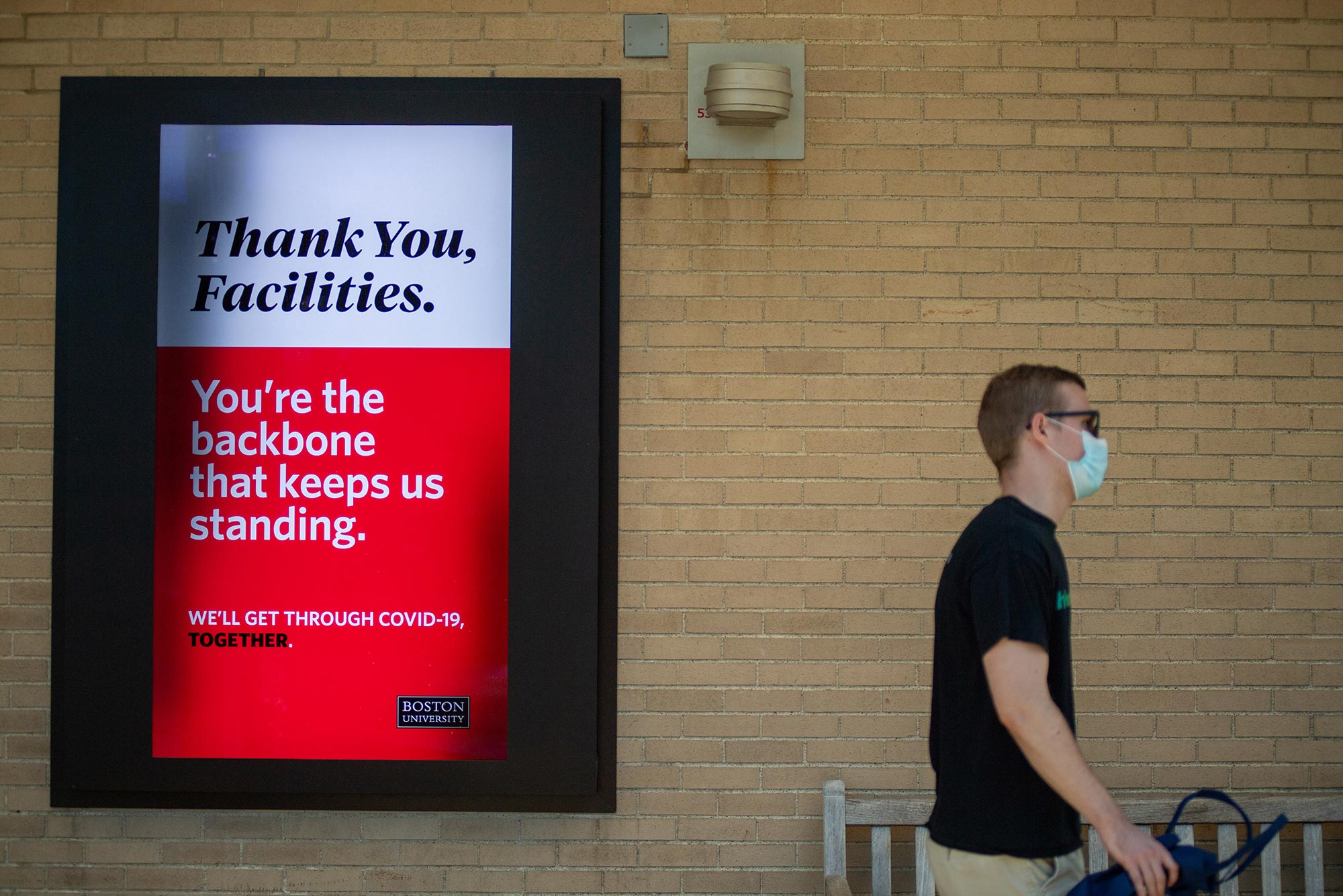 Return to Work
University Staff Prepare for the Fall Semester
BU describes process to determine who will work on campus, who will work remotely, and how to request a workplace adjustment
How to determine who will work on campus and who will work remotely
Staff survey shows widespread concern about health and safety of on-campus work
How to request a workplace adjustment
As Boston University prepares to repopulate the campus and resume in-person teaching and learning this fall, administrators have issued guidance for staff members as determinations are made about who should return to campus, who should continue to work remotely, and how staff members—those who are in the Centers for Disease Control and Prevention's high-risk group and whose work responsibilities require their presence on campus—should request a workplace adjustment.

A letter sent to supervisors and managers on June 30 explained that staff whose jobs require regular interaction with students and faculty while on campus, or whose jobs involve the use of space, equipment, or material on campus, are expected to return to campus when requested by their immediate supervisor during Phase 3 of BU's four-phase plan to reopen the campus, which is now planned for August. Staff who can effectively work remotely, as determined by their supervisor, should, with their supervisor's approval, continue to work remotely for the fall 2020 semester.

The letter said the University's recovery teams have been working nonstop since April on a plan to resume in-person teaching and learning and to repopulate the residential campus in the fall. The primary objective is to provide a safe and healthy environment for students, staff, and faculty, according to the letter, signed by Jean Morrison, University provost and chief academic officer, Gary Nicksa, senior vice president for operations, and Ken Freeman, interim vice president for human resources.

"Residential education is core to the mission of Boston University," says Morrison. "It's core to the experience of undergraduate and graduate students. Providing an in-person, residential experience while ensuring the well-being of all members of our community will require all of us to continue to work differently."
Managers have been asked to place each employee in one of four COVID-19 testing categories that will be used to determine the required frequency of lab testing for COVID-19. BU's testing protocols, Nicksa says, are mandatory for everyone in the academic community, and will include workers for BU Dining Services and other vendors who have regular and close contact with students, staff, and faculty.
A second letter, sent on July 9, linked to a survey of almost 3,000 staff members that found that 84 percent of respondents were concerned or very concerned about returning to campus. That letter, also signed by Morrison, Nicksa, and Freeman, acknowledged that the concerns expressed are critically important issues. "We understand and hear the concerns that you have about your health, and the health of those in your households," it said.
Many of the safety measures identified by staff in the survey as impactful are included in the University's health and safety plans for the fall. Among them:
An on-campus COVID-19 testing facility with the capacity to test all BU students, faculty, and staff. Details about testing frequency and locations are still being finalized and will be shared with the community as soon as they are available;
A symptom-monitoring web app through which all community members will monitor themselves for COVID-19 symptoms;
Required use of face coverings and physical distancing at all campus locations;
Building-specific reopening plans that include signage, visual cues, and dedensification where necessary;
A comprehensive review of all HVAC systems, upgrading filters as needed; and
A planning effort, currently underway, to establish new maximum occupancies for all classrooms and ensure appropriate physical distancing for faculty and students.
"Although we are working to ensure that the campus is as safe as possible for faculty, students, and staff, we recognize that some staff may still be reluctant to return to work on campus," the letter said. "This may include staff members who are or might be considered at increased risk of severe illness from COVID-19, as defined by the [CDC], or who live with someone who is or might be considered at increased risk of severe illness from the virus ('CDC Risk Groups')."

The letter has an overview of the staff workplace adjustment request process and provides a form that can be submitted by staff members who are in a CDC high-risk group and whose work responsibilities require their presence on campus during the fall semester to request a workplace adjustment for the fall 2020 semester. Medical documentation is required for all requests based on a medical condition. Those seeking workplace adjustments are asked to submit requests by Wednesday, July 15.

Workplace adjustment request forms will only be accessible to and reviewed by a small team of experienced professionals in Human Resources and the BU Equal Opportunity Office, and the details of the adjustment request, and any personal medical information, will be maintained in HIPAA-compliant storage locations, separate from employee files. No personal medical information will be shared with deans or administrative unit heads or their designees.

If the criteria are met to document that a staff member is in a CDC risk group, the individual will be conditionally approved to receive a workplace adjustment. Once the submission deadline has passed, the HR and Equal Opportunity team will provide the dean or administrative unit head with only the following information: the names of those staff members who are conditionally approved for an adjustment, and the adjustment that each staff member has requested.

Based on this information, deans and administrative unit heads (or their designees) will work to determine what adjustments may be made, or if another approach is more appropriate. The University hopes to be able to work through all requests by Friday, July 31.

Administrators noted that some conditions included in the CDC risk groups for COVID-19 might be considered disabilities under the Americans with Disabilities Act (ADA), whose requests are handled by Equal Opportunity. Further information about the University's reasonable accommodation process for employees is available here.
"We know that some staff may have concerns about returning to campus that do not fall under the specific conditions included in the CDC risk groups," the letter said. Staff with concerns about returning to campus that are not addressed in the letter are asked to complete and submit the workplace adjustment form. When those staff members access the form, they should proceed to the "Other" box at the end and provide details about their situation. "After we gather this information, we will determine whether or not there are ameliorative steps we might take," the letter said.

The University's plan to reopen the campus in phases began with the gradual resumption of research activities (Phase 1) on May 25, 2020. Phase 2 will begin in July with the return of medical and dental students, some in-person healthcare services, and the continued ramp-up of research. Repopulating the residential campus and preparing for fall classes (Phase 3) is being planned for August. The final phase—beginning classroom teaching, research, and other residential community activities this fall (Phase 4)—will be significantly reshaped by COVID-19 public health and safety protocols.

BU's COVID-19 Recovery Plan, announced in April, tasked several working groups with investigating every aspect of BU's return to campus life and determining what actions are needed for the safe return to academic, research, and residential programs. The overall effort is coordinated by the Augmented Budget Committee, led by Morrison and President Robert A. Brown.

Staff members with questions about the process or the workplace adjustment form are advised to call BU's COVID-19 support line at 617-358-4990. The support line is staffed from 9 am to 5 pm, Monday through Friday.