Travis Roy: A Death in the Family
Tribute
Travis Roy: A Death in the Family
BU men's hockey play-by-play announcer recalls tragic night 25 years ago, how Roy's extraordinary character "resulted in a quarter century of triumph"
For 35 years it has been my honor and privilege to call Boston University hockey games.
Occasionally I will pop in a tape, maybe a little more often recently, driven by the pandemic, to recapture a memorable moment in Terrier hockey.
There remains one moment that need not ever be revisited, one tape I've never listened to. I still find it difficult to comprehend that it actually happened: a tragic, imperfect storm. How could everything go so wrong?
October 20, 1995. Opening night versus North Dakota following Boston University's Triple Crown national championship season. Walter Brown Arena, the home of the Terriers, in finely fevered form dually celebrating the achievements of the previous year with the raising of the 1995 NCAA championship banner and preparing to welcome in the new season. And with it the Class of 1999.
One of the incoming freshmen was a blonde-haired left wing out of Yarmouth, Maine, via Tabor Academy, named Travis Roy (COM'00).
He was on a line with sophomore Chris Drury (CAS'98) in the middle and his classmate Mike Sylvia (Questrom'98) on the right. I had dutifully noted Roy's bio and stats from the New England prep ranks the prior year. I always feel more confident regarding an incoming freshman's potential for success at the college level when he has been a captain before arrival on Commonwealth Avenue and if he has hockey in the family DNA.
Travis satisfied both criteria. He had a "C" on his sweater at Tabor and his father had starred at Vermont.
It has never been an exact science, but I try to meet the members of the freshman class prior to the new season.
One steamy summer afternoon in July I stopped by the Athletics office across from Walter Brown Arena. I was talking to longtime BU Hall of Fame sports information director and lifelong friend Ed Carpenter.
He was giving me a little background on the young pups who would be making their debut for the defending national champions in October when one of the new dogs walked by.
Ed proceeded to introduce me to Travis Roy. We talked briefly. He impressed me with his firm handshake, affability, and consummate poise. As he walked away, Ed said, "That's Travis Roy. He will be a captain." My first impression of this confident young man was thus validated. He hadn't put the scarlet and white sweater on. He hadn't played a shift as a Terrier, yet Ed recognized character—captaincy—just by observing and interacting with this kid from coastal Maine during the sweltering summer workout regimen. That was high praise.
The first look at Travis on the ice was in an exhibition game versus Toronto. A lopsided 12-0 victory for BU, it was tough to learn much, if anything, about the freshman class. Nevertheless, it was apparent that Travis possessed both speed and tenacity.
The roar that accompanied the banner raising hadn't fully subsided when the skillful and oftentimes theatrical Chris O'Sullivan (MET'07) scored the first of the record 236 goals the offensively prolific 1995-96 team racked up in a season that would take them back to the Frozen Four despite the now-impending tragedy.
On the ensuing face-off, the raucous atmosphere prevailed. I remember watching the play unfold and describing it. The puck dumped in by Drury below me to my right. And then the collision. Silence.
The moment frozen in time. The aftermath, and soon the realization that something was drastically, tragically wrong with No. 24 in scarlet and white, splayed motionless on the ice. I never aspired to be a news reporter. The Boston Globe's legendary sports columnist Ray Fitzgerald famously referred to working in sports media as spending your time making a living in "life's toy department." That's where I aspired to spend my time exclusively. In one tragic moment, I was now a news reporter.
When asked often by BU communications students writing profiles over the last 25 years about the best games of my career, I can rattle off half a dozen.
Worst game? There is only one. It is no less painful for me to recount now.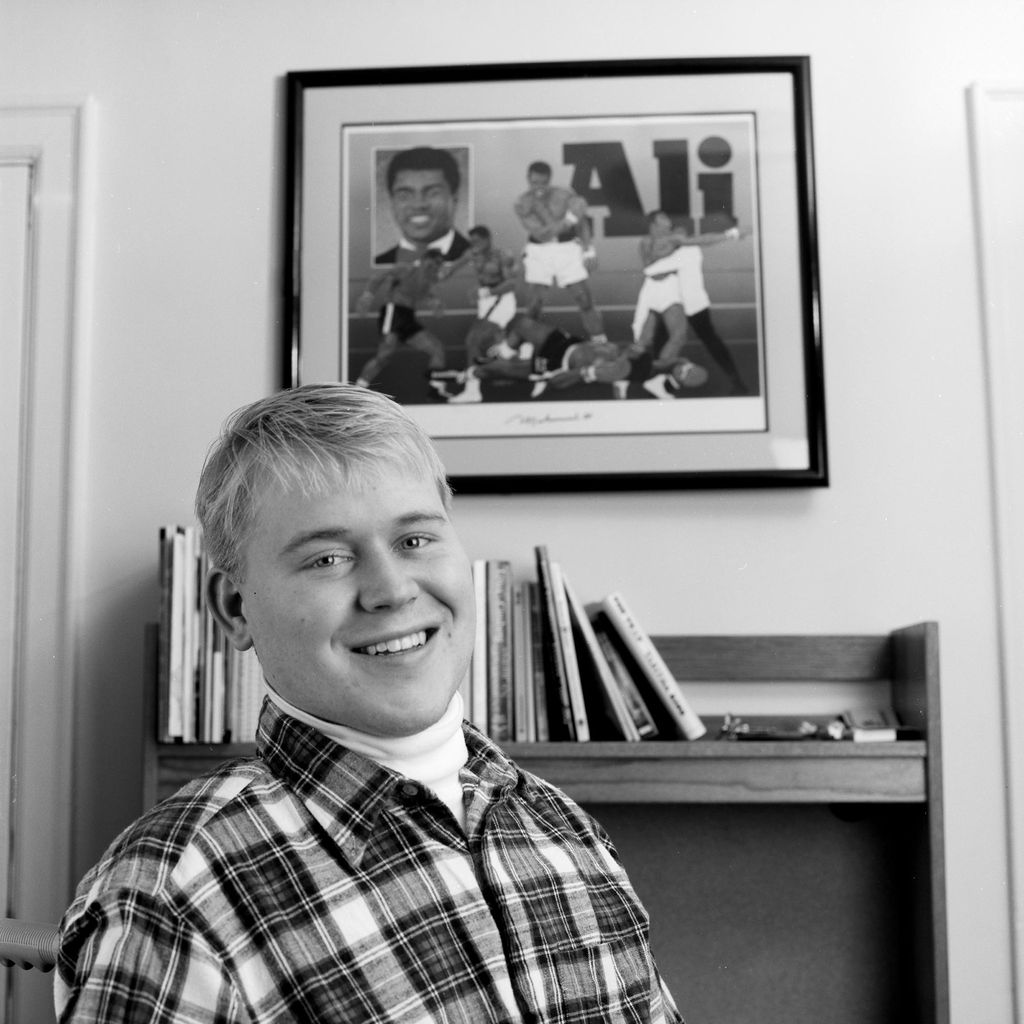 Eight days later, the BU hockey team traveled to Burlington, Vt., (close to the Roy family summer home) to play Lee Roy's alma mater, UVM. BU defeated the Catamounts in dramatic fashion, 5-4. It was a game played on an emotional level that to this day I have yet to see equaled.
The March 23, 1996, NCAA quarterfinal match in Albany versus Clarkson came close.
The entire team displayed a remarkable sense of purpose over the course of the long and often arduous college hockey season.
Every day at practice, captain Jay Pandolfo (CAS'96) hung Travis' game sweater on the bench, a reminder that his spirit was always there. It was up to the players, each member of that 1995-96 team, to honor him with their play. The leadership exemplified by Pandolfo under the circumstances was also unmatched.
And now the Terriers were at Pepsi Arena. And 154 days after his tragic accident, so was Travis Roy.
The Terriers won their 30th game that day, defeating Clarkson University's Golden Knights, 3-2, to advance to the Frozen Four in Cincinnati, and Travis shared in the celebration with his teammates.
Despite not repeating as national champions, it stands as the best coaching job of Jack Parker's 40 years behind the BU bench.
The outpouring of support for Travis was unprecedented. It transcended the hockey community and has continued for a quarter century. This is a testament to the man.
I don't speak idly when I say that he is the most inspiring person I ever met.
Having a lifelong identification with BU hockey, the "Have you met Mike Eruzione?" has often been supplemented by, "Do you know Travis Roy?" Often followed by, "He spoke to my son's hockey team. It was so impactful."
My question always follows. How did he do it? How could he maintain his positive attitude and exhibit the public persona that was so inspiring to all who became familiar with his story and benefited from his philanthropic initiatives?
The Travis I got to know personally was an insightful observer of the game he loved. I always enjoyed talking hockey with him and helping him promote events for his foundation, the Travis Roy Foundation, dedicated to assisting both quadriplegics and paraplegics while providing funding for spinal cord research.
Once I found out we shared a mutual passion for Pearl Jam, that opened up another topic for discussion. I will never forget catching a Pearl Jam show at Boston Garden with him in 2006. Sadly, we won't have the opportunity for an encore, hoping to hear "Crown of Thorns."
I will also never forget his razor-sharp sense of humor. The summer after Jack Parker's retirement in 2013, a large group of former players converged on the Cape to celebrate the coach's 40-year career.
It was a great afternoon. I was asked to emcee the informal proceedings. Three players were selected to speak. Travis made the cut. I mentioned that Jack Parker's jersey number, 6, would be retired during the upcoming season.
I noted that the only number retired to date in the storied annals of BU hockey was Travis' number 24. I then offered that I was certain that Travis wouldn't mind that his number would no longer be the only one retired.
And then, from the back of the room making his way up to speak, all in attendance heard Travis say, emphatically, "I mind!"
Just 10 days prior to his passing on October 29, the 25th anniversary of his fateful accident was marked by a number of media outlets. Interviewed by Boston Globe columnist Kevin Cullen, Travis pointed out how fortunate he was and that "all the people who have helped me are still with me." He also stated, "There are people that are so worse off than me, and I want to help them."
Something for all of us to think about when we become upset about a broken iPhone screen, slow Wi-Fi, or a botched coffee order. Travis Roy's legacy ultimately provides all of us the opportunity to gain a renewed perspective in our lives.
By not allowing the tragedy of his 11 seconds to define him, his extraordinary character and exemplary fortitude resulted in a quarter century of triumph.
God bless you and keep you, Travis. Your work is done. It's time to play. I wish you a fresh sheet and a chance to lace 'em up again.
Bernie Corbett (CAS'83) has been the voice of BU hockey for 35 years. He was in his usual broadcast spot at Walter Brown Arena for the October 20, 1995, home opener, when Travis Roy was injured and left paralyzed and wheelchair-bound. Roy passed away last week at the age of 45. Corbett can be reached at bmcorbett@hotmail.com.
A version of this story originally appeared in collegehockeynews.com.