Tips for Studying for Finals from Home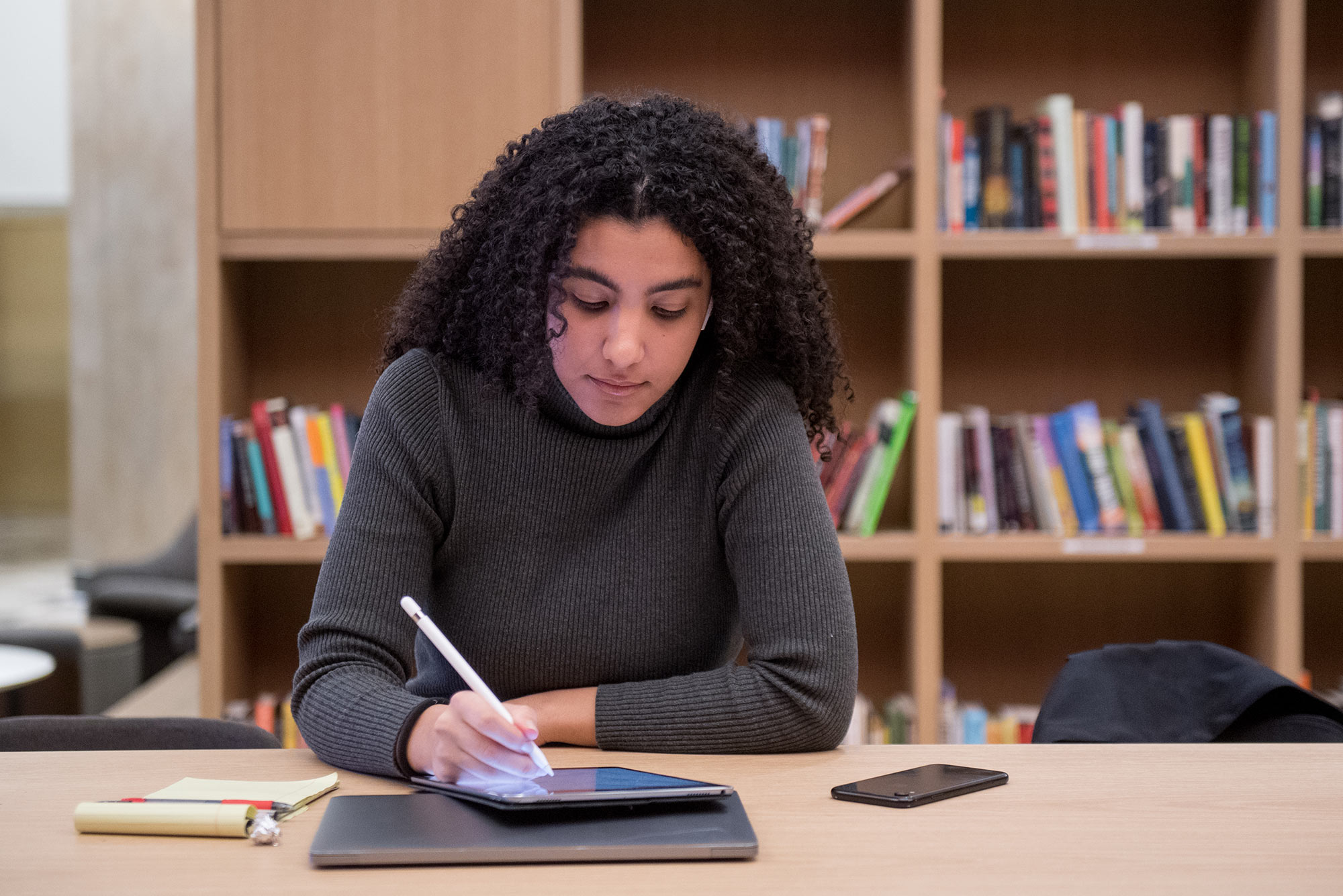 Study Tips
Tips for Studying for Finals from Home
Some advice on how to stay focused during this unprecedented exam season
Today is the final day of classes for the spring semester, with the study period from May 1 to 4 and finals scheduled May 5 to 9. But this year's exam period will be unlike any other in history, with exams administered remotely as a result of the COVID-19 pandemic.
Ordinarily, BU Today provides a list of libraries and spots across campus where you can study. But this year, libraries are shuttered and campus is closed. So how best to prepare for exams when you're back in your childhood bedroom, far from campus? We reached out to folks at BU's Educational Resource Center and Sargent College of Health & Rehabilitation Sciences as well as to some students for tips on how to get ready for finals. Take a look.
1.
Create a designated study space for yourself
Choose a specific area in your home for studying and taking exams. Hard to do, we know, when you're competing for space with parents working from home and siblings who are also learning remotely. But try to find a space with minimal traffic flow, where you can sit comfortably for extended periods of time. If noise is an issue, think about using earplugs or noise-canceling headphones. And try to eliminate distractions by keeping your cell phone in another room or on do not disturb/airplane mode.
If you typically like to prep for finals by forming study groups, you can still do it remotely. Zoom, FaceTime, Google Hangouts, and Skype are just a few videoconferencing apps that can help you study with classmates.
3.
Set a study schedule and let everyone around you know about it
Being away from campus and not on your regular schedule can drain your motivation and encourage procrastination. Set a schedule and try to stick to it. Tell those around you what times of the day you need to be studying and what your finals schedule is to ensure some relative quiet, and budget in enough time over the course of a few days to avoid last-minute cramming.
4.
Get a change of scene every once in a while
Where you can go may be limited, but try to switch rooms when studying. Spending too much time in one room could make you lose focus. Moving to another part of your house or apartment periodically can help maximize your attention and motivation.
5.
Cramming doesn't work—the best way to study is what's called distributed practice
Experts say that most of what you learn during cramming doesn't stay in your memory long-term. Better to follow a distributed practice model, where you space your studying out over several days and weeks. This allows your brain to learn the information more deeply and retain it better. Of course, if you've got an exam tomorrow and you haven't been studying all along, you've got no choice but to cram.
6.
Eat well and snack smart
"Cramming for an exam by pulling an all-nighter is not healthy for your mind and body. You will not only deprive your brain of the nightly rest it needs to ace the test, but you will likely also end up mindlessly munching on less-than-healthy snack items," warns Joan Salge Blake (Sargent'84, Wheelock'16), a Sargent clinical professor and host of the health and wellness podcast SpotOn! She advises being careful to limit caffeinated beverages the day before the exam since this is a stimulant and can prevent a restful night's sleep.

"On the morning of the exam, you want to fuel your body," Salge Blake says. "Your brain loves carbohydrates, so you want to have a healthy breakfast with carbs (whole grain cereal, bread, fruits, and veggies), proteins (eggs, cheese, yogurt) and some good fats (nuts and peanut butter). A classic example is whole-grain cereal with low-fat milk topped with nuts or fruit or a peanut butter sandwich with a yogurt and a piece of fruit."
Take a look at the Sargent Choice Build You Own Snack chart for some tips on healthy snacking. The list includes whole-grain Goldfish crackers, fruit, hummus, and nuts.
7.
Reach out for help when you need it
You may be away from campus, but that doesn't mean the resources you once had are now unavailable. Reach out to your TAs or professors if you have questions. No matter where you are, they're available to help.