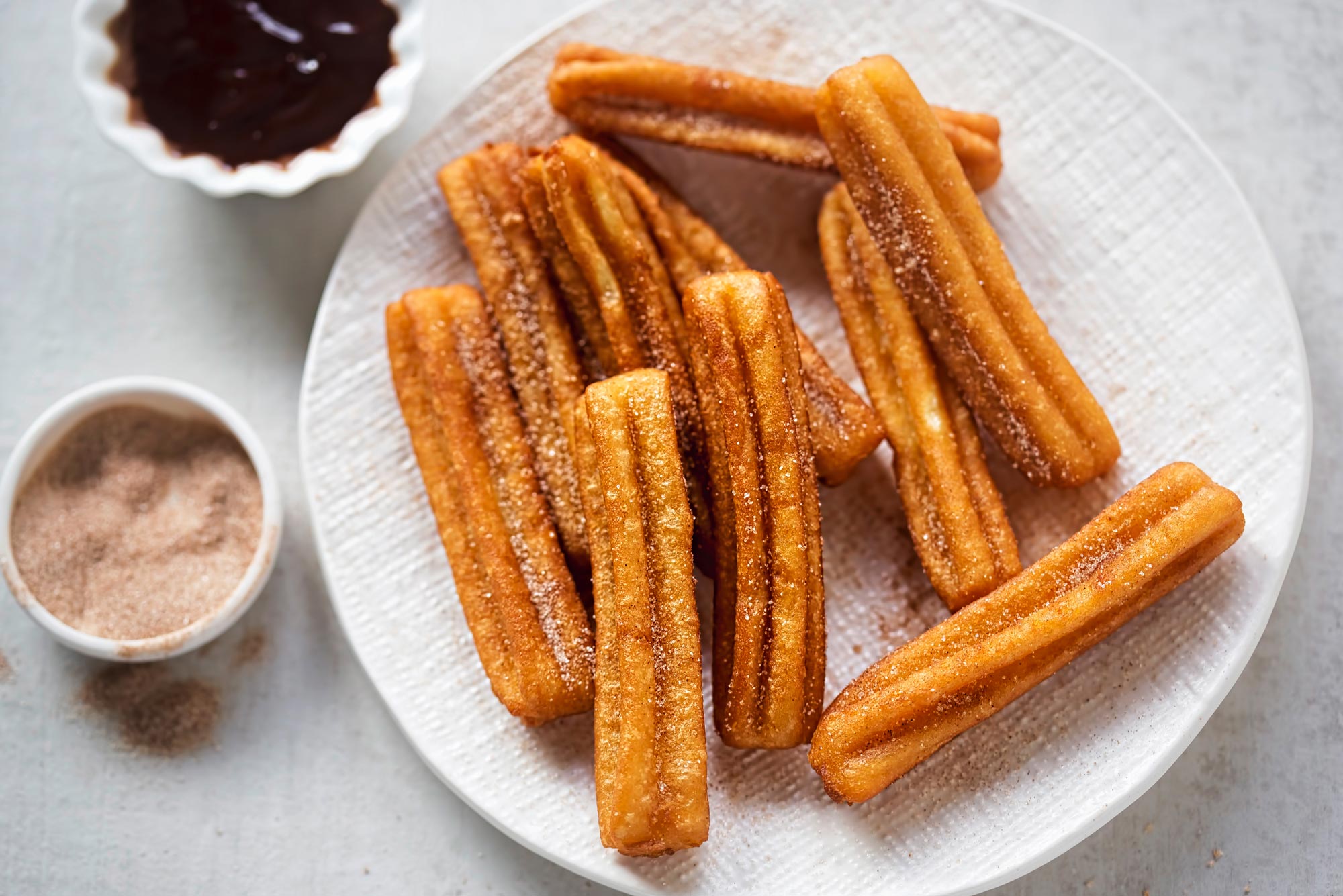 It may not feel like it, but we made it to Memorial Day weekend. And since we don't condone hitting a packed beach, we thought up some other ways to have fun: a virtual Memorial Day celebration, live music online, a new 30-day exercise regimen, and do-it-yourself fried dough (which you deserve after all that exercising).
How to Honor the Weekend

For the first time ever, PBS's National Memorial Day Concert will be held virtually. The event is hosted by actors Joe Mantegna and Gary Sinise and features musical performances, documentary footage, and readings to honor those who have served our country (find the full lineup here). This year, the concert will also recognize those assisting in the fight against COVID-19. The event will be aired on PBS stations, PBS.org, YouTube, and Facebook, at 7 pm on Sunday, May 24.
What to Bake

Although Cinco de Mayo was a few weeks ago, we can still appreciate churros, the delicious, easy-to-make Mexican treat. All they take are some pantry items: sugar, water, flour, cinnamon, and oil for frying. Once the dough is made, use a pastry piping bag to shape the churros into the hot oil and roll them in cinnamon and sugar for a delicious dessert.
What to Watch on Netflix
In the Netflix Spanish crime drama Money Heist, also known as La Casa de Papel, a highly intelligent man named "The Professor" pulls off a heist of the Royal Mint of Spain with a group of trained criminals. The show is told from the perspective of one of the female criminals, Tokyo, who incorporates a level of emotional complexity to the storyline. Although the series was filmed in Spanish, the audio has been translated into several different languages and is available with translated subtitles as well.
How to Stay Fit
Fitness instructor Chloe Ting's free workout challenges have been circulating on TikTok and YouTube recently, probably because people are starting to think about shedding the "quarantine 15." If you're looking for a workout schedule, this might be the right routine for you. Ting offers many 25- to 35-day challenges, including the summer shred challenge and the hourglass challenge. With her curriculum, you follow a daily schedule of videos ranging from 10 to 60 minutes total. And the best part: it's free.
What to Listen To

The trio Stay Homas (@stay.homas) started as a group of three musician roommates performing on their Barcelona rooftop after Spain declared a lockdown months ago. Their style incorporates a mix of bossa nova, reggae, Spanish rumba, and more, and their message is simple: Stay home! In their song "Stay Homa," which virtually features Spanish reggae singer Sr. Wilson, they sing, "Please stay homa/Don't want the corona/It's okay to be alona." The trio have gained a large online following since they released their first video, and their concert scheduled for July, with over 1,000 seats, sold out in 10 minutes. Their music is available on Twitter, Instagram, and YouTube.
Club Passim's Virtual Campfire Festival

The Cambridge nonprofit music venue Club Passim is holding its annual Memorial Day Campfire online from May 22 to 28, from 5 to 8 pm. Campfire started more than two decades ago, and has become Passim's largest way to develop new talent and celebrate the Boston area's amazing music community. Every night, performances will be streamed on its Facebook page and at passim.org/campfire. Listen to more than 75 acts, including Buffalo Rose, Chris O'Brien, Lisa Bastoni, and Hayley Sabella. Admission is $15 and proceeds go to supporting the artists.
YouTube Account to Follow

John Krasinski's viral Some Good News quarantine talk show just announced that the eighth episode, released May 17, will be its last for a while, but that gives you a chance to binge. Amidst the social isolation, high infection rates, and glum news reports, good news can be hard to find. In his YouTube show, Krasinski (of The Office fame) sheds light on uplifting events happening in the world. The show currently has 2.5 million followers. Earlier this month, Krasinski held a virtual graduation, where he featured recent graduates from around the country, including two students from BU. On the show were surprise guests like actor-producer Oprah Winfrey, Oscar-winning director Steven Spielberg (Hon.'09), and Pakistani activist and Nobel Prize winner Malala Yousafzai. The show is a good reminder that things aren't all bad.