Thanksgiving Advice for BU Students: Stick Around, Have a Safe Friendsgiving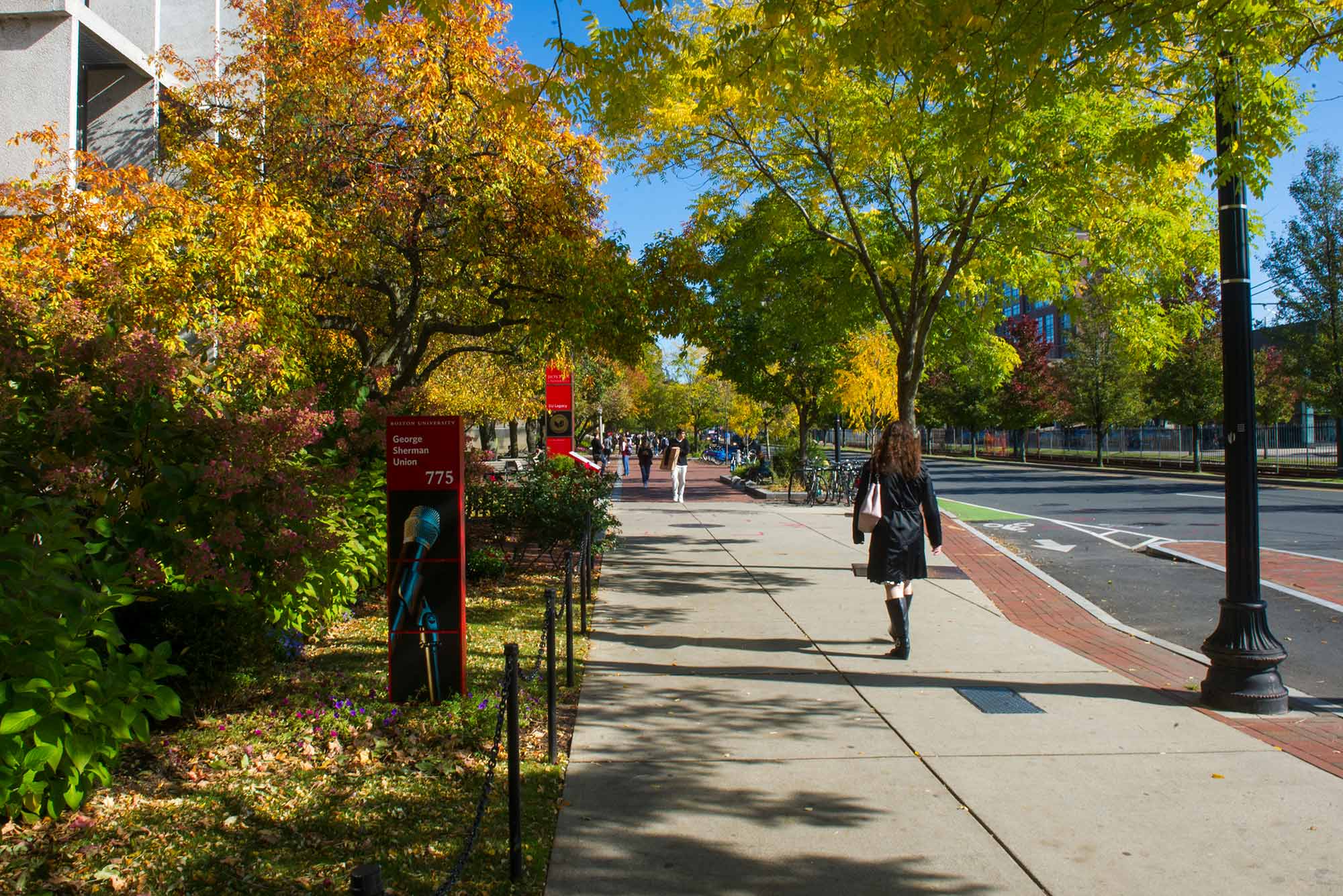 Campus Life
Thanksgiving Advice for BU Students: Stick Around, Have a Safe Friendsgiving
Those who go home are asked to finish the semester remotely
For college students across the country, this year's advice for a stress-free Thanksgiving comes down to two words: stick around. Like many colleges and universities, Boston University is urging students to forgo the holiday tradition of a large family gathering—for the sake of the health and safety of everyone on campus. On-campus housing will be open and Dining Services will be open for business.
Kenneth Elmore (Wheelock'87), associate provost and dean of students, says he plans to work with campus culinary director Christopher Bee to consider options that can help students plan Friendsgiving events. "We are looking for ways to encourage students to come together in their smaller spaces," he says. "We want to help them have a bit of Friendsgiving in their own households."
The University's hope is to make Thanksgiving as warm and welcoming as possible while adhering to health and safety protocols, knowing how hard it will be for some students to miss out on the dining room table at home piled high with turkey, stuffing, and all of their favorite fixings.
"Travel puts people at risk," says Judy Platt, director of Student Health Services. "And eating Thanksgiving dinner in the traditional way, with many people who are unmasked, puts everyone at additional risk. Those are the two big risks that we are trying to persuade people to avoid by staying on campus this Thanksgiving weekend."
Platt says the University is asking students who do choose to go home to stay there after the holiday and finish their semester remotely, rather than return to campus before the end of the semester to finish in person. She says some colleges and universities are either ending their fall semester at Thanksgiving or moving all classes to remote learning from that point.
When students who travel to high-risk states return, she points out, they will have to abide by the Massachusetts travel orders, which require 14 days of quarantine or a negative COVID-19 test result that has been administered up to 72 hours prior to arriving in Massachusetts. Those students would also have to adhere to the University's protocols for anyone traveling from out of state.
BU requires undergraduate students entering from high-risk states to take a series of three tests for COVID-19, over seven to eight days. Graduate students entering from high-risk states will need a series of two negative tests, also over seven to eight days, during the stay-in-place advisory. Because Thanksgiving is November 26, and classes resume Monday, November 30, with the last day of classes before final exams December 10, Platt says students returning from high-risk states will have very little time when they are not advised to stay-in-place. Students who do choose to leave the campus area, whether for a few days or the remainder of the semester, will need to appropriately adjust their Learn from Anywhere status depending on their unique circumstance.
"We know that everyone loves to spend Thanksgiving with their family," Platt says. "But we—I mean all of us—have to make the health and safety of the BU community our first priority."
Elmore says students who stay on campus will have the chance to celebrate Thanksgiving. He is currently working with his staff to plan campus events that will respect all University safety protocols for COVID-19.
"In addition to the studying that students will get done," he says, "those who stay on campus will have an opportunity to take part in an event with traditional fare that is now in the planning stages. I also know that many students are planning to do a Friendsgiving, and we will try to facilitate those events as much as possible."