Students Take News of Delayed Commencement in Stride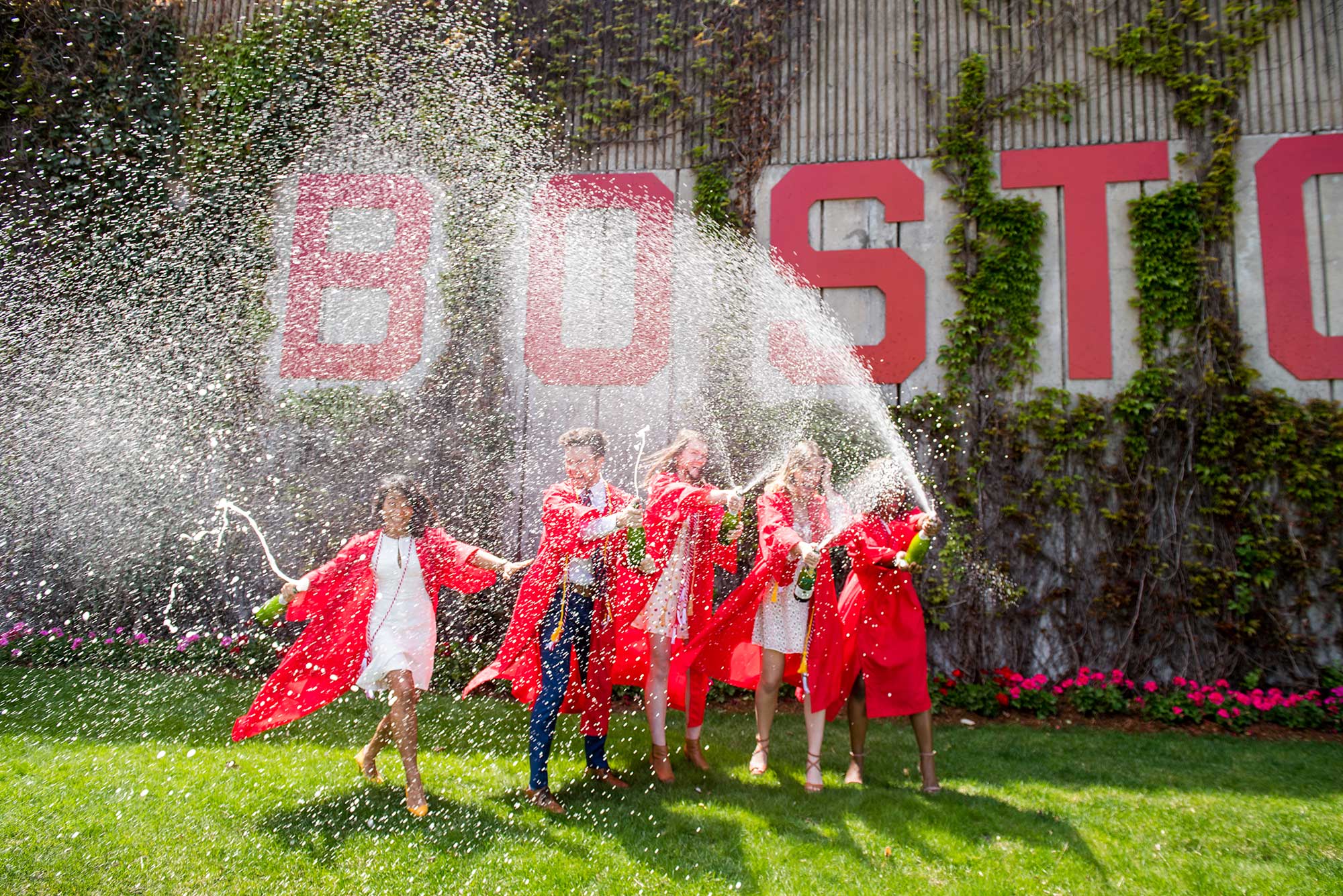 Commencement
Students Take News of Delayed Commencement in Stride
Reactions on social media overwhelmingly positive, and funny
When BU President Robert A. Brown announced Thursday that the University's 147th Commencement would be postponed due to the coronavirus pandemic, students and their families were understandably disappointed. Some colleges, such as Tufts, have chosen to hold a virtual commencement, but that wasn't the best route for BU, Brown said, because University officials feel that it isn't a "fitting substitute for the in-person event that is shared with colleagues, family, and friends."
So, despite that disappointment, the overwhelming majority of BU seniors and others agreed with the University's decision to postpone Commencement to late August or early fall, and took to social media to express their thoughts.
First, this comment from the BU mom of a junior posted on BU's Facebook page, which linked to the BU Today story:
Paula Lampson: President Brown, I applaud you! You have dealt with a very difficult situation with extreme sensitivity and consideration for the Seniors at your esteemed university. They have worked very hard and deserve to be celebrated. They earned the right to walk with pride with their classmates and to have a proper graduation ceremony. These students also need closure and to have the opportunity to say goodbye to their friends and the place they have called home for the last 4 years. My daughter is a junior and I am very proud that she is part of the BU community that so very clearly is sensitive to its students and tries to act in their best interest.
Jasmine Gordon: Thank you so much for postponing! A virtual graduation would be a slap in the face for all the work we've put into our 4 years—a first generation senior
Florence Yu: Thank you, President Brown, for postponing rather than canceling Commencement outright or deciding to hold an online graduation. It's such an important milestone for our Seniors, so canceling it or holding it online just wouldn't suffice. I look forward to celebrating later this year.
On Twitter, users had this to say:
Honestly incredibly proud of how BU has handled this entire situation, and beyond appreciative they decided to come back on their decision and give us a REAL graduation ❤️🙏🏻 https://t.co/uZL54XyJpj

— Cassidy Spreadbury (@ohheyitscass23) March 26, 2020
BU really pulled through with this pandemic shit. Not even HARVARD postponed their graduation.

Also according to the UPS man I talked to, BU is one of the only schools that paid in full for storage/shipping of students belongings.

So thank you @BU_Tweets https://t.co/DCmPxKzp6m

— Vincent. (@puentevincent98) March 26, 2020
Boston University POSTPONES rather than cancels commencement. I continue to feel proud of my university's leadership during this crisis. The attention to students' (and families') needs is real. https://t.co/na1pKBPjbQ

— Andrea Bien (@missbienvenidos) March 26, 2020
Some recalled that it will be the second time in history that BU postponed Commencement (in 1970, graduation was canceled amid antiwar protests on college campuses across the nation):
Anne Hathaway Sauerbier: 50 years ago Class of 1970's commencement was cancelled. Postponement is a better option. Congratulations to the class of 2020 (Facebook post)
Matthew Barry Smith: A smart decision. More importantly, even without a formal ceremony, your BU experience will last a lifetime as will the friendships and acquaintances (especially the latter as you meet years from now in everyday life) and the values you developed and refine will be the true hallmark of your time at BU…And then, one day, you'll get a chance to march at your BU commencement no matter when it occurs (because BU will not forget you). I know, I am BU CAS'70! (BU Today reader comment)
BU's Instagram post had more than 5,000 likes and 50 comments just hours after posting:
The news even got the meme treatment:
BU seniors laughing at other universities who canceled their commencement or moved it online pic.twitter.com/5ZFWAhf7kT

— The Black Sheep BU (@blacksheep_bu) March 26, 2020