Snowstorm Closes Charles River Campus, Final Exams Go Remote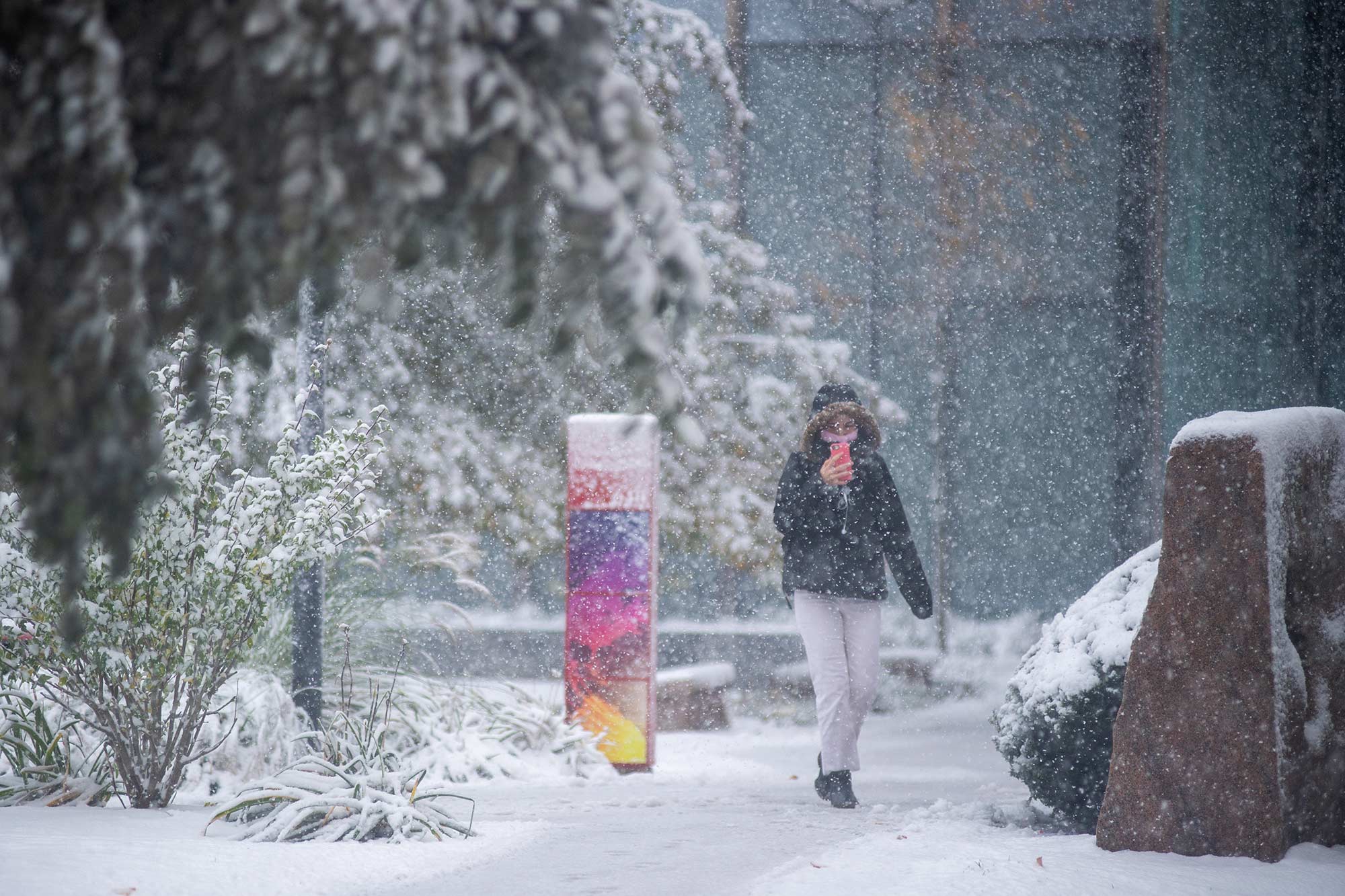 University News
Medical Campus will remain open, COVID testing sites closed
In response to a snowstorm hitting just two days before Boston University's fall semester ends, officials announced Wednesday evening that while undergraduate and graduate final exams will go on as scheduled Thursday—but remotely—the Charles River Campus will be closed, as will the University's COVID-19 testing labs and collection sites.
"All exams scheduled for Thursday should proceed remotely," says Jean Morrison, BU provost and chief academic officer. "All academic work (term papers, group projects, etc.) that is due Thursday should be submitted as scheduled." Professors who have course-specific instructions should be in touch directly with their students, she says. In-person exams will resume, as scheduled, when the University reopens on Friday.
The National Weather Service was predicting a "significant" storm would start arriving Wednesday night and continue into Thursday. A foot of snow was expected in Boston, while areas in other parts of the state could see up to 18 inches. Snow was expected to start falling around Boston by 10 pm Wednesday and continue at least until early afternoon Thursday. "We're obviously asking people to stay off the roads, and especially [Thursday], if you can, stay home," Governor Charlie Baker said on Wednesday. "That would be the preferred option." In Boston, Mayor Marty Walsh declared a snow emergency and a parking ban.
University employees in essential services, who must report as scheduled, should park in a BU garage or covered parking area to allow for snow removal. Essential services employees include University Police/Public Safety, Residence Safety, Facilities Management, Environmental/Research Health and Safety, Student Affairs offices, Residence Life, Dining Services, Student/Occupational Health Services, Emergency Patient Treatment, Network Services, and Mail Services. All administrative activities for Charles River Campus employees are canceled.
For the University, the storm's timing not only impacts classes, but also its rigid coronavirus testing program, with the campus about to clear out for the holidays after a historic semester of both in-person and remote teaching and learning. (BU's Clinical Testing Lab analyzed half a million COVID-19 tests during the semester.)
Anyone who had scheduled a testing appointment for coronavirus for Thursday should go on to the Healthway website and reschedule for another available day. Those concerned about falling out of compliance with their testing schedule should contact their direct supervisor, while students should reach the Dean of Students office by email at dos@bu.edu or at 617-353-4126.
The BU Shuttle will not operate during the day Thursday, but night service will operate on a regular schedule. Regular service will resume on Friday, December 18. BU's four campus dining halls will be open for brunch and dinner Thursday. Find hours here. Mugar Memorial Library and the George Sherman Union will be open from 10 am to 10 pm.
The Medical Campus will remain open Thursday, but classes and exams for the BU School of Medicine, School of Public Health, and Graduate Medical Sciences will be held remotely. MED medical, PA, and GMS students who are assigned to inpatient services or clinics are expected to be present, if possible, while students assigned to outpatient services should check with their course director and clinical site.
The Henry M. Goldman School of Dental Medicine will follow normal school hours Thursday, with classes and exams held, as currently scheduled, either in person or remotely. The Simulation Learning Center and Dental Treatment Centers, respectively, will be open for scheduled classes and patient care. (SDM students on externships should check with the policy at their respective externship site.)
Chequers Café on the Medical Campus will be closed.