FAQ: Quarantine vs Isolation and BU's Safety Plans for Reopening Campus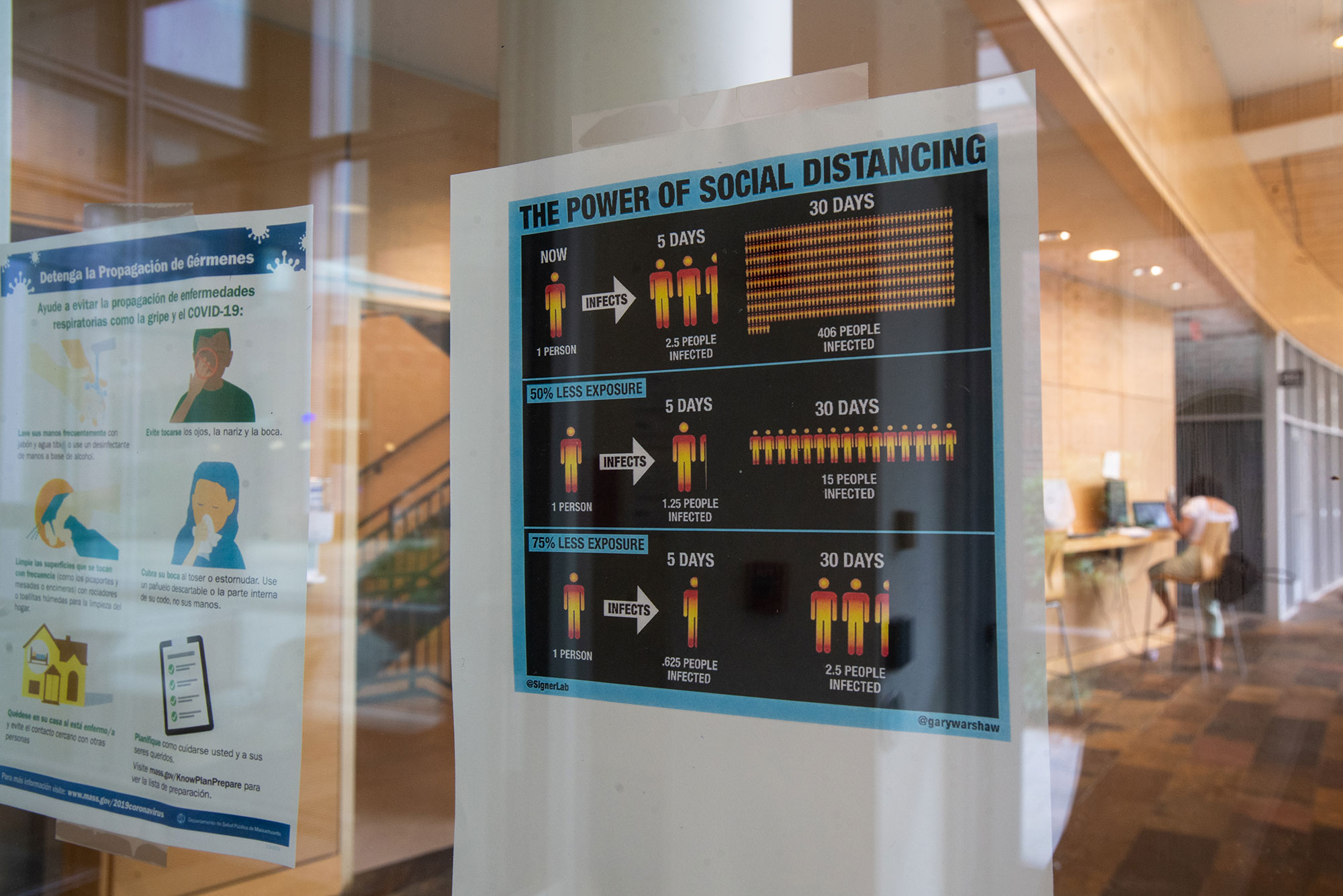 Public Health
FAQ: Quarantine vs Isolation and BU's Safety Plans for Reopening Campus
Questions and answers about life on campus this fall under COVID-19 restrictions
With Massachusetts requiring most travelers from out of state to self-quarantine for 14 days upon arrival, what does that mean for students coming to campus for the fall?
Or what happens if you test positive for the coronavirus or someone you've been in close contact with tests positive? Where will you live while at BU, and what restrictions will you be under? BU's safety protocols for all of these situations, including COVID-19 testing and contact tracing, distinguish between "isolation" and "quarantine." What's the difference?
With Move-in beginning August 15, here's what you need to know.
Will BU's protocols, requiring all residential students and employees to be tested upon arrival on campus, help you avoid the Massachusetts quarantine rule?
If your state is one of the few on the commonwealth's list of low-risk COVID spots, you are not required to quarantine under the Massachusetts rule. If you come from a high-risk state, you will be exempt from the 14-day quarantine requirement if your BU-administered COVID-19 test, which you're required to take upon arriving on campus, is negative.
Boston University is taking additional precautions given the size of our community, the variety of places from which our students come, and the risk of COVID-19 infection prior to or during travel to Massachusetts. All students will be required to get COVID-19 testing when they arrive on campus. Further, in addition to the state's travel requirement, we are strongly advising "stay-in-place" protocols for an extended period of approximately one week for students who arrive from outside the lower risk states. During that time, undergraduates will need a total of three negative COVID-19 tests and graduate students will need two negative COVID-19 tests before they are advised to complete their stay-in-place protocol. These both include the entrance test. Due to the different frequency of testing for undergraduate and graduate students, the total number of consecutive tests are different, but the time needed to achieve these tests is approximately eight days. During this period of BU-advised stay in place, students should minimize contact with others to the extent possible and leave their residence only for food, medical appointments, and COVID-19 testing performed on campus. BU will pay for all tests it requires.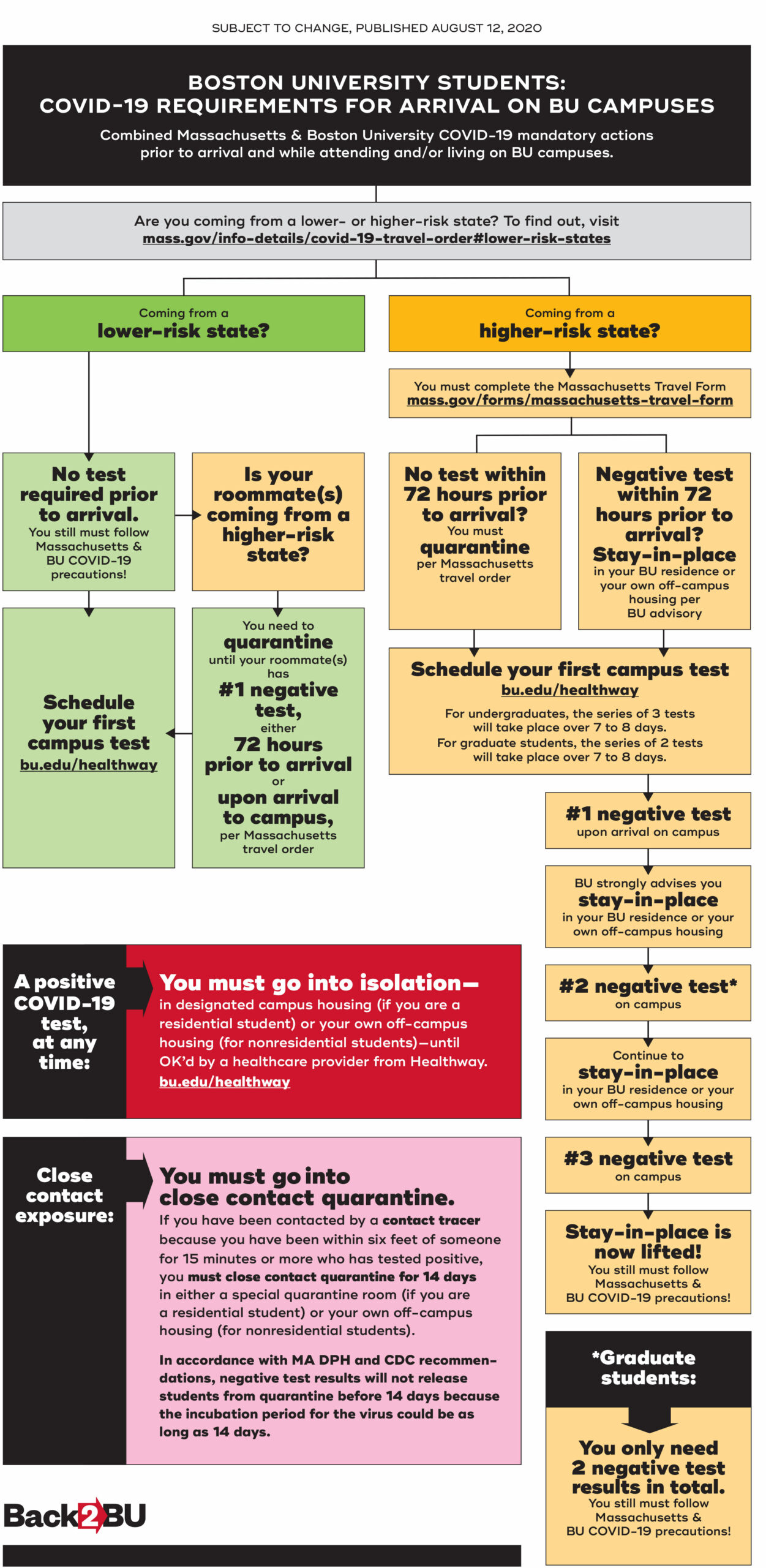 Click to view a PDF version of the chart
As part of the Move-in process for residential undergraduate students, boxed food will be available at the check-in sites around campus and students will report for testing on their Move-in day.
So should I just wait to be tested by BU once I arrive on campus?
You are strongly encouraged to be tested within the 72-hour period prior to your travel to Massachusetts. If you are not able to receive testing and a negative result within 72 hours prior to your arrival at BU, you will need to adhere to the Massachusetts regulations until your on-campus entry testing comes back negative. However, getting tested before arriving at BU does not eliminate your need to still adhere to the strict campus testing protocols once you arrive.
Why does BU strongly advise that residential undergraduates stay in place for an additional week, not leaving until they have tested negative a total of three times (it's two times for grad students living on campus), if the state requires only one negative test to meet its quarantine standard?
The reason for the extra tests, and the stay-in-place advisory, is that one negative test does not necessarily mean someone is virus-free. Someone may take their first COVID test when the viral levels are not yet detectable, due to being in the incubation period. That person could infect others on campus with the virus even during this very early phase, regardless of whether they ever develop symptoms. Having students stay in place during this time prevents the potential for "asymptomatic" spread from occurring. By the seventh day, there is a far greater level of confidence, after consecutive negative tests, that the student does not have the virus and can move safely around campus without infecting others.
BU is talking a lot about "isolation" and "quarantine." What do those terms mean?
"Isolation" refers to the living arrangement that will apply to students who test positive for COVID-19. "Quarantine" is assigned by Healthway, a new, unified health organization for students, staff, and faculty, as a 14-day period for people who test negative for the virus, but have been identified by Student Health Services (SHS) as being a close contact with a person who has tested positive for COVID-19. Boston University has created a contact tracing team to identify close contacts and notify of the need to quarantine.
Healthway is working to prevent the spread of COVID-19 on BU's campus, and provide education and clinical support for those affected.
If students must quarantine after being in close contact with an infected person, will they leave quarantine to go to a testing site?
No. Students placed in close-contact quarantine will be tested prior to entering quarantine housing and at regular intervals thereafter, and if they test positive, moved to isolation housing on campus.
They will be provided with collection kits in their quarantine housing, and will be contacted by staff to schedule tests several times throughout their quarantine. They will be observed for this sample collection by Zoom or other remote means, and will get further individual instructions for this process. Samples will be picked up and transported to the lab for testing. In the event of a positive result, students will be relocated to isolation housing.
Can students who test negative three times get out of quarantine, or is the 14 days mandatory for people who are close contacts? Also, what happens if someone is symptomatic—are they placed in quarantine until they test negative?
In accordance with Massachusetts Department of Public Health and Centers for Disease Control and Prevention recommendations, negative test results will not release students from quarantine before 14 days, because the incubation period for the virus could be as long as 14 days.
Testing cannot shorten the duration of quarantine due to exposure to someone who is positive. Students in quarantine will be checked on daily, so if someone begins to experience symptoms, they will be tested accordingly.
Also, for any student in quarantine due to close contact or isolation, healthcare professionals from the Healthway organization will provide regular Telehealth visits.
Where will students live if they must isolate or are assigned to quarantine?
BU's Fenway Campus has been designated as housing for students in isolation, with 348 beds available. The rumors that BU apartment buildings will house undergraduates testing positive for COVID-19 are untrue, the University wrote in a memo to graduate student tenants in those buildings.
Undergraduates living on campus assigned to quarantine by Healthway will be housed in 618 units on the Charles River Campus set aside for that purpose. Undergraduates who live off campus will be required to quarantine in their own residence.
"Graduate students who live off campus or in BU real estate will quarantine in their own apartment or residence," says Carrie Landa, associate director of SHS. "A small subset of graduate students that reside in lodging houses—90 St. Mary's Street, 183 Bay State Road, 850 Beacon Street, and 210 Riverway (Peabody Hall)—will be moved into designated campus quarantine or isolation spaces, as needed."
What will life be like in isolation or quarantine?
Students in isolation must remain in their unit until approved to leave by Healthway, and quarantining students must stay put 14 days. "Students in isolation or quarantine will be contacted regularly by Healthway to check in medically," says Landa. "In the event that a student is having new symptoms, in either isolation or quarantine, they should reach out at any time."
Isolation and quarantine units include a supply of grocery items and beverages, says Paul Riel, associate vice president for auxiliary services. Dining Services will supplement these meals with fresh fruits and vegetables. Any student with dietary restrictions will be accommodated by BU's Sargent Choice program. Quarantine rooms are private and have a private bathroom; isolation rooms may be shared spaces with other students who also tested positive.
Quarantine units and adjoining common spaces will be cleaned and sanitized before students arrive and upon their departure. There will be different, more rigorous, cleaning protocols for rooms that housed a student who tested positive than for rooms that housed a student who tested negative.
What happens if a student violates isolation or quarantine rules?
The University will remove that student from campus housing.
Will family or friends who are helping students move into dorms have to quarantine under the Massachusetts rule?
No. But the details are important. Under BU's special, COVID-era Move-in protocols, each student is permitted one helper with Move-in. According to the state's travel order, "If a parent/guardian/family member is entering Massachusetts only to drop off the student and then immediately leaves the campus and the state, then they would meet the exemption [from quarantining]. If they are staying overnight, then they are subject to the requirements of the travel order" and must quarantine.
How many COVID-19 testing sites does BU have, and where?
Five:
Kilachand Center for Integrated Life Sciences & Engineering, 610 Commonwealth Avenue
808 Gallery, 808 Commonwealth Avenue
Agganis Arena Lobby, 925 Commonwealth Avenue
On the Medical Campus, at 72 East Concord Street
And exclusively for people who report feeling COVID-19 symptoms, 925 Comm Ave Rear, in the back of Agganis Arena.
Samples will be tested at the BU Clinical Testing Lab at the Kilachand Center with the goal of reporting results by the next day. Again, BU will pay for all tests. All samples are self-collected, meaning individuals swab their own nostrils. After receiving their test results, undergraduates will be tested twice a week, whether they live on or off campus. Graduate students, whether living on or off campus, will be tested once a week after their initial test upon campus arrival.