POV: BU Should Join the GRE Exit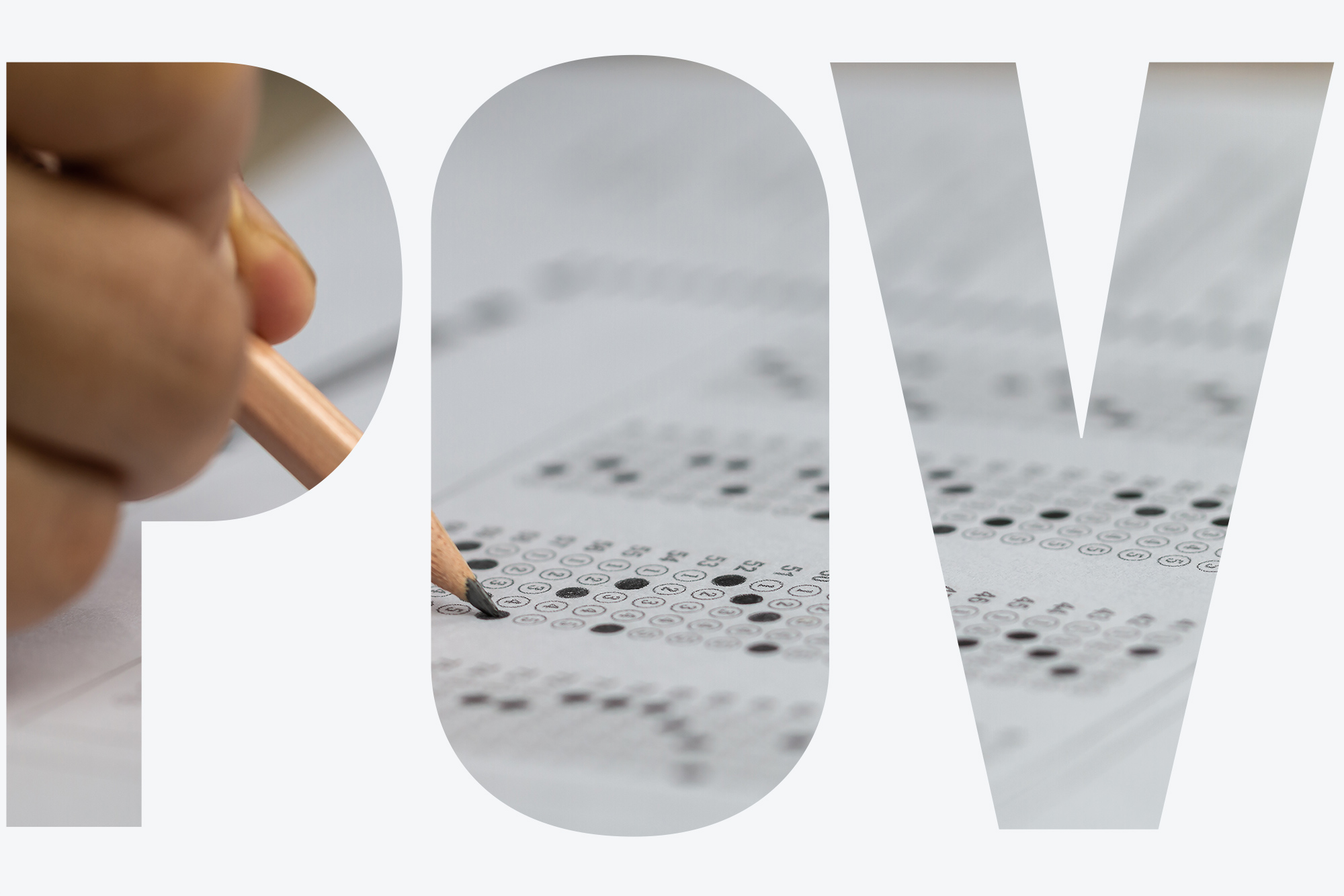 Voices & Opinion
POV: BU Should Join the GRE Exit
The standardized test has been shown to be a poor predictor of graduate student achievement
I urge Boston University to drop the Graduate Records Examinations (GRE) for all of its graduate programs. The GRE is a poor predictor of graduate student achievement. It is costly in terms of time and money and more importantly, it reduces an applicant to a number—thereby limiting our real ability to assess the multiple dimensions that characterize individuals. A recent paper published in Nature summarizes the argument well: "the GRE is a better indicator of sex and skin color than of ability and success."
You know the old phrase about how you don't want to watch the sausage being made? Today's graduate admissions are a lot like that. Programs and departments handle admissions in different ways. Generally, potential students submit a variety of documents—CVs, personal statements, letters of recommendation, and transcripts, along with GREs. The applicant's materials are examined by the potential graduate advisor, interviews may ensue, as well as (at least in non-COVID times) campus visits. Sometimes a graduate committee also examines applications. The graduate advisor and/or the graduate committee then recommend that the student is accepted, and finally this recommendation is approved by the graduate school. Making that recommendation is not an easy decision. It's a bit like reading tea leaves—and thus, many seek to find a more quantitative approach and turn to something like the GRE. The GRE however, is an ineffective tool, one that has been found to fail repeatedly.
Proponents of the GRE assert that in their experience students with high GRE scores were high performers in their graduate career, or that it allows them to assess international students, or that the studies conducted on the GREs are not done well, or that we need as many factors as possible to judge students by and the GRE is one additional tool to do so. I sympathize with all of these thoughts, yet I find them unconvincing. First, anecdotes are not evidence—and there are decades worth of studies questioning the reliability of the GRE. Second, other countries and US-based universities admit international students and do not use the GRE, so why must we? Certainly, as faculty in higher education, we can learn from other processes and adapt some of their assessment tools. Third, while all studies are imperfect, the majority of studies on GRE scores point to them being poor predictors of success beyond the first year of graduate school (i.e., outside of coursework). Finally, while no metric is flawless, there are other, better options (e.g., grit, growth mindset) for evaluating students.
Ultimately, there is a more important point to be made. We need to build an academy as diverse as the country we live in, supportive of the complexities and richness of the human experience. Making this happen will require a sea change. We will need to examine broadly how the academy is run, and one place we can start is how we admit students. For better or worse we are the gatekeepers—we are the ones saying you belong here or you do not. We must always remember the magnitude of this responsibility. We should not abdicate this responsibility to others, most especially a company. The GRE is run by Educational Testing Services, which in 2017 (the latest 990 I could easily obtain) grossed $3.5 billion. How is it that we are letting a corporation profit off of academy hopefuls and help dictate, at least in part, who is allowed into the academy and who is not?
There is no easy answer for this. No definitive study that provides a perfect recipe for applicant assessment. And we are all wise enough to know that such a golden ticket likely doesn't exist. Instead, we should work to build an adaptive framework that more holistically examines the fit of a student for our department/program/school. Happily, numerous programs across the United States as well as here at BU are undertaking this effort. Is it more work? Of course. However, many of us are benefiting from a system that systematically excludes BIPOC and women. To paraphrase former presidential candidate Andrew Yang, when you succeed within a system, it is often difficult to see how inadequate it is. Yet owning up to the flaws in the academy affords us the opportunity to build a better system—one that will work for everyone.
I believe in the power of education; I know that science can solve the problems humanity faces. To do so we need creative, diverse thinkers. Will getting rid of the GRE magically get us there? Of course not. Yet it's one small step to a more balanced playing field. And at a minimum, we will save people time and money.