New Terrier Transit App Makes It Easier Than Ever to Get around Campus
Transportation
New Terrier Transit App Makes It Easier Than Ever to Get around Campus
Includes real-time data for BU Shuttle, MBTA trolleys, trains, and buses, Bluebikes
A new Terrier Transit app will make traveling in and around campus easier for anyone with an iPhone or Android phone.
The app, courtesy of BU's Parking & Transportation Services, combines real-time GPS data for the BU Shuttle (aka the BUS) and MBTA trolleys, trains, and buses, as well as updates from Bluebike stations on bike and dock status and even Zipcar availability. It will also tell you the best step-by-step walking and biking routes to your destination.
The app is available free from the App Store and Google Play. It replaces the BU Mobile app, which focused on the BUS and was available only for iOS devices.
"Folks don't just ride the BUS everywhere. They walk, they bike, they take the T," says Carl Larson, Parking & Transportation Services assistant director, transportation planning and demand management. "People didn't want to juggle between their chosen trip-planning app, such as Google Maps, and the BU Mobile App. The result is an app that works on iOS and Android and illustrates a range of transportation options, not just the BUS."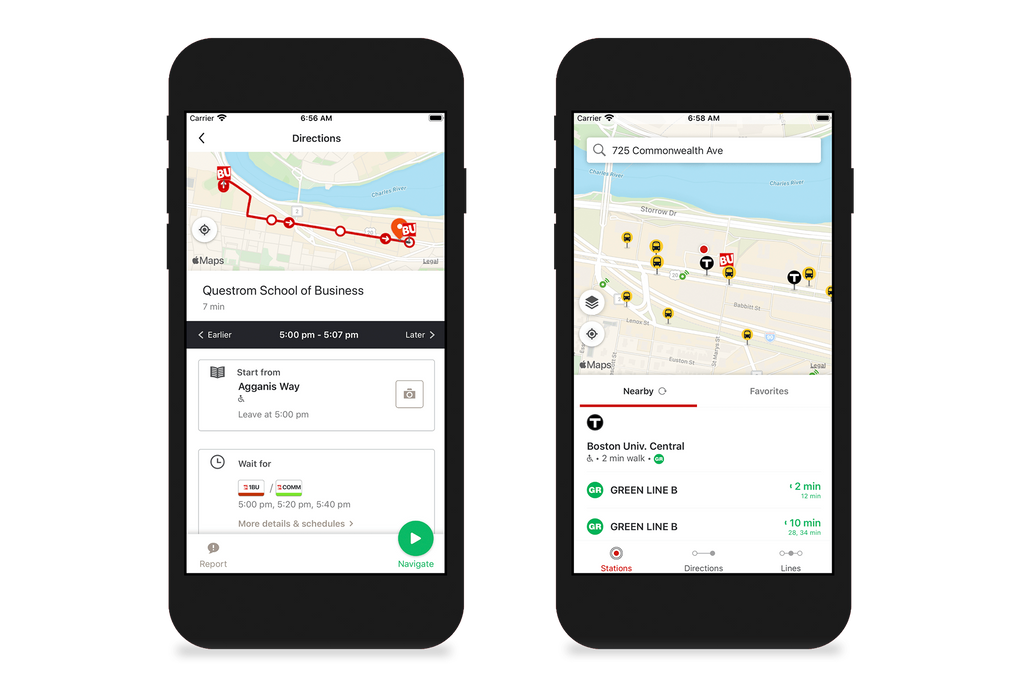 For example, say you're at Raising Cane's at 949 Comm Ave. You've finished your chicken fingers, and now you need to get back to Warren Towers for a study group meeting on Zoom. You click on the app, punch in your destination, and find that you could:
Pay nothing to ride on the BU Shuttle for nine minutes, with the next one leaving Agganis in eight minutes.
Pay $2.40 on your Charlie Card to ride on the MBTA Green Line for nine minutes, with the next trolley arriving in one minute.
Pay $1.70 on your Charlie Card to ride the MBTA 57 bus for eight minutes, with the next bus arriving in four minutes.
Take a five-minute pedal if you're a Bluebikes member, knowing that six bikes are available in front of Raising Cane's and four docks are open at Warren Towers.
Walk down Comm Ave for 18 minutes.
The app allows you to mark individual lines, stations, and places as favorites for easy access to trips you take often. And there are real-time updates on changes to your favorite lines in case your bus time or trolley time is affected.
Through the app, you can receive MBTA and BU service alerts notifying you of emergencies or unexpected disruptions, delays, traffic jams, new construction, and more so that you will know immediately if your departure or arrival time has changed.
Some users have noticed that the location of all buses isn't immediately available when you log on to the app, but it's still there if you click through to a specific line.
Terrier Transit users can also report issues found with stations, line service, and schedules so that Transportation & Parking Services can inform all nearby riders about what's going on in their area.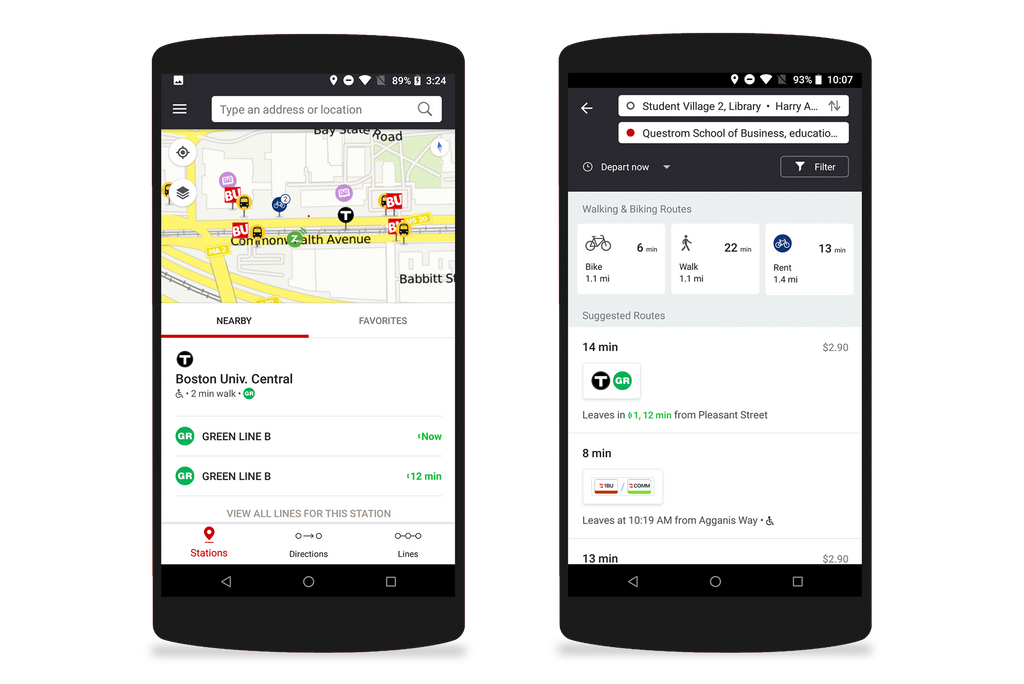 The app was in development before the pandemic, but as COVID-19 makes everyone more conscious of social distancing and some may find mass transit more crowded than they like, Terrier Transit will give users the best chance to figure out their most comfortable option for getting where they're going on time.
No individually identifiable user data is collected through the app, but the University does aggregate anonymized data on usage to aid in transportation planning.
Terrier Transit is powered by Moovit, an Israeli-based company that was bought by an Intel subsidiary in May. Because Moovit!'s apps are used in many cities worldwide, Terrier Transit can be used to navigate during Study Abroad trips and trips home nationwide and across 106 other countries. 
In other locales, Moovit offers data on the availability of Lime and Bird scooters, which are not currently operating in Boston, but they could be added if their status changes.