Students Pitch Ideas to Invigorate Campus Life during Pandemic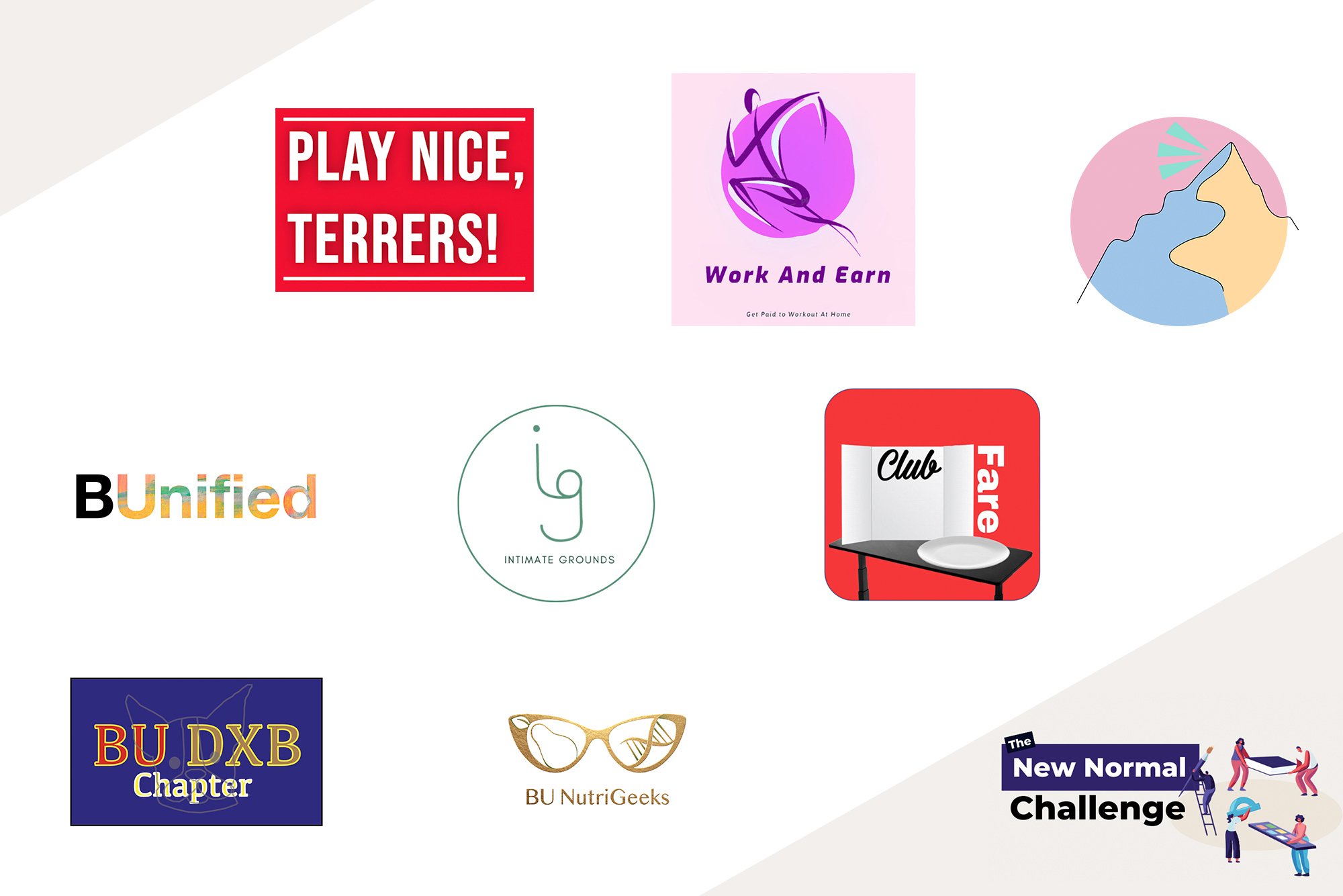 Innovation
Students Pitch Ideas to Invigorate Campus Life during Pandemic
New Normal Challenge holds finalist showcase tonight, virtually
In July, Boston University administrators and members of student government posed a challenge to students: pitch us your best ideas to help campus life adjust to the "new normal" of living in a world forced to reckon with coronavirus. The goal: ease the transition back to campus for BU students, whether it be in person or virtually, and foster community and well-being. For added enticement, the winning ideas would receive $500 seed money and help from the administration to get launched.
Tonight, the finalists will present during the New Normal Challenge showcase. Finalists have already received a $500 grant towards their idea and stand to get an additional $250 if they win the audience award.
Among the top 11 ideas: a group of BU students in Dubai working to form an outpost and community there for their peers; the YouTube channel "BU NutriGeeks," led by a registered dietitian, which aims to teach BU students, faculty, and staff how to prepare easy, inexpensive, and healthy recipes at home; and an effort to connect students both on and off campus by planning online social events like game nights, viewing parties, and craft tutorials.
By the mid-August submission deadline, organizers had received 41 ideas, from both grads and undergrads. The contest was designed as a partnership among Innovate@BU, the Dean of Students (DOS) office, Umoja: the Black Student Union, and BU Student Government. Workshops were held during the summer to help students develop their ideas, get feedback, and meet fellow students interested in joining their team.
Blake Sims, Innovate@BU program director of student innovation, says many of these student-generated ideas will have a meaningful impact both on BU's campuses and for those learning from afar. "We all want to be included, to feel a sense of agency and engagement, especially when we feel so powerless and at the mercy of the pandemic and decisions being made without our input," Sims says. "Working on desirable, equitable, feasible, and viable ideas is one way to be involved, to push against the status quo, to ensure voices that are often marginalized and left out have a seat at the table. That's [when] changemaking, no matter how big or small, happens. Innovators and entrepreneurs are doers."
The groups presenting tonight applied via the Student Impact Track, meaning their ideas were thought to be ones that could be developed and implemented by students with the help of a seed grant. A second set of pitches was submitted via the Charles River Campus Track: those were sent to the Dean of Students office and designed to be implemented by the University. The DOS is still reviewing these submissions, says Ahlea Isabella-Cochran, Innovate@BU marketing and communications manager.
Sims says that some ideas submitted via the Student Impact Track have already launched or are close to being implemented. One is Play Nice, Terriers! a creative campaign promoting good habits for online academics in a way that resonates with BU students. Members Elisa Cordeiro (ENG'22), Reed Romanko (CAS'22), and Dongyue Xu (CAS'24) teamed up to develop a project centered around academics. The trio ultimately decided to create a fun animated video filled with tips for this unusual semester of combined hybrid and remote classes, with an interface that looks similar to Nintendo's Animal Crossing.
Another idea launching soon is Conversations for Common Ground: Boston University Antiracism Module. The team behind this project is collaborating with BU Student Government and Umoja to design and film four seven-minute-long modules that will be promoted via YouTube, Instagram, and Facebook. The videos will cover topics such as social determinants of health and compassion for students who do not share similar experiences. To come up with the material, the team did extensive readings on this country's history of racism and gathered student stories of experiences at BU. They plan to start shooting on campus in October.
Team member Hailey Hart-Thompson (CAS'21, COM'21) says the finished videos will be unscripted and are "ideas that are accessible, both visually and through combining diverse perspectives… As our team has a strong background in public health, we worked to make sure that these series have a strong grounding in factual information, partnered with individuals' lived experiences." One video, for instance, will ask students to solve problems, through social determinants of health, housing, and well-being, by taking a look at how the city of Boston budgets.
Other teams, after receiving feedback from students, faculty, and staff judges, are still tweaking their ideas. "We do not expect all ideas to take off this semester," Sims says, "but have encouraged all applicants to continue engaging in the work, soliciting feedback, and leveraging Innovate@BU and campus-wide resources and support to move their ideas forward."
One of these is Team Intimate Grounds, designed to be a weekly virtual series focused on how shared vulnerability is a catalyst for building long-lasting relationships. In these online conversations, the BU community can discuss mental health and relationship topics. Another is Campus Occupancy Monitor, whose aim is helping students make smarter decisions as they move around campus by combining web-based technology with University ID cards to track occupancy data.
Brooke Bedell (CAS'24) worked to develop an app that partners with on-campus BU restaurants to offer meals at a discount for in-person outdoor club meetings of less than 25 students. Originally, freshman Bedell had no intention of joining the New Normal Challenge, but changed her mind when she was making a list of clubs to join this semester and realized that half of them weren't planning in-person gatherings due to COVID-19. She reached out to 50 BU clubs asking if they would be interested in the app, and was encouraged by the enthusiastic responses. "Every student I spoke to was feeling upset by the effects of COVID-19 and was willing to help me in any way," she says. "I was disappointed by my freshman year being affected like this, and figured the New Normal Challenge would be the perfect chance for me to make a change."
The virtual New Normal Challenge Finalists Showcase is tonight, Wednesday, September 23, from 6 to 7:30 pm. Register and sign up to watch the event on networking/event platform Remo here.