For Students with Disabilities, the Long Commute Can Be Just Next Door
Campus & Facilities
For Students with Disabilities, the Long Commute Can Be Just Next Door
New BU club hopes to change campus access, and perceptions
For most people, climbing the steps to the School of Theology, either from the front of the building or from Marsh Plaza, is almost as effortless as breathing. But for Elizabeth Foster, it's an Everest of a challenge. The connective tissue disorder Ehlers-Danlos syndrome makes standing in place or negotiating stairs treacherous for her. To get to class, she has to budget extra time to walk around almost the entire building to enter the one accessible entrance, in back, leading into the basement.
On a late-winter day, before the COVID-19 pandemic had emptied campus and put a pall on mass gatherings, Foster sat in her rollator, a walker-cum-seat, before Marsh Chapel's altar steps. The homilist for a March Service of Mourning and Hope for those with disabilities, Foster (STH'22) followed the gospel reading about a paralyzed man whose friends, seeking to bypass a crowd hearing Jesus preach in a home, cut through the roof and lowered the paralytic to be healed. Foster recalls for the 50 congregants how she discovered during her first semester last fall that the Charles River Campus was not designed with disabilities in mind—and encountered a similar act of friendship.
"The thing I was most excited about when I came here was being a member of the Seminary Singers," she says. "I sang in choirs growing up, and I couldn't wait to be a part of that again. But I spent my first chapel service here openly weeping because it took me so long to get from my classroom in STH to the chapel that I missed the entire warm-up. It may seem trivial, but the cumulative experience of exclusion is exhausting. I could not walk to class with my classmates; I could not choose where to sit in lectures.
"And yet, on that first day, a classmate I did not yet know held me as I wept, and walked back with me," reenacting the support of the gospel paralytic's friends, she says.
Such nurturing support led Foster, 30, to create the Cross-Disability Club. Open to any BU student, it has perhaps 25 members, mostly from STH. (The School of Law has its own group for LAW students with disabilities, and there are Deaf Studies and Allergy Awareness clubs, as well.)
The Cross-Disability Club's name refers to its embrace of people with any disability, not just those involving mobility.
Club vice president Kasey Kelly (STH'24, SSW'24), who read Mark's gospel at the March service, is deaf. When Foster approached her with the idea for the club, Kelly found it powerfully affirming. "I want to be a part of the community as a disabled student," she says. "It is important for professors and staff to know how to approach and address the ableism and accommodations in their interactions with students, and each other, other than in the classrooms."
"I am more than what is covered in the accommodation letter," Kelly says, which is sent to the 1,200 students who registered this past academic year with BU's Disability & Access Services (DAS) office.
DAS director Lorraine Wolf says most of those students have "hidden disabilities," such as psychiatric issues, attention and learning disorders, autism, and chronic medical illnesses or brain injuries. Few using mobility devices cross the office's radar, she says. "There are always students that I don't know about until I see them at Commencement, because they just didn't need us," a testament to "how accessible this University is."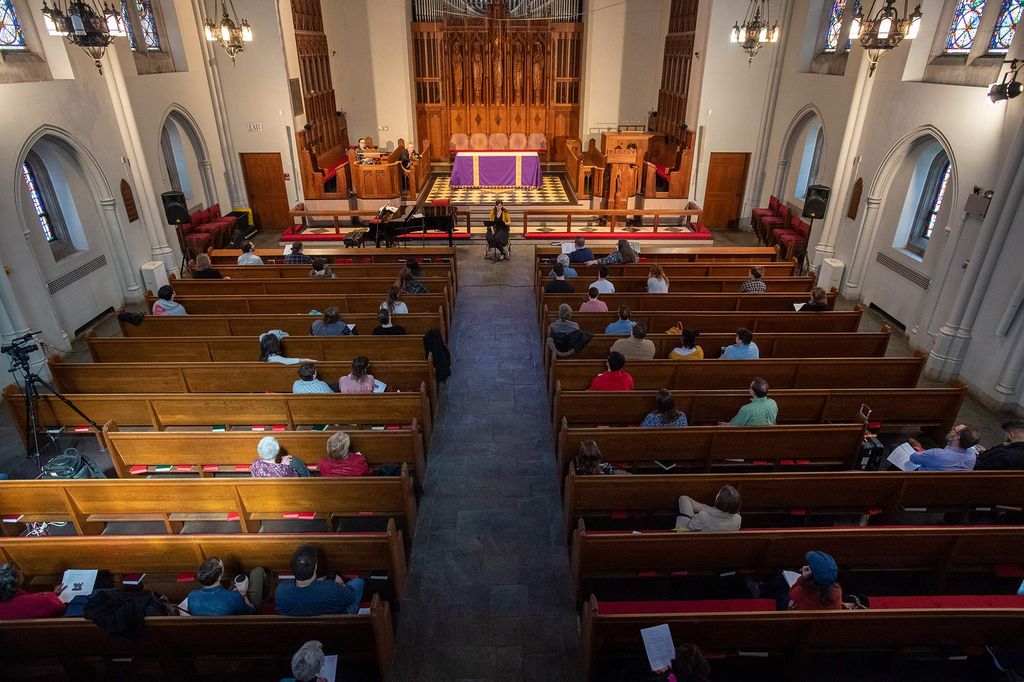 That said, Wolf empathizes with Foster and her peers who must navigate a campus with many old buildings built in the era before consciousness about accommodations. The 30-year-old Americans with Disabilities Act (ADA) grandfathered such structures, while mandating the accessibility of new buildings. But even empathetic administrators can find their hands tied regarding some student requests, Wolf says.
Case in point: Foster can get into STH. But "it is, unfortunately for Elizabeth, not the way that would make the shortest route from the School of Theology to the chapel," Wolf says. "The shortest route, unfortunately, isn't feasible," because it would require a ramp about 80 feet long, "straight through the Alpert Mall [aka the BU Beach, the grassy knoll behind Marsh]. And an 80-foot ramp would interfere with pedestrian movement through one of the most active places on campus.
"I get that that's inconvenient" for students like Foster, she says. "But there's no other solution." She estimates that 98 percent of Charles River Campus buildings are accessible, with the outliers being aging structures, often historic (such as the brownstones on Bay State Road), which variously lack the space for entrance ramps, have historic protections that put them hands-off for certain retrofits, or lack inside space for elevators.
If a student cannot access a class in such spots and contacts her office, Wolf says, the class will be relocated. (The Medical Campus has separate funding for accessibility, but works closely with her office, she says, while the Fenway Campus, acquired by BU only two years ago, hasn't been fully assessed for accessibility.)
The University doesn't keep a triaged to-do list for upgrading inaccessible buildings. Rather, Wolf says, "it is a combination of what is feasible, what is achievable, what, frankly, is the utility of bringing an old building up to standard versus building a new building," which sometimes is more efficient and necessary—pouring "old wine into new wineskins," in the words of Christopher Robinson, the DAS certified facilitator and outreach and training coordinator.
The recent renovations to the BU Castle, now the Dahod Family Alumni Center, show how dominoes must fall into place for accessibility projects to proceed. "We always knew that the admissions welcome center was in a building that wasn't accessible," Wolf says. "When the money came to build the new Hillel [House in 2005], opening the old Hillel so that admissions could move over to that building triggered a renovation of that Hillel building, which made it possible…to make the Castle accessible." The final domino was gifts to the University to finance those renovations.
Meanwhile, Foster sees the Cross-Disability Club as providing both community and a voice for Terriers with disabilities. Last November, the club sponsored a walk between Marsh Chapel and STH; as pied piper, Foster led participants along the time-consuming route she uses.
She knew BU had accessibility issues from her pre-matriculation tour, but hadn't grasped the extent, she says. One of her goals is to challenge the prevailing "medical model" view of disability. "The medical model views disability as an individual medical condition that needs to be cured," she says, "whereas the social model views it much more as a social construction…that can be significantly changed by the way society is constructed"—for example, by installing ramps and other accessibility enhancers.
She makes an analogy between such enhancers and glasses: the lack of glasses is "intensely disabling" if you're near-sighted, but glasses are ubiquitous, such that those with vision problems needn't worry about coping with their impairment.
"We don't even think about that as a disability anymore, really," Foster says. "Thinking of things in these different ways often structures, even if it's not really conscious, what we do with access.…We would never have your professor pulling you aside and saying, 'Oh, you can't use those glasses in class until you go to the accommodations office and you get a letter from the physician.'"