Boston University School of Medicine Students, desperate to help the COVID-19 front liners at Boston Medical Center and Boston Healthcare for the Homeless, pitch in with volunteer childcare, grocery shopping, laundry, and more.
Health & Medicine
"You Shouldn't Have to Be Worrying about Childcare When You're Fighting a Pandemic"
MED students help the front liners at Boston Medical Center and Boston Healthcare for the Homeless with babysitting, groceries, laundry, and more
The email went out to physicians, nurses, lab techs, case managers, custodial workers—everyone working on the front lines of the coronavirus pandemic at Boston Medical Center and Boston Healthcare for the Homeless: Do you need temporary childcare, grocery shopping, pharmacy pickup, pet sitting, help with laundry?

It was an offer that was hard to refuse.

When students at the Boston University School of Medicine, who could not be on those crisis front lines, wanted desperately to help, they realized where they could pitch in. They mobilized a team of medical and health professional student volunteers, with the goal of lightening the load for people who work at BMC and Boston Healthcare for the Homeless Program (BHCHP), two places where COVID-19 was becoming a full-fledged crisis. They sent out an email asking if anyone at either place needed assistance with chores—even the most mundane. And the responses came pouring in.

"My 8-month-old daughter has an ear infection," a BMC pediatrician wrote in. "I would like to be able to start the amoxicillin as soon as possible but can't get out to pharmacy with both my kids—and my husband is working in the ER today."

A BHCHP nurse-practitioner, worried that her daycare center would be closing, needed coverage. "…would accept help 1 or all days, any block of time," she wrote.

A BMC resident with a broken washing machine needed a place to do his laundry. "Can do it myself if I can be helped with transit & have a place that isn't a public laundromat," he wrote.

To reach those who may not have access to computers, the students had flyers, in English and Spanish, posted in BMC employee lounges. Anyone who needed help was invited to text their requests to Medical Personnel Support (MPS), the organization Tyler Hanna (MED'23) and classmates Ravi Patel (CAS'18, MED'23) and S. G. Keller (MED'23) started with a group of other MED students. Other than reimbursement for groceries and gas mileage, no payment was necessary or expected.


"Honestly, it's all fueled by anxiety and frustration," says Hanna. "We have all felt very useless. At this point I only know a whole lot of physiology. I don't have a lot of clinical skills. As first-year students, this is what we can do."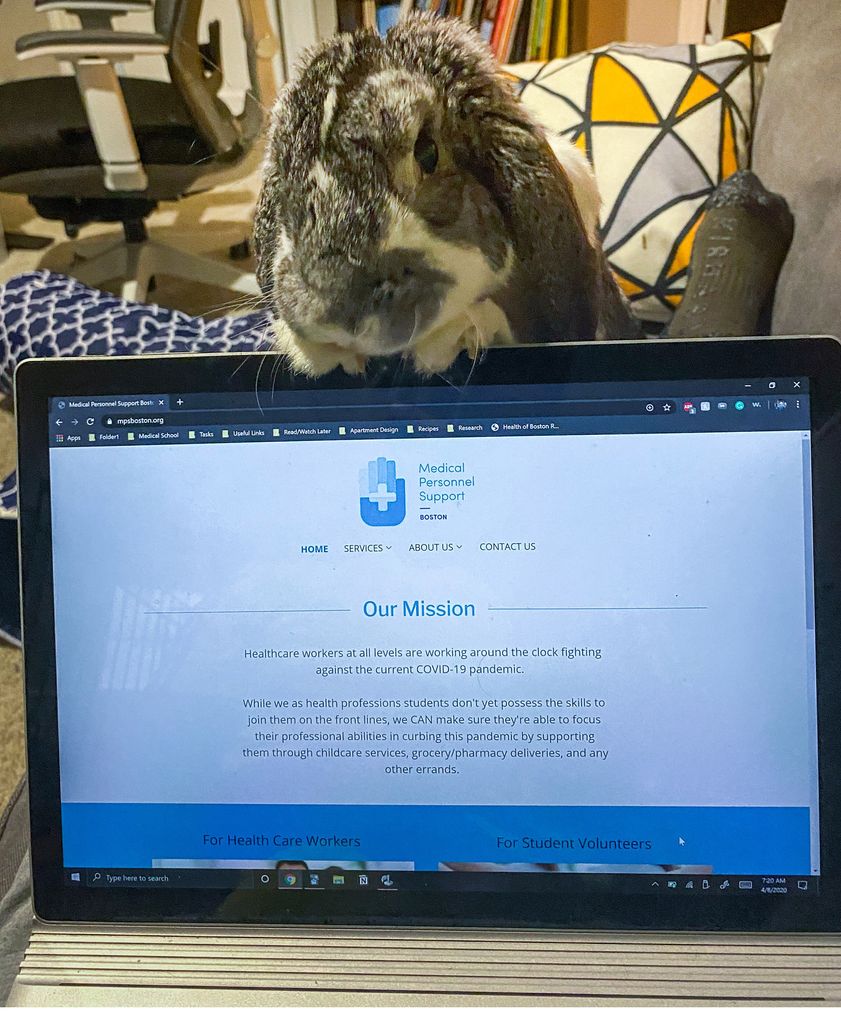 More than 320 volunteers—most of them from MED, but also from the Schools of Dental Medicine and Public Health, as well as from other Boston-area schools—have signed on with MPS. Medical students across the United States have mobilized similar efforts. Meanwhile, fourth-year MED students are graduating a month early so they can join the frontline battle against COVID-19 as hospitals are facing staff shortages and an overwhelming crush of patients. As of April 14, Massachusetts had 28,163 confirmed cases of COVID-19 and 957 deaths.

Hanna and his classmates got guidance and the go-ahead from MED, BMC, and BHCHP, although MPS is not affiliated with any of those institutions.
"They identified a need," says BMC emergency medicine physician Jeffrey Schneider, a MED associate professor, who oversees graduate medical training at the hospital and is the student volunteers' liaison. "All we had to do was get out of their way."

At MED, the students vetted their detailed plan with Angela Jackson, associate dean of student affairs, who was also hearing from third- and fourth-year students eager to pitch in on the front lines. "I read it, I said, 'Yes, this works, [but] I worry about that,'" she says. "They fixed it, sent it back, and they were good to go."
The most urgent need of front liners

A month later, Hanna, who plans to specialize in pediatrics, is in his bedroom at home, in Southington, Conn., 120 miles from Boston, with his labrador retriever, Theodore, at his feet. When he isn't scrolling through the MPS database to match volunteers with healthcare providers, he's Zooming into four-hour lectures on gastrointestinal physiology, helping with an effort to make medical masks on a 3D printer in his town, or doing the grocery shopping for his mother, a middle school cafeteria worker.

Patel and Keller are helping to lead MPS from Boston. Patel, who plans to be an emergency medicine physician, is also screening COVID-19 patients as a BHCHP volunteer. Keller and other members of the team are working with BHCHP and BMC to coordinate food delivery for vulnerable patients. Expanding their volunteer services as the need arises, the group has added tutoring, translating, medical face shield assembly, and personal protective equipment (PPE) collection and drop-off to the list.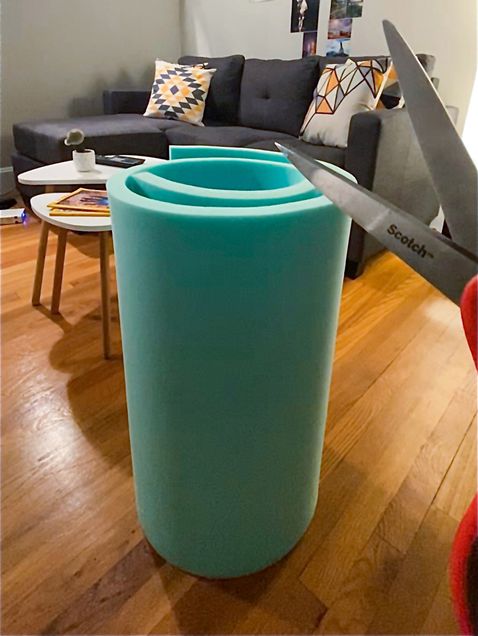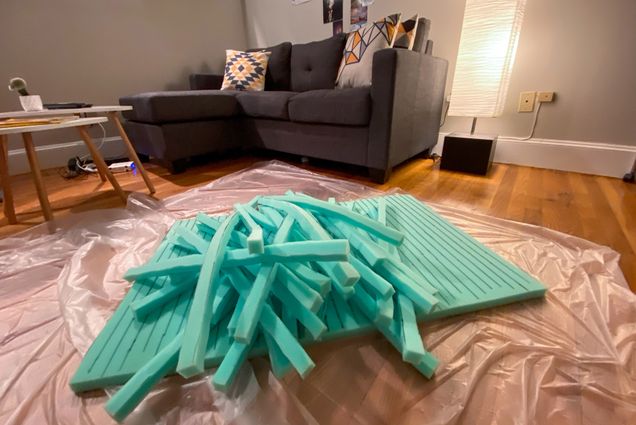 But with daycare centers and schools closed because of the virus, and grandparents and other relatives who used to be relied on for babysitting now social-distancing at home, the most urgent need—from physicians, nurses, case managers, and custodial workers—is for emergency childcare. "You shouldn't have to be worrying about childcare when you're, like, fighting a pandemic," says Keller, who plans on becoming a trauma surgeon.

Dan Kirshenbaum (CAS'07, MED'11), a BMC cardiology fellow who is covering extra shifts because of the coronavirus, turned to MPS after the Boston daycare center his two children, four years old and almost two, closed because of the pandemic. His wife, who is an attorney, is now working at home. They're paying full tuition to keep their daycare slots, says Kirshenbaum, adding that many healthcare workers are in the same position

"It's not a matter of whether you can afford childcare," he says. "No one can find childcare."

MPS's mission is "to serve the people with the most need," says Keller, and those include physical therapists, front-desk staff, case managers, custodial workers, nurses, and residents. "Right now everyone is essential," she says.

Cardiologist Marcello Panagia, a MED assistant professor, who has been rotating through extra shifts and covering calls at BMC because of the coronavirus, and his wife, Genny Sabin, needed help for their two daughters, ages five and eight, after their schools closed. Sabin, a director for a financial services firm, has been working full-time from their home in Newton.

Hanna matched the family with Amanda Saxton and her roommate, Gianna Francis, both Massachusetts College of Pharmacy and Health Sciences physician assistant students (their final semester and graduation have been postponed). They live near Newton, they have a car, and they were self-quarantining.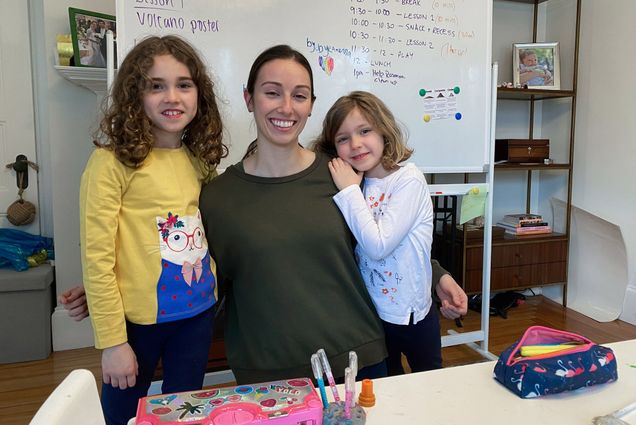 As is expected of all the volunteers, and the healthcare providers asking for help, Saxton and Francis have pledged that if they had even the suspicion of a possible exposure to the virus, they would notify MPS immediately and stay home, or cancel.

"Before we knew it, Amanda and Gianna were here," Sabin says. "My daughters loved them from day one. They had such a positive attitude. They brought worksheets and did art and history projects with the girls. It was more than I could ever have wished for."

Sabin is near tears talking about the anchor the volunteers provided her family. "It alleviates an enormous amount of stress," she says. "In an environment where there could be layoffs, in a two-parent working family where one is a healthcare worker, if the other one can't do her job or his job, you start to get worried if you're not performing."

The help from MPS is intended to be temporary, a bridge until medical providers and staff can make more permanent arrangements. But these days nothing feels permanent, or even long-term.

Saxton and Francis alternated three-hour shifts, five days a week, for two weeks before they came to a decision: they're both from Florida, and they needed to drive home to check up on their parents.

Francis and Saxton "have had a lot of stress to deal with as well," says Sabin. "It's a testament to both of them that they were able to come into our home and be so joyful and loving."

"We would have left sooner if it wasn't for Genny and her family," says Saxton. "We told the girls we'll take them out for ice cream when we get back."
Panagia put the family's name back in the pool, Sabin says, and her daughters are now smitten with their new MPS volunteer, Katelyn Trecartin (MED'23).

---

I don't have a lot of clinical skills. As first-year students, this is what we can do.

---
Benjamin Matthews is the BMC resident who was looking for a ride and access to a working washing machine. MPS volunteer Sarah Zambrano (MED'21) offered to drive to Roxbury to pick up Matthews' two loads of laundry. She put on gloves, did the wash at her apartment—she has a machine that works—while tuning in to her online classes, and then brought the clean laundry back to his apartment.

"I felt like it was the least I could do to help someone whose daily reality is staring this pandemic right in the face and witnessing all the suffering," Zambrano says.
Matthews was both grateful for, and impressed by, the help. He wrote in an email: "These students' willingness to do anything they can—even a stranger's laundry—to help support the frontline workers or make social distancing doable highlights the commitment they'll show for their patients in the future."
Healthcare and support workers needing the services of the health professions students volunteering with Medical Personnel Support or health professions students interested in volunteering with Medical Personnel Support can find more info here.