Massachusetts Mandates Negative COVID-19 Test before Students Go Home for Thanksgiving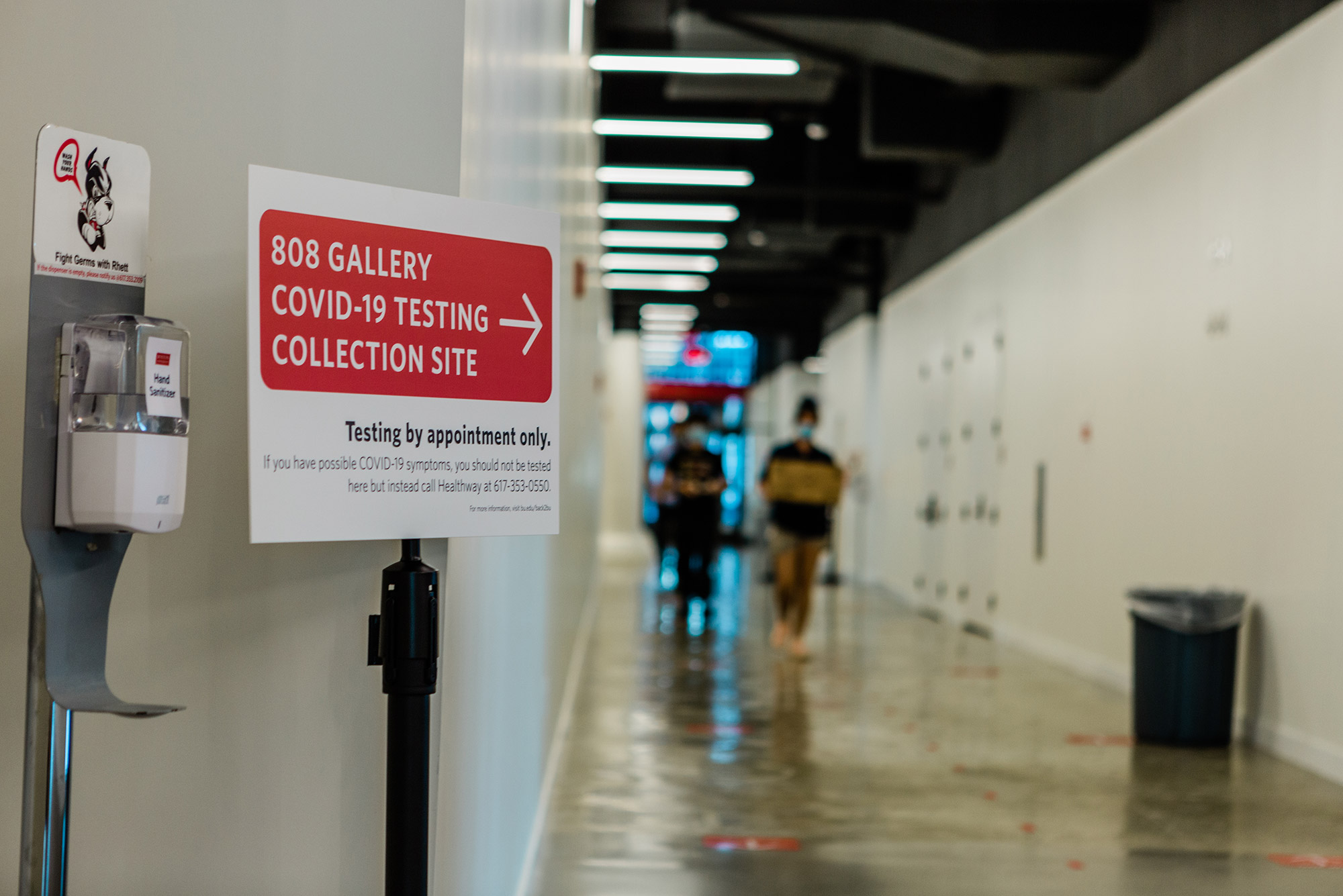 Public Health
Massachusetts Mandates Negative COVID-19 Test before Students Go Home for Thanksgiving
New requirements include testing for students returning from off campus
Terriers must get a negative COVID-19 test before leaving campus for Thanksgiving and the holidays under new rules for in-state college students from Massachusetts. Students who test positive, either before leaving or on their return, are asked to isolate. BU students will abide by the University's COVID-19 protocols.
The University's test sites are at Kilachand Center for Integrated Life Sciences & Engineering, 610 Commonwealth Ave.; 808 Gallery, 808 Commonwealth Ave.; Agganis Arena lobby, 925 Commonwealth Ave.; on the Medical Campus, 72 East Concord St.; and exclusively for people who report feeling COVID-19 symptoms, 925 Comm Ave rear, in back of Agganis Arena.
In an email to graduate and professional students, Daniel Kleinman, associate provost for graduate affairs, and Judy Platt, director of Student Health Services, outlined the procedure: "If you travel anywhere, even within Massachusetts, to a gathering outside of your current household, you should receive a negative test within 72 hours of your departure and be tested within 72 hours of your return to the Boston area. Traveling without a negative test result has the potential to put everyone around you at increased risk. Testing can be scheduled through BU's Healthway, while appointments are available.
"In addition, you will need to complete a BU stay-in-place advisory if you choose to return after travel," they wrote. "The BU stay-in-place period must be observed in your on- or off-campus Boston area residence, until you receive two consecutive negative test results over the course of your first week back in the area at one of Boston University's testing facilities. You may leave your residence to purchase food and for medical/testing appointments only. If you are an on-campus resident and found in violation of the stay-in-place advisory, access to your residence, campus dining, Wi-Fi, and online/in-person course access will be suspended."
Even before the state made revisions to its three-phased reopening plan for higher education institutions, BU had urged students to remain on campus for Thanksgiving or to finish the semester remotely from home if they insisted on leaving for the holiday. The University has planned four days of holiday menus for students who stay in Boston.
The Centers for Disease Control and Prevention has implored all Americans to forgo Thanksgiving travel.
According to the state's plan: "All students living in campus housing who plan to leave campus during any period in which school is not in session should first receive a negative result from a COVID-19 test administered by the college within 72 hours of their planned departure. To the extent possible, residential colleges should also offer COVID-19 tests to students living off campus who plan to return home, within 72 hours of their planned departure. All students should be informed of the risks associated with going home without first receiving a negative COVID-19 test result.
"Residential students who test positive should immediately isolate in campus housing designated and supported for that purpose. Contact tracing for all students who test positive should begin immediately so that students who were in close contact can be provided appropriate quarantine housing and instructions. Students who previously tested positive for COVID-19 and are isolating in campus housing should remain in place until completing the 10-day isolation period, as prescribed by [Department of Public Health] guidance."
The plan says further: "An institution with students residing on campus should adopt and post online comprehensive protocols for arrival and surveillance testing that align with the [state] report" by January 21, 2021.