Group Gatherings Increase on and around Campus. But So Does Reporting Them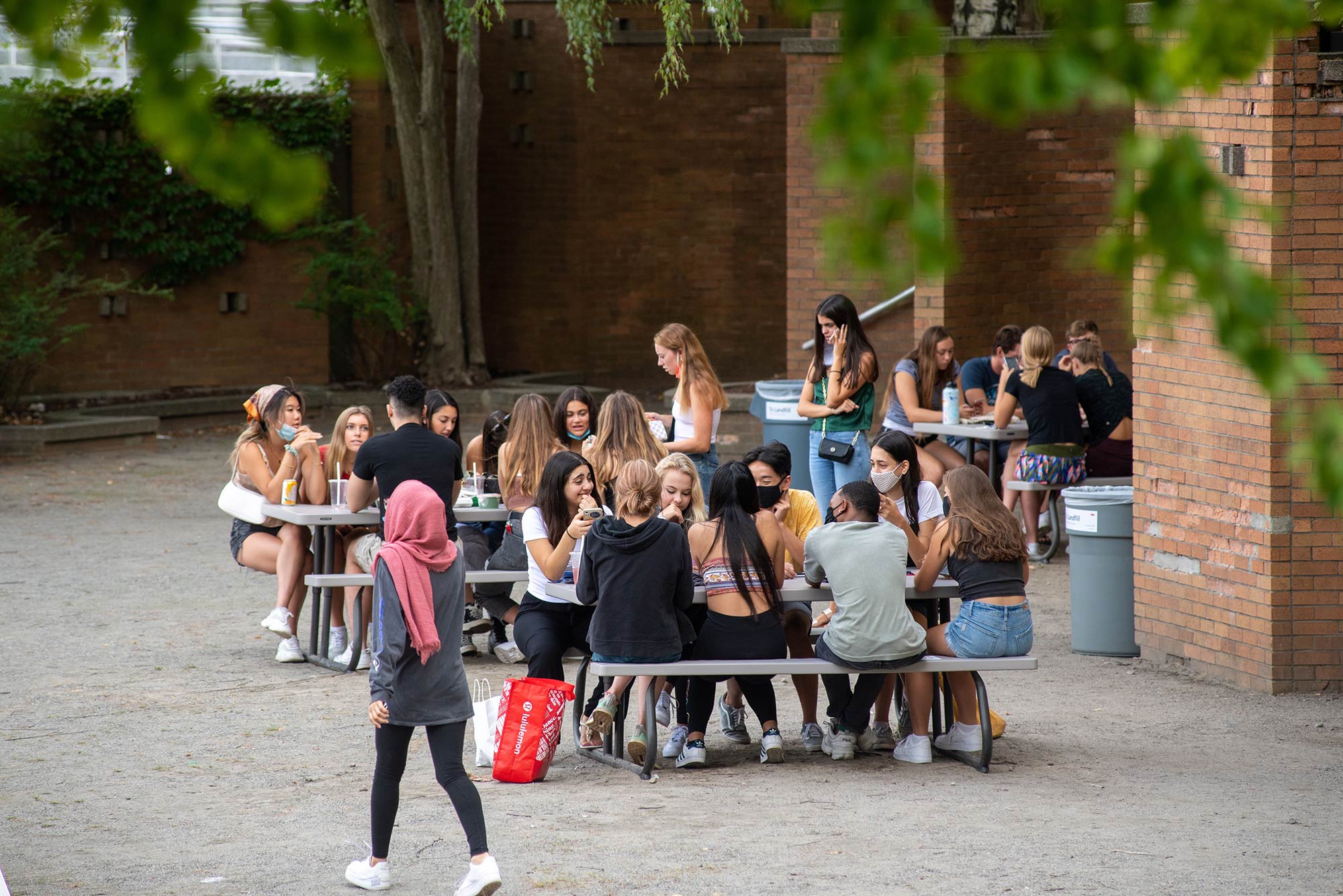 University News
Group Gatherings Increase on and around Campus. But So Does Reporting Them
Students use social media to promote inappropriate gatherings, and to catch them in the act
Roughly 10 students in Claflin Hall, 4 graduate students, 15 students in a business fraternity. It may seem inevitable to some that Boston University students, like college students across the country, would gather inappropriately, without masks or social distance, as this historic semester got underway in the midst of the COVID-19 pandemic. And sure enough, it has started to happen—but with some surprising twists.
First, in a bit of irony, social media is being used both to promote gatherings and to catch and report the rule violators. Students are brazenly sharing photos, videos, and messages on social media in advance of parties and gatherings, and then sharing stories of them as they happen. Meanwhile, other students are taking pictures and videos of possible violations, posting them on Instagram and elsewhere or sending them to the Dean of Students office, demanding discipline.
Also, despite assumptions that the youngest members on campus, undergraduates, would be most likely to flout the rules, graduate students are also getting caught.
And finally, a telephone hotline (617-353-5050) BU has set up for anonymous tips about improper gatherings has proven to be surprisingly, and enormously, helpful to the Dean of Students office. That office is following up on every call or report and is aggressively disciplining students, deactivating student ID badges (more than 500 are learning of that fate this week because they were not getting tested as frequently as required or submitting their daily attestations), and in some instances, sending them home after repeated warnings to continue their studies under the Learn from Anywhere plan.
It's all happening as BU continues one of the most aggressive college campus COVID-19 testing programs in the country, and the number of positive cases on campus remains extremely low. From July 27 through this week, BU has performed more than 109,000 coronavirus tests on students, faculty, and staff, and the results are just 98 positives, or .09 percent. The most recent day for which numbers are available, September 15, showed 3 positives out of the 5,144 tests performed. Whether those low numbers continue will determine how the rest of BU's fall semester plays out.
"Nobody wants to go home. And people are desperate to socialize and to see each other, and we get that," says Kenneth Elmore (Wheelock'87), associate provost and dean of students. "It will be the hapless and the hubris that takes us down."
---

"It will be the hapless and the hubris that takes us down."

---
Elmore outlined BU's expectations of students in an email sent to them August 26. He stated that any students who host or attend a gathering of more than 25 people will be suspended for the remainder of the fall semester.
Recent incidents did not quite rise to those numbers, but they still violated the University's other guidelines about mask-wearing on campus and keeping a safe social distance.
Three separate tips to the hotline referenced about 15 students at an off-campus housewarming gathering involving members of Phi Chi Theta, a self-described "professional business fraternity." In a separate incident involving graduate students, Elmore says, a video was posted showing four people, including medical students, blowing out candles on a cake. "It's amazing what people will post on social media," he says. But he was also heartened that "people are using social media to police themselves."
As for Phi Chi Theta, the 15 students are undergoing a disciplinary process that could end in probation. The fraternity posted this statement on its website: "We're aware of how serious this problem is, and we do not condone our members' choices. Please understand that these behaviors are not representative of our values or the majority sentiment of our members. We are aware of the implications of hosting gatherings during this time, and would like to assure that this behavior will not take place again."
Jason Campbell-Foster, senior associate dean of students, says the reactions he hears from students when his office reaches out to them about a violation run the gamut. Some students are angry—"I've been called an idiot," he says—while others are contrite, embarrassed, and apologetic.
Very often, Campbell-Foster says, the students provide important context to a photo or video that the office didn't have, such as a group of students gathering who are all roommates. "Social media doesn't provide that context," he says.
A photo posted recently on Instagram demonstrates how social media is being used. The picture shows groups of students, all sitting close together with no masks. "Went up to some of these groups of 20+ people that weren't wearing masks or social distancing. i got laughed at. i got ignored," the poster wrote, continuing, "i refuse to be sent home by people who are too privileged not to care. if you see anyone in groups like this, it's your responsibility to say something."
Most responses supported her post: "Thank you so much for this," one said. "As a freshman starting in January it means a lot to see that you're calling out these students who are causing issues making it so we can't be there! Keep fighting for people's safety!"
Elmore, whose office recently released guidelines and tips for students to participate in political protests during COVID-19, also says BU's student-led safety awareness campaign, #F*ckItWontCutIt, has been effective.
An article this week in the Daily Free Press, BU's student newspaper, quoted Sophie Shepard (CAS'23), who said using social media as a reporting tool incentivizes students to follow BU's health guidelines.
"You should be embarrassed to be in a group that big and not being safe and disregarding the people impacted by COVID," Shepard told the paper.