Asking International Students: Why is BU Special to You?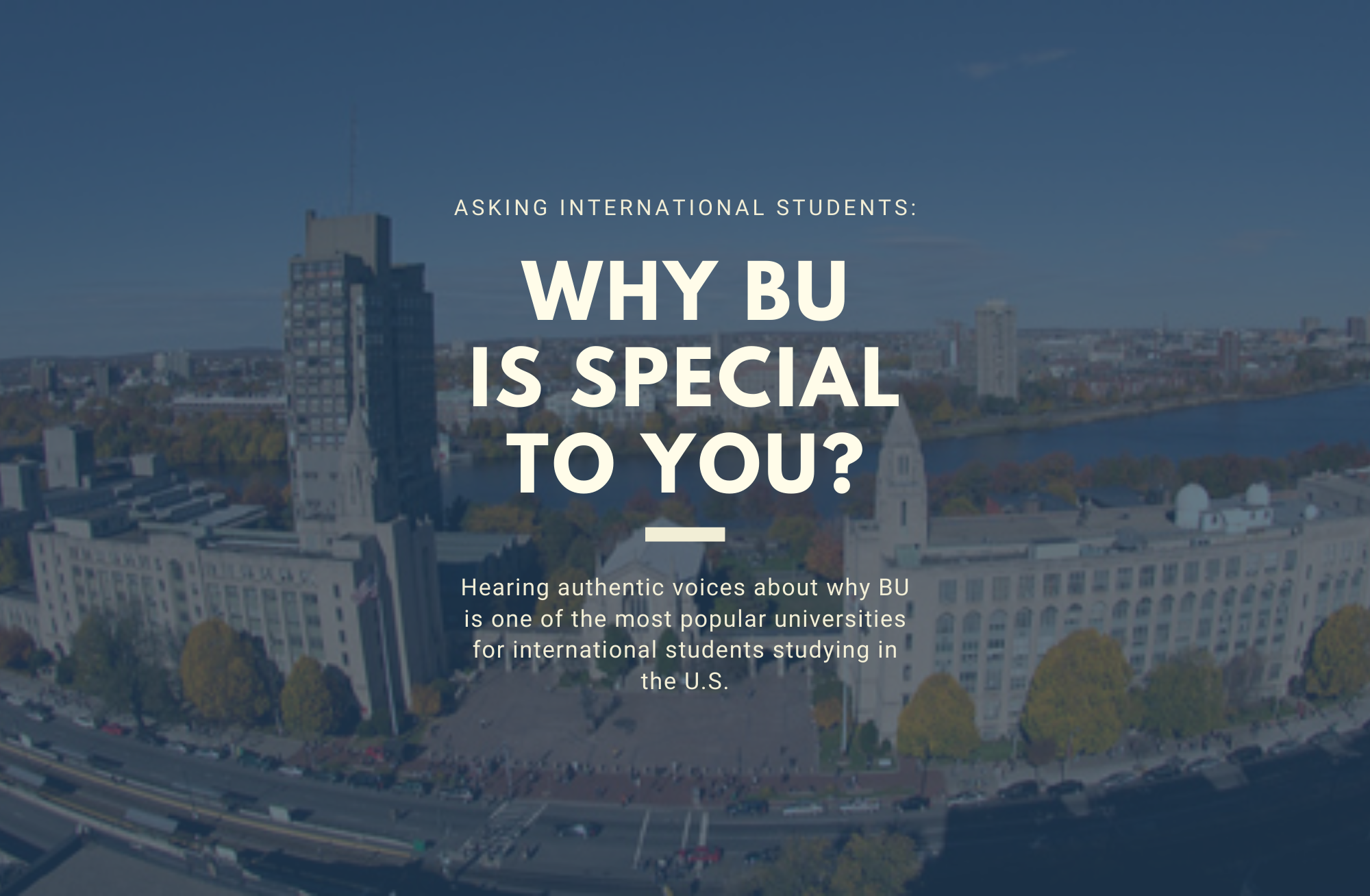 Student Voices
Asking International Students: Why Is BU Special to You?
Four international students share their college experiences
Boston University is one of the top choices for international students studying in the United States. According to the latest statistics, BU has more than 11,000 international students from 134 places of origin—but why is BU so attractive and special to international students? For me, BU is very special, and I always feel so fortunate to be here. It has not only offered me tons of academic, extracurricular, and working opportunities, but also let me discover my future career direction, build many lifelong friendships, explore a lot of new fields, and become a better self.
To further discover why BU is special, I interviewed three students from different countries majoring in different fields: Aashna Shahdadpuri (Questrom'22), from India, who grew up her whole life in Dubai, Lee Zen Mae (ENG'23), from Kuala Lumpur, Malaysia, and Michael Zhang (COM'21), from Beijing, China.
---
1. Diversity and Inclusion
For Lee Zen Mae, coming to BU was her first time in the United States. The welcoming BU community, the abundance of student activities, events, and clubs, as well as the vibrant campus culture, made her feel right at home. Aashna says the diversity of BU has helped her build relationships and connections with people with different backgrounds and perspectives. She is also able to meet many students of Indian descent at BU. The day I interviewed her was Diwali, the Festival of Lights, a popular holiday in India. Aashna would like to say "Happy Diwali" to everyone. Echoing Aashna's words, Michael says the large population of international students at BU gives him a chance to know people from different countries and understand different cultures.
---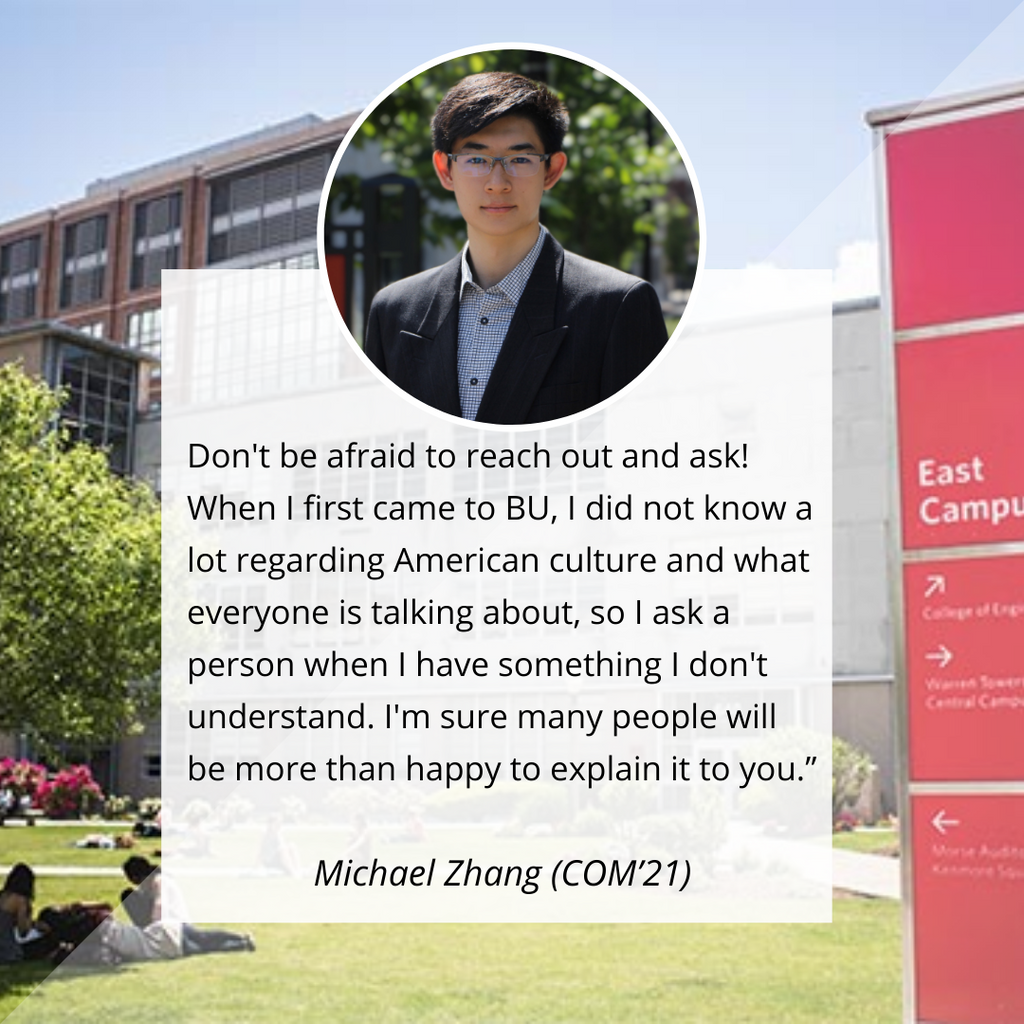 2. A Vibrant City
Boston is both a "wicked smart" 😉 college town and a historic city embracing cultural diversity. Located in the heart of Boston, BU offers Terriers tons of opportunities to get immersed in this intellectual and cultural hub of the United States. For Michael, he believes the city of Boston is the cultural center of America. "In the city of Boston, I feel I'm being respected because Boston tolerates and includes cultures from around the world," says Michael. "The food in Boston is great, too. I can not only find authentic American foods, but also ramens and nice Chinese restaurants as well." For Zen, one aspect she enjoys the most is experiencing Boston's four seasons. Aashna, who grew up in a hot desert, has a similar feeling, and the first snow in Boston was insane yet magical for her.
---
3. Academic Flexibility
From journalism to film and TV to public relations, Michael says that BU offers academic flexibility and allows him to try out different things. Zen enrolled in biomedical engineering and recently declared a double major in the College of Engineering. She says her academic advisor and the undergrad faculty members were easily accessible through email and meetings to answer any questions regarding her degree plan and class performance. Aashna was in the College of General Studies for two years and later transferred to Questrom School of Business. "Without two-year courses at CGS, my scope of learning would be very limited to business," Aashna says. "I am so glad that I was able to take advantage of that liberal arts education opportunity to explore more knowledge."
---
4. Resources and Opportunities for Career Development/Self Development
Michael is involved in a student organization called PRLab, which offers students the opportunity to get hands-on experience in a real public relations agency and communicate with real-world clients. Michael found this to be a great opportunity to experience a real-life working environment. He was also promoted to take leadership positions and get leadership skill training at PRLab. For Zen, the Center for Career Development Office (CCD) at BU helped her a lot with landing an internship at a local cancer research center (Cancer Research Malaysia). CCD helped her brush up her CV and offered mock interviews for job interview preparation. Zen is also involved in the Women in STEM and engineering communities and recently became an Admissions Ambassador to help with virtual international student events.
---
5. A BU-tiful Urban Campus
Aashna's favorite place at BU is the BU Beach, located on the Charles River, which is very closely connected to the Esplanade. Before talking with Aashna, I originally thought the BU Beach was called so because the lawn is similar to sand and the river is like the sea. Aashna told me another reason that it is called beach is because we can hear the cars on the highways sounding like the ocean waves.