Credit/No Credit Decisions Start May 13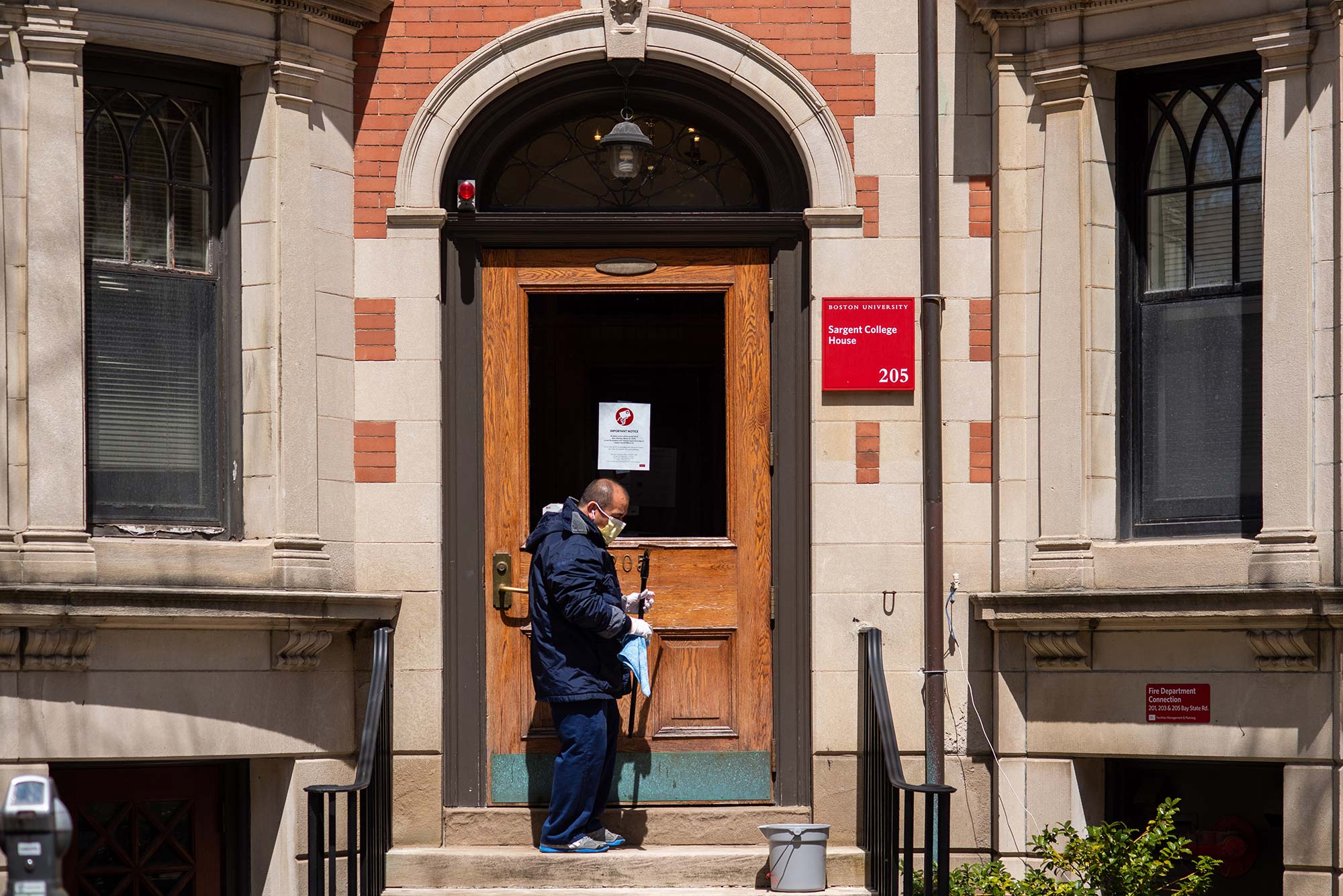 Weekly Roundup
Credit/No Credit Decisions Start May 13
Also in our Weekly Coronavirus Roundup: A virtual CFA design studio
If you have a question or comment related to BU and its response to the COVID-19 crisis, on the subject of the move-out, remote learning, retrieving personal belongings, or anything else, please visit Boston University's special COVID-19 website. Questions are being answered there by specific departments in a timely fashion. Thank you.
—Doug Most, executive editor, BU Today
Quote of the week:
---

They're immune to any evidence. You're not going to change their mind.

---
Stat of the week:

---
BU News
Credit-No Credit tool ready, info available now

The online tool for choosing the Credit/No Credit grading option will be available to students beginning Wednesday, May 13, but online guidance for making the decision is available now.

The University announced in early April that it would adopt a special grading policy for the 2020 spring semester because of the "disruptive, stressful, and unconventional way" the semester has unfolded in the shadow of the COVID-19 pandemic. With most students remaining at home after spring break, and classes held remotely, BU is offering all undergraduates and most graduate students a Credit/No Credit option that will not affect their grade point average. Students will be able to choose between keeping their letter grade in each class and the Credit/No Credit option. The policy applies to this semester only.

Graduating students will be able to make their choices online between May 13 and 19, while students not graduating will have from May 13 to June 30 to decide.

The selection tool will be built into the grading display on the Student Link. It will offer a list of eligible classes, the letter grade received in each, and the student's current selection. It will also show whether a Credit or No Credit grade would result. A sample screenshot of the tool is included on the guidance page (and seen below).


Students may change their choice for each course from letter grade to Credit/No Credit and back again several times. Whatever choice is in place at the time the selection period closes will be final.

For undergraduate courses, any grade of D or above will translate into a Credit designation if the student chooses the Credit/No Credit option. Your original letter grade will not show on your transcript if you select Credit/No Credit.

The three schools with unique constraints—the Goldman School of Dental Medicine, the School of Law, and the School of Medicine—offer grading policies that are specific to their schools. Other graduate programs have developed their own minimum grade requirements for credit.

The Credit/No Credit policy does not apply to courses that are already graded as Pass/Fail, which will continue to be graded that way. A short list of other exceptions is on the guidance page for students.

Grading choices in a small number of courses may be sent for review because they serve multiple student populations that have different grading rules. If a course selected to be Credit/No Credit is on the list to be reviewed, students will see a pop-up message indicating that. Students will be emailed when a decision is made on their request.

The guidance page also includes information for faculty, advisors, and others who work with students around graduation. Faculty must still submit their letter grades by May 12.

The grading tool was created by Information Services & Technology staff working with staff from Enrollment and Student Administration.

How campus looks now

ICYMI, check out this photo essay of shots from around our depopulated campus in recent weeks by our ace photographers Cydney Scott and Jackie Ricciardi. Most of the pics have just one or two people in sight—or none. We're still trying to decide if it's depressing to see it so empty or reassuring to see it's still there despite everything. Possibly both.
---
Boston and Beyond News
Fore!
Governor Charlie Baker's administration cleared the state's 360 public and private golf courses to reopen on Thursday after a 45-day coronavirus shutdown. There are some caveats, though: no carts, and a minimum of 15 minutes between tee times. And of course golfers are expected to maintain six feet of social distance from fellow duffers. The decision puts Massachusetts in line with the other 49 states. There is also word that a federal judge is set to overturn Baker's closing of the state's gun shops as an infringement on Second Amendment rights. But don't expect the entire economy to get going immediately. Although Baker has set May 18 as a tentative start for reopening, ups and downs in the infection rate led the governor to say Thursday that the commonwealth "still has a lot of work to do" in battling COVID-19. He urged everyone to cooperate with the state's 1,600 contact tracers.
Things we share when socially distanced

The Globe had a couple of stories this week that seemed to apply our quarantine experience, both awake and asleep, and maybe yours too. One outlined, comedically, the "12 Steps of Quarantine," which include compliance, exercise, and drinking. Nothing in there about feeding a sourdough starter, ahem, but otherwise perceptive. And the other story offers expert insight on the increase in both the number and intensity of dreams many people are having.
Given the governor's order mandating face coverings be worn in public, which went into effect on Wednesday, you should probably also listen to this WBUR segment on mask etiquette. And finally, we're spending more at Amazon.com these days (and writing this item to the sound of Amazon Music), driving up the giant company's already enormous revenue. So we'd be remiss not to note this Sputnik News interview with Laurence Kotlikoff, a William Fairfield Warren Professor and College of Arts & Sciences professor of economics, who says Amazon should be nationalized.
---
US & Global News
Jobless claims top 33 million

The government reported Thursday that nearly 3.2 million unemployment claims were filed last week, down slightly from the week before, and significantly down from a record high of 6.9 million in late March. But the total number of new jobless claims in the last seven weeks has topped 33 million. And the April unemployment rate to be announced today (Friday) is expected to be 15.5 percent, which the New York Times calls a "Depression-era level."
Latest count of coronavirus cases
United States, 1,231,992; Massachusetts, 73,721.
---
Distraction of the day: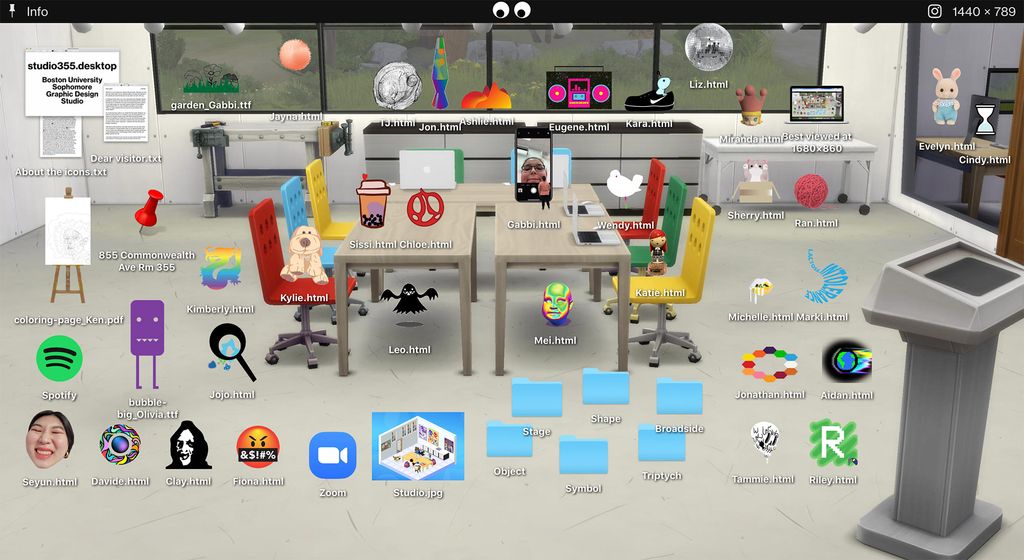 Who isn't looking for a good internet rabbit hole to dive down for a few minutes as we spend our days in quarantine? Allow us to recommend studio355.desktop, a collaborative virtual exhibition of sorts, created by the sophomore design class of Mary Yang, a College of Fine Arts assistant professor of art and graphic design, to share process, inspiration, and works in progress. It started when graphic design student Ken Rudolph (CFA'22, Questrom'22) re-created his design studio classroom—Room 355 at 855 Comm Ave—in The Sims video game series, complete with avatars for fellow classmates. As they say, things escalated.
Now it's a website designed by the students that shares their work and research, a sort of virtual exhibition/vision board and also a great way for the group to maintain a sense of community during the last few weeks of the semester and perhaps beyond. Look in the blue folders for their classwork, everywhere else for what's on their minds. There's even a class playlist from Spotify. The site is also available via Instagram.
Find BU Today's latest coverage of the pandemic here. The University's hotline for faculty, staff, students, and visiting scholars to call for referral of their virus-related medical concerns is 617-358-4990.