Finding the Story in the Numbers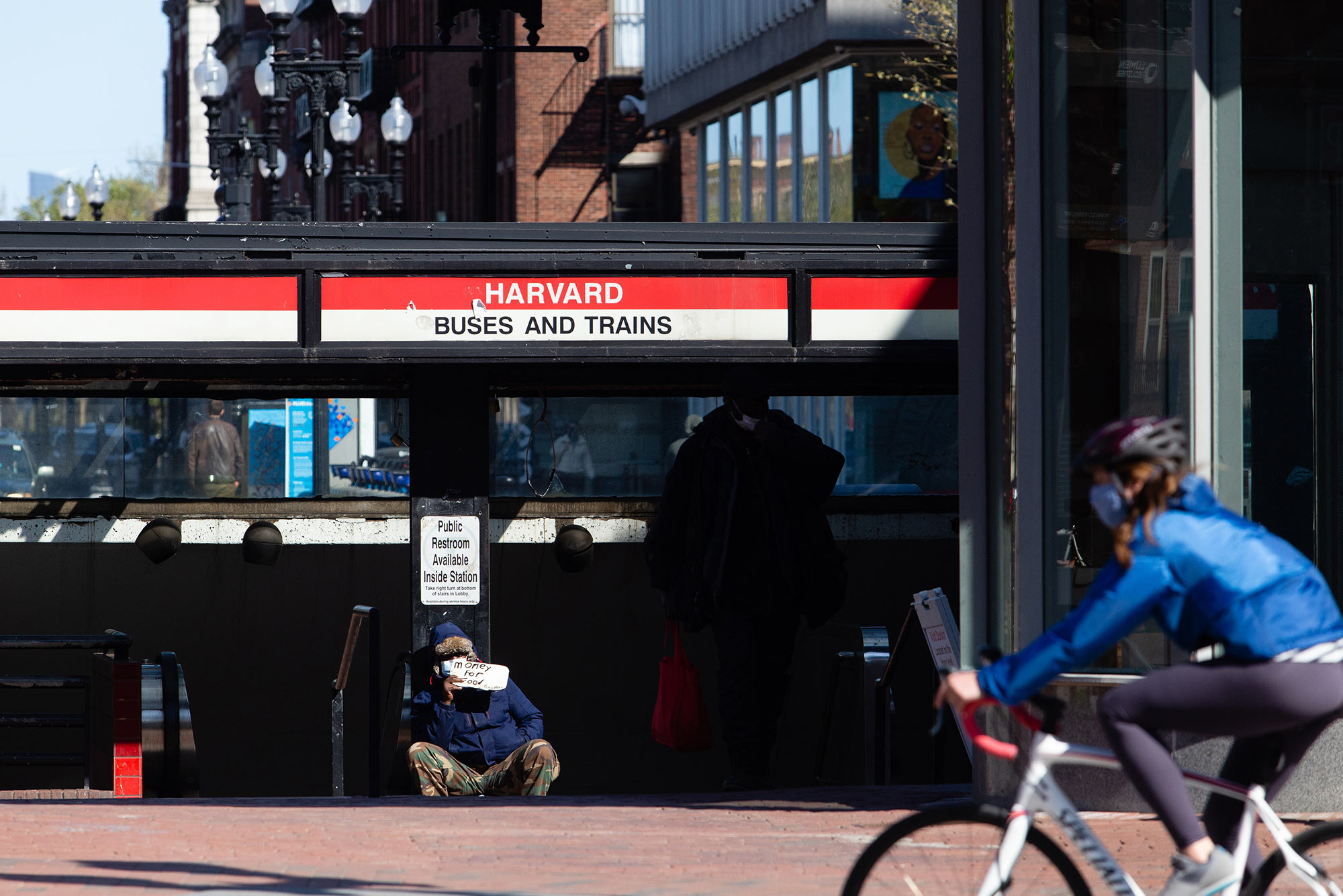 Journalism & Media
Finding the Story in the Numbers
A COM journalism class' reporting on homelessness grabs national attention
Government attempts to address homelessness in Boston have long yielded messy results. Just think of the controversial closing of the Long Island Bridge in 2015, which shuttered the city's largest homeless shelter. Even before the coronavirus pandemic, it was a subject worthy of a deep journalistic investigation.
So, last summer, when the University of Maryland's Howard Center for Investigative Journalism asked the College of Communication's Maggie Mulvihill if her students wanted to join Nowhere to Go, a multi-college investigation of homelessness in America, there was only one possible answer: Of course. By the end of the project, her students had earned bylines in some of the biggest newspapers and websites in the country.
Part of the Howard Center's mission, explains director Kathy Best, is collaborating with other university-based investigative programs. "That not only allows us to extend our reporting reach, but helps us fulfill another part of the Howard Center mission: producing national investigations," Best says. And that's exactly what Mulvihill, a COM associate professor of the practice of computational journalism, wanted the students in her fall 2019 and spring 2020 semester Data Journalism classes to be a part of when she tapped them to work on the project: "I always tell them, 'You have to think big to be big,'" she says.
In Data Journalism, a course Mulvihill started in 2015, students learn how to request, organize, and analyze data sets in order to pull narratives from numbers. "The 21st-century journalist has to have these skills," she says. "A large portion of government information is being digitized, so you have to be able to [navigate] that information."
For Nowhere to Go, her students dug into data on arrests, evictions, and more in Massachusetts, working with one another and with students from the other universities to identify stories. Some of their work, including stories about illegal evictions during an eviction moratorium and increasingly punitive laws against the homeless, were published by the Associated Press and then picked up by other news outlets. In addition to their reporting for the Howard Center, class members also produced original stories for the Boston Globe—including a front-page report on the criminalization of homelessness in Boston—and for the Boston bureau of the Associated Press.
For one member of the class, watching his work take off nationally felt surreal. On the day one major story was scheduled to run, Nick McCool (CAS'20, COM'20) woke up anxious. "I immediately checked the Associated Press app on my phone to see if it had run—and there it was," he says. "My day was made before breakfast—and then the pickups started." Ultimately, the story ran in the New York Times and the Washington Post and on ABC News, among other outlets.
Learning on the job
Exciting as those bylines were, the project was about more than that. "It's just an incredible learning opportunity," Mulvihill says. "We worked with fantastic editors and data journalists, and my students learned an enormous amount about how to do a large national data-driven project." BU was one of seven schools participating in the project, along with the University of Maryland, Stanford University, the University of Oregon, the University of Arkansas, the University of Florida, and Arizona State University. Because of the coronavirus, Mulvihill says, her students had to work harder to chase information remotely, learning how to file public records requests, analyze data, and fact-check.
Her students spent the fall 2020 semester investigating police financing with a class at American University, a report they plan to publish in 2021. Not only are these projects a learning opportunity for students, but the national reach of the stories means the work has more impact. Case in point: after seeing an eviction story from Nowhere to Go, readers reached out to help one subject and her six children. "She got rental assistance, two jobs, and food," Best says. "That kind of response is why we got into this business."
That's what McCool thinks, too. "Throughout journalism school, we're taught to lift up the voices that society forgets. The sources we consulted—the ones for whom a park bench, a subway station, or a parking lot may serve as a home—confront challenges we cannot fathom," he says. "Our reporting exposed that many of the laws that govern the society in which they live also work against them. I'm especially proud of that."