Clients Praise Stuttering Treatment at BU's Center for Stuttering Therapy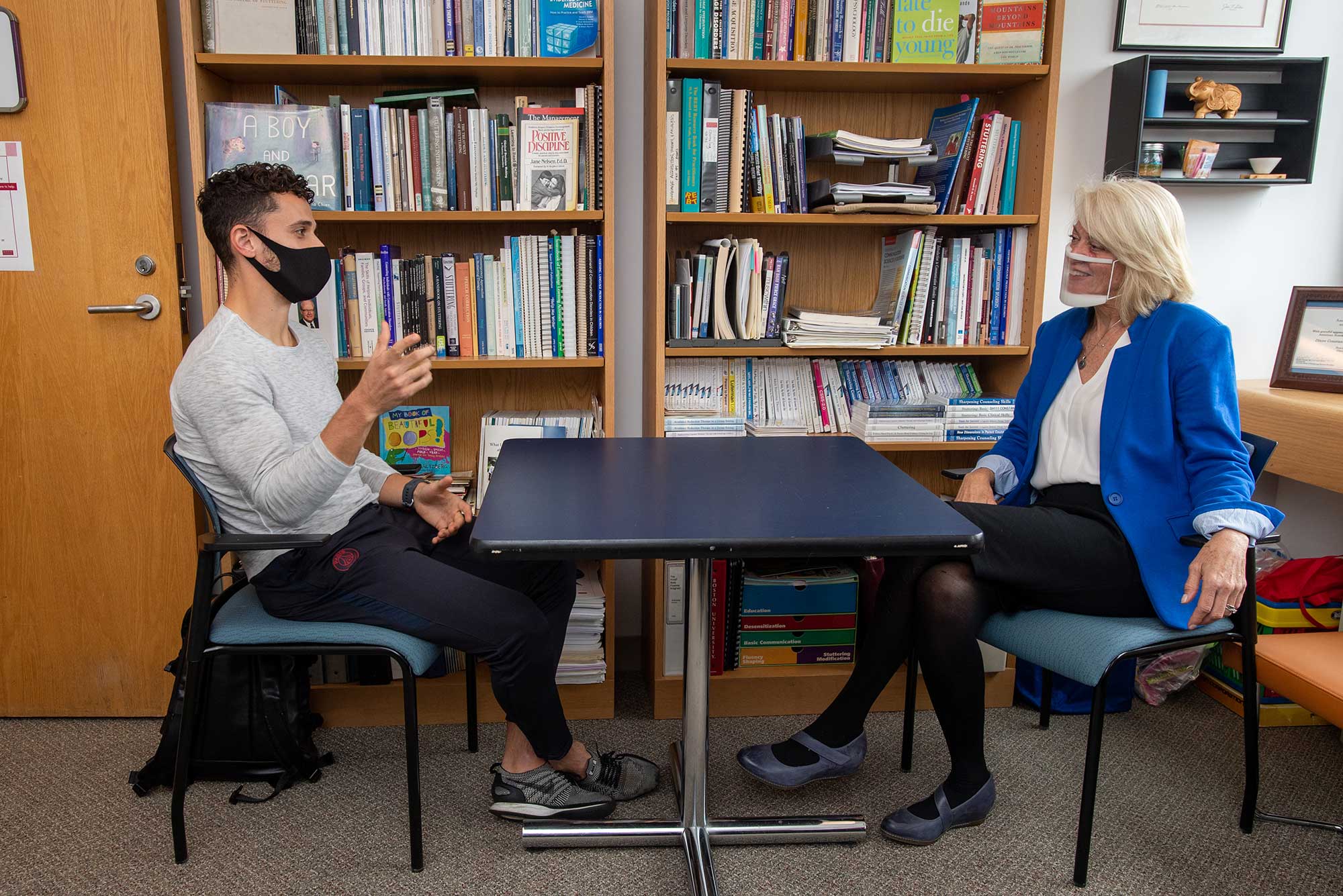 Speech Therapy
Joe Biden's Stutter Highlights BU Center's Mission to Help Others Struggling with Speech
Clients praise treatment at BU's Center for Stuttering Therapy: "For the first time I felt like I was in control of my speech"
If stuttering seems like no big deal to you, imagine how it feels.
"In that moment, your body just freezes, and the breath stops, and you try to force it out, and it's not coming," Mason Blake says. "Mine is more of a block, there's no pattern to it, there's just times when I get to a word and I just can't get it out."
Stuttering, often misunderstood and mocked, is having a moment, with the possibility of a president who stutters, Joe Biden. And for a long-running, but little-known BU stuttering treatment center, it's an opportunity to help people with the speech disorder become more fluent speakers, in part by helping them accept its challenge.
Classes were especially difficult for Blake (Wheelock'23), a graduate student in the Counseling Psychology and Applied Human Development doctoral program. "I wasn't really learning anything because I was just so focused on myself and rehearsing what I was going to say in my head," he says. "And it would come to my turn to talk, my heart would be racing, and I could feel myself going red, and I'd be blocking left, right, and center."
He recalls one moment when he was helping to interview potential students for the program, and he could not get his question out. "A member of the staff who was with me looked at me just really, really confused about what was going on, and I couldn't explain in that moment," he says. "I was, like, I can't keep going on like this. And that's when I looked online and found the Center for Stuttering Therapy at Boston University."
Success stories
Diane Constantino knew Biden would be a good example.
The Sargent College of Health & Rehabilitation Sciences clinical associate professor and director of the Center for Stuttering Therapy since 1993 knew that the former vice president and current Democratic presidential nominee has often spoken about overcoming his stuttering. Biden made news a few weeks ago with his heartfelt encouragement of a young boy in New Hampshire who asked him for advice on dealing with his own stutter. The boy, 13-year-old Brayden Harrington, went on to speak on video at the Democratic National Convention.
"It was really amazing to hear that someone like me would become vice president," Harrington told the convention while standing in his bedroom. "I'm just a regular kid, and in a short amount of time Joe Biden made me feel more confident about something that has bothered me my whole life."
Overnight, Brayden, Biden, and stuttering went viral.
"When we have an opportunity like this, or when The King's Speech came out, it's an opportunity for us to educate the general public about: what's stuttering? What's it all about?" says Constantino (Sargent'81). "People can be freed from being held down and held back by their stuttering—that's what Joseph Biden represents."
October 22 is International Stuttering Awareness Day. As the center defines it, "stuttering is a speech disorder where the flow of speech is broken by repetitions (li-li-like this), prolongations (l-l-l-l-l-i-ke this), or blocks, which are abnormal stoppages (no sound) of sounds and syllables." There may also be unusual facial and body movements associated with the effort to push through a moment of stuttering. There is no one simple stuttering treatment, but through the center's two-track approach, addressing both mind and body, people who stutter can learn to speak more easily and communicate more effectively.
Neuro—not nerves
It's widely accepted that roughly three million Americans stutter, with four times as many men as women. There are myths that stuttering is the result of anxiety or a psychological issue, but Constantino says it is a "neuro-physiological developmental problem" that crops up in childhood as our brains develop the ability to speak. It's essentially "a wiring problem of the brain, not a psychological problem," she says.
But that wiring problem can create a heavy emotional burden.
"They don't always know when it is going to occur or how long it's going to last," Constantino says. "So, there's this natural tendency to have a fight-or-flight reaction to the stress of that. And so they either try to push through it, which makes matters worse, or they develop a whole world around what they can and can't do, to try to avoid it."
Different people are affected to different degrees, from an occasional, even imperceptible, glitch in their speech to frequent interruptions that can stall a conversation or class presentation. Stressful situations can exacerbate the problem, causing the person stuttering to maybe become embarrassed or ashamed.
Biden said in a CNN documentary that debuted in September that his sense of empathy was born from those emotions. "I think it really began in an earnest way from my stutter because it is the most humiliating thing in the world. For someone, how do you walk up to the girl to go to the eighth grade dance?" he said. "And there are a bunch of chumps out there who would make fun, that's why I learned to kind of fight."
Many people who stutter "start to believe things about themselves that are very self-limiting, like, 'No one will want to marry me because I stutter, no one is going to find me lovable,' and so now we've got this real deep pain, and life being lived from that is not fulfilling," Constantino says. "So, our therapy has two sides, mind and muscle training."
And, by the way, as you may have noticed, we're not calling Blake, Harrington, and Biden "stutterers," which makes stuttering their whole identity. "We more aptly refer to them as 'people who stutter,'" Constantino says.
Twin approaches to stuttering treatment
The Center for Stuttering Therapy at Boston University was founded in the 1980s by the late clinician and researcher Joseph Germono, who was director of clinical education for BU's Speech-Language Pathology graduate program. It provides stuttering treatment to clients from the BU community and beyond while serving as a training program for graduate student clinicians. This year, Constantino supervises 11 Sargent graduate students working with 31 clients, the biggest group ever. The Tuesday group night sessions have been happening for more than 30 years, and Constantino also works with children and adults individually.
The BU center has evolved a two-track approach to helping clients deal with their stutters: exercises to improve motor speech and breathing on one hand, and cognitive approaches for greater self-acceptance on the other. Each goal reinforces the other.
"You can do different things with breathing and your speech production that will actually give you more forward flow and less tension and struggle," Constantino says. "If you're thinking, 'I have to hide this,' though, it's a different world than if you're thinking, 'OK, I stutter sometimes, and I'll do something different to try to manage it.'"
Isaac Rowe hid it. "I grew up having trouble with my speech for as long as I can remember," says Rowe, who lives in Somerville, Mass.
---

"It was great to see people from all different age groups, in all different fields, different backgrounds, all these people experienced the same struggles I did, and yet some of them were very successful in their careers."

---
In high school and college, he tried to stay three or four steps ahead of every conversation, the better to hide his stutter. "My belief [was] that if people heard me stutter, they wouldn't like me, they wouldn't respect me, they wouldn't love me," he says. He switched his college major multiple times just so he could avoid courses that called for public speaking.
"I was lying at work to avoid certain words," he says. "I was trying to navigate through my life to portray myself as a fluent speaker, saying on any given day about 50 percent of what I wanted to say. It was absolutely exhausting." After one "awful" day, when he was about 25, he finally shared his secret with his girlfriend, who had no idea. She said: "You can change it."
He took a monthlong intensive program, five days a week, with a private therapist. "It was amazing," he says. "For the first time I felt like I was in control of my speech."
For follow-up, he joined the BU clinic and was around other people who stuttered for the first time. "It was great to see people from all different age groups, in all different fields, different backgrounds, all these people experienced the same struggles I did, and yet some of them were very successful in their careers," he says.
He attended the group as a client for more than half a dozen years, helping him maintain his success, and he has since become a mentor, telling his story to classes and other groups. "I really take any opportunity I can to get in front of a group to tell them my story," he says, "so they can hear the perspective of a person who really struggled with speech, to hear about that transformation.
"Stuttering can be this silent pain and suffering for someone, and I guess I want to help people dissolve that," he adds.
Getting past the moment
"You have to talk a lot as a PhD student," says Blake, an amiable Brit with an easy smile. "Classes are so small, and you're expected to be the ones really running the class. And I couldn't even focus on what other people were saying, because I was so concerned: when I speak, am I going to stutter or am I going to be able to get out what I want to say?"
His stutter has been with him as long as he can remember. He recalls crying through a "not very helpful" speech therapy session as a boy growing up outside London, but he didn't get bullied like many kids who stutter do. Because it is a block, it was perhaps easier to cover up.
"People would make comments in those moments, as kids do," he says. "I had girlfriends who didn't know, and then I'd have a block and they'd kind of tease me, but they didn't know. I became so good at changing words that no one ever knew."
His promising schoolboy soccer career cut short by an injury, Blake studied sports and performance psychology at the University of Roehampton, crossed the Atlantic to earn a master's at the University of Denver, and came to BU as a doctoral candidate. At each level, his secret grew more burdensome.
"I'm training to be a psychologist," he says, "and it would even be on my mind in sessions with people. I'm supposed to be focused on them, and yet I'm focused on myself and worrying about my stuttering. So, it was in the way of me becoming a better psychologist and supporting the people I'm supposed to be supporting."
He finally reached out for help. In February 2019, he started individual sessions with Constantino. While motor speech was addressed, most helpful was a change of attitude.
"The best word to use would be acceptance," he says. "Really it was just about changing the mindset, accepting that it is going to happen, and if it happens, it's OK, and you can tolerate those intense emotions when they come up. They're not going to kill you."
The change for Blake came through a lot of meditation and mindfulness exercises with Constantino, and spending this semester in group therapy. Now doing presentations or speaking up doesn't really faze him. The center's stuttering treatment "has had a massive effect on my life," he says.
Blake sees using his counseling skills to work with people who have speech impediments. "Mine was very mild," he says, "and I know people who are much more severe. I can imagine how much they must struggle, and if I could do something to support them, that would be amazing."