CAS Computer Scientist and SPH Epidemiologist Win University Teaching Awards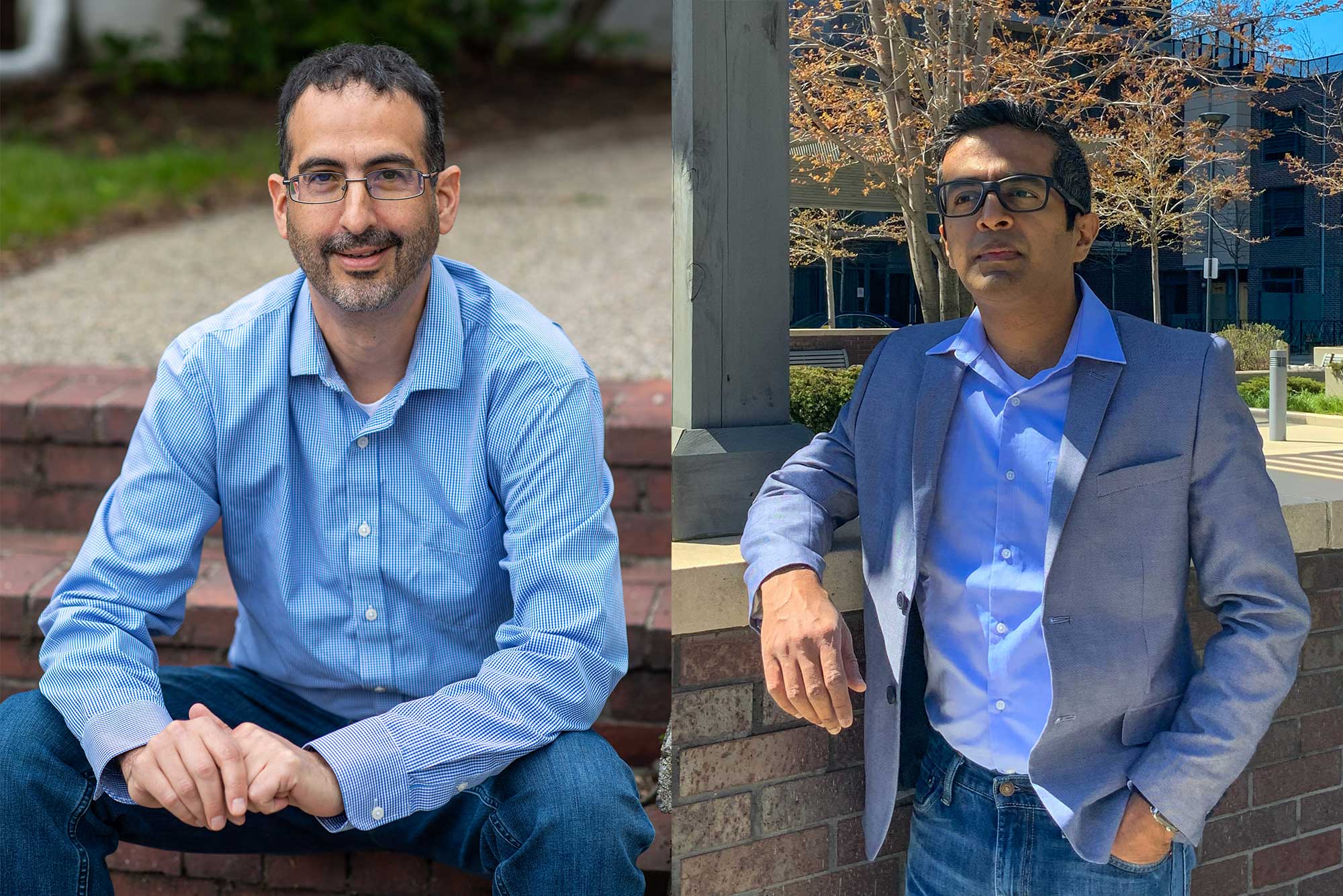 Awards
CAS Computer Scientist and SPH Epidemiologist Win University Teaching Awards
Abbas Attarwala garners Gitner Award and Matthew Fox Provost's Scholar-Teacher Award
Long before Zoom became the pandemic era's chalk and blackboard—a staple of teaching—Abbas Attarwala used it to complement in-person office hours. "I met my students one-on-one or in a group setting and helped them with any course-related questions," says the College of Arts & Sciences lecturer in computer science.

Such early adoption helped Attarwala win this year's Gerald and Deanne Gitner Family Award for Innovation in Teaching with Technology. The award confers $10,000 annually on a faculty member who "best exemplifies innovation in teaching by use, development, or adaptation of technology."

The simultaneously awarded Provost's Scholar-Teacher of the Year Award has gone to Matthew Fox (SPH'02,'07), a School of Public Health professor of epidemiology and global health, whose expertise has been in the headlines. That award, also given annually, bestows $5,000 to "outstanding scholars who excel as teachers inside and outside the classroom and who contribute to the art and science of teaching and learning."

Fox won for tapping his scholarly knowledge to respond to students' classrooms questions and for innovatively enlightening the public about epidemiology. Both awards will be presented at a future ceremony that will be scheduled once the coronavirus outbreak subsides.

Attarwala's Gitner citation describes him as "a problem-solver at heart." Among his innovations is scrapping the assignment-submission technology used in his Introduction to Computer Science II, which was baffling students. "He devised a novel drag-and-drop submission feature," the citation reads, "that made the process trivially easy."

In the above-and-beyond department, he offers students workshops outside of class hours, where they put what they've learned to practical use. "We built a movie recommendation engine that recommends new movies," in one such workshop, Attarwala says. "I have never seen my students so excited about matrices and vectors after that workshop." Another workshop demonstrated how to produce professional-grade résumés.

This passion to engage students was born of his own college studies, he says. "When I was an undergraduate student, I sometimes struggled in finding the application or actual examples of the theory that was taught in the lecture.…Having real-world examples and conducting these workshops in an informal and relaxing fashion make my students enjoy learning."

Educated at the University of Waterloo, the University of Toronto, and the Georgia Institute of Technology, Attarwala has been at BU since 2016.

Fox began his SPH career as a statistical programmer in 2001, after undergraduate study at Bates College. Teaching mostly doctoral students, he's found that the pandemic has prompted some of them to shift their research to COVID-19. He'd like to incorporate the disease into his future teaching—but only when sensitivity permits: "I also want to be respectful of the fact that it is still very real and some students will be personally affected by it, so I want to ensure they are supported as well."

This semester, he taught Simulating Problems for Learning Epidemiology, a class he developed to answer questions he'd gotten from students in another course. Students "build diagrams that are models of how the world works for the diseases we are interested in studying, by thinking about what causes that disease and then what causes all the things that cause the causes," he says. "Then we create datasets that look like that model and use the dataset to understand various things we have learned about in classes."

Like Atterwala, Fox devised his course in response to a problem from his own student days: simulations "helped me answer questions that were too complicated for me to understand through mathematical formulas. I understand the problem better when I can see it in data," he says.
Outside the classroom, he launched and hosts Free Associations, a podcast about health studies and the quality of news coverage of them. "We try to make it as accessible as we can for a lay audience," he says, "while still making it relevant to our fellow epidemiologists. And we try to make it as engaging as possible by having fun doing it."