Boston University Matriculation 2020: Unlike Any Other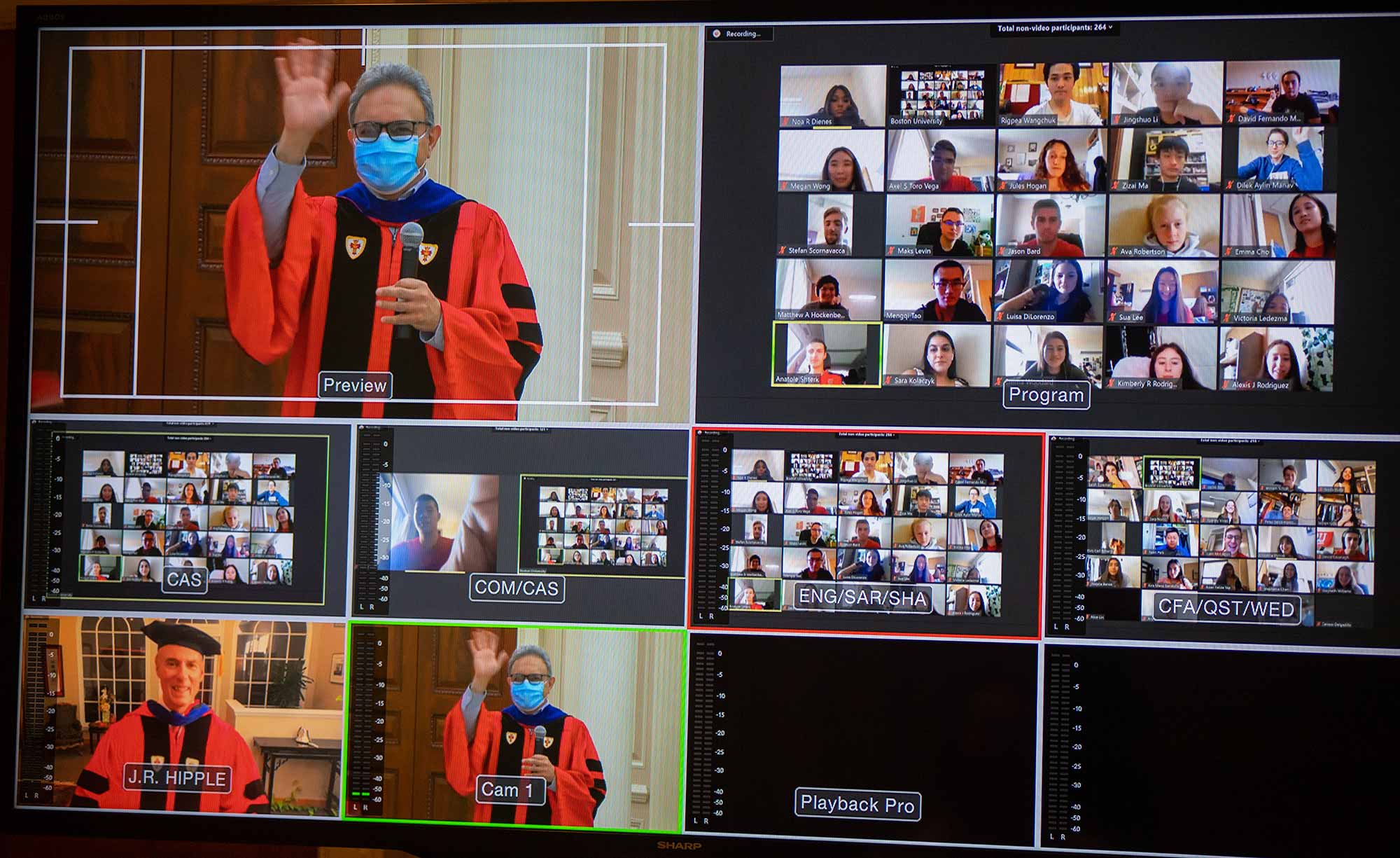 Matriculation
A Matriculation Unlike Any Other
Virtual welcome ceremony for the Class of 2024 addresses pandemic's historic challenges, and the importance of observing policies
It was a welcome unlike any other. On Sunday afternoon, hundreds of freshmen, who in years past would have walked up Commonwealth Avenue and into Agganis Arena to attend the annual Matriculation ceremony, this year attended it virtually, via Zoom. At the in-person ceremony were just the individual colleges' deans, top administrators, and a few special guests—dressed in traditional academic garb as in years past, but fully masked—in the Metcalf Trustee Ballroom at One Silber Way.
In his Matriculation address to the members of the Class of 2024, BU President Robert A. Brown acknowledged that these freshmen were about to enter college at the most challenging time in a generation, amidst the coronavirus pandemic, yet urged them to still take advantage of everything the University has to offer.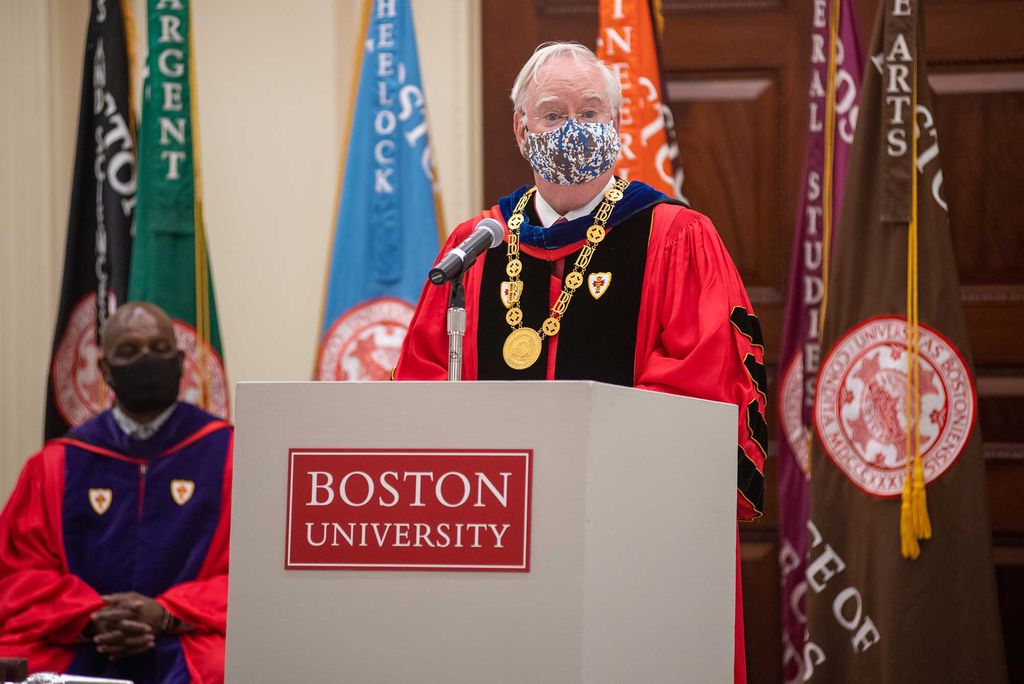 The event marks the official enrollment of the incoming freshmen and is one of only two occasions where a class gathers in its entirety (the second being Commencement). Students and families were invited to watch the ceremony live via Zoom.
Starting the academic year in the midst of the COVID-19 pandemic has required everyone at the University to change their life patterns, Brown said. But he noted that BU is in a good place, having used its standing as a leading research university to implement changes to help the campus community respond to COVID-19.
"Our systems and protocols are built on the scientific expertise of epidemiologists, biostatisticians, and infectious disease doctors, and on a detailed computer model for the spread of the disease and the impact of mitigation developed by data scientists and computational specialists in the Hariri Institute," he said. "And our faculty have worked tirelessly to develop the Learn from Anywhere (LfA) teaching model, to give you the option of whether or not to learn [remotely]." With guidance from BU faculty, he told the virtual audience, the University has put in place one of the most "comprehensive programs in the country for the health of our academic community," and that program's foundation is built on frequent testing, social distancing, and symptom reporting.
"Now it is up to us," Brown said. "For more than anytime in our past, our behavior impacts all of us. Today we take collective responsibility for the health of our community and our ability to be a residential university."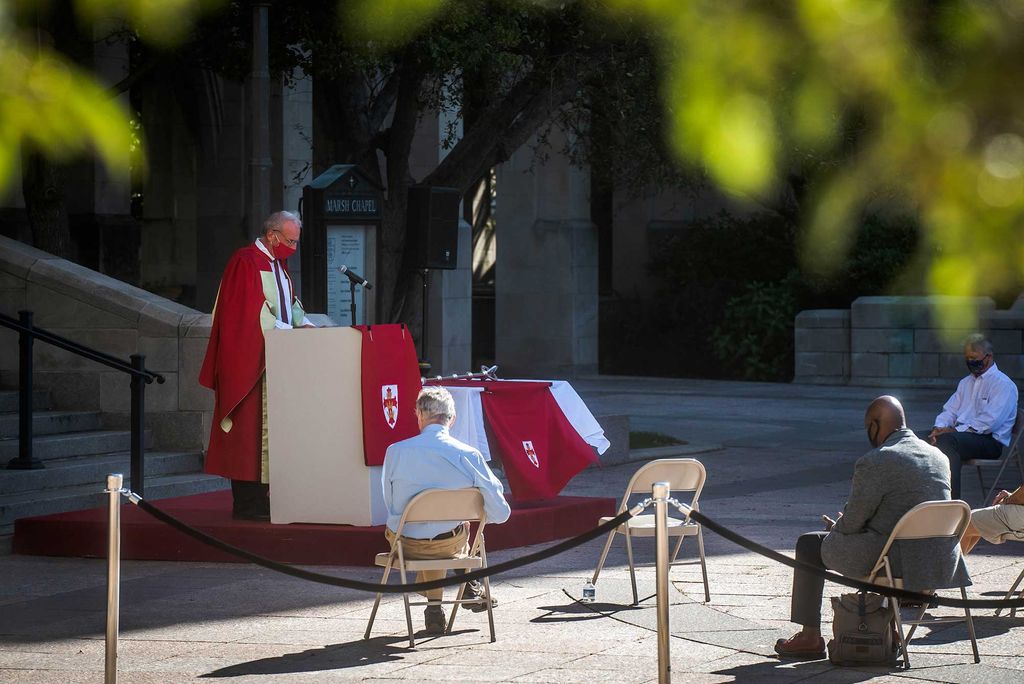 Matriculation has traditionally involved just the march up Comm Ave and the Agganis Arena ceremony, but this year's celebration was a whole day affair, kicking off with a 7:30 am yoga class, then a prayer service led by Rev. Robert Allan Hill, dean of Marsh Chapel, a special breakfast prepared by BU Dining Services, and a reading of Maya Angelou's "On the Pulse of Morning," by Kenneth Elmore (Wheelock'87), associate provost and dean of students, who emceed the virtual event.
Student government president Oliver Pour was one of the few students in attendance, and he had a chance to address his peers. "This is a new chapter in your lives. As your fingers hit the keyboard, remember it is you who are writing this chapter," Pour (CGS'20, COM'22) said. "Be a part of a friend group that you've yearned for, not because you're from the same small town, but because he or she sparks something in you different from anyone you've ever known. Channel that entrepreneur you've wanted to be, build the new Facebook, Snapchat, or Tinder….BU allows you to be you."
Students heard similar inspiring words from Nahid Bhadelia, a School of Medicine associate professor of infectious diseases and director of infection control at BU's National Emerging Infectious Diseases Laboratories (NEIDL). "I think one of the reasons I was asked to speak today is that I have spent a lot of the last decade on the front lines of many epidemics and outbreaks," she said. "Here's what my experiences have taught me about epidemics—they serve as a mirror to our societies and time, they break us along our fault lines. They prey on those we fail to protect, and the COVID-19 is no exception….It has sharply laid out the inequalities and the lack of access to care."
In his speech, Brown enumerated four major challenges facing our country and the world: defeating the pandemic, ending systemic racism in the United States, transforming the economy for the 21st century so that it works for everyone, and finally, mitigating the effects of climate change. For decades, the world will be defined by these challenges, he said, adding that he hoped that students' formative experiences in BU classes, clubs, internships, and the like "will help them embrace these challenges and to succeed and lead."
Brown spoke of BU's most famous alum, Martin Luther King, Jr. (GRS'55, Hon.'59), who said that people should not be judged by the color of their skin but by the content of their character, their actions and accomplishments. Although BU has done much to live up to the statement, he acknowledged it has not yet achieved a fully diverse and equitable environment. "As we go forward, we must double our efforts to be the place of inclusive excellence for everyone, independent of race, sexual orientation, gender, or place of origin," Brown said. He urged the Class of 2024 to "make friends with people who don't look like you, don't share your customs or worldview, so that you may be better informed." And, he added, it is absolutely imperative that students vote in the upcoming presidential election.
As the ceremony wound down, Jean Morrison, University provost and chief academic officer, introduced the deans of the BU schools and colleges, who in turn welcomed the new students into their individual schools. When a school was called, its students were invited to turn their cameras and mics on to cheer and wave.
The afternoon ended with the singing of "Clarissima," BU's school anthem, sung by Jillian Agona (CFA'21) and accompanied by doctoral student Regan Siglin Russell (CFA'22).