Greenpeace Executive Director Annie Leonard will give the keynote speech at BU's IDEA 2020 Conference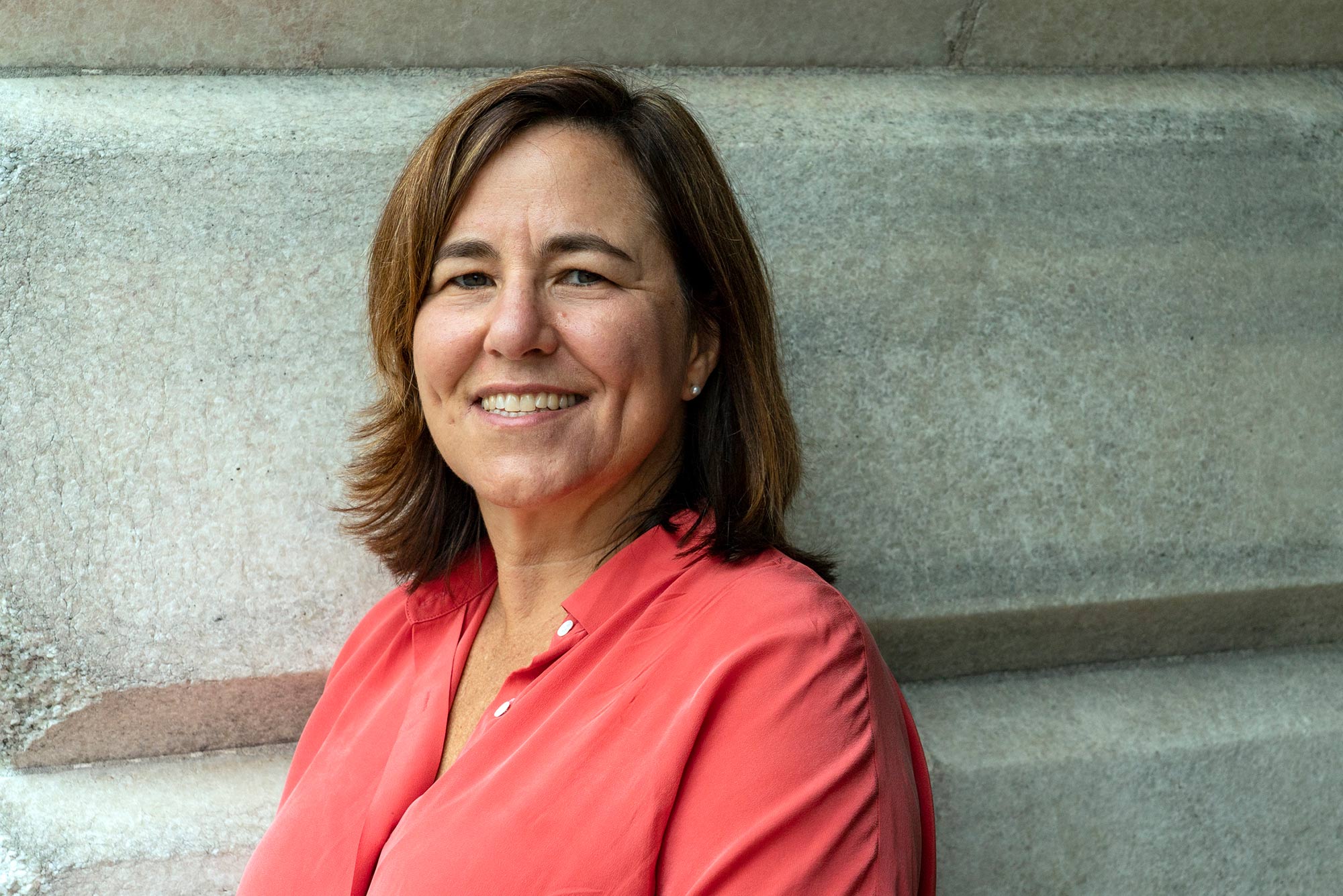 Strategy & Innovation
Activist and Consumerism Critic Annie Leonard to Speak at BU
Creator of viral video The Story of Stuff will give IDEA 2020 Conference keynote Saturday
Annie Leonard's 20-minute video The Story of Stuff explores Americans' obsession with material things—a just-released iPhone or the latest sneakers—and delivers a stinging critique of capitalism's excesses.
Released in 2007, it went viral and became a sleeper hit in classrooms across the nation. The New York Times calls it a "cheerful but brutal assessment of how much Americans waste."
"Study after study shows that the things that really make people happy [are] not that new flat-screen TV—it's having a sense of community and a sense of purpose," Leonard said on The Colbert Report.
Now the executive director of Greenpeace USA, Leonard is coming to BU this weekend to give the keynote speech at IDEA 2020: Embrace Your Impact, an Innovate@BU one-day conference on entrepreneurship and innovation being held at the Questrom School of Business.
BU Today spoke with Leonard about her activism, the need for change, single-use plastic, and how entrepreneurs are trying mightily to change the world—but fighting against old-world systems.
BU Today: You call capitalism a "deadly take-make-waste machine" in your 2011 book The Story of Stuff. Why did you decide to speak at a conference for entrepreneurs?
Leonard: Entrepreneurs, by definition, think of new ideas and make things happen. They are not constrained by conventional thinking and practice. They dream big and are ready to work hard to bring those dreams to life. And that kind of creativity, innovation, and passion is exactly what the world needs right now.
Can entrepreneurship fix what's wrong with capitalism?

It is important to identify the specific things that are wrong with our current version of capitalism, so that the critique is useful, not just a bumper sticker slogan. One thing that is wrong is that even though many claim we have a free market which fairly dictates prices, the prices are actually heavily skewed.
 
Corporations are allowed to externalize the costly negative impacts of their production choices onto the environment and communities so they don't show up on their balance sheets. If oil companies had to pay for the enormous economic cost of dealing with climate change, the price of oil would make it prohibitive and our whole economy would run on renewables.
 
Likewise, producers of single-use plastic aren't required to deal with the end-of-life management of their bad materials choices, so they spew out cheap disposable plastic and then municipalities have to run around trying to contain it all and do something with it. Much of what is wrong with capitalism needs to be fixed by updating the rules to encourage business practices that make the world more healthy, more fair, more resilient, and more secure.
 
Already many entrepreneurs are doing an amazing job creating plastics that turn to fish food in water, electric vehicles that go hundreds of miles on a single charge, or personal care products that don't contain health-threatening chemicals. But with the current set of rules, doing the right thing is like swimming upstream.

You advocate for bucking the latest consumer trends, particularly the push to have the latest and greatest gadgets and technology. Is that realistic?
People's attitudes about stuff are changing. Younger people increasingly don't want to be burdened with all the stuff their parents longed for. Empty nesters are finding their kids don't want all their china sets and brown furniture. Increasingly, people are seeking access to things whenever and wherever they want them, rather than the burden of full-time ownership.

The challenge for entrepreneurs is to figure out how to provide the things people want and need with less material intensity and less toll on the planet. How can entrepreneurs increase the use intensity of each ton of material used, through leasing, sharing, durability, and other innovations? We need new products and also new systems and norms about how we use them. It is a perfect time to be an entrepreneur.
Americans expend a lot of effort sorting waste for recycling, but since China and other countries have restricted US paper and plastic exports, what's the state of recycling?
Recycling certainly has a role in advancing sustainable materials use, but right now we are creating far more waste than recycling can ever take care of—and much of our waste is designed to not be recyclable in the first place, since it contains hazardous chemicals or unrecyclable plastic resins. If we want recycling to work, we have to start by reducing the overall amount of materials that we churn through every day, and also have entrepreneurs and innovators figure out materials that can be safely and economically be recycled.

When it comes to plastic, reduction is far more important and effective than recycling. We should focus our efforts on designing single-use plastic out of the system through reuse and alternative product delivery systems. Also, we need to stop subsidies for fossil fuels, which skew the market to make new plastic (which are made from fossil fuels) far less expensively than recycled plastic.

Packaging industries in the United States have been able to perpetuate a false narrative that all plastic waste can be recycled, so no need to reduce it, because China was willing to take boatloads of plastic waste for years, keeping all that waste out of sight and out of mind. I went to China to see what was happening with it firsthand, and believe me, it is not clean green recycling that responsible recyclers in the United States think of when we wash out our yogurt containers.
---

I find it more fulfilling to spend my days working with others to make the world better than simply working a soulless job to buy more stuff.

---
With Amazon delivering goods to doorsteps in a matter of hours, roadways clogged with Uber and Lyft drivers, and a growing number of companies like DoorDash and Uber Eats offering meals to go (creating more trash), are we making the pollution problem worse?
In terms of actual resource consumption and the very important metric of carbon emissions, things are worse. In fact, emissions have increased since the Paris Accord was signed, even as many scientists decried its targets as insufficient to avoid the worst climate impacts.

The thing that has most improved is public awareness and desire for change. For the first time in the United States, a majority of people are concerned or alarmed about climate change. More voters than ever say that a candidate's position on climate will influence their voting choice. And across the country—and around the world—young people are rising up, striking, marching, and demanding that our leaders lead while we still have the chance. So in spite of the actual state of the planet worsening, I am more hopeful than I have been in a long time.
Critics say your video frightens children and some take issue with your facts. How do you respond?
When the science is as clear as it is, I can't be distracted by those who have vested interest in continuing business as usual that is threatening the very life support systems of the planet. We have to have a strong moral compass and strong understanding of the science. If we have both of those, we know it is scientifically and morally imperative to reduce carbon emissions and resource use—period. The science is crystal clear, but some people's moral compasses are clouded by two things: politics and profit.

When someone critiques the very clear science, it's good to look at who pays them. There is scientific consensus about climate change at this point; there are not two sides of this argument. The United States lags behind other countries in terms of public understanding of that, which is the result of decades of misinformation campaigns by the fossil fuel industries seeking to sow doubt and confusion.

Which candidate do you support for president this election year?

Greenpeace has a strict nonpartisan policy, so we remain independent and don't endorse candidates. However, I will say that I personally am going to support a climate leader, since this next four years is absolutely essential if we are going to have a chance at meeting the emission reduction targets that both science and the Paris Accord require.
Greenpeace protesters are infamous for activist stunts (several were arrested last year for blocking a Texas bridge, shutting down the largest US fossil fuel thoroughfare). Do you encourage civil disobedience?
Civil disobedience can be a powerful tool to force change, but know that I don't encourage it lightly. Civil disobedience, which often involves risking arrest, is not where we start the conversation. In the case of climate, activists have spent decades exhausting all the polite levers that our democracy offers us. We have petitioned and marched and testified in front of Congress. We have shared the science, made educational documentaries, and written letters to the editor and to our elected officials. And our country has not made progress anywhere near what is needed—and is now moving in the wrong direction with massive expansion of fossil fuels planned.

While fewer elected officials today will outright deny the climate crisis, they are not moving with the urgency needed. With the time frame we have left, there is no material difference between climate deniers and climate delayers. So those political and business leaders have left us no option but to raise the stakes through escalated protest, and even civil disobedience.

How many times have you been arrested for protesting?

I have personally been arrested about five times over my career, but as the window to avoid the worst climate impacts closes, I suggest we all need to get comfortable with peaceful protest and civil disobedience, like many who have come before us and made this country better.
You mend your own shoes, bring your bike in from the rain, and live in a "kampung"—an Indonesian term for a compound that's home to a bunch of families. Who inspires you?
My mother, who taught me to appreciate the things I have rather than mindlessly consume, was an inspiration. Also, the many people I met in other countries who use far fewer resources, but have higher life quality standards (health, happiness, etc.) provided proof of concept.

Also, real life experience has inspired me; I find it more fulfilling to spend my days working with others to make the world better than simply working a soulless job to buy more stuff. A purpose-filled life provides deeper happiness than a new iPhone or pair of boots.

IDEA 2020, organized and hosted by Boston University's Innovate@BU initiative, is a one-day conference for college students and young alumni across New England to explore innovation and entrepreneurship. It is Saturday, February 15, 2020, from 9 am to 5 pm, at the Questrom School of Business, 595 Commonwealth Ave., Boston. Tickets ($15 students, $20 alumni and community members) are available here.